What Do Progressives Do Now?
Progressives are eager to use the coronavirus crisis to convince Joe Biden—and millions of other Americans—of the necessity of major reforms.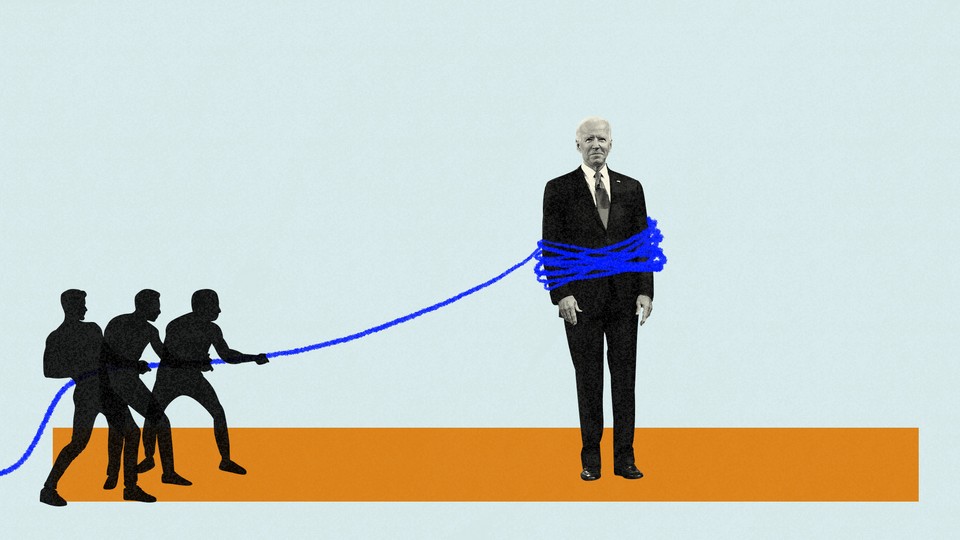 With Bernie Sanders all but defeated and Joe Biden a near lock for the Democratic presidential nomination, the American left should be inconsolable right now. But these are not normal times. Instead of despairing, leading progressives say they are invigorated, and eager to use the coronavirus crisis to convince Biden—and millions of other Americans—that major reforms are necessary.
"These ideas we've been touting for a while are quickly coming to fruition as great policy measures to tackle [in] this moment," Varshini Prakash, a co-founder and the executive director of Sunrise Movement, a youth-led group advocating for climate action, told me. A great many significant social reforms have been triggered by periods of intense economic upheaval. The Tea Party seized the Great Recession in 2008–09 and its aftermath, for example to reshape the trajectory of the Republican Party. Progressives argue that the next few weeks and months present a similarly crucial juncture during which they can galvanize the American public behind their causes.
"Now is our time," says Matt Morrison, the national director of Working America, the community affiliate of the AFL-CIO.
Progressives' optimism could be misplaced. Social scientists have found that economic crises often benefit far-right parties. Americans may well emerge from this pandemic with increased hostility toward the government and its societal interventions; after all, failed leadership helped get us to this point. And progressive activists are still figuring out exactly how to mobilize Americans when social-distancing guidelines prevent in-person gatherings and most people are more concerned with staying healthy and employed. But already organizations say they're working to engage Americans virtually, calling for them to pressure their members of Congress, and encouraging fellow progressives inspired by this crisis to run for office up and down the ballot.
"We have millions of people sitting in their homes, some working, some not, some aching to do something," says Paco Fabian, the director of campaigns for Our Revolution, the political-action organization born out of Sanders's 2016 presidential campaign. The group is mobilizing homebound people to make phone calls and do social-media outreach for candidates and causes. The Sunrise Movement has launched an online class to educate young people about the connection between the coronavirus and climate change. "We're in a moment of crisis, but we've got a plan to heal: the Green New Deal," the class description reads.
Morrison's organization is focused now on helping Americans navigate the health-care and unemployment-insurance systems in this fraught moment, but it says it's simultaneously trying to build a worker-led movement. "This has got to be a call to arms for changing the fundamental posture that working people take as it relates to this economy," Morrison told me. "What we are prioritizing is shifting that power imbalance so working people who are saving all of our asses are the ones who are put in the driver's seat of this economy going forward."
Sanders, who still hasn't dropped out of the race for the Democratic nomination, has effectively converted his presidential campaign into a coronavirus-messaging apparatus, and he is holding regular broadcasts with other progressive lawmakers, including Representatives Alexandria Ocasio-Cortez and Pramila Jayapal, to explain how the current crisis demonstrates the need for Medicare for All. "As we do everything possible to grapple with this crisis … it is also appropriate to ask ourselves how we got here and what this says about the financial and economic structure of our country," Sanders said in a live-streamed video Wednesday night. "People are understanding that there is something wrong that we are the only major country on Earth not to guarantee health care to all as a human right."
For its part, the Democratic Socialists of America says it has seen a spike in membership since Super Tuesday, some of which the group attributes to the pandemic. "We saw one of the largest ever number of attendees for an online DSA call last week on the topic of COVID-19 organizing," a DSA spokesperson told me via email.
Progressives will be carefully monitoring shifts in Biden's policy positions to see whether their efforts are having an impact. Already, Biden has announced his support for Sanders's plan to make public colleges free for some students, and he's endorsed Senator Elizabeth Warren's proposal to fix America's bankruptcy system. But it's not enough, progressive leaders say. If he "is serious about attracting progressives and the Obama coalition—which included young people—he needs to articulate a bold policy agenda that meets the scale of the crisis people are experiencing right now," Maurice Mitchell, the director of the Working Families Party, told me.
At the end of this pandemic, more Americans will view the government as capable of solving big societal problems, progressives argue. New emergency-aid legislation dramatically expands paid sick and family leave for millions of workers and suspends work requirements for food assistance, two agenda items progressives have long supported. And the $2 trillion stimulus package that the president just signed into law would provide a $1,200 direct payment to most American adults—similar to the Freedom Dividend championed by former presidential candidate Andrew Yang—and another $250 billion in unemployment-insurance benefits. "There's going to be an amazing shift where we recognize the impact government can have on our lives for the better," says Charles Chamberlain, the executive director at Democracy for America, a progressive political-action committee.
Progressives still have to convince members of their own party that their solutions are workable. Leftist activists and lawmakers, such as Ocasio-Cortez, who have lobbied for a so-called People's Bailout—which would prioritize economic relief for workers over businesses—have been disappointed with Democratic leadership. The same stimulus package that offers direct payments to Americans supplies half a trillion dollars to corporations, with some strings attached. Environmental protections that some Democrats wanted in the bill were left out of the final package. "I do not support the Green New Deal," House Speaker Nancy Pelosi said on Tuesday. "There is no Green New Deal in our bill." Perhaps most crucially, none of the policies passed in recent days—federally mandated paid sick leave among them—are likely to remain on the books permanently after the crisis is over.
But the longer the virus ravages American communities, and the longer stores and businesses stay closed, the more likely people are to appreciate progressive policies, the leaders I spoke with said. "It's an inflection point" for the left, Prakash said. "To what end remains to be seen by the strength of our organizing."