Here's What Barack Obama Is Thinking Now
The former president still sees his role as uniting the party after voters pick a nominee.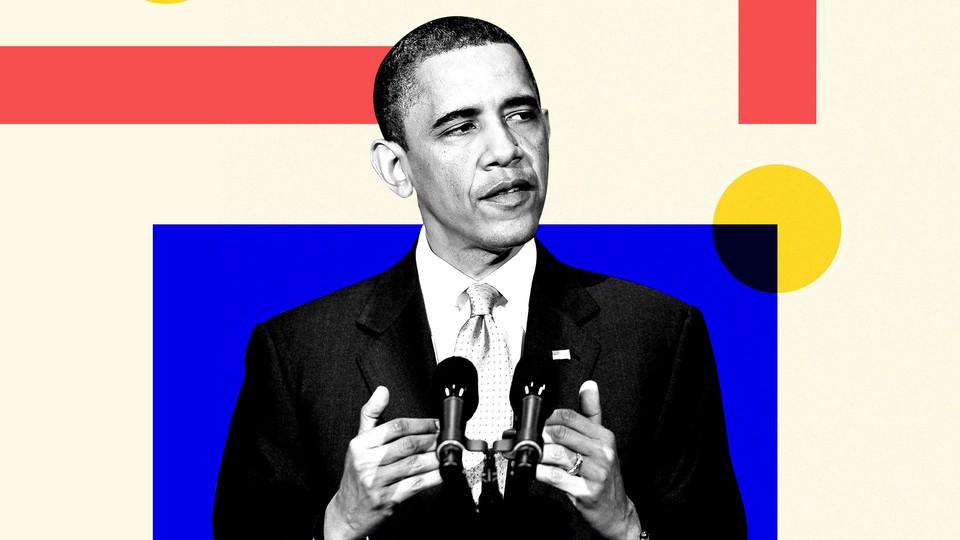 Barack Obama got exactly what he wanted out of the Democratic primary—and not just because Joe Biden has suddenly pulled ahead. His party managed to start sorting out its year-long mess without him.
But Obama is still not going to speak out. He won't push Sanders out of the race, though the Vermont senator acknowledged on Wednesday, "I have not the slightest doubt that there is enormous pressure on President Obama to step in and support Joe Biden." He hasn't ruled out that he might end up campaigning for Sanders instead, and has thought of the case he'd make. But it's clear to everyone around the former president how much more comfortable he would be making the case for Biden, whom he largely agrees with on policy and whom he really thinks of as a brother.
Obama knows that top Democrats were fantasizing about him stepping in for months, before moderates had coalesced around Biden. He and the people around him heard complaints every day. He knows that many think he was too cautious, and overcorrecting for the appearance of nudging primary voters toward Hillary Clinton in the run-up to the 2016 election. Sometimes his friends and aides told him a more gentle version of what was often being said behind his back: that there's too much at stake for him to be worrying about respecting the process and protecting his own legacy. His answer was still no—precisely, he argues, because there is so much at stake, and he can see what a mess the party is, and that it could very well get worse.
"It's not a matter of caution. It takes a lot more strength to resist the temptation to get involved early than to just leap because others say you should," Valerie Jarrett, Obama's closest adviser, told me Monday afternoon. "Because of the nature of the campaign, it'll be important for him as the senior statesman to be able to unify the party against the real challenge, which is beating Trump."
Pretty much every Democrat who's not supporting Sanders harbored some kind of a save us, Barack fantasy over the past few months. I heard versions that range from the former president issuing a surprise endorsement to doing an interview warning specifically against Sanders to convening a meeting after the Nevada caucuses with Chuck Schumer and Nancy Pelosi and representatives of each of the campaigns to figure out who should quit in order to consolidate the opposition to Sanders.
"So many people I know feel like this process has been distilled to bumbling around in the dark, and it feels as if the only person who knows where the light switch is is Barack Obama," Marc Adelman, a media consultant who has worked for John Edwards, Sherrod Brown, and Harry Reid, told me in the days before the South Carolina primary, when the field was much larger and the worries were much greater.
But this is Obama, who is always more comfortable not doing something than he is doing something. He and his team were convinced that there was never much he could have done, and that the chances of an endorsement backfiring were too great, despite his issues with Sanders.
If the Democratic primary race pushes on for months, Obama will not be the one to end it. If a contested convention looms, he will not be the one to stop it. Call him when the nomination is settled—whether that's in the next few weeks, or at the end of the primaries, or even if it's in the middle of the night in July, after a second ballot during the convention in Milwaukee. Not before.
If Biden pulls off this comeback, Obama and his advisers believe, he will be the one who vouches for Biden's progressive credentials to the left—despite how much core Sanders supporters have criticized his presidency. If Sanders is the nominee, they think, Obama will be the one who can attempt to legitimize him for the center and other suspicious Democrats.
A pitch for Sanders would not, however, include embracing democratic socialism or pretending that they're close friends. Obama and his advisers envision a pitch along the lines of "You might not agree with all his positions, but he respects the rule of law," according to a person who's spoken with him. He'd contrast Sanders's values with Trump's and talk about how, as president, Sanders would run "a government that people can believe in and be proud of."
Stumping for Joe Biden wouldn't take as much finesse. The person who's spoken with Obama envisioned a similar argument about the existential need to get rid of Trump and reinstate norms, but centered on character. Obama would "elaborate on why [he] chose [Biden] to be his VP in the first place, and how over their eight years in office, he became even more confident that he'd make an outstanding president."
"He will make it fit whoever it is," Jarrett said. She added that it's been gratifying to see nearly every candidate invoke him over the past few months. "It would be political malpractice not to do so," she said, noting that this speaks to how much potential he has to bring the factions of the party together. (Even Sanders put out an ad on Wednesday morning trying to wrap himself in Obama.)
Obama's reticence has frustrated many Biden supporters. Some have told me that while they can understand his decision not to fully endorse their candidate, he should have at least done a little buffering about Ukraine: He should have explained that his former vice president was carrying out administration policy, not helping his son Hunter, when he tried to get a government prosecutor there fired.
So Biden supporters were excited that Obama called Biden on Saturday night to congratulate him on his South Carolina win. (Sanders did not get a similar call after he won New Hampshire or Nevada.) This was the second time Obama and Biden spoke last week—Biden had called Obama last Tuesday to talk through ideas ahead of the Charleston debate. But Biden's campaign is not going to get the endorsement that it's hoping for. His aides will have to hope that recent endorsements from Obama's former national security adviser Susan Rice and chief of staff Denis McDonough will be taken as indications of the ex-president's thinking.
Meanwhile, Obama is still trying to finish his book, which is already about a year behind schedule. He's digging in on projects such as Higher Ground Productions, the company he and his wife, Michelle, started with Netflix, whose first film won the Oscar for Best Documentary Feature last month. And he put out lists of his favorite books and TV shows of 2019, frustrating those who were hoping he would speak up instead about abuses of power in the Oval Office or migrant children locked in cages.
Obama keeps talking about how Democrats need to move past him, and how voters should pick their leaders instead of the other way around. He muses about his own anti-establishment win in 2008, and how he'd never be where he is now if someone had tried to stop him back then.
"If you're the product of a process like that, your instinct is not to be the voice from on high," David Axelrod, Obama's former strategist, told me. To those who gripe that Obama is underestimating how much influence he could still have, Axelrod said that although he agrees his old boss could make a splash, he questions whether an endorsement would be decisive. "There's a fair amount of hand-wringing and teeth-gnashing and fear, which to some degree is endemic to the Democratic Party—and some of it is about the various downsides of all of the options—but I'm not sure that someone sweeping in from on high at this point provides that much clarity. It could just as easily divide the party as unify it."
"There's a difference between [being] cautious and being respectful of the process," Axelrod said. "My read is that he's respectful of the process and doesn't think it's his role to try to upend the process."
Obama thinks Sanders could lose. But he's thought all the Democrats could lose.
"His view is this is going to be a tough election no matter who the Democrat is, and that any of our candidates can and should beat Trump," the person who's spoken with him about his plans told me. "But given the booming economy which President Obama built, the power of incumbency, and the $1 billion head start the Trump campaign has, this will not be easy."
Before Democrats can beat Trump, though, they have to choose between Biden and Sanders—and figure out how to unite behind who comes out ahead. And some party strategists now accept that Obama can help with one of those tasks, but not both.
"His speech at the convention is going to be one of the most important moments in the history of the Democratic Party," says Addisu Demissie, a Democratic strategist who worked for Hillary Clinton in 2016 and was Cory Booker's campaign manager for this race. "If he does anything before that to show his hand, it makes it harder to bring us together."