The Bloomberg Whisperer
Kevin Sheekey has been planning the former mayor's campaign for years. But it's not quite going as planned.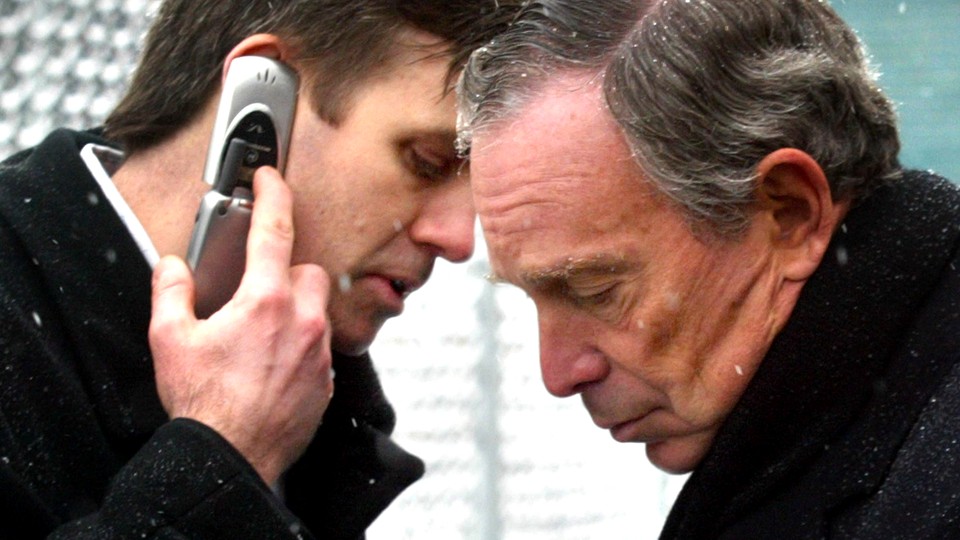 Michael Bloomberg has been running for president for barely three months. But his campaign manager, Kevin Sheekey, has been running for president for him for the better part of 15 years.
After Bloomberg won reelection as New York City's mayor in 2005, a group of his senior aides went out to dinner to celebrate; "Kevin just started talking about the next campaign, and it was a presidential campaign," Bill Cunningham, one of those present, told me. Three years later, Bloomberg himself seriously considered a presidential race, but when a reporter asked him about that flirtation after he decided to seek a third term as mayor instead, his answer was a sly deflection. "Kevin ran for president," a smiling Bloomberg insisted, as Sheekey looked on with the barest hint of a smirk in the ceremonial Blue Room of city hall. "I didn't run for president."
Now Bloomberg is running for the White House in earnest, pushing the limits of what Sheekey himself once wryly called the "Sheekey Master Plan" for a Bloomberg presidency. Perhaps even more, Bloomberg is pushing the limits of what even the most talented staffer can do with a principal who is anything but a natural star.
The verdict is mixed. The campaign's start burnished Sheekey's reputation as one of the sharpest political minds of his generation: The unorthodox decision to skip the early-voting states gave way to a multimillion-dollar barrage of national television ads, hundreds of paid on-the-ground field workers, a ream of data analytics, a flood of digital media, and a striking rise in the polls.
Then came Bloomberg's first debate. And his second debate. And a stall in state polls and the crashing reality that, in person, Bloomberg's persona can run the gamut from quirky and awkward to peevish and tone-deaf, in ways that not even his $60 billion fortune may be able to fix.
If Bloomberg's limitless money has made his entire campaign possible, it's the former mayor's painful lack of political mojo that might well doom it.
So Sheekey, a puckish blend of old-school Irish pol (his formative experience was working for the late Senator Daniel Patrick Moynihan of New York) and tech-savvy strategist, is facing the challenge of his career: making the idiosyncratic, imperious Democrat turned Republican turned Democrat again into the nominee of a Democratic Party whose liberal base scorns him as an avatar of rich, white, male privilege.
I've known Sheekey for more than 25 years, since he was the deputy campaign manager of Moynihan's last race, in 1994, which I covered for The New York Times, and I caught up with him the other day to ask how the Master Plan is going. His first answer was a long, slow chuckle. "Well, so far it's exceeding expectations," he told me. "You know, obviously no one gave us much hope at the beginning. Now we're running that test as we speak."
But he soon dismissed my suggestion that Bloomberg is far out of step with the segment of Democratic voters that has made Bernie Sanders the front-runner. "On the issues that the Democratic Party cares about"—including climate change and gun control, Sheekey said—"Mike is head and shoulders above not only everyone else in the race, but quite frankly anyone else who has led on these issues.
"So when you sort of cut through it," Sheekey added, "in terms of who Mike Bloomberg is" beyond his business success, "the truth is, he's a three-term mayor of the largest and most progressive city in the country."
It was vintage Sheekey: We're running that test as we speak, acknowledging with a blarney-coated candor the obvious obstacles but pressing ahead nonetheless. His default mode is a blithe upbeatness, but with a wink that suggests he's in on the joke. Another case in point: Sheekey's gloss on Bloomberg's much-criticized performance in his first debate two weeks ago, when the candidate often seemed frozen by his rivals' sharp attacks on his stop-and-frisk policing policies and on his and his company's use of nondisclosure agreements following allegations of sexism in the workplace. "It took him just 45 minutes in his first debate in 10 years to get his legs on the stage," Sheekey said. (One former colleague told me that Sheekey should have said sea legs, since referring to plain old legs seemed all too apt.)
"You'll never see him acknowledge or be disrupted by any kind of short-term barrier," says Mitchell Moss, an urban-policy professor at New York University who worked with Sheekey on Bloomberg's first mayoral campaign, in 2001, and knows him well. "If there's pain, he isn't going to show it. He's going to minimize whatever happened and find a way around it."
That skill has long kept Sheekey in Bloomberg's inner circle. He was the sole top aide in the businesslike city hall who was allowed to go tieless (to the lasting irritation of Police Commissioner Ray Kelly, a spit-and-polish former marine). Friends and colleagues say he's the aide who can come up with a big, splashy idea when the boss wants one, or push Bloomberg to support an idea that Bloomberg himself doesn't yet know he likes. Sheekey's voice is prominent in the campaign—on cable TV and social media, and in selective press interviews.
"This is a guy who could sell ice to the Eskimos—not just once, but twice," says the longtime Bloomberg adviser Howard Wolfson. Sheekey doesn't write the ads or take the polls, but he watches over those who do, hires the key staff, and leads a weekly strategy meeting at the campaign's Times Square headquarters.
Sheekey's former colleague Cunningham calls him "the greatest conjurer since Keyser Söze," the mysterious criminal mastermind in The Usual Suspects. "I guess the easiest way to put it is, he has moves," Cunningham added. "He has moves like Muhammad Ali and Fred Astaire combined. You think he's going to circle to the left, and pow, you get a jab in your face and he's moving to the right."
The former New York Times columnist Joyce Purnick, in her biography of Bloomberg, wrote that "Sheekey can sit for an hourlong interview without answering one question directly, then deny he did any such thing and convince his questioner—momentarily at least—that he is right."
Sheekey's profile is such that he considered his own run for mayor of New York in 2013, having accumulated enough IOUs, phone numbers, and apparent goodwill over the past two decades to make such an ambition at least plausible. (Some of his famous friends—Bono, Joe Biden, Sheryl Sandberg, and Bryan Cranston, among others—spoofed his imagined bid in a surprise video when he turned 50, almost four years ago.) Bloomberg may have been Sheekey's entrée into this world, but he has managed to stay. He's the past master of the small gesture; the personal touch; the ink-on-paper, bread-and-butter note; and he was even as a 20-something, when I first met him.
Sheekey was exposed to politics early, growing up in Washington, D.C. (He met his wife, Robin Caiola, when they were students at Georgetown Day School.) His mother was a Washington lobbyist for Common Cause, the civic watchdog group, and his father helped start the federal Department of Education in the 1970s. After graduating from Washington University in St. Louis, he worked for James Scheuer, a longtime Democratic representative from Queens.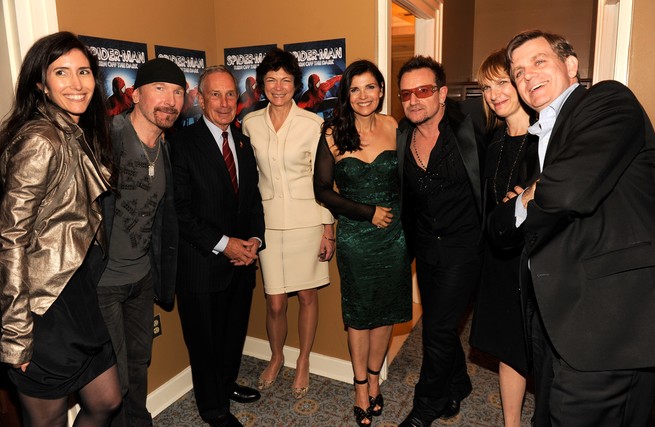 But his crucible experience was working for Moynihan, the Senate's long-reigning sage, who had written (it was often said) more books than most politicians had read. Sheekey started out as a scheduler, then a campaign aide, and then press secretary, before finally rising to be the senator's chief of staff in the mid-'90s. Moynihan, an inimitable blend of public intellectual and pork-delivering politician for his New York constituents, was in many ways "the greatest teacher I ever had," Sheekey told me. "I think he instilled a kind of passion and belief in both public service and the honesty of what it means to address issues of policy or even issues of politics … You could read every book on Hamilton and you would never learn in months … what you could learn from Pat Moynihan for a day on the trail in upstate New York."
Bloomberg has taught him some very different lessons, Sheekey said. "The thing I've learned from Mike is, just think big." If Moynihan was a punctilious academic, Bloomberg is more instinctual. If Moynihan often struggled to win political support for his grand theories for fixing daunting social problems, Bloomberg has the wherewithal to, for example, write a $50 million check to support the Sierra Club's efforts to curb coal-fired power plants. What Moynihan's and Bloomberg's approaches share is a rigorous belief in the importance of data as a tool for policy action, and a willingness to sail against prevailing winds, whether by proposing seat belts for cars long before the idea was accepted (in Moynihan's case) or banning trans fats and Big Gulps (in Bloomberg's). Bloomberg's unofficial credo is: "In God we trust; all others, bring data."
"What Kevin must find attractive about Bloomberg, given his experience with Moynihan, is that there's intellectual bearing on the subject matter," Sheekey's fellow Moynihan staffer Dan French, now the general counsel for Syracuse University, told me. "And that's sometimes not a simple sell, either, because that comes across as clinical."
Bloomberg was a businessman looking to expand his company's profile in Washington when he hired Sheekey as its lobbyist there in 1997. (He entered a world with much higher compensation: Even 15 years ago, Sheekey made $700,000 on Bloomberg's 2005 reelection.)
French described Sheekey as "violently loyal," and he quickly became the brains of the nascent Bloomberg political operation, which grew to include other Moynihan veterans such as Cunningham and the pollster Doug Schoen.
Bloomberg's first campaign for mayor enlisted a raft of experienced New York operatives, but the Sheekey touch was much in evidence even then. In the bitter Democratic primary, Bronx Borough President Fernando Ferrer, who is Latino, lost a runoff to the city's public advocate, Mark Green, who is white. Sheekey tried to exploit that rift by mailing flyers to Latino households in the form of a mock Time cover with the headline "Freddie Ferrer Made History." The inside copy featured glowing encomiums to Bloomberg, who was running as the Republican nominee in the general election. The result? Ferrer's wife liked the flyer so much that she asked for copies, and Bloomberg ultimately split the Latino vote evenly with Green, a rare achievement for a Republican in an overwhelmingly Democratic city.
Once Bloomberg was in office, Sheekey "was impatient with the rules and processes of government," one of Bloomberg's commissioners who managed two city departments told me, on the condition of anonymity so as not to offend Sheekey. He "much, much preferred the political troubleshooting and soup-stirring role he has always played." Helping lead Bloomberg to two more mayoral victories, Sheekey also began laying the groundwork for his larger ambitions.
When Bloomberg considered a presidential campaign in 2016, Sheekey led the extensive polling and data efforts to assess his chances as a third-party candidate—surveys that, four years later, formed the germ of the current campaign, Sheekey's friends told me. Bloomberg's team has since hired top experts from Barack Obama's and Hillary Clinton's organizations, and dispatched them all over the country.
Given the Bloomberg team's extensive research, not much about their candidate's political vulnerabilities should surprise them, but even they made it clear that they'd been taken aback by Bloomberg's underperformance in his first debate. Since then, Bloomberg's poll numbers in the delegate-rich Super Tuesday states have plateaued. He badly trails Sanders in California, which is the biggest prize of all, and also a place where he has invested more than $60 million in advertising and hoped to do well.
But looking beyond this week, Sheekey told me that the campaign is building a voter database and outreach effort that he argues will rival Donald Trump's state-of-the-art operation. And the team is committed to deploying it in six key swing states where it has campaign offices—Wisconsin, Michigan, Pennsylvania, North Carolina, Florida, and Arizona—regardless of whether Bloomberg ultimately wins the nomination.
"Mike's pledge to the staff there, and obviously having signed the leases, is, 'Whether I'm the nominee or not, all of the people that we hire … are going to be there," Sheekey said. "Because we as a party can't wait to put those resources in place until after the convention in Milwaukee." (The Sanders camp has said it won't take Bloomberg's help, and Bloomberg responded by telling the Houston Chronicle last week that he'd withdraw it in that case. But that may just be jockeying—any eventual nominee would be hard-pressed to scorn an anti-Trump effort from anyone.)
Sheekey's best hope is that Bloomberg and Sanders will be the last two candidates standing when the July convention opens. Whether Bloomberg could actually wrest the nomination from Sanders, if the senator from Vermont has only a plurality of delegates, is a tougher question. On the stump, Bloomberg has attacked Sanders, arguing that nominating him is the best way to ensure Trump's reelection, but so far has not invested in negative television advertising against him. Sheekey won't reject that idea: "I don't rule anything out in the context of the campaign." But, he argued, "Mike really does have a larger goal and … a Plan B, in terms of how he hopes to contribute—in places figuratively, and in other places quite literally—to help remove Trump from office."
As it has been from the very beginning, the biggest obstacle to the success of the Sheekey Master Plan is Bloomberg himself. To put it mildly, he will never be a natural campaigner, a traditional politician, or the kind of Democratic candidate with whom the party's base can fall in love. The hope is that he can do just well enough to get in a head-to-head with Trump, whose political career has been just as implausible.
In a CNN town hall with Anderson Cooper on Wednesday, Bloomberg seemed to perform much better than he had in the two debates, mocking his own poor performance, engaging earnestly with audience questioners, and even managing to show flashes of self-deprecating charm. But he still can't tell a joke for the life of him. A crack about hunters not needing assault weapons ("The last time I saw a deer with a flak jacket was a long time ago") drew not so much as a snicker from the live audience in Charleston, South Carolina. I asked Sheekey whether this is a skill Bloomberg can ever learn, adding I suspected that his boss might well be funny in real life.
"He is," Sheekey answered. "Let's just say we're still running that test as well."