Katie Porter Is Tired Too
The congresswoman from California is giving her kids daily coronavirus briefings—and criticizing the Democratic leadership from afar.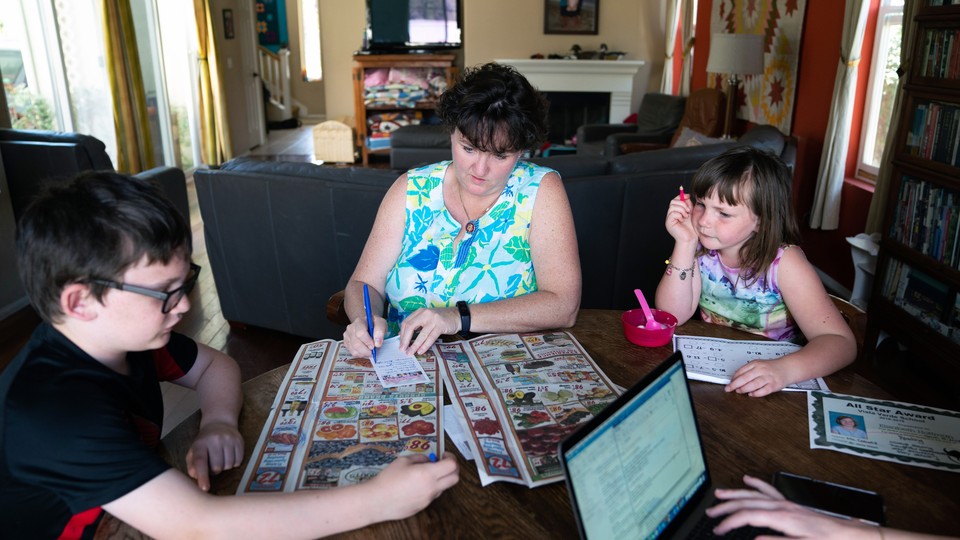 When I called Katie Porter on Tuesday afternoon, she was fixing lunch.
"Apologies if you hear banging in the background," the 46-year-old congresswoman told me when she answered the phone. She chuckled as she began to chop something—zucchini, I would later learn. "Three meals a day here! We're gettin' three squares."
Porter left Washington, D.C., and returned to her Orange County, California, home to be with her three children—ages 8, 11, and 14—as soon as it became clear that the coronavirus pandemic would require an unprecedented level of social distancing and that their classes would all go virtual. California currently has 611 confirmed cases of COVID-19, and 13 people in the state have died from the disease. "It was really important to be with my kids right now, and also to be with my community," Porter said.
The freshman lawmaker and single mother, once a student of Elizabeth Warren's at Harvard Law School, is one of the 41 mostly moderate Democrats who flipped Republican districts in the 2018 midterms. But Porter, with her background as a consumer-protection lawyer, has emerged as an influential voice on the progressive left. Since her election, clips of the congresswoman interrogating and often wryly berating officials from her perch on the House Oversight Committee have become mini sensations online. To Jamie Dimon, the billionaire CEO of JPMorgan Chase, after she asked him about the pay disparity between his lower-level employees and top executives: "I appreciate your desire to be helpful, but what I'd like you to do is provide a way for families to make ends meet." To Housing and Urban Development Secretary Ben Carson, when he was confused about a real-estate acronym: "No, not an Oreo."
Porter had a similar moment just a few days before our interview, when her questioning of Robert Redfield, the director of the Centers for Disease Control and Prevention, suddenly made her one of the most visible members of Congress in the current crisis. Would the CDC pay for Americans to get tested for COVID-19? she asked Redfield, using a whiteboard to calculate that a single test could cost $1,131. Redfield, at first, seemed unwilling to commit. But Porter insisted, and ultimately, he gave in: "I think you're an excellent questioner," he said. "So my answer is yes."
Securing the pledge was, for Porter, a small victory in the grand scheme of this growing global catastrophe. As a member of Congress, she has unusual access to the people managing the current crisis. But when I talked with her, she also came across as just another American working to get her family through this fraught and frightening moment. I asked Porter how she views the role of Congress in this pandemic, and why she believes that the Democratic leadership is not acting with nearly enough urgency. Our conversation has been lightly edited for length and clarity.
---
Elaine Godfrey: I watched your questioning of Robert Redfield, as did many Americans. Describe that moment.
Representative Katie Porter: As much as I care about banking regulation and the problems that it causes, this is life or death. He came with the kind of answers as if I'd asked him about interest rates at the Federal Reserve or capital holding requirements. But I was literally asking him, Are you willing to save lives? And so I think I kind of pushed in a more forceful way. Because life is potentially at stake.
Godfrey: Do you think there will be follow-through?
Porter: Free testing is part of the Families First Act [the economic-relief package the House passed earlier this week]. So there's a legislative overlay coming here too, we hope. But in the meantime, hopefully people who are symptomatic will call their provider and get that screening to figure out if they need to go to get tested, without fear about how much they'll have to pay out of pocket.
We should be asking the CDC director to step up and use [his] authority to make sure that people don't go without treatment because of cost.
Godfrey: Big picture, how do you view the role of Congress right now? What is your role in this moment?
Porter: First and foremost, it's to disseminate correct and accurate information to our constituents. One of the ways we do that is through media, through tele–town halls. The second thing that we need to be doing is model the behaviors and changes and the public-health measures that we are asking others to take.
We've asked businesses to allow telework. We've asked schools to implement remote learning. Yet Congress is not itself doing those things. If we all gather together on the House floor in a group of 430-plus people, we are creating a public-health risk, and so I've been pushing hard since last week for remote voting procedures. Potentially, I think we're going to need to hold remote hearings as well.
Hang on one second, please. [To her kids:] I'm making lunch. We're having zucchini, fries … You can have a piece of broccoli. Put that back. There's chicken in the oven.
It's [all about] reminding people that there are hardworking people in government who have thought about these things—that we do have existing laws on the books to help us; we just need to hold people accountable to do [them]—[and] giving people accurate information.
Godfrey: Do you think that House Democrats are doing enough right now?
Porter: I think the Oversight Committee is doing a good job. We had that hearing, and it was very important. We got JetBlue to agree to paid sick leave. So I think there's a lot of good work being done by members.
The leadership approach has been one of trying to broker the compromise [with the White House on the relief package]. I ran saying I would hold people to account, and I'm willing to do that whether you're a Democrat or Republican. And so I'm going to be pushing the speaker on some of the things she's proposing, because I don't think they're the right move right now.
Godfrey: What kinds of things?
Porter: The speaker wants to explore refundable tax credits as a tool to help. That is too slow in my opinion. We need to get actual cash assistance to American families right now. Many of them are going to see paycheck cuts or lost jobs entirely. I've been calling, along with Mitt Romney, for an immediate cash stimulus. I shouldn't say stimulus, because I really don't think it's a stimulus—it's a $1,000 cash payment to stabilize American households, to be delivered before that crucial first of the month, April 1, when so many people's bills become due. [Republicans in Congress are negotiating with the Trump administration on a deal that would involve direct cash payments; Pelosi, per her spokesman, supports "an approach targeted to those most in need."]
The fact that the speaker's talking about refundable tax credits … Who has time to wait to do their taxes and see what they get a year from now?
[Additionally,] we should have mandated paid sick leave from large corporations. The largest employers should not have received a subsidy, which is what we gave medium-size employers, but we still should have mandated that they provide sick leave. They have the most flexibility and the most resources to do sick leave, and we let them off the hook, hoping they'll do it on their own. I think that was wrong. I hope that we go back and push harder for that.
Godfrey: So you're back home in California?
Porter: Even though I'm doing things by telephone, even though we're not doing in-person town halls, I'm here. My constituents know I'm here; they know I'm seeing what's happening in our community. And my kids go to public school, so I'm getting messages from the school about how school lunches are gonna work for kids who need it, about what to do if you don't have internet, and how the school district can help you.
Godfrey: A lot of Americans are really scared right now. How are you feeling, and how are your colleagues feeling?
Porter: I will tell you, I'm tired. I'm a little overwhelmed. I already worked 16- or 17-hour days, so now [it's] 18- or 19-hour days. I'm cooking for my children, working on their homework, getting them some exercise. I'm juggling, and that's what so many families are doing right now. [I'm doing] as much as I can as a mom to make sure my kids are having a routine, getting good healthy meals, getting to sleep on time, practicing good hygiene.
One of them has a FaceTime playdate today; one had one yesterday. I got a lot going on. It sort of reminds me of when I was on parental leave. Even though I was on leave, I continued to work, and this feels very similar. I'm with my kids but I'm working basically nonstop.
Godfrey: You have been really public about being a single mom and how your personal struggles have informed your political agenda. What might your advice be to other Americans at this moment?
Porter: One thing to do is to recognize that we're all in this together, and that's true at every single level. It's true as a country, it's true as a state, it's true as a community, and it's true as a family. My kids and I sat down, we talked through what the restrictions would be. Every day, I give my own coronavirus briefing to my children. And mine are much better than the ones that are given by the Trump administration! I just walk through with the kids: Okay, now we can't go to restaurants—the governor's changed that—and here's what that means for us, guys. We're going to be cooking at home for a while, but we're not running out of food. So what are some things you'd like us to cook together?
[To her kids:] I wasn't literally asking you. What did you want me to cook, honey? Mashed potatoes. Okay.
It's time to be matter-of-fact with them. Going to the library is not something we can do right now. We just ordered a jump rope so we can do more jump-roping in our driveway. It just requires people not to panic but to brainstorm and be thoughtful about how they can continue to do the things that are important to care for their kids, care for themselves, while doing their part in addressing this.
This lunch turned out amazing!
Godfrey: What did you make?
Porter: We're having grilled chicken, warmed up. Baked beans. I found some leftover steak fries that I put in the oven to make crispy again. Then I cut some zucchini and grilled those. It's actually like a real meal!
Godfrey: Thank you, congresswoman. Have a good lunch.