Bernie Sanders Gets a Rude Awakening
Super Tuesday's clearest message: While the senator has inspired a passionate depth of support, the breadth of his coalition remains too limited to win the nomination.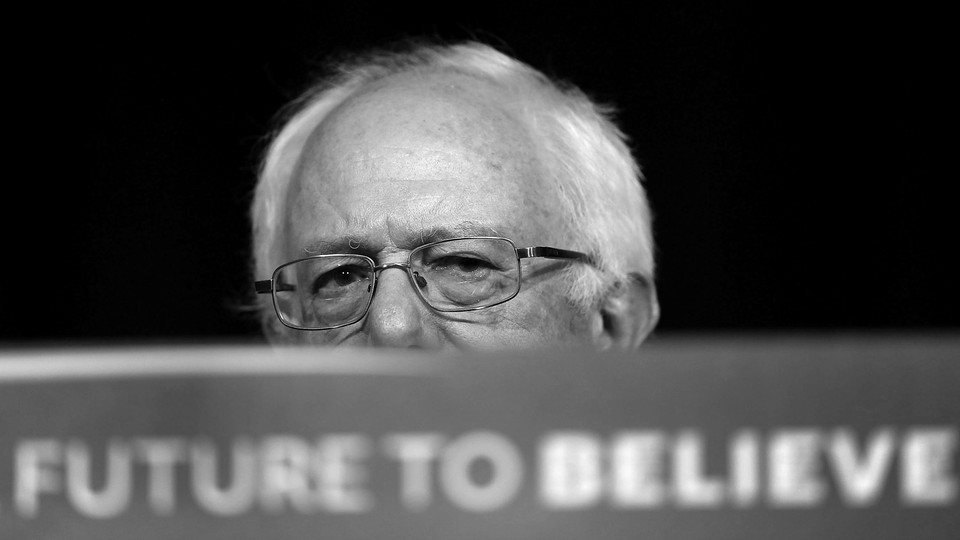 Bernie Sanders's self-proclaimed "political revolution" crashed into a wall of resistance inside the Democratic Party last night.
After a remarkable 72 hours that saw top party leaders consolidate behind Joe Biden, a panoramic array of key party voting groups coalesced around the former vice president—and against Sanders—in the coast-to-coast competition, according to exit polls conducted in almost all the states that voted. Biden captured at least nine of the 14 states voting, including some—such as Minnesota and Oklahoma—where Sanders won big in 2016.
The surprisingly decisive result left Sanders, a candidate who prides himself on his pile-driver-like consistency, facing a new challenge: finding a second act that can appeal to voters beyond the fervid base he has established. The evening's clearest message was that while the senator from Vermont has inspired a passionate depth of support, the breadth of his coalition remains too limited to win the nomination.
Sanders reached 33 percent or more of the vote in just five of the 14 states that voted, including his home state; beyond Vermont, he did not exceed 36 percent, his share in Colorado. Biden had a higher ceiling: He won at least 39 percent in seven states and roughly a third of the vote in three others. Stanley B. Greenberg, a veteran Democratic pollster, argued that Super Tuesday's results establish Biden as the clear front-runner for the nomination at the convention in July.
"Sanders has made no effort to reach out beyond his voters, his movement, his revolution," Greenberg said. "It just has not grown. It is an utterly stable vote that is grounded in the very liberal portion of the Democratic Party, but he's so disdainful of any outreach beyond that base. He seems content to just keep hitting that drum."
Last night's results could cull other candidates in the race sooner than later. Former New York City Mayor Michael Bloomberg, despite spending a breathtaking $234 million on advertising, did not win a single state; he'd poured $77 million into California and $57 million into Texas, and finished behind Sanders and Biden in both of them. Aides said he was reassessing his candidacy after those disappointing results. Elizabeth Warren, who has pledged to fight on until the convention, lost her home state of Massachusetts and in the exit polls showed only trace levels of support among any group other than her core constituency of college-educated whites.
The results did not ensure a Biden nomination or a Sanders defeat. Sanders still won four states, including a solid-if-not-crushing victory in California, the largest prize on the board. He retained enthusiastic backing from his base: young voters, the most liberal voters, and Latinos, the key group that he has moved in his direction since his first bid in 2016. Sanders's small-donor fundraising remains unparalleled. And big showdowns are looming over the next two Tuesdays in Florida, Arizona, and a quartet of Rust Belt battlegrounds: Illinois, Ohio, Missouri, and Michigan.
But if Biden wins next week in Michigan, one of Sanders's most significant victories four years ago, the rationale for the senator's candidacy could quickly become murky.
Last night, Sanders failed on almost every front to enlarge his coalition. He faced a sharp recoil from groups that have long been the most skeptical of him, including African Americans and older voters. Biden, conversely, received exactly the kind of consolidation among black voters that his campaign had hoped for after his strong performance in South Carolina: He carried about three-fifths or more of African American voters in Virginia, North Carolina, Texas, and Alabama and a majority in Tennessee, according to the exit polls. Outside of Vermont, Sanders faced cavernous deficits among voters 45 and older, who composed a clear majority of the electorate in most states.
Across the country, Sanders also lost ground among white voters up and down the socioeconomic ladder. College-educated white voters, who on the whole had been skeptical of both men until Biden won them in South Carolina, broke decisively for the former vice president in most states. Simultaneously, in most states, Biden reversed Sanders's previously consistent advantage among white voters without a college degree.
That latter breakthrough could be especially important for Biden in the upcoming midwestern states, where blue-collar white voters constitute a larger share of the Democratic primary electorate than in most places. A poll from Michigan released last night showed Biden pulling past Sanders there, even before the Super Tuesday results.
In 2016, Sanders won Michigan on the strength of a solid 15-point advantage among those working-class white voters. To keep them in his corner, he's likely over the next week to stress his opposition to free-trade agreements that his rival supported, such as the now defunct North American Free Trade Agreement.
"Look at the states on March 10 and March 17," said one senior Sanders adviser, who spoke on the condition of anonymity to discuss internal campaign planning. "We won Michigan because we hammered Clinton on trade. We are going to bring that back."
But this time, Sanders could face pointed questions there, and in other states across the Rust Belt, about how his Green New Deal agenda could affect auto manufacturing, an issue that has received almost no attention in the race so far.
Perhaps the starkest symbol of Sanders's limitations last night was the resurgence of a problem that severely damaged him in 2016: widespread resistance from primary voters who self-identify as Democrats (as opposed to independents).
In his 2016 race, exit polls found that Sanders won this bloc of voters only in New Hampshire and his home state of Vermont, and tied with Hillary Clinton among them in Wisconsin. Clinton beat him by about two to one among Democratic partisans in a cumulative analysis of all the exit polls conducted that year.
In the first stage of the 2020 race, Sanders seemed to have surmounted that problem: Among self-identified Democrats in Iowa, he finished just behind former South Bend, Indiana, Mayor Pete Buttigieg and about even with Biden and Warren. He also won a plurality of them in both New Hampshire and Nevada. But the issue resurfaced in South Carolina on Saturday, when Biden carried 54 percent of those voters, three times Sanders's share.
The Super Tuesday exit polls showed Biden beating Sanders among self-identified Democrats by about 30 percentage points in both Virginia and North Carolina, about 25 points in Oklahoma, 20 points in Tennessee, and nearly 50 in Alabama. Sanders was more competitive among Democratic partisans in the New England states of Massachusetts and Maine. But the overall pattern was unmistakable.
His collapse among Democratic partisans came after recent full-throated attacks on "the Democratic establishment" in his rallies and media appearances. Sanders has often sounded more as if he believes he's leading his movement in a hostile takeover of the party than a merger with it. (In his speech last night, he backed off only a half step, targeting his criticism at "the political establishment" rather than Democrats by name.) "It turns out that shitting all over the party you want to win the nomination of is a bad strategy," said one Democratic pollster who is not affiliated with any campaign but requested anonymity to comment candidly on the race.
Amanda Renteria, a Democratic strategist and the former national political director for Clinton in 2016, told me that Sanders's belligerent posture toward the party especially stood out when compared to Biden's recent moves—namely building a cross-racial coalition in South Carolina and then winning the endorsements of three of his former rivals: Amy Klobuchar, Beto O'Rourke, and Buttigieg.
"The fact that Sanders went a little hard [against the party] in these last couple of days after he had a couple of wins made everybody a little bit nervous," she said. By contrast, Biden and his former opponents had offered a "model of coming together and unifying" the party to take on Donald Trump.
"Bernie took the opposite approach: 'I'm going to tell both the Democratic and Republican establishment what's happening here,'" she added. "I think it scared people—how are we ever going to beat Trump if we are that divided?"
The senior Sanders adviser said the senator in the coming days will try to close that deficit by stressing differences with Biden that are important to rank-and-file Democrats. Sanders previewed them in his speech last night, contrasting himself with Biden over support for the Iraq War, potential cuts in entitlement programs, and a bill making it more difficult for consumers to declare bankruptcy.
Yet Sanders is now facing a current that has turned against him with remarkable rapidity and force. Greenberg said the number of voters who reached their decisions in the final days before Super Tuesday—and seemed to pivot largely based on their assessment of who was best positioned to beat Trump—represented "a once-in-a-century kind of primary."
"Voters are making tactical decisions about defeating Trump," Greenberg continued. "And that's a consuming preoccupation. Biden has an extraordinary set of things that came together."
The magnitude of that shift was best represented by Biden's performance among both college- and non-college-educated white voters last night.
As I wrote earlier this week, until South Carolina, a substantial share of college-educated white voters had parked with Buttigieg, Klobuchar, or Warren. One of the key questions for Super Tuesday was how those voters would realign in a race that largely reduced to Biden and Sanders. The answer, according to the exit polls, is that Biden outpolled Sanders among those college-educated white voters everywhere except California, Colorado, and Vermont (though the margin was also very narrow in Texas).
Biden, for instance, crushed Sanders in the white-collar suburbs of Northern Virginia. That suggests Sanders's call for political revolution is ringing hollow in the largely prosperous communities outside major cities that helped deliver the House majority to Democrats in 2018, largely out of antipathy toward Trump.
The reversal among white voters without a college degree was equally striking. During his 2016 race, Sanders carried most of them, according to the cumulative exit-poll analysis, and he won most of them in each of the first four states this year too. But last night showed that Sanders now has genuine competition: The exit polls found that Biden carried most of them in Virginia, Oklahoma, Tennessee, Alabama, Massachusetts, and Minnesota, while Sanders won them in Texas, Vermont, Colorado, and California. (The two split them closely in North Carolina.)
Biden hardly solved all his political problems last night. His performance remained weak among young voters (if slightly improved in some places compared with the first states). Latinos still broke decisively away from the former vice president in Texas and California. And his victory speech was scattered and disjointed; Biden could soon face a one-on-one debate with Sanders, who has proved much more nimble in those confrontations.
But as the race reduces to a binary choice between Biden and Sanders, it's the Vermont senator who emerged from the biggest night on the primary calendar with the greatest need to change the dynamic in the race.