The Long Arc of Joe Biden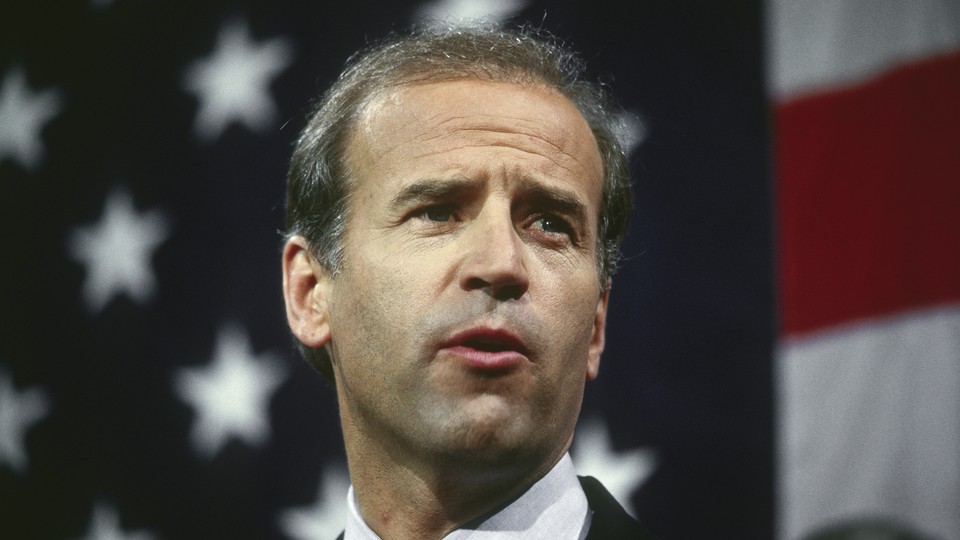 Joe Biden's last Democratic rival is all but vanquished. A deadly, invisible virus is sweeping the country. A global recession is looming and no one knows what may happen next, except this: Biden is poised to take on Donald Trump for the presidency he has coveted since the days of the Soviet Union, VHS tapes, The Simpsons' debut, and the first Palestinian intifada.
Who ever thought the 77-year-old former vice president and senator would make it this far? The answers may lie in a backward glance to his very first run at the presidency.
During the summer of 1987, Joe Biden looked like the man to beat for the Democratic presidential nomination. He was set to lead the Senate's Supreme Court confirmation hearings for Judge Robert Bork, introducing himself to a nationwide television audience, and he had found his public voice in some stirring words borrowed from the British Labour Party leader.
"Why is it that Joe Biden is the first in his family ever to go to a university?" he asked at the Iowa State Fair, describing unnamed ancestors "who worked in the coal mines" of Pennsylvania. "Is it because they didn't work hard? ... It's not because they weren't as smart ... It's not because they didn't work as hard ... It's because they didn't have a platform on which to stand."
But within weeks, Biden's promising campaign collapsed following allegations of serial plagiarism, and his national political future looked bleak. Twenty years later, his second presidential quest—against a popular former first lady and a rising senator of color whom he'd pronounced "articulate and bright and clean"—fizzled out before the first primary ballots were cast.
Now Biden—no less gaffe-prone, no less flawed a candidate, and pushing 80 to boot—is within reach of the prize he has pursued for 33 years. His campaign, which sputtered along for months in the face of skepticism and fourth- and fifth-place finishes, has exploded into a juggernaut that has once again made Joe Biden the man to beat.
How does the history of what went wrong for Biden explain what's gone right for him now? And how does a candidate who first seemed too "plastic" for the presidency, as one pundit put it, and then too scarred and old, suddenly strike so many Democratic-primary voters as just about right?
"He's a normal guy," William Schneider, the longtime political pundit and scholar, told me. "He's no more eloquent or lovable or admirable than most political figures. He's a normal guy, and he has all the benefits and failings of a normal guy. That's what got him in trouble in the first place; he tried to cut corners at times. In 1988, it was a different universe. Now he's seen as a normal response to Donald Trump, and Trump is not normal."
Schneider should know. He was the one who in 1987 gave Biden a tape of the moving 10-minute campaign film in which Neil Kinnock, the Labour leader running unsuccessfully against the Conservative Margaret Thatcher, spoke eloquently of his family's up-by-the-bootstraps history, and of the need for a socially conscious, government-backed "platform" as the key to upward mobility.
"Why am I the first Kinnock in a thousand generations to be able to get to university?" Kinnock famously asked in the commercial, made by the British director Hugh Hudson, whose Chariots of Fire had won the Oscar for Best Picture in 1981. "Is it because all our predecessors were thick? Did they lack talent? Those people who could sing, and play, and recite, and write poetry, those people who could make wonderful, beautiful things with their hands …"
"I watched the Kinnock ad once, and I never forgot it—partly because it rhymed with my own experience," Biden recalled in his 2007 memoir, Promises to Keep. "I had been the first Biden to go to college. I had ancestors from the coal mining town of Scranton."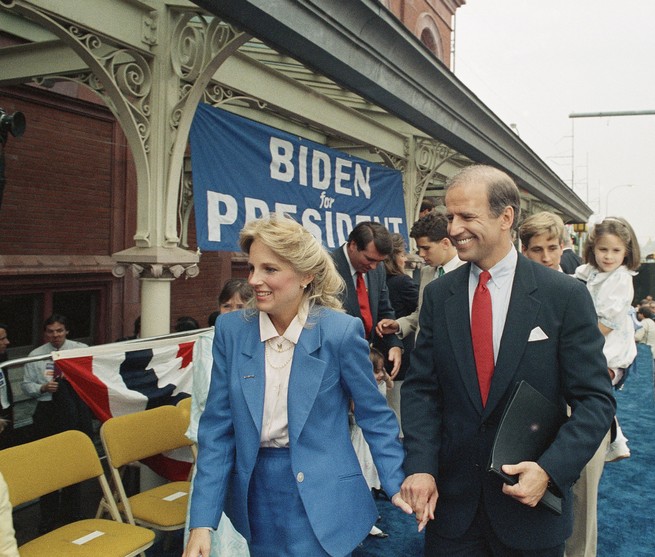 Biden has long been such an old shoe in American life that it's hard to remember he was once just a middle-aged, middle-of-the-road third-term senator from the small state of Delaware, struggling to become a household politician. As he started his 1988 campaign, he wrote, polls showed that just one in five voters nationally recognized his name, and in Cleveland in 1986, a local television reporter mistook him for Peter Ueberroth, the high-foreheaded Los Angeles businessman who led the 1984 Olympic Games.
So Biden was counting on his role as the chairman of the Senate Judiciary Committee in the forthcoming Bork hearings to propel him into the spotlight, and in Kinnock's speech he found a message that seemed to resonate with voters. He used it several times that summer in New Hampshire, attributing the words to Kinnock.
"He was a very competitive candidate," says Bill Carrick, a veteran Democratic campaign strategist who was then working for a Biden rival, Representative Richard Gephardt of Missouri. "He was moving in Iowa in polling, raising money and attracting the support of major fundraisers."
Then, in his closing statement in a candidate debate at the Iowa State Fair, Biden channeled Kinnock's words—and inflections and gestures and, seemingly, Kinnock's whole life—as his own, without attribution. He would later explain that he'd been distracted by preparations for the Bork hearings, was rushed and not thinking, and moved by a woman in the front row with tears streaming down her face. An aide warned Biden of his lapse in real time. He could have, he would later ruefully recall, instantly corrected it, with reporters still standing by. But he did not, and the damage was done.
That's because Schneider not only had given the Kinnock tape to Biden (and had shown it to another up-and-coming Democrat named Bill Clinton), but had passed it on to Jack Beatty, then his editor at this magazine. Beatty in turn gave it to a friend in Boston, John Sasso, the chief strategist for another Biden rival, Governor Michael Dukakis of Massachusetts, Schneider recalled. Sasso then sent a tape of the two speeches side by side to Maureen Dowd of The New York Times, whose damning front-page story appeared September 12 under the headline "Biden's Debate Finale: An Echo From Abroad," and the rest is history.
Soon, reporters were asking about other passages in Biden's speeches, lifted without apparent attribution from Robert Kennedy and Hubert Humphrey, and about his long-ago failure in law school at Syracuse University to properly cite a source, an "academic mistake," as he called it, that led to his flunking a course. Biden had explanations—even reasonable ones—but they were lost in the din of a media maelstrom. The New York Times' William Safire branded him "Plagiarizing Joe." His sons wanted him to stay in the race, worried that he might leave politics forever if he quit, but his own mother told him he had to drop out, and he did.
In her 2019 memoir, Where the Light Enters, Biden's wife, Jill, remembered crying alone in her bedroom behind closed doors, and wrote that for her husband, the controversy "was not only politically damaging, it was personally devastating."
Paradoxically, it may be the very scars from that searing experience—and from other tragedies and disappointments in Biden's life, including the deaths of his first wife and daughter and of his firstborn son, Beau—that are helping Biden now.
"Whatever the gaffes are, it's sort of priced into the stock by now with Joe," says David Axelrod, who as Barack Obama's chief political adviser in 2008 was instrumental in choosing Biden as Obama's running mate. "But what people don't doubt are the fundamental qualities of humanity and empathy and connection and decency—and those are very, very desirable and marketable assets in the era of Trump."
Axelrod can recall the whirlwind outing in which he and David Plouffe, another top Obama aide, visited the campaign's three finalists for vice president, landing in Wilmington, where they were met by Jill and Beau Biden. "On the way to the house, I watched the interaction between Jill and Beau, which was warm and touching, and at the Bidens' house, Joe arrived, and he chatted with Beau briefly and got caught up with him with personal stuff. And then he kissed him and said, 'I love you, and I'll come by later to see the kids.'" Axelrod says he has never forgotten how disarmed he was by the feeling of palpable family love.
"And the second thing that's different between '88 and 2008 and now," Axelrod adds, "is that he spent eight years as Barack Obama's vice president. And that helped provide the firewall in South Carolina that saved him from some of the problems his campaign had endured. That commitment to him was real, and I think a lot of that flowed from his relationship with Obama, and he didn't have that in 2008.
"One of the things I've noticed," Axelrod says, "as desultory as his primary campaign has been at times, the most interesting part of his events is the number of people who come there to share their stories or their struggles with him. He's like a mobile Lourdes unit. People come up to him afterwards just to share their story. He gives them hope. He gives them strength."
When I asked Schneider, who now teaches part-time at George Mason University and is a columnist for The Hill, whether Biden might yet revert to form, he broke in: "What you are saying is 'Make a stupid mistake?' He's perfectly capable of doing that. So am I, and I'd guess, so are you." Schneider noted that after his defeat for governor of California in 1962, Richard Nixon was pronounced politically dead, only to win the presidency in 1968. "Timing is everything—in comedy, and politics," he said. "Nixon was brought back to life because times change."
Biden himself would surely be the first to revel in his reversal of fortune. The feeling seems noticeable in his recent appearances, whether in his exultant speeches in South Carolina and on Super Tuesday, or his much more sober messages this week. When he dropped out of the race in 1987, he seemed to envision a happier time.
"Although it's awfully clear to me what choice I have to make," he said then, "I do it with incredible reluctance and it makes me angry. I'm angry with myself for having been put in this position—for having put myself in this position of having to make this choice. And I am no less frustrated at the environment of presidential politics that makes it so difficult to let the American people measure the whole Joe Biden, and not just the misstatements that I have made."
In an atmosphere of widespread public fear and uncertainty about the coronavirus, Biden's long experience at the highest levels of the federal government gives him a singular credential at a moment when management and leadership skills may matter most. For now, the presidential campaign consists not of the large rallies where he sometimes falters, but the small settings where he tends to excel. His long acquaintance with sorrow and grief makes him a skilled pastor in chief to a citizenry ripe for a strong shoulder and a sympathetic ear, as he effectively acknowledged in his debate with Bernie Sanders Sunday night, when he first suggested he could not imagine what people were feeling who'd already lost loved ones to the virus, and then corrected himself to say, "I guess I can imagine the fear and concern people have."
Three decades and nine political lives after his first presidential bid, it seems just possible that the American people, for better or worse, are getting the chance to measure "the whole Joe Biden" at last.