How Biden Came Back
To become the unity candidate, he first had to start tearing his rivals down.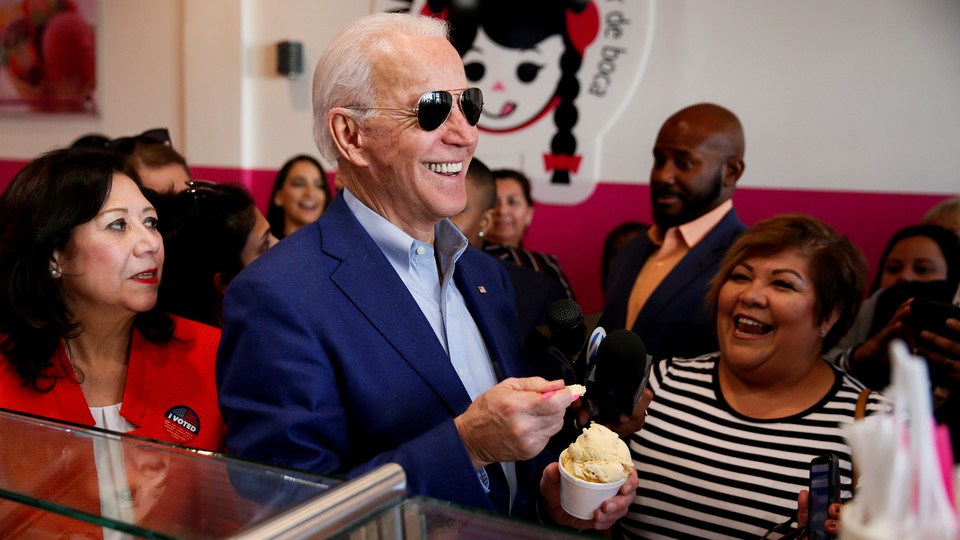 As Joe Biden meandered through a speech at the front of an old theater in Manchester, Terry Shumaker, a fixture of New Hampshire politics, walked around with his tweed-blazer pocket full of old buttons from the candidate's 1988 presidential campaign. He'd had three bags left over from 30 years ago, but he was starting to run out, he said. They were collector's items. It was the Saturday morning before the primary—and it seemed like there were about to be Biden 2020 pins to collect.
T. J. Ducklo, Biden's press secretary, worked his way through the reporters shoved into a corner of the room. He's never been part of a campaign before, and was essentially unknown in the political world before taking this job. The press corps was happy to see Ducklo—he'd announced in December that he'd been diagnosed with Stage 4 lung cancer, at age 31 with no history of smoking. But he'd pushed himself back onto the trail for Iowa and New Hampshire. Some reporters asked each other whether, at this point, his return was worth it.
Ducklo sidled up to the reporters, one by one, with the same mischievous smile. "Have you seen the video?" he'd say. "You gotta watch the video." And then he'd stand and wait for each reporter to pull it up on his or her phone: a one-minute-and-40-second-long ad that snarkily compared Biden's record with Pete Buttigieg's. "Both Vice President Biden and former Mayor Buttigieg have taken on tough fights: Under threat of a nuclear Iran, Joe Biden helped to negotiate the Iran deal," the narrator says. "Under threat of disappearing pets, Buttigieg negotiated lighter licensing regulations on pet-chip scanners."
The ad was harsh and petty, and the Biden campaign didn't have money to put it anywhere except on Twitter—and thus on reporters' phones. But that was enough. By the time Buttigieg did his rounds on the Sunday shows the next morning, he was getting asked about his experience at every turn.
To survive long enough to become the unity candidate, Biden first had to be persuaded to rip into his rivals. Between his disappointing finishes in the first three states and his blockbuster victories that followed, the campaign made tweaks like this one. It didn't overhaul its strategy or upend its structure. What his team did was try to redirect, in specific, targeted ways, a 77-year-old candidate who doesn't take direction particularly well—and hope the electorate would notice.
Biden at first resisted going negative, aides say—he doesn't like attacking fellow Democrats. But after a fourth-place finish in Iowa, he went after Bernie Sanders, whom he genuinely likes and had resisted taking on in the debates, by smacking down socialism every chance he got. And although he'd been touched by Buttigieg's defense of his family during the impeachment fight—and had come to see shades of his late son in the young mayor—he started attacking his moderate rival. He had no choice, his closest aides told him. This was a Do you actually want to be president? moment.
"He did not love taking a sharp swing at another Democrat," Kate Bedingfield, Biden's deputy campaign manager, told me on Wednesday, recalling the conversation she'd had with him after the campaign decided to release the Buttigieg video. "He did not love taking it at Pete, whom he likes and respects. But he also understood and knew it was necessary to interrupt the narrative and shift some of the dynamic in the race, which he knew desperately needed to happen."
The Biden campaign wasn't just broken. It was broke. Biden had no money for ads or internal polling, leaving his team to rely on publicly available numbers in order to get a feel for his performance. But it didn't take a grand master to see that they were about to get checkmated. So, after denying rumors that the campaign planned to leave New Hampshire early, the morning of the primary it did just that. Aides rushed Biden to South Carolina and shoved talking points in front of him about how minority voters—including the black voters who form the backbone of his support—hadn't been heard from yet. The move helped the speech get prominent TV coverage, which aides thought wouldn't have been possible if he'd stayed in New Hampshire.
What followed Biden's early finishes—including a second-place spot in Nevada—was the fastest turnaround from flub to front-runner in modern Democratic politics.
The basics of Biden's campaign didn't change. He kept a schedule with only a few events each day. He made new gaffes and generated new questions about whether he can consistently tell the truth.
But he stepped up his rhetoric on health care and guns, and at every moment he could, his team urged him to repeat one word: Obama. "This guy's not a Barack Obama!" he said of Buttigieg. Sanders, he said repeatedly, had wanted to primary the former president in 2012.
Decisions about campaign spending and Biden's schedule were handed over to Anita Dunn, an experienced Democratic operative (and former communications director in the Obama White House), who was pulled off the road to help run the show out of the Philadelphia headquarters. Greg Schultz, the campaign manager, was dispatched around the country to lean on donors not to jump to other campaigns—or start leaking to reporters about how much trouble Biden was in.
They needed to get to the South Carolina electorate—the black and more moderate voters who weren't well represented earlier in the primary. And in order to make the most of it, the campaign needed to change how the rest of the country was thinking of him too.
At first, as Biden campaigned in South Carolina, he appeared to be feeling down, as though he thought the race was over. "There were times when you could feel his spirit a little diminished," said Eric Garcetti, the Los Angeles mayor.* Garcetti had helped gin up Latino support ahead of an important second-place finish in Nevada, even as his allies teased him for throwing himself into a campaign that, at the time, looked like a lost cause. Biden, Garcetti said, "didn't wallow in it. He kept on plugging." Eric Ortner, a Biden friend and bundler, described Biden this way: The former vice president has "faced real darkness in his life," and "it's hard for anyone [who] hasn't been on his journey to know the spectrum that he measures light on."
However, Biden, who is one of the most extroverted politicians around, was soon feeding off the largely African American crowds in Charleston and Orangeburg—crowds that hadn't shown up in Cedar Rapids or Ottumwa during the long Iowa days. He started smiling more. Fletcher Smith Jr., a former state representative who introduced Biden at his final event in South Carolina last Friday, was optimistic about what the crowds meant for his candidate. "When you connect as a white guy with black people, it convinces white people too," he told me after the rally at a college gym in Spartanburg.
"All over America, this same kind of conversation is going to help him punch through," he predicted, a comment that seemed, at the time, more wistful than realistic.
By the time Biden showed up for a quick stop at a Greenville polling location the morning of the South Carolina primary, he and his staff knew that they'd win, aides told me, though they didn't know by how much. Public polls showed a tight race, and they had no other data to go on. The endorsement of Representative Jim Clyburn had been key, earning Biden the kind of media attention he couldn't afford to buy. ("If we had been before South Carolina, then Alabama would have delivered the big victory, and I would be the kingmaker," Representative Terri Sewell, an enthusiastic Biden backer from Selma, told me Wednesday. Biden would go on to sweep her district on Super Tuesday.)
Before the polls closed, his aides settled on the opening line for his victory speech: "To all those who have been knocked down, counted out, left behind: This is your campaign."
It wasn't a coronation, but a rebound—the kind of story Biden himself tells on the stump, about a man who is beaten down but refuses to give up and scratches his way back. "Fighting as an underdog is comfortable for him, and it's also comfortable for a lot of Americans," Ducklo said. "The message resonates because of the message and also because of the messenger."
Biden won South Carolina by 30 points. He raised $400,000 in the 20 minutes after the polls closed, before the campaign had sent any texts or emails asking for support. This was almost as much as the team had raised online in the week leading up to the Iowa caucuses. It raised more money in the subsequent three days than it had in the entire third quarter of 2019.
The race started to shrink. Speaking by phone with both Biden and Obama on Sunday night, Buttigieg, who had dropped out earlier that day, said he needed to sleep on an endorsement. The next morning, he told top aides to make it happen. Buttigieg's public announcement turned unexpectedly emotional when Biden told the audience, in Dallas, Texas, how much Buttigieg reminded him of his beloved late son, calling him "a Beau."
Amy Klobuchar dropped out on Monday, then offered Biden an enthusiastic endorsement and redirected her Minnesota campaign staff to activate for him in the state, which voted on Super Tuesday. Former Representative Beto O'Rourke reached out too. (Before he formally endorsed, Biden staffers tried to soothe O'Rourke's concerns about making his Sanders-inclined supporters feel betrayed.)
The influx of cash came too late to fund operations in most of the 14 states that would vote on Super Tuesday. He didn't even have the cash to fly to most of them himself. He certainly didn't have the money to advertise in most of them. But as voting started, he got significant media coverage—by wrapping his arms around his former rivals. Petty Biden was gone, replaced by Uncle Joe telling everyone, It's going to be all right. And that's what played on seemingly every station as the only political news all night.
"The exponential degree to which that was more powerful than a 30-second ad cannot be overstated," Ducklo said. "And Bernie Sanders was gone from the news." All former New York City Mayor Mike Bloomberg had was the 30-second ads he could squeeze in during the breaks.
Almost every one of the 10 wins on Super Tuesday was a surprise to the Biden campaign, aides told me. George Stephanopoulos, for example, surprised Bedingfield on the air by calling Massachusetts in the middle of their interview that night.
The sudden wave of Biden victories hasn't erased Democrats' concerns about the candidate. Some worry that his performance in the rest of the primary will be uneven, that he'll say things that get him into trouble, or that he'll have difficulty keeping up if he's the Democratic nominee and needs to campaign at a more rigorous pace.
"Biden has run for president three times. In all of those campaigns, there were only three days where he overperformed—they just so happened to be the three days between South Carolina and Super Tuesday," said Rebecca Katz, a progressive strategist who is unaffiliated with any campaign. "I am not saying Biden won't have more good days. I'm saying, let's just all take a deep breath as we look ahead to the hard work of the next several months."
For now, Democrats keep rushing to his side—hoping next Tuesday brings more wins.
"We were fully expecting the Alamo," Garcetti told me. "But once in a while, the hearty band survives."
---
*This article previously misstated Los Angeles Mayor Eric Garcetti's title.