Bernie Sanders Has a Choice to Make
After another dismal showing, the Vermont senator has no clear path to the nomination.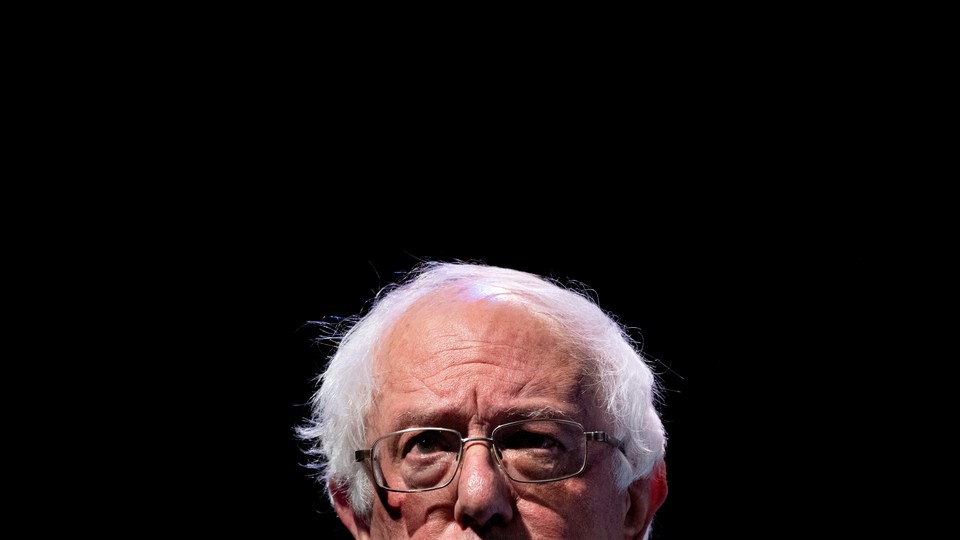 DETROIT—On Monday, Paul Sherlock drove up from Cleveland to Renaissance High School here for a Joe Biden rally—one that, thanks to the coronavirus outbreak, may have been the last public campaign event for a while. He brought his own Bernie Sanders sign, and paced around the perimeter of the school, trying to get noticed. He'd written CHANGE MY MIND in black pen on his sign. But he didn't really mean that. Sherlock was there for the arguments. I saw him get into one with two women (one wearing a Kamala Harris shirt, one wearing Biden buttons) in line for the Biden rally, pointing out Biden's support for the Iraq War and pushing back on their complaints that Sanders isn't a Democrat.
Sherlock, who has a "namaste" tattoo on the right side of his neck, sheepishly told me that he makes his money off of owning property, so he's "more at the top than at the bottom," but said he recognizes the need for the revolution Sanders wants to make happen. He's concerned about Biden's mental stamina, which is suddenly the talk of Sanders and Donald Trump supporters. He's panicked about climate change. He voted for Sanders in the 2016 primary, then Jill Stein in the general election, he told me. Biden is "on the wrong side of history," he said. He'll probably vote for Biden in November if he's the nominee, though he worries that other Sanders supporters won't, and that the former vice president will lose.
He also said that unless Sanders starts winning more primaries, it might be time for him to wrap up his run.
"It's already a divisive party—if things continue the way they are, it'll only get worse," Sherlock said as the rain began to dribble down. "I don't want further disruption of the party this time around."
Sanders and his aides know that the race slipped out of their fingers in the past 10 days. It's hard for them to believe that the race seemed so close just last week, when Sanders woke up on Super Tuesday thinking that he was on track to be the nominee, and scheduled a big Super Tuesday rally in his hometown of Burlington, Vermont, expecting a celebration. Now, after a dismal showing tonight, Sanders has virtually no path to the nomination.
Rallies for both Biden and Sanders are canceled for the foreseeable future—starting with competing events Tuesday night in Cleveland that the candidates scrapped on short notice. The Democratic debate scheduled for Sunday night in Phoenix won't have a live audience. The Tuesdays are getting less super. Biden's delegate lead is mounting. The Sanders campaign has failed to get any new momentum, and the Biden campaign has been rubbing it in that Sanders is on record saying he thinks the nomination should go to whichever candidate shows up at the summer convention with a plurality of delegates.
The campaign isn't where it was expecting to be at this point, but Representative Ro Khanna of California, one of Sanders's national co-chairs, is trying to hang on to hope.
Sanders, Khanna told me on Tuesday afternoon, is "going to be running strong in the way of the millions of votes. He's going to continue to get hundreds of delegates ... The point is that he still has a chance. There's still going to be scrutiny on Biden's record and Biden's vision in a way he hasn't really had." He added, "Biden hasn't faced real scrutiny since the beginning of the race—shouldn't he have at least the same length of scrutiny that Bernie or [Elizabeth] Warren or [Michael] Bloomberg went through?"
Optimism has collapsed into retrenchment. "Win or lose tonight, Bernie should stay in the race until the March 15th debate at the earliest" was the most that Maria Langholz, the press secretary for the Progressive Change Campaign Committee, could muster in an email sent to reporters Tuesday afternoon. Her group had been all in for Warren and making the case against Sanders until a week ago, when it began urging members to vote "strategically" for him, to extend the race.
Sanders's expectation that he could win with a split field, and could take the nomination with just 30 percent of the vote—an idea that top aides to the senator gleefully spelled out for me in the spring, when the race looked very different—seems almost impossible now. His supporters' attacks on other candidates have left him few friends—at the Biden rally on Monday night, I saw people sporting hats, buttons, and shirts from the campaigns of Harris, Pete Buttigieg, and Andrew Yang. And Sanders's continued attacks on "the establishment" annoyed some voters I talked with.
"It concerns me because he's not a Democrat," said Reginald Jackson, an autoworker who was waiting in line to get into the Biden rally, adding that he'd always been a Biden voter. "We're the establishment. Him saying that, that's kind of disrespectful. We're the voters."
The bitterness continued to spill out on Tuesday, after Biden said "You're full of shit" to an autoworker who'd read a prepared question saying the former vice president wanted to get rid of the Second Amendment. Sanders's campaign manager, Faiz Shakir, tweeted out a video of the incident, writing, "Oh no." (Biden campaign aides, meanwhile, eagerly spread around the video, feeling that it showed the candidate having a direct and blunt conversation knocking down misinformation about an issue voters care deeply about.)
Sanders has a choice to make about the next few months. Does he stay in a race that is becoming mathematically impossible for him to win? If he does, does he continue ripping into Biden like he has over the past week, getting crowds in Phoenix and St. Louis to boo repeatedly at the mention of the vice president's name? Or does he shift to a campaign that is more about raising issues in a discussion, and hope that whenever America emerges from its coronavirus crisis, events or sudden shifts in politics suddenly realign the race against Biden? What role does he take in responding to the chatter circulating among some of his supporters, and promoted by his aides, that Biden is in hiding (he isn't) because he's supposedly in cognitive decline (fueled by videos online showing Biden misspeaking and stumbling)?
Biden's campaign aides are frightened that Sanders will decide to torch their candidate. They've been stressing about how to respond if he does.
Tuesday afternoon, shortly before the polls closed, I spoke with Representative Mark Takano of California, who'd just announced his endorsement of Sanders. He told me that he'd been ready to do it at the end of last week, after his district went overwhelmingly for Sanders in the primary, and had been waiting on the Sanders campaign to get a video produced announcing his decision.
"This contest between Senator Sanders and Vice President Biden is a good one. It's important to have these conversations, this political discourse. We shouldn't be in such a rush to get this done and over with right away," he said. "We've seen dramatic turns happen in this campaign, in this race, and there could be dramatic turns that we don't anticipate."
Takano isn't blind to the results coming in. He is aware of the attacks on Biden. But he has a different plan.
"There's another way to talk about Bernie," Takano said. Instead of slamming Biden, talk up Sanders's record: voting against the Defense of Marriage Act in 1996, or fighting against President Barack Obama's proposed cuts to Social Security, or shepherding through major Veterans Affairs reforms. "This is fair game. This is not nasty, dirty rhetoric. In a fair debate, if people can remind voters of the distinctions, I think people will see that Bernie does have a vision, does have core convictions, and is a strong voice who can defeat Donald Trump."
The point of the campaign going forward, Khanna told me, will be living up to its "Not me. Us" slogan, even in what looks like the end stages of the race. "He cares about the policies," Khanna said. "He owes it to everyone who has voted for him and the millions of people and the delegates to push for these policies, and to make sure that the platform reflects that."