The Texas Congressman Who Isn't Afraid of the AOC Left
Progressives want Henry Cuellar out. Does his district?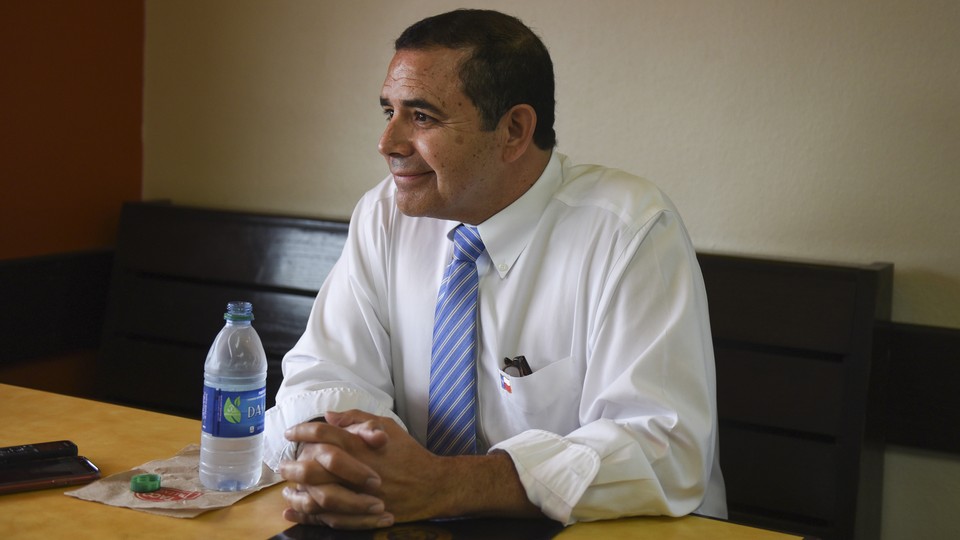 LAREDO, Texas—Henry Cuellar is not hip. The representative from Texas is one of the last anti-abortion, pro-gun Democrats left in Congress—and he doesn't apologize for it. He rails against socialism. He goes to church every Sunday and doesn't drink or smoke. He votes with President Donald Trump more often than just about any other House Democrat.
When I talked with him late last month, he went off on Medicare for All. "Where are we gonna come up with $32 trillion?" he asked me. "What are you going to say to the thousands of people in my district who have insurance? That we're going to take away their insurance and put them under socialized medicine?"
The congressman's brand of centrism can feel out of whack in a Democratic Party that has swung to the left and could conceivably nominate a democatic socialist to take on Trump in November. Cuellar has been a target of progressive ire for a long time, but he has skated to reelection ever since he first won his seat, in 2004.
Not this year. In early 2019, Justice Democrats—a progressive PAC that helped Representative Alexandria Ocasio-Cortez of New York and others successfully primary incumbent Democrats in 2018—pinpointed the seven-term congressman as among their biggest targets in 2020. In June, they announced their handpicked challenger: a 26-year-old immigration attorney and Laredo native named Jessica Cisneros, who also happens to be Cuellar's former intern. To say that there's a difference between them is an understatement: He has an A rating from the National Rifle Association; she's pushing for tougher gun laws. He's been in Texas politics since the 1980s; she graduated from law school less than a year ago.
Cisneros has the sexy endorsements—Senators Elizabeth Warren of Massachusetts and Bernie Sanders of Vermont are backing her, as is AOC—and a deluge of national attention. But all of that may still not be enough.
Texas's Twenty-Eighth Congressional District is huge, stretching from the eastern outskirts of San Antonio to the southern border with Mexico. This swath of the state is reliably Democratic, but unlike most blue districts in the country, it's largely rural and overwhelmingly Latino—a land of ranchers and fracking and hunting. Driving on I-35 between San Antonio and Laredo, I spotted a billboard advertising the world's largest deer-head museum. Out of it juts what appears to be a large, actual deer head.
"It's easy to mistake partisanship for ideology," says Matt Angle, a longtime Democratic strategist in Texas. "The Twenty-Eighth District is very Democratic, but it's not very liberal."
Cuellar is never going to change—and in this district, which heads to the polls today, maybe he doesn't have to.
Basically everyone in Laredo knows the Cuellar family. Cuellar's brother Martin is the Webb County sheriff. His sister Rosie is the Webb County tax assessor-collector. All three are up for reelection, and heavily trafficked intersections up and down the city's main drag are drenched in signs imploring you to vote for one, two, or all three of them.
Cuellar hasn't had to run a serious campaign in past elections, but he isn't taking the challenge from Cisneros lightly. He has branded himself as a known quantity, while labeling Cisneros as a socialist who is out of step with the district. When I was in Laredo, television ads for Cuellar seemingly played on loop. One ad says that Cisneros wants to shut down the oil and gas industry.
And although Cuellar may sound and act a whole lot differently from most Democrats today, he still has the backing of the most powerful Democrat in America: House Speaker Nancy Pelosi.
When Pelosi announced at The Texas Tribune Festival, in Austin, in September that she was endorsing Cuellar, some people in the audience booed. Pelosi and Cuellar have a good working relationship, he has said.
In late February, Pelosi trekked to Laredo for a string of fundraisers for Cuellar. She made a pit stop at Cuellar's campaign headquarters, where she spoke with a few dozen cheering supporters. I thought the place would have metal detectors and white tablecloths. When I got there, I realized it was in a strip mall next to a barbecue joint, and had a plastic sign. The building looked like it might have previously been a bar. When Pelosi and Cuellar walked in together, 30 minutes after their scheduled arrival, the crowd erupted in cheers. "We assume that Henry will win, but we don't take anything for granted," Pelosi said. "The word assume—ass of you and me. Assume nothing."
After Pelosi left and the crowd thinned out, Cuellar and I walked upstairs and sat down at a folding table. Supporters kept interrupting to hug "Papacito" and thank him. One of them even hugged me.
I did not expect him to talk much—he hasn't given many interviews during the campaign. But he was eager to blast Cisneros and Justice Democrats, who have criticized him for his coziness with corporate PACs.
"Justice Socialist Democrats are a PAC also, but I guess their PAC is okay," he said. "They try to say they're so pure, but when you start looking at it, everything they do, they misinform in so many ways."
He paused, and then went more explicitly after Cisneros. "She graduated; she went to New York, took the state bar in New York … Think about it. If you're an attorney, you get your license where you want to practice. Her plan was to practice in New York," he said, emphasizing the last two words in a high-pitched voice. (Taking the bar in New York doesn't prevent Cisneros from practicing in Texas or most other states.)
Cuellar's moderate views have made him a pariah to lots of Democrats, but he doubled down on them when we spoke. "Democrats in Texas, when I started, it was safe, legal, rare abortion," he said, pausing between all three points and counting them out on his fingers. "I have an issue with extreme positions, like minors getting abortions without parental consent."
I asked him whether he considers Trump a personal friend. There's a pause.
"No," he said. Then he had to leave.
Cuellar's centrist views on issues like health care and climate change have led Cisneros to believe she has a chance. She's painted him as a do-nothing congressman who doesn't really get the district. "He has been leaning into these stereotypes that South Texas is conservative and that we like things the way they are," she told me when we talked in November. (Cisneros didn't respond to multiple requests for comment in recent weeks.) "It's very interesting to see that once he found out he was going to get primaried, all of a sudden he makes time for these people," she said then. "But the community knows better. They know it's because now he has to work for his job."
Although her campaign has gotten a wave of national attention, and high-profile endorsements from groups like Emily's List and the Texas AFL-CIO, it's a different story in Laredo. Although she outraised him in the first six weeks of 2020, relatively few of her donations have come from within the district.
Cisneros's embrace of a full suite of left-wing dreams probably isn't helping her campaign: Championing a Green New Deal is a tough sell in an area where the oil and gas industry is responsible for many well-paying jobs.
"Just because you can critique Cuellar for being more conservative than the average primary voter doesn't mean they're going to tilt further to the left and vote for Cisneros," says Mark P. Jones, a political scientist at Rice University.
I heard roughly the same from voters I talked with in Laredo. "There's this idea of moderation that I feel the left has gone so far away from," said Ralph Garcia, a 36-year-old photographer. "With Cisneros, we're only going to get one flavor. If we go with Cuellar, we get a little bit of both."
Adrian Zapata, a 34-year-old insurance broker who lives in Laredo and voted early for Cuellar, told me that he appreciates Cuellar's opposition to abortion. "It's against everything we believe in," he said, referring to the district. Zapata said there are grandmothers in their mid-to-late 30s who would rather take care of more children at home than have their daughter get an abortion. "I think that says something for the deep pro-life stance we're engrained with," he told me.
Religion is everywhere in Laredo: Rosaries hang from rearview mirrors; bumper stickers tell you to vote with Jesus. "A lot of families have lived here for generations and are resistant to change," Jones says.
When I was there, what felt like the entire city had gathered for a parade to celebrate George Washington's birthday—a local tradition that's happened every year since 1898. As the U.S. Customs and Border Protection float rolled by, Lee Greenwood's "God Bless the U.S.A." blared so loudly that the sidewalk vibrated. CBP's mascot, a roughly eight-foot-tall bald eagle named the Enforcer, flailed its arms in the air, tossing lollipops to the crowd. A few minutes later, Cuellar—accompanied by his wife and two daughters—waved from the back of a black Dodge pickup truck. A float behind it displayed a sign that said vote biblical values!
As Cuellar went by, a small pocket in the crowd started shouting, "Jessica! Jessica!" Cisneros walked a few feet into the parade route. "The people of the district deserve a debate," she shouted at Cuellar. Imelda, the congressman's wife, tossed Cisneros a beaded necklace. Then the pickup kept going.