Watch New Orleans
With the country's attention turned north, the coronavirus pandemic is exploding in Louisiana.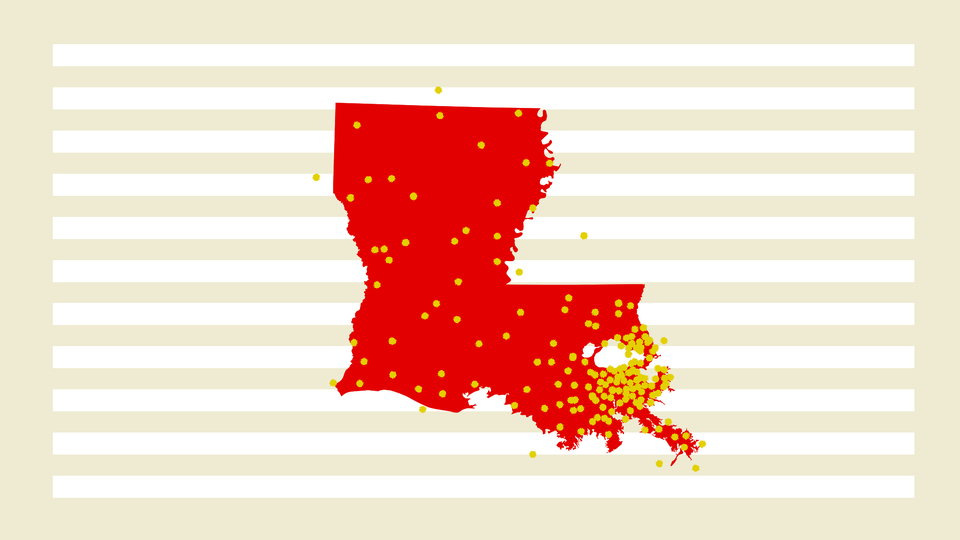 Between the time this sentence was written and the time this article is published, hundreds more Americans will likely have died from COVID-19. Hundreds or perhaps thousands more people will have been hospitalized, and certainly tens of thousands more will have tested positive for the coronavirus. At this point, making predictions about the pandemic is like riding a barrel over Niagara Falls: We can only guess how it ends, but we do know things are going down.
Here's another prediction that's safe to make: The city of New Orleans—and, potentially, all of Louisiana—is going to become the next front in the fight against the pandemic. Even as national attention is justifiably focused on the aggressive outbreak in Washington State and the mounting pressures on New York City's hospitals, the virus's advance in Louisiana has shaken local officials and doctors, and the state is already approaching a similar burden of infections and deaths as the crises to the north. There's good reason to believe that this southern outbreak will be even more difficult to contain, and is perhaps a better harbinger of what's to come as the pandemic spreads across the country.
The numbers already indicate that Louisiana is a global epicenter of the pandemic. Just over 1 percent of the U.S. population lives in Louisiana. But according to the COVID Tracking Project, 7 percent of all COVID-19 deaths, 7 percent of all hospitalizations, and 3 percent of all positive tests have been in the state. New York has suffered about two deaths per 100,000 residents. Louisiana is at 1.8.
To put the numbers into perspective, if Louisiana were a country, its death count would put it in the top 15 globally. The burden appears to be increasing so quickly that all of these statistics will quickly become out of date. The state reported 83 total deaths from COVID-19 as of noon yesterday. It had reported 34 as of Monday. And, as is the nature of this virus, most of the reported data represent only a snapshot of the infections that took place a week or two ago. Hospitalizations and deaths will increase. And, if other outbreaks around the world are any example, the curve will not rise gently. The fallout in Louisiana will be most painful in the New Orleans metropolitan area, whose Orleans and Jefferson Parishes account for two-thirds of all cases in the state.
Louisiana Governor John Bel Edwards has already declared a state of emergency. In a press conference on Wednesday, he said that, despite the official numbers, he's certain that all parishes in the state have coronavirus cases. He asked citizens to continue to stay home and follow state guidelines on slowing the spread of the virus. Like New York Governor Andrew Cuomo, Edwards also warned of a critical shortage of ventilators in the hospitals that will soon be hit with waves of COVID-19 patients. "We could potentially run out of vents in the New Orleans area in the first week in April," Edwards said. According to state data, a third of all people hospitalized because of the virus so far have required ventilators.
Local officials in New Orleans have made even more dire pronouncements. "We are preparing to mobilize in a way that many of us have never seen," said Collin Arnold, the city's homeland-security director, in a separate press conference Wednesday. "This is a disaster that will define us for generations." New Orleans Mayor LaToya Cantrell said the same day that the city expects hospital beds to fill within two weeks, and she authorized the use of the Morial Convention Center as an overflow site.
Physicians and other health professionals in the city already seem close to being overwhelmed. In a tweet on Wednesday, the former state secretary of health, Rebekah Gee, referenced stories of people reusing protective gear or ordering it from eBay. Joshua Denson, a pulmonary and critical-care physician at Tulane Medical Center and University Medical Center New Orleans, diagnosed the second confirmed case of coronavirus in the city. Now he's currently under self-quarantine as he awaits the results of his own test for the virus. "I'm not the only one of our critical-care doctors who is on quarantine or sick right now," Denson told me. "The big point is: If you lose one or two, it's a big deal. This isn't a place that's just swimming with available options."
According to Denson, problems particular to Louisiana might make an outbreak there worse than what other parts of the U.S. have seen. The state has one of the highest poverty rates in the country, and with that burden comes health disparities—including the kinds of conditions that appear to put people at risk for serious complications from the coronavirus. Louisiana is one of the youngest states in the country, which would seem to suggest that its residents would have better outcomes, given that older people have so far been the most vulnerable to the outbreak. But about 43 percent of its adult population falls into "at risk" categories, according to the Kaiser Family Foundation. A sizable number of young adults in the state have preexisting conditions.
According to Denson, that means New Orleans and the rest of Louisiana might be looking at a different kind of outbreak than most countries—or even New York and Washington—have seen, including widespread hospitalizations or even deaths of young people. Yesterday, Louisiana reported its first death of a person under 35, a 17-year-old in Orleans Parish.
"We're seeing different processes of this disease than they have seen in China, at least anecdotally," Denson said. "We're seeing more comorbid conditions that are common to Americans, such as high blood pressure, stroke, and diabetes."
Many common assumptions about the coronavirus pandemic are about to be tested in the U.S., in ways they haven't been so far. The effects of the virus on populations like those in the American South—poorer, characterized by marked racial and social disparities in health status and health access, and often saddled with multiple preexisting conditions—aren't yet well known. And many other southern states, unlike Louisiana, New York, Washington—all of which expanded Medicaid under the Affordable Care Act—have little in the way of public health-insurance options for those younger at-risk populations. If Louisiana (likely through Mardi Gras) was COVID-19's foothold in the South, then America is about to learn a whole lot about how the disease interacts with some of the most stubborn and intractable health-care issues in the country.
For now, the next point of focus should be on New Orleans. It's not Italy, not yet. But the warnings are urgent, and perhaps even more portentous in their sobriety and certainty. The state will run out of crucial resources for taking care of coronavirus patients, likely before their number peaks. Hospitals will be under extreme strain. Health-care professionals will contract the virus themselves. Underlying health conditions will make their jobs more difficult.
That means now is the time for desperate measures, Denson thinks. He's calling for the kind of mobilization people reserve for the worst disasters—including donations of supplies and more doctors and nurses. "I hope that two months down the road, people are saying, 'I overreacted,'" he said.