How Los Angeles Is Preparing for a Worst-Case Scenario
Will Southern California's perceived lower density prevent a public-health emergency? Not necessarily.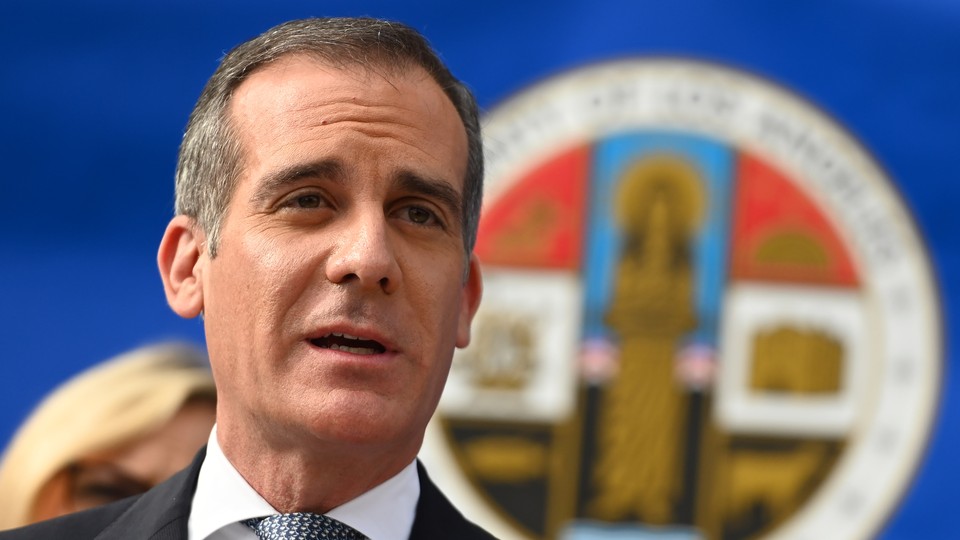 LOS ANGELES—On paper, Eric Garcetti is one of the least powerful big-city mayors in America. Los Angeles doesn't even have its own health department. This sprawling metropolis surrounds and adjoins, yet is still dwarfed by, the raft of other municipalities that are home to the 10 million people of Los Angeles County, the nation's largest county, with an area more than 80 percent the size of Connecticut's.
Yet Garcetti has emerged as a prominent fighter in the battle against the coronavirus, last week ordering the month-long closure of all but essential businesses, and requiring residents to stay in their home except for necessary trips to buy groceries and gasoline, obtain medical care, and the like. "Each one of us is a first responder in this crisis," he said at the time, "and Angelenos understand that we have to make big sacrifices right now to save lives."
It was a bold move for Garcetti, 49, who in his nearly seven years in office has often been criticized as ambitious but politically hyper-cautious. And it had a big effect: Less than an hour later, Governor Gavin Newsom followed suit with a comparable statewide order, making California the first state in the nation to impose a virtual lockdown. Days later, the governors of New York, Illinois, and other states followed California's lead.
I caught up with Garcetti by phone on Wednesday, when the number of confirmed COVID-19 cases in Los Angeles County had just edged to 800. He described his rationale for the order this way: "When it feels wrong, it's the time to do it. By the time it feels right, it's too late." Our conversation has been lightly edited for length and clarity.
Todd Purdum: What is your biggest concern?
Eric Garcetti: My biggest concern right now is people dying—a hospital system that will, in its insufficiency, cause us to choose between life and death for people who otherwise could have been saved. There are many things that keep me up, and many things that are extremely damaging—economically, socially—but foremost, it's the saving of lives and the tidal wave that's coming.
Purdum: Your order bars nonessential businesses from operating, but not everyone is complying. You've said city lawyers will give warnings, but you're prepared to enforce the order by shutting off city power and water to violators.
Garcetti: Yeah, and have the police shut them down too. I want to be clear: Police will come and tell them to shut things down … Businesses that continue to operate, we will literally shut them down. We can't be at every business all the time, and if they keep popping up, we will just take care of it that way.
Purdum: What is the city's capacity of intensive-care beds and ventilators, and where do you stand, say, in comparison to New York?
Garcetti: We are, depending on how you calculate it, six to 12 days behind New York … If you just look at the raw numbers, if we have the same rate of increase that we're experiencing the last couple of days, it would be about 12 days, but we've had some days in which the rate of increase is faster.
That said, we implemented, at this same parallel point in time, our distancing measures more extremely and more quickly, which is not to be critical of New York. We were just lucky enough to have done it.
[In Los Angeles County] there are 22,318 beds [in total]. There are available right now 743 medical-surgical beds, 433 telemetry beds [capable of cardiac monitoring], 222 ICU beds, and 91 isolation beds. We have just under 900 ventilators county-wide. Essentially, we're thinking about this as without borders between city and county. In fact, for L.A., you really should be thinking San Bernardino, Riverside, Orange, and Ventura [Counties] too—and so that's a 19-million-person city.
Purdum: This is a huge, diverse state—with some extremely rural areas, areas that are the political equivalent of red states. Has it been hard for Governor Newsom and the state government to deal with those disparities when it comes to stay-at-home orders?
Garcetti: I spoke to the governor [last week, when L.A. issued its stay-at-home order]. I urged him that this was a moment for lifesaving measures, and he could be a difference maker. I said—and I say this to mayors across the country too—cities are looking for Mom or Dad to tell them right now [what to do]. It's not every day that you take actions that can save lives in your city. But I absolutely think it was something that the governor wrestled with, and I'm very proud of him for being the first governor in the country to do it.
Purdum: Perhaps people who don't know Los Angeles think it's been shielded by a lack of density. Should Angelenos be prepared for comparable levels of affliction as in New York, for example?
Garcetti: I warn people that while that may have contributed to earlier spread in New York, we certainly will see that spread happen just as much here. As a metropolitan area, Los Angeles is more dense than the New York metropolitan area. And you can go to the [New York] suburbs, you know, New Rochelle and places like that that are more like the suburban areas of L.A. County, and that spread happened very quickly there.
We have folks that absolutely are living incredibly densely, even if when you fly over the city you don't feel it. There might be three families living in that one-family house in South L.A. and the San Fernando Valley, in Mid City. So there is intense density across the L.A. metro region, and we shouldn't think, Oh, we're spaced out, it's going to be fine, because now the spread really happens within buildings, it happens amongst families, and all it takes is that one person not knowing. This is here. And if we do a good job in L.A. city, that means nothing if L.A. County doesn't do a good job.
The good news is, I've been tracking a lot of [cellphone and other] movement data, and Los Angeles was the county whose individuals were moving the least in all of Southern California.
Purdum: This is a gorgeous environment, tremendous open space, but recreation venues can get pretty crowded, no?
Garcetti: That's absolutely right. Just because we have an abundance of open space, we still have 10 million people who want to share that. So that's why we shut down the parking lots at the beaches. The county followed that, together with Santa Monica, and shut down the piers. People think in certain environments—they kind of get ahead of themselves and think, Oh, well, I'm out in a park, so it's okay to be two feet away from my fellow 20-something friend, or at the beach, Oh, it's clean and the air's blowing; I can't get anything here. And that's precisely where super-spreaders can have an effect and kill people.
Purdum: Californians are blessed by their proximity to the nation's food supply. Grocery stores and local farmers' markets have stayed open. Do you have any concerns about the safety of the food supply chain?
Garcetti: We're not worried about the production and the supply chain. That is solid, and there's no kind of epidemic I've looked at in history where suddenly the agricultural sector can't produce food. Farmers' markets have to be careful, just like grocery stores. There's a chance for a little bit more spacing there, and certainly people have to be careful in the produce sections. I hope that we can keep those small farmers going. Just the sheer fear right now, and the cliff that everybody is staring down—it is unlike anything anybody's seen.
Purdum: L.A., like the rest of the country, has wide disparities in wealth. Do you expect the virus to have a disproportionate impact on disadvantaged communities?
Garcetti: So far, the earlier cases are actually skewing to wealthier areas, but I think that it will be an equal-opportunity virus. It's going to hit everybody. My worry is for those who have fewer resources, all the way down to our unhoused Angelenos, because they will be the hardest hit because they have no options of where to go; they have no options to self-isolate.
Purdum: It goes without saying that homelessness is a severe problem here. How are you coping with that?
Garcetti: So far, knock on wood, so good. No confirmed cases, even though there's been testing, of anybody who's been homeless. But there must be, because among all of us who are housed, there are obviously many more cases than the statistics so far show. We are doing okay. I would say, I wish we could be doing more. Some of that came from the CDC changing guidance about spacing and whether people should be in shelter or not.
We're having good progress working with the county and using state moneys on motel and hotel rooms—about 600 of them—that can be used not just for isolation of symptomatic patients, but also for the higher-acuity population from the streets.
Purdum: Do the federal government's failures in this crisis implicate larger problems or failings in our society?
Garcetti: No question. This crisis highlights problems with the model of capitalism that we have right now. It highlights problems in our lack of empathy for one another. It highlights problems in our federal system. I know that we heard from Washington yesterday that we have a "federal system"—I think the vice president said that. It's true, but the federal system has, at the highest levels, national leadership for national problems. A virus is not a local problem. It's not something that you just say, 'Well, there'll be 20,000 mayors that will take care of it, and we'll give 'em whatever help they need.' Or even 50 governors. This is something in which national stockpiles matter, national planning matters, and the ability to direct our industrial might, and to think strategically about that.
The remarkable strides made by the logistics industry of "just in time" inventory means that we won't have anything "just in time" that we hadn't built up and filled warehouses with, [including] the most basic things for our health-care professionals. I think the first duty of government is to protect people's lives, and by that measure, there's been a profound failure.
Purdum: Do you ever regret not running for president?
Garcetti: No, I do not. It was absolutely the right decision for me. I knew I couldn't run for president and run a big city at the same time, and I felt a deep responsibility to my city. At this point, everything I've learned and everything I know about local government, I'm bringing to bear. I'm in contact with the 12 other big-city mayors in California every night. I'm in regular contact with a couple hundred other mayors around the country. It is an unsung army of heroes who are doing such amazing work, and I'm humbled to be alongside them.