China Hawks Are Calling the Coronavirus a 'Wake-Up Call'
Hard-liners have long warned of the systemic risks posed by America's global supply chains. Now they're pointing to the outbreak as definitive proof.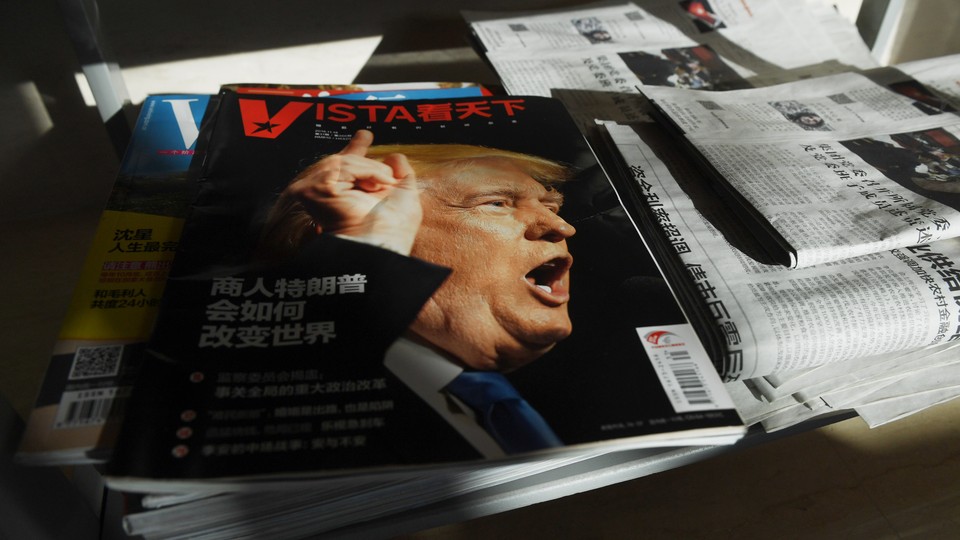 Donald Trump has in many ways made good on his campaign promises to confront China. He's waged a trade war, urged allies to restrict relations with the Chinese, and reoriented Washington toward long-term competition with Beijing.
Now, with the spread of a new coronavirus originating in China and rapidly descending on the United States, another front has opened in the struggle between the world's most powerful nations. The global outbreak has served as a stark reminder that the human race is all in this together and that collaboration among countries is the only way out of this nightmare. But rather than focus on the demands of interdependence, a number of prominent figures in the Trump administration and Congress are seizing the moment to highlight the dangers of America's dependence on other nations in general and China in particular.
As Trump's trade adviser Peter Navarro and Senator Marco Rubio both told me, the crisis is an alarming "wake-up call" about American vulnerabilities in a globalized world—one that the United States has for decades played a leading role in sustaining.
President Trump has so far refrained from publicly criticizing Chinese leader Xi Jinping and, besides issuing travel restrictions, from taking antagonistic actions akin to the tariffs he imposed in response to China's trade practices. Yet some of the nationalist hawks in his administration, who are engaged in a long-running struggle over China policy with the president's more internationalist, dovish advisers, have been outspoken about how the public-health emergency could factor into Trump's "America first" agenda. In January, Commerce Secretary Wilbur Ross stated that he didn't "want to talk about a victory lap over a very unfortunate, very malignant disease," only to then predict a possible victory: that the outbreak in China "will help to accelerate the return of jobs to North America."
Navarro, the director of the Office of Trade and Manufacturing Policy, told me that the coronavirus epidemic illustrates how the United States is "dependent on foreign sources" for crucial medicines and medical supplies.
Nearly all surgical and most respirator masks used in the U.S., for instance, are manufactured in other countries such as China and Mexico, resulting in shortages during the current crisis. But the challenges extend beyond medical supplies central to the coronavirus outbreak. Yanzhong Huang, a global-health expert at the Council on Foreign Relations, noted that China is the largest exporter of medical devices to the United States, and that about 80 percent of the active pharmaceutical ingredients in American drugs come from China and India. "Chinese pharmaceutical firms have captured 97 percent of the U.S. market for antibiotics and more than 90 percent of the market for vitamin C," he wrote. "In 2018, 95 percent of ibuprofen, 91 percent of hydrocortisone, 70 percent of acetaminophen, and 40–45 percent of [the blood thinner] heparin imported to the United States came from China."
Navarro argued that the "the Obama-Biden administration" was repeatedly reminded of America's reliance on other countries but ultimately "did nothing," whereas Trump has focused on "bringing supply chains, jobs, and production home" and aims to "reduce this dependency, strengthen our public-health industrial base, and protect the American people." (The Trump administration has yet to prove that its policies have brought about a renaissance in American manufacturing, which was in recession during the second half of 2019.)
Navarro proposed that the U.S. government should encourage high-tech domestic manufacturing of medical supplies and ensure that everything it procures across federal agencies "is domestically sourced." This "buying American" should include "not just the finished products, like the pills and face masks and ventilators," but also "the critical components, precursor chemicals, and advanced pharmaceutical ingredients we need for production," he said.
His conception of the world in the grips of an epidemic is more dog-eat-dog than lion-lying-down-with-lamb, with America left alone to fend for itself just like every other country. Navarro, an architect of Trump's "America first" trade policies and author of such books as Death by China and The Coming China Wars, has suggested that while America's foreign-dependency problem has a lot to do with China, it even encompasses the United States' closest friends. "In crises like this, we have no allies," Navarro noted on Fox News recently, alleging that Australia, Canada, and the United Kingdom "denied us what we needed" in terms of medical provisions during the 2009 swine-flu outbreak. "We got to get [medical supply chains] back onshore" from China, India, and Europe, he said.
Trump has yet to adopt all these policies. But the fallout from the global outbreak, which coincides with his reelection bid, could motivate him to do so. "Coronavirus is the intersection of 3 issues @realDonaldTrump has been right about all along: border control, American manufacturing, China hawk," Donald Trump Jr. tweeted recently, in a preview of a possible campaign message.
And, if implemented, such policies could upend global supply chains and renew a push to unwind economic integration between the world's two largest economies, which could significantly reverse globalization. (This had slowed somewhat after the U.S. and China struck an interim trade agreement in January.) Globalism, with its unwieldy and "complex systems tied to yet more complex systems," could be the biggest "casualty in the war on the coronavirus," Curtis Ellis, the policy director of America First Policies, the nonprofit arm of a pro-Trump super PAC, wrote last month.
These arguments have been echoed by China hard-liners in Congress. In response to the coronavirus outbreak, Rubio and another Republican senator, Josh Hawley, have proposed separate bills to lessen America's reliance on China for medical supplies. Whether the administration will support these initiatives isn't clear. During a congressional hearing last month, Health and Human Services Secretary Alex Azar said he shared Rubio's concern about America's reliance on China for active pharmaceutical ingredients. Yet he cautioned that disentangling globalized supply chains in favor of domestic manufacturing can't be accomplished "overnight" and could raise health-care costs for Americans.
Rubio has previously warned of the risks that China poses to the U.S. health-care industry and challenged Beijing on numerous issues, including its efforts to suppress pro-democracy protests in Hong Kong. He told me that "the depletion of America's manufacturing sector has left us with a huge national-security vulnerability," necessitating "a 21st-century, pro-American industrial policy."
The bids to break free from America's bonds with Beijing, moreover, go well beyond the medical sector. Mac Thornberry, the ranking Republican member of the House Armed Services Committee, has stated that while "we want to get coronavirus contained [and] eliminated as fast as we can … maybe we can also take this opportunity" to reduce America's reliance on China for defense-related products and components.
When I asked Rubio why he was taking a more confrontational approach to China during a global emergency that seemed to call for international cooperation, he maintained that "the Chinese Communist Party has proven it is not a reliable or responsible global power."
China "impeded efforts of international researchers and failed to share information on the source of the virus or best practices," he said. "Their Communist Party is more interested in 'saving face' and stamping out internal dissent [than] in helping [to] prevent the spread of [this] dangerous disease."
U.S. officials have similarly criticized the leaders of Iran, another adversary hit hard by the coronavirus. Richard Goldberg, the former director for countering Iranian weapons of mass destruction on the National Security Council, told me that these critiques have to do with the nature of the political systems in China and Iran, not simply the fact that both are foes of the United States. Authoritarian governments are especially likely to hinder international responses to global threats, he argued.
"Anywhere you see a closed, centralized, nontransparent regime, you see the inability to flex quickly as crisis emerges," explained Goldberg, now a senior adviser at the Foundation for Defense of Democracies. Democracies, too, "can fail," he allowed, but they also "can respond to failure and correct [themselves] quickly." As democracies including the United States struggle mightily to contain the virus, that purported capacity to self-correct is on trial.
Explaining on Friday why he calls the new coronavirus the "Wuhan virus," in reference to the Chinese city where it began, Secretary of State Mike Pompeo noted that the terminology highlights "the risks when you have an interconnected world."
"We create wealth through this interconnectivity," he said. "But when you have an entity like the Chinese Communist Party who is providing data sets that aren't transparent and aren't clear, this is the risk."
The Trump administration still hopes to emerge from this crisis having minimized the downside of globalization while maintaining its upside. But in a 2004 report on what the world might look like in 2020, U.S. intelligence officials forecast that only one development "short of a major global conflict" could stop the relentless advance of globalization. That development? A pandemic.