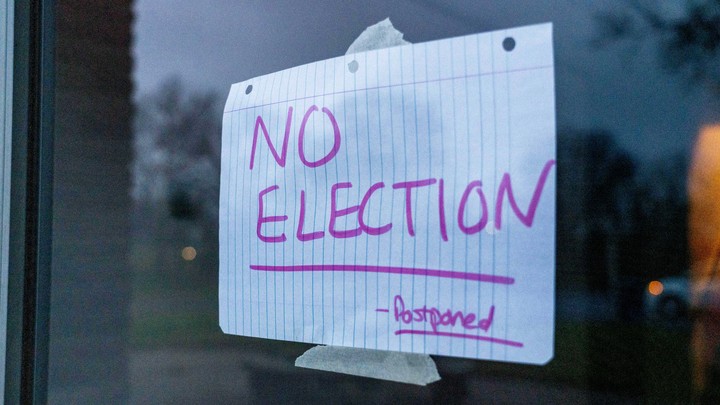 Lori Feagan's campaign buttons came in three weeks ago. The Democrat running for the state legislative seat in Washington's Fourth District was looking forward to handing them out at the full slate of events she had scheduled—fundraisers, conventions, door-knocking. By the next week, she had canceled all that. Washington was the first state in the country to report a confirmed case of the novel coronavirus. And despite the warnings from overseas—China, Italy—Washington is where the deadly severity of the virus first came into view for millions of Americans. As other candidates began strategizing on how to move campaign events online, Feagan, a nurse practitioner who specializes in internal medicine, threw herself back into the work of treating patients.
"We had to refocus," Feagan told me when I called her on Monday evening. She had just returned home from another 10-hour day of telehealth medicine in the Spokane Valley—triaging patients over the phone for upper-respiratory symptoms in hopes of keeping them from overwhelming clinics. "I need to take care of the people in my district, and the people in my community," she said. "This week, I'm a nurse practitioner."
Retail politics in America are on hold. And although they don't make much of a difference in presidential races, John Sides, a political-science professor at Vanderbilt University, told me, in-person events are the lifeblood for candidates running down-ballot for positions in institutions such as the U.S. House of Representatives, state Senates, city councils, and local school boards.
Read: All of the President's lies about coronavirus
"I don't think anybody is going to pay attention to anything other than the coronavirus," the political strategist James Carville told me. "It's like 1943," the middle of World War II, he said. "What the fuck else is there to talk about?"
Even as it's made running for office harder, the coronavirus crisis has highlighted the importance of state and local governments. When Americans have sought steady leadership, they have more often found it in those officials than the federal government. As my colleagues Robinson Meyer and Alexis C. Madrigal wrote this weekend, federal officials "took only illogical, inadequate actions to stop the virus's spread" when it was ravaging the Wuhan province in China, and botched the development of tests that could have helped the nation understand the severity of the problem.
Many people running for local and state office, such as Feagan, are not full-time candidates. Many of them are parents whose lives are now in flux because of school closures or job losses, said Amanda Litman, a co-founder of Run for Something, which helps recruit young people to run for elected office. "Many of them work in jobs that might be considered first responders right now," she told me. "That means they are now balancing working from home or really high-stress jobs with taking care of their kids [and] with campaigning. That was hard enough when campaigning meant going to events at night and knocking doors all weekend. It's 10 times harder now."
For incumbents, the best thing they can do for constituents is carry out their job. Challengers don't necessarily have that built-in outlet for demonstrating leadership, though. They'll have to use television and digital advertising to get their messages out. But the down-ballot races where that advertising is most needed in lieu of in-person campaigning are the ones with the least money to get on the air.
That's less of a problem in congressional races—where donors target large sums of money—than local and some state contests. "We know that a lot of voting and congressional races [are] nationalized," Sides told me. In those races, candidates may be more likely to tether themselves to national issues such as health care or tax reform—issues that are intimately linked to the commander in chief. "So it's really people's feelings about conditions in the country as a whole, and especially their feelings about the president, driving some of these [election] outcomes."
From the beginning, President Donald Trump undersold the severity of the virus to the American people and made promises about the government's ability to contain it that he could not keep. Republican legislators uniformly held the party line on his messaging. And by slow-walking the crisis, a bad situation has become exponentially worse.
Read: The dangerous delays in U.S coronavirus testing haven't stopped
Typically, such national issues would not affect local races, Elizabeth Doyel, a political strategist at Superior Blue Strategies, a Democratic consulting group, told me. "It's sexier to talk about the president or a U.S. senator," Doyel said. "But I think that we are seeing that the mayors and city-council members are the most important to us" in times of crisis.
Leadership doesn't come only from elected officials, though. And so Lori Feagan is back to being a nurse practitioner for now. On her Facebook page, public-service announcements advising people to support Meals on Wheels, providing information on how they can receive unemployment benefits, and explaining how to renew driver's licenses have replaced event announcements. She's adopted a new slogan of sorts, one she has used time and again as a nurse practitioner: "How are you, and how can I help?"
She's not explicitly asking for votes, and she told me that she'll probably start doing Zoom events soon, but for now, this is what her campaign looks like.
"I hope that our voters will appreciate that," Feagan told me, "and when the time comes for us to pick back up where we left off, I hope that we'll have their support."
We want to hear what you think about this article. Submit a letter to the editor or write to letters@theatlantic.com.