Where Are the Billionaires?
The nation's wealthiest individuals are contributing to the coronavirus-pandemic response, but they can't compensate for government inaction.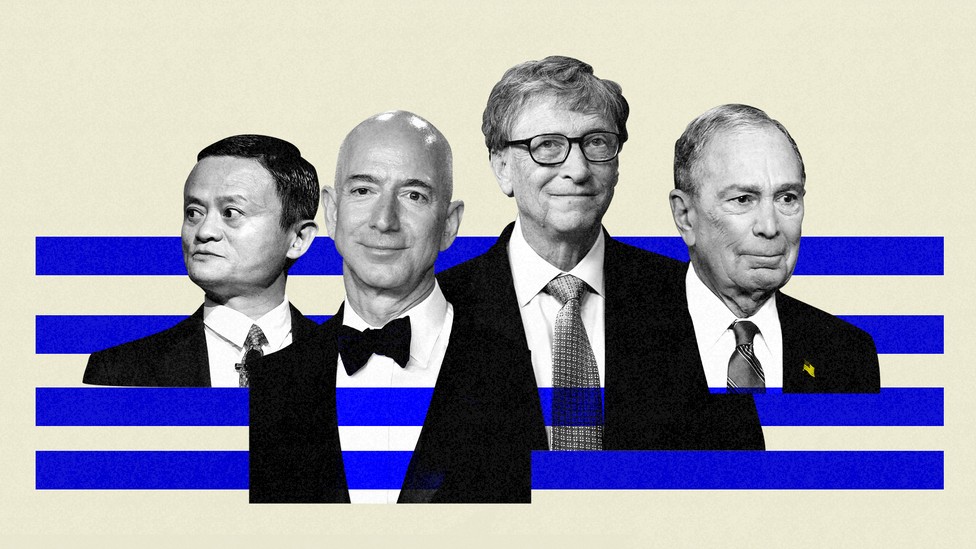 In the comparatively halcyon days of mid-February, NBC's Chuck Todd asked the world's ninth-wealthiest man, the multibillionaire Michael Bloomberg, perhaps the most biting personal question of the Democratic-primary season.
"Mayor Bloomberg," the moderator asked during a debate in Las Vegas, "should you exist?"
Todd wasn't suggesting that the 78-year-old former New York mayor, then a presidential hopeful, shuffle off to an early demise; rather, he was raising a delicate but emerging argument on the left—that the very presence of billionaires amassing jaw-dropping sums of money at a time of rampant income inequality represented a policy failure.
Less than a month later, Todd's query comes across much differently. The coronavirus pandemic is cratering the American economy and threatens to overwhelm hospitals across the country. Governors, mayors, health-care executives, and frontline responders are warning of shortages of crucial medical equipment and supplies, including the ventilators that infected patients will need to breathe and the face masks and other protective gear that health workers require to avoid contracting the virus themselves.
The federal government is scrambling to assume a warlike footing and make up for a painfully slow initial response to the outbreak. On Tuesday, Vice President Mike Pence urged construction companies to donate their protective face masks to the health-care industry and hold off on further orders that could strain supply. That night, the Trump administration reached out to manufacturers across the country, seeking "volunteers who can donate and/or produce large-scale quantities of critical supplies" such as masks, cotton swabs, gloves, and ventilators, according to an email circulating among industry officials obtained by The Atlantic. Yesterday, the president said he would invoke the 1950 Defense Production Act to mobilize industry to supply the pandemic response.
If ever there were a time for billionaires, isn't this it?
Some of the world's richest humans are contributing to the effort, but in varying ways. Jack Ma, the former chairman and co-founder of China-based Alibaba, purchased several million testing kits and face masks and had them shipped to affected countries, including 500,000 kits and 1 million masks to the United States. Amazon's Jeff Bezos has been in contact with the White House and announced that the company would hire 100,000 workers at higher salaries to handle the spike in demand for shipping, and that it would prioritize filling orders of essential medical and household supplies. "We recognize that at times like this, large companies can really help, and we're standing by to do so, in addition to serving our customers who need critical supplies and services at this time," an Amazon spokesperson told me.
In the U.S., two of the nation's leading public-health philanthropists are Bloomberg, for whom the Johns Hopkins Bloomberg School of Public Health is named, and Bill Gates, the founder of Microsoft. They also happen to live in the two biggest coronavirus hot spots: New York City and Washington State.
Both Gates and Bloomberg have, through their eponymous foundations, announced commitments totalling several hundred million dollars to combat the pandemic in the U.S. and abroad. But, as of today, neither is directly funding the purchase of crucial supplies.
"The foundation does not typically directly fund procurement of health equipment or supplies," a spokesperson for the Bill and Melinda Gates Foundation told me. "During global health emergencies, however, our goal is to provide fast and flexible funding to government agencies, multilateral organizations and others at the front lines. This allows our partners to quickly translate funding into impact, and gives them discretion to purchase emergency supplies as needed."
The Gates Foundation is targeting its money toward detection, isolation, and treatment efforts as well as to research toward a vaccine and possible treatments. It's also offering technical assistance to government agencies working on a vaccine and directing funds to curb the local outbreak in the Greater Seattle region.
Bloomberg Philanthropies has launched two initiatives. One will, beginning this week, convene top officials and public-health experts from cities around the country in virtual gatherings for up-to-date virus information and crisis coaching. The other is a $40 million project to combat the pandemic in low- and middle-income countries, particularly in Africa, in partnership with the World Health Organization and Dr. Tom Frieden, the former director of the Centers for Disease Control and Prevention.
And what about buying and donating supplies and medical equipment? That's not really what Bloomberg Philanthropies does, Dr. Kelly Henning, an epidemiologist and the head of the organization's public-health program, told me.
"We're imagining, we're hoping, that the government is going to support this effort. That's the hope," she said. "We do not generally buy supplies and equipment for the United States. It doesn't mean we could never. At the moment, that doesn't seem to be the place where we're going to have the most impact."
In an interview yesterday, Henning and Frieden told me that while the nonprofit and philanthropy sector can often move more quickly and flexibly than large governments, its role is to fill in the gaps, not to compensate for government inaction.
"This isn't a money problem," Frieden, who served as Bloomberg's health commissioner in New York, said of the supply shortages. "This is an operational and administrative problem, and it's really a core government function. There are some private-sector initiatives that may be helping—for example, an effort to get testing more widely available—but really this is about the government doing what only the government can do."
More than funding, the federal government's biggest challenges are speed and logistics as it races to supply states and cities with the emergency equipment—masks, gloves, ventilators, even beds and space—that they'll need if and when the outbreak overwhelms their resources. In Italy, health workers were forced to ration ventilators and other treatment as coronavirus cases surged, likely contributing to a higher death toll there than in other countries that have experienced outbreaks. And in Seattle, hospital workers are reportedly already constructing protective medical gear out of office supplies.
Dr. Lewis Kaplan is the president of the Society of Critical Care Medicine, a trade organization that tracks the nation's supply of hospital beds, emergency equipment, and personnel. He told me that the U.S. has the ability to meet the demand of the coronavirus pandemic. "The question is whether you can ramp that up in a sufficiently rapid period of time," Kaplan said. "Do you have the workers to do that, and do you have the materials to do that? And then can you distribute them?"
In a move reminiscent of the mobilization of national industry during World War II, the British government has already asked major automakers, including Ford, Honda, and Rolls Royce to shift their production to ventilators instead. Leading Democrats, including House Speaker Nancy Pelosi and New York Governor Andrew Cuomo, are practically begging the Trump administration to do the same.
But even during a two-front war in the early 1940s, the switch from civilian to defense manufacturing took time. "They had months to ramp up. Here it feels you have more like days," said Andrew Stettner, a senior fellow who studies manufacturing at the Century Foundation, a progressive think tank. "That doesn't mean you can't have a concerted effort and that government can't help to facilitate it."
Because of outsourcing, the U.S. doesn't have the same domestic manufacturing capacity that it did decades ago. But the medical-device industry is a relative area of strength, Stettner told me. "These are not commodity products. They're not your action figures and your toys and spark plugs," he said. "There is a lot of medical device manufacturing in the United States, so you do have expertise that can be tapped into for production."
But devices such as ventilators are only the beginning. There are concerns about the availability of the component parts needed to build them, and of the many other items—masks, gloves, even disposable plates and trays—that would be needed to treat a surge of infected patients.
The scale of the crisis is quickly dwarfing the ability of individual tycoons, as opposed to governments, to make a decisive impact. A few billion, after all, doesn't seem like much compared to the $1 trillion or more the Trump administration might pour into the sputtering economy.
That doesn't mean, however, that the largesse of the nation's wealthiest isn't needed, Stettner told me. Ventilators are expensive, but they're not warplanes. "We're not trying to build as many tanks as we did in World War II," he said. "So I do think that capital could play a role in helping some of this production. That's where they could come in."