The Establishment Strikes Back
What was once the most diverse primary race in history has narrowed to two white, male septuagenarians.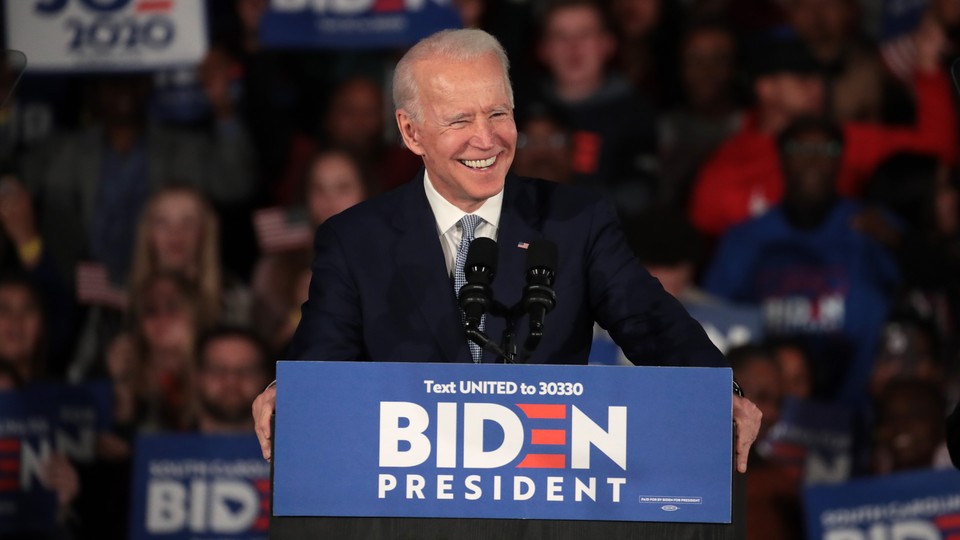 In the span of 72 hours, a candidate who had never won a single state in three fumbling bids for the presidency has muscled his way to the top of the Democratic field. Former Vice President Joe Biden had the greatest night of his lifelong quest for the White House tonight, winning major Super Tuesday prizes after an improbable late surge in the polls.
On Saturday, Biden trounced Senator Bernie Sanders in South Carolina, slowing the front-runner's momentum in the last primary before Super Tuesday. Moderate Democrats, including Biden's former opponents Pete Buttigieg, Amy Klobuchar, and Beto O'Rourke, rushed to endorse him. It was the sort of coalescing Biden was hoping for, one that brought out the fired-up Biden some voters believed had gone missing before his South Carolina rout.
"It feels good," Biden told a reporter who'd informed him that he was projected to win Virginia early Tuesday evening. He had stepped into a Roscoe's Chicken and Waffles in Los Angeles, hoping to reach a few more voters before the polls closed in California. "I don't know what the actual results are, but it feels good." If anyone understands how tempestuous an early lead can be, it's Biden. And though he was tepid early tonight, he was ecstatic as he took the stage in Baldwin Hills after results rolled in across the country. "People are talking about revolution," he said, his voice rising to a shout. "We increased turnout! The turnout turned out for us!"
The truth is, Biden had been smiling for days.
Across the country, voters responded. If Democrats had tasted the revolution Sanders was offering in Iowa, New Hampshire, and Nevada, in states throughout the South they quickly turned away, and back toward the more familiar center-left politics Biden represents. Buoyed by black voters, the former vice president won early and convincing victories in Virginia, North Carolina, and Alabama. He racked up dozens of delegates in beating Sanders so handily. And even in Vermont, Sanders's home state, Biden appeared likely to cross the 15 percent threshold needed to pick up some delegates. He went on to win Minnesota, likely thanks to Klobuchar's endorsement, and Massachusetts, where he beat not only Sanders but a favorite daughter, Senator Elizabeth Warren.
Beating President Donald Trump is a powerful motivator for Democrats. In fact, 60 percent of Democrats, when asked whether they would prefer a candidate who agrees with them on almost all issues or one who had the best chance of beating the president, said they would prefer the candidate who would defeat Trump, according to a November Gallup poll. "The further we get into primary season, the more seriously everybody is going to take it," one of these "electability voters," Lisa Grant-Coffin, a 53-year-old art director, told The Atlantic at Biden's primary-night rally in South Carolina on Saturday. "Ideology is important, but pragmatism is important. You can't do anything if you're just yelling on the corner," she said. "You have to be in the office."
The Democrats' desperate need to beat Trump is part of why former New York City Mayor Michael Bloomberg was able to quickly rise in the polls. He flooded ad markets with one main message: He was the one who could topple Trump.
For the past several months, Bloomberg has been the wild card. He made the risky move of skipping all four early nominating states to bet it all—or at least half a billion dollars of his personal fortune—on Super Tuesday. For a brief moment, the strategy seemed to be working. He rose to the top tier in polling for many of the contests. Then came a miserable Nevada debate and a reconsideration of how he would actually perform against Trump. The electability voters who once believed that Biden might self-destruct flooded back to the vice president. And early tonight, it became clear that Biden's strongest constituency—black voters—would continue to support him in large numbers. According to Virginia exit polls, Biden won 63 percent of the black vote in that state, compared with 18 percent for Sanders and just 10 percent for Bloomberg.
"A lot of black voters, especially southern black voters, aren't looking for a revolution," Christina Greer, an associate professor of political science at Fordham University, told The Atlantic in an interview tonight. "The reason why a lot of older black voters are conservative—as in, conservative in picking a candidate—is because they know what this country is capable of … Sure, some people will agree with the need for a revolution," but many others may be wary.
The question of the night was how much the South Carolina victory and the endorsements that followed would matter for Biden. He had spent a fraction of the money his competitors had in Super Tuesday states—roughly $2.2 million against Sanders's $18 million. In South Carolina, endorsements—and one endorsement in particular, that of Representative Jim Clyburn—had mattered. Clyburn is the power broker in the state; his "world famous" fish fry is a requirement for any candidate who hopes to be competitive there. According to cable-news exit polls, 47 percent of primary voters in the state said Clyburn's endorsement was an important factor in their decision making.
But Clyburn is a singular figure in politics. Few endorsements anywhere carry the weight that the House majority whip's does in South Carolina. Still, as Greer explained, endorsements like O'Rourke's might have had some effect. "He still has a lot of goodwill in Texas," she said. "And that may likely carry over to people supporting Biden."
On Tuesday, Biden picked up support not only from backers of O'Rourke and Buttigieg and Klobuchar but surely also from Democrats who had been considering Bloomberg or Warren. The two candidates battled for third place in many states, and each collected relatively few delegates.
But the biggest victim of Biden's surge was undoubtedly Sanders, who entered the night hoping to capture a clear plurality of delegates that would be difficult for Biden or any other candidate to match in the coming weeks. Instead, it was Biden who topped Sanders in state after state. Sanders was left looking to California, where he had held a big lead in the polls and where many Democrats had already cast early votes.
For Sanders and his supporters, the only sure thing about his march toward the nomination was that at some point, the people who make up what's left of the Democratic establishment would try to stop him. And his landslide victory in Nevada jolted the party awake.
Rivals who had trained their fire on Bloomberg at the Las Vegas debate attacked Sanders with more ferocity in South Carolina. At that debate and in the days that followed, his critics focused on a single message: The majority of Americans do not want a revolution, and the nomination of a democratic socialist to face Trump is a risk the party shouldn't take, not only for its chances at the White House but for the hundreds of Democrats whose names will appear on the November ballot underneath the presidential candidate's. "I like Bernie," Klobuchar said at the debate in Charleston. "But I do not think that this is the best person to lead the ticket."
There was also a bigger spotlight on Sanders's most vitriolic supporters, who police political debate online—and through the popular Chapo Trap House podcast—by denouncing anyone who dares to criticize the senator.
A narrow polling deficit in South Carolina turned into a primary-day loss, as Sanders finished 30 points behind the surging Biden. "You can't win 'em all," he told his supporters that night, seeming to dismiss the result as an outlier. But Democrats were moving, and the speed with which the race shifted in the three days between South Carolina and Super Tuesday took top Sanders backers by surprise: Buttigieg and Klobuchar dropped out (along with the billionaire Tom Steyer) and endorsed Biden.
"I wouldn't have predicted that all three would have dropped out," Larry Cohen, the president of the Sanders-supporting Our Revolution PAC, told The Atlantic yesterday.
Just how well Sanders did—or didn't do—in California might not be known for weeks, as the popularity of vote-by-mail makes the nation's largest state notoriously slow at counting ballots. Meanwhile, the big states that vote in the next two weeks will provide opportunities for both him and Biden. With plenty of delegates still up for grabs, Sanders has time to regroup. Biden will be under pressure to raise money and build a bigger organization quickly, and he'll have to continue navigating the verbal stumbles that first caused Democrats to doubt his viability in the general election.
Michigan, which is the biggest prize on March 10, was the site of one of Sanders's most surprising victories over Hillary Clinton in 2016, when he overcame a polling deficit of more than 20 points. He also fought Clinton nearly to a draw in Missouri, which also votes next week. Biden, for his part, is positioned to do well in Mississippi, where African Americans make up a large portion of the Democratic electorate.
An even bigger day on the primary calendar is March 17, when Ohio, Illinois, and Florida all weigh in. Florida is where Sanders is likely to struggle the most: Clinton walloped him there in 2016, and his democratic-socialist agenda is a poor fit for the state's large population of older people and more conservative Hispanic voters.
As the race moves on, Sanders must reckon with a Biden comeback that was far bigger than his campaign anticipated. As late as Monday, Sanders's supporters were still hoping for, if not expecting, a big night. "I suspect that Bernie Sanders is going to come out of Super Tuesday having the most states, the most delegates, and the most votes across the field," Charles Chamberlain, the chairman of Democracy for America, a progressive group that endorsed Sanders, told The Atlantic on Monday.
Once California's votes are fully counted, the Super Tuesday winner on all three of those metrics may very well be Joe Biden, not Bernie Sanders.
As Bloomberg and Warren fall far behind in the delegate count, a race that began more than a year ago with the most diverse Democratic field in history is down to two white septuagenarian men who have spent the better part of their lives walking the halls of the U.S. Capitol.
On Tuesday, it was the 77-year-old Biden—by a single year, the younger of the two—who won the night.