Turns Out Kids Don't Say 'Malarkey'
A lack of support from younger voters is the one missing piece in Joe Biden's bid to reassemble the Obama coalition.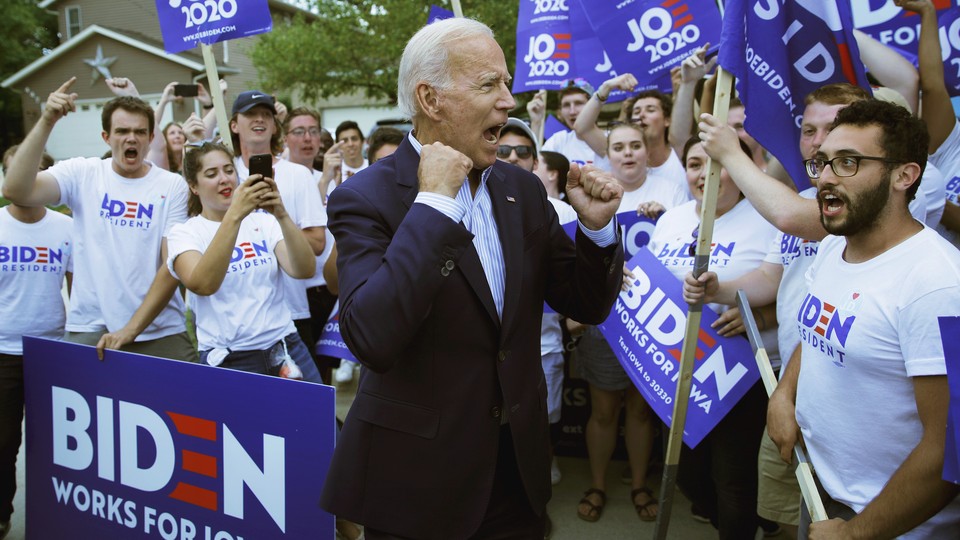 The youths Of America are not for Joe Biden—at least not yet.
They have not embraced a candidate who emblazoned the word malarkey on his campaign bus, who summoned the ghost of John Wayne to chastise a college student, who urged parents in the 21st century to keep a "record player" on for their children, and who hasn't been able to match the unlikely cool factor of a rival a year even older than himself.
Over the past 10 days, the former vice president has reassembled the multiracial, urban, and suburban coalition that powered Barack Obama to victory in 2008 and Democrats to a House majority in 2018—with one major exception. Even in double-digit defeats, Senator Bernie Sanders of Vermont has dominated among primary voters under the age of 30, extending a wide generational gap that defined his race against Hillary Clinton in 2016 and that might have contributed to her loss to Donald Trump that fall. In Michigan and Missouri, Sanders won 70 percent and 76 percent of the vote among voters under 30, respectively, according to exit polls.
Younger voters have not shown up in numbers nearly large enough for Sanders to overcome Biden's strength among older Democrats; a surge in turnout among older people has obscured any gains in the youth vote, relegating Millennials and first-time voters to a smaller share of the primary electorate than they made up four years ago. But while the relative lack of enthusiasm from voters in their teens and 20s is bad news for Sanders in the short term, it could also be worrisome for Biden in the long term. In the general election, Democratic presidential candidates rely on huge margins among younger voters to counteract the conservative tilt and higher turnout rates of middle-aged and older Americans.
Four years ago, Clinton could not match Obama's margins with younger voters, and in the decisive states of Wisconsin, Pennsylvania, and Michigan, they were far more likely to back third-party candidates than were older voters, exit polls found. Robby Mook, Clinton's campaign manager, blamed this migration of Millennials for her defeat in the weeks after the election.
Biden supporters cheerfully note that he is outperforming Clinton with a number of key groups, which they have taken as a hopeful sign heading into a likely general-election campaign against Trump. And indeed, the former vice president is seeing impressive turnout among African Americans and suburban white voters, particularly in areas that flipped from Obama to Trump in 2016 and where Democrats flipped Republican congressional seats in 2018.
But Biden's most glaring vulnerability remains his lack of support among younger voters, and Obama veterans are urging him to address it more aggressively. "Improving his standing with young voters needs to be a top priority for the Biden campaign," Dan Pfeiffer, a former senior Obama adviser, told me today. "It is the biggest weak spot in his coalition and Biden needs to make real, substantive moves to ensure they are with him on Election Day."
David Plouffe, Obama's campaign manager in 2008, said on MSNBC on Tuesday that energizing youth turnout needed to be "a Manhattan Project" for both the Biden campaign and the Democratic Party.
Even Sanders, during his remarks in Vermont yesterday, urged the Democratic establishment—and, implicitly, Biden—to pay more attention to younger voters. While acknowledging Biden's commanding lead in delegates, Sanders claimed a partial victory in "winning the generational debate." "Today I say to the Democratic establishment: In order to win in the future you need to win the voters who represent the future of our country and you must speak to the issues of concern to them," he said. "You cannot simply be satisfied by winning the votes of people who are older."
Lackluster support among younger Democrats is not a new problem for Biden, who has moved a bit to the left—at least for him—on policy but has resisted embracing the priorities of young progressives, such as Medicare for All and student-debt cancellation. As my colleague Elaine Godfrey reported in January, progressive organizers have long worried that a Biden nomination would dampen enthusiasm on the left, endangering mobilization efforts in the fall.
Alexandra Flores-Quilty, a Sanders supporter and the former president of the U.S. Student Association, a youth advocacy organization, told me yesterday that while she thought young people would ultimately vote for Biden, she worried that they would be less likely to help persuade others to show up at the polls.
"He'll also need young folks knocking on doors, making calls, and doing the majority of the work on the ground that it takes to get people to vote," she said. "What he's going to have a hard time doing, which is essential, is getting them to do the hard work essential to win the election. It's more than just voting."
"That," she added, "could be a serious problem."
Progressives have a few ideas for how Biden can energize young voters, starting with a more fulsome embrace of the Green New Deal to combat climate change and more aggressive proposals on student debt, among other issues. Ahead of Sunday's debate in Arizona, a group of youth organizations is pushing the Democratic National Committee to ensure that the debate—perhaps the final one of the primary—addresses "issues that are facing our generation."
And yesterday, Sanders challenged Biden to have answers ready on those and other issues, including his signature Medicare for All proposal, immigration reform, mass incarceration, and income inequality.
Biden's choice of running mate will also be key. "Starting with a super inspirational vice-presidential candidate who captures the imagination would be smart," Adam Green, a co-founder of the Progressive Change Campaign Committee, told me.
Biden began the effort of bringing in Sanders supporters—and young voters more broadly—by praising their "tireless energy and passion" during his victory speech on Tuesday night. Green, whose group backed Senator Elizabeth Warren in the primary, said Biden's words "sent a signal of magnanimity," but he needed to do more.
"People are just incredibly scared that if we don't build the coalition needed to win, we will lose to Trump," Green said. "Winning this primary because you were seen as the safe choice for the right couple of weeks is certainly not an ideological verdict on the future of the party and is not enough to excite the coalition needed to win. There's active work to do.
"So far there are signs that he gets that," Green said of Biden.
The Biden campaign takes a rosier view of the former vice president's standing with younger voters. It noted that in Michigan, a key swing state, the former vice president won the counties that are home to the University of Michigan and Michigan State University, which went heavily for Sanders in 2016. "We are turning out voters across the board," spokesman T. J. Ducklo told me. "We're seeing that reflected in younger voters as well."
Ducklo said Biden was performing well among the voters who were once the young base of the Obama coalition but who are now in their 30s. But he acknowledged the campaign had work to do to win over Democrats who had been too young to vote for Obama, many of whom cast their first ballots for Sanders either in 2016 or this year. "It is incredibly important, and we are going to work really hard to earn that vote," Ducklo said.