The Kids at the Center of the Nastiest Campaign in Memory
Willingly or not, the Biden and Trump children figure to be leading players in the 2020 election.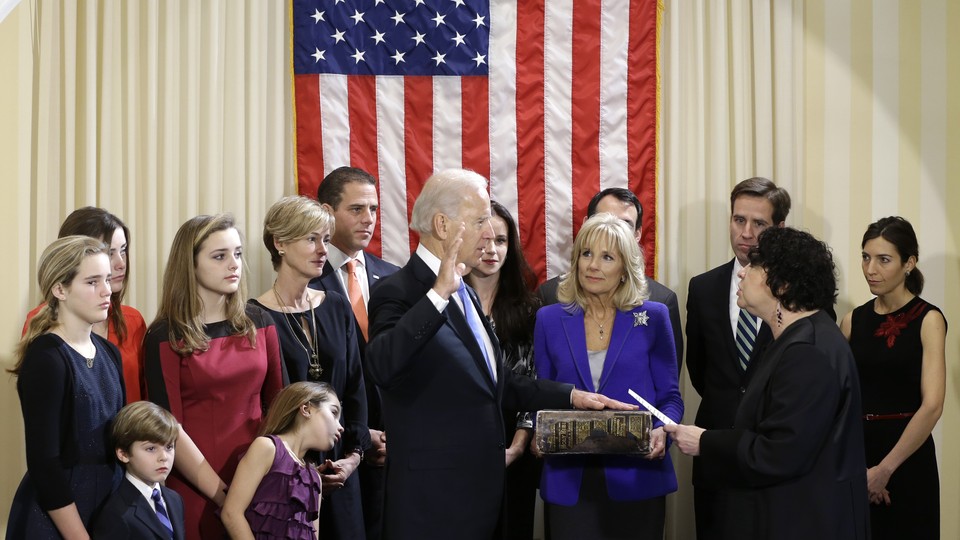 My heart breaks for you.
Jill Biden had just finished her remarks when one of the dozens of donors packed inside a San Francisco townhouse spoke up. When I think about the attacks that President Trump has leveled against your family, the man said, "my heart breaks for you." It was a few days after her husband's sweeping victory in South Carolina and the day before the Super Tuesday contests that would vault him back atop the Democratic primary field. A general-election matchup between Donald Trump and Joe Biden suddenly seemed like a very real prospect.
Standing in the living room, with people crowded in front of her and on a balcony above, Jill Biden paused for a moment and then answered in a steady, even tone. When you've lost a child, she said, there is nothing worse. Nothing Trump says—nothing—could outstrip the pain her family has already endured, two people who were in the room that day remember her saying. The Bidens would be ready for whatever accusations he tossed their way.
A durable norm of electoral politics is that if the candidates' children haven't reached adulthood, they're pretty much off-limits. A Trump-Biden contest would create a rare scenario in recent decades: a pair of older candidates with prominent adult children whom the other side could aggressively target, specifically for their financial dealings. Willingly or not, the children figure to be leading players in what will surely be among the nastiest campaigns in memory.
Trump's aim seems clear-cut: shredding Biden's son. He spent months spotlighting Hunter Biden's work as a paid board member of the Ukrainian energy company Burisma during his father's tenure as vice president, triggering a chain of events that led to his impeachment and subsequent acquittal in the Senate. Speaking with Fox News's Sean Hannity last week, Trump said that Hunter's dealings "will be a major issue in the campaign. I will bring that up all the time."
How Biden might proceed is by no means settled. He's built an identity as the jovial uncle whose presidency would be the warm soak in the tub America needs after four nerve-jangling years of Trump. Masterminding a takedown of an opponent's family members jeopardizes Biden's reassuring public persona. In any case, one of his aides told me, he believes it's wrong "to attack another man's child."
But that may be beyond his control. Biden himself doesn't need to swing the cudgel; others seem happy to do it. Democratic operatives are already thinking through ways to zero in on the Trump family's financials, whether Biden participates or not. They want to highlight ways they believe the family has profited from the president's position. (The Trump team describes such accusations as baseless.) The president's oldest sons, Don Jr. and Eric, still run the family's real-estate business. Their sister Ivanka and her husband, Jared Kushner, were wealthy businesspeople before joining the administration as senior White House advisers, and they've earned millions in private income since their father took office, government financial-disclosure forms have shown.
"There are a lot of other people involved here—a lot of Democratic organizing groups and players," Joe Lockhart, former President Bill Clinton's press secretary, told me. "The White House has made clear what they're going to do. You don't have to worry about the propriety of it. This is survival."
No one is forced to run for the most powerful position in the free world and thereby expose one's family to ceaseless scrutiny. Still, many candidates have agonized over the collateral damage to their children. Former President George H. W. Bush considered forgoing a reelection campaign in 1992 to spare his son Neil, who was getting unwanted attention stemming from his involvement in a failed savings-and-loan business, as the Bush biographer and historian Jon Meacham wrote in his 2015 book, Destiny and Power. In 1990, Bush dictated in an audio diary that he was "wondering in my heart of hearts, given what's happened to Neil, whether I really want to do this after I serve this term." (In the end, Bush opted to run, but he lost to Clinton.)
Biden thought hard about entering the 2020 race, wary of the attacks that might be directed at a family that has already experienced terrible loss. One reason he skipped the 2016 election was because he had been mourning his son Beau's recent death from cancer and didn't have time to make preparations, he said, explaining his decision in a Rose Garden appearance alongside Barack Obama in 2015. Forty years before, in 1972, Biden lost his wife and baby daughter in a car crash.
Biden's concerns about 2020 were quickly realized. Trumpworld latched on to Hunter Biden as a vulnerability ripe for exploitation. One of the people driving the attacks: the president's oldest son. In an appearance on Axios on HBO this week, Trump Jr. said he wants to debate Hunter Biden and offered to release his tax returns if the younger Biden did the same, to show "who profited off of whose public service." (The president has famously refused to disclose his own tax filings.)
As Joe Biden cemented his status as the Democratic front-runner in recent weeks, the Republican-controlled Senate's investigative machinery began to whir. Republican Senator Ron Johnson of Wisconsin, the chairman of the Senate Homeland Security and Governmental Affairs Committee, told reporters on March 4—one day after Biden's resounding Super Tuesday victories—that he planned to put out a report centered on Hunter's work for Burisma.
"These are questions that Joe Biden has not adequately answered," Johnson said. "And if I were a Democrat primary voter, I'd want these questions satisfactorily answered before I cast my final vote."
Sparing Trump's children is more than some Democrats will tolerate. The party isn't powerless here; Democrats control the House, which has investigative muscle all its own. But whether lawmakers will have the appetite to use it is an open question.
A starting point, Lockhart suggested, might be for House Democrats to open an inquiry into the hotel fees that the Secret Service pays when agents stay at Trump properties. The Washington Post reported last week that Trump's company is charging higher rates than it's claimed, all at taxpayers' expense. The paper quoted Eric Trump as saying that the Secret Service was billed "at cost."
"Subpoena the two boys to come in and talk about it. And then, once at the hearing, there are lots of things you can ask them," Lockhart said. (House Speaker Nancy Pelosi's office could not be reached for comment.)
Priorities USA, a top Democratic super PAC, plans to sink money into advertising devoted to the business dealings of Trump's children. "I don't think there's any question that it will be some part of our media operation," Guy Cecil, the group's chairman, told me.
A wild card is one of the world's richest people. Following his withdrawal from the race, New York billionaire Michael Bloomberg started an independent-expenditure bid to defeat Trump in November. Bloomberg hasn't yet laid out his spending plans, but his team seems to be signaling that it'd be willing to showcase the Trump children's business dealings.
"If the Republicans really want to make an issue out of Hunter Biden, which is very low-hanging fruit that I don't think most Democratic voters care about anyway, there is going to be a scorched-earth response aimed at all of the Trump children that is unlike anything they've experienced thus far in the media," Timothy O'Brien, a Bloomberg adviser, said last weekend on MSNBC.
Trump-family allies say they aren't worried. One person close to Don Jr. told me that the Trump children are already thoroughly examined—to the point where it's treated as news when the president's eldest son gets a legal permit to hunt a grizzly bear in Alaska.
"What are they going to attack?" a campaign aide told me. Trump family members "were successful before the president became president. It's irrelevant."
In this combustible atmosphere, Biden's reticence seems fairly quaint. One wonders how long it can last. Uncle Joe, after all, has a temper. At an event in Iowa late last year, a man in the audience brought up Hunter's Ukrainian dealings and accused the former vice president of "selling access."
"You're a damn liar," Biden snapped.
Jill Biden may have said her family can absorb the hits, but would he really stand on a debate stage with Trump and listen to broadsides against his surviving son without responding in kind? Propriety may have its limits. "Trump has removed the guardrails from every facet of campaigning and governing," Philippe Reines, a former Hillary Clinton aide who played the part of Donald Trump in her 2016 debate preparations, told me. The Trump children, he said, should be "fair game" to Biden.