What Sanders Supporters Are Telling Themselves Now
The Vermont senator's most ardent backers are in self-soothing mode after Super Tuesday.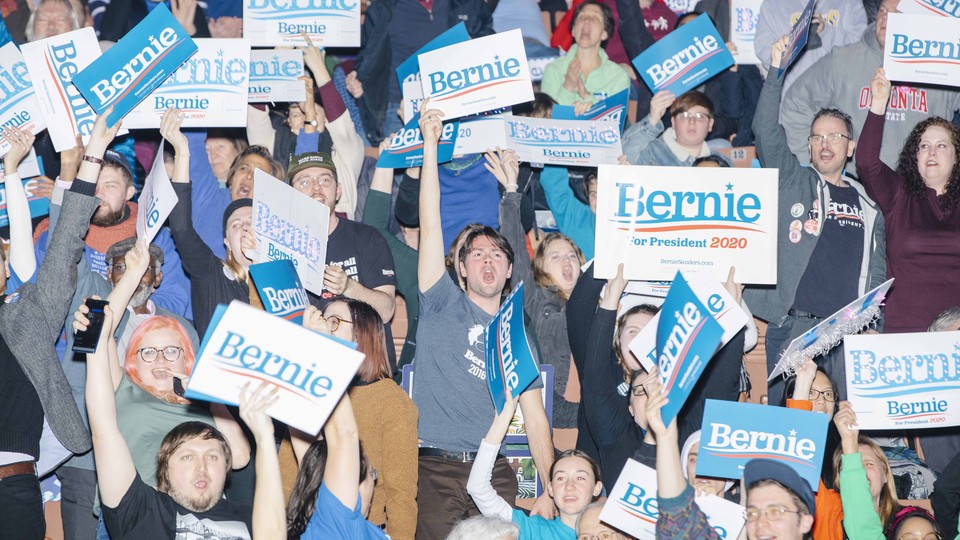 "Not me, us."
The message that Bernie Sanders has campaigned on throughout the 2020 primary became a self-soothing mantra for his supporters last night.
At a bar in Washington, D.C.'s Penn Quarter neighborhood—just blocks from the theater where Abraham Lincoln was shot—a group of more than 100 Sanders followers stood, shoulder to shoulder, facing two massive projector screens, as results from Super Tuesday states trickled in. The event, hosted by a local Democratic Socialists of America group, had all the hallmarks of a gathering of Bernie fans: a patchwork of flannel shirts, scattered baskets of red-rose buttons, and very few people over the age of 35. Yet the mood was uncharacteristically somber. After enjoying two weeks as the clear Democratic front-runner, Sanders was now being demolished by Joe Biden.
Although every one of the supporters I spoke with was disappointed—and decidedly less confident than before—they offered the same promise: The revolution would continue, with or without Bernie Sanders. It's a pledge that the senator's devotees often make as a way to show commitment to his agenda. Last night it sounded more like an implicit acknowledgment of the candidate's limitations.
"I look around here and I see a movement of people who are going to be engaged no matter what," said Ian Tennison, an Arab American activist who lives in the city. Even if Biden wins the nomination, or Donald Trump wins another term, "you bet a lot of these people, including myself, are still going to be out there fighting, lobbying, doing what they can to make sure justice is served."
As recently as four days ago, last night's results didn't seem possible; the moderate lane was a crowded place, and it seemed likely that the senator from Vermont would manage to come away from Super Tuesday with a crush of delegates. By late last night—after a decisive weekend victory in South Carolina and the coalescing of party leaders around his candidacy—Biden had won nine states to Sanders's four and taken the delegate lead. It was a hell of a comeback.
Sipping Blue Moon, attendees watched dejectedly as the MSNBC polling wiz Steve Kornacki called state after state for Biden—first Virginia, then North Carolina, and on it went. Sanders's first victory, in Vermont, hardly helped their spirits—it was expected. "Obviously, it makes your heart flutter a little bit," said Carl Roberts, a 26-year-old who works in communications at a nonprofit. Another young man waiting in line for a beer sighed when I asked him for an interview. "It's all kind of depressing," he said. "I don't really want to talk about it." For the first two hours, the only bright point came when anchors announced that Michael Bloomberg had won American Samoa, his only victory of the night. The crowd howled.
As we watched, the Sanders fans kept reminding me that they are working for more than just this nomination fight and this presidential election. "I'm not super invested in voting just by itself," said Charles Christiansen, a writer from Alexandria, Virginia. Instead, he's invested in progressive organizing. "This movement is not just Senator Sanders," echoed Nat Steele, a local union organizer. "It's the organizations that have endorsed him, all the people that voted for him. This has been a long struggle for justice and this is just one part of that."
It's perhaps comforting, when your candidate suffers, to shift the focus off him toward broader goals on the horizon. But many Sanders fans I've spoken with in recent months—and DSA members especially—really do believe that their work does not require him. Despite the upcoming election, DSA chapters in Iowa, for example, have chosen to largely forgo electoral work and direct their limited resources toward local projects instead. And a new generation of young leftists are in office now, championing policies that Sanders has long fought for. That includes multiple state and federal candidates and officeholders who are members of DSA, an organization that has itself grown dramatically in the past five years.
As if to underscore the point that the movement's goals extend beyond electoral politics, around 9 p.m. eastern time, a member visiting from the Las Vegas DSA chapter climbed up on a sticky wooden chair to advertise a benefit concert for migrants in a detention center in Tijuana. "No matter what happens," he reminded the crowd, "we are a movement of righteous anger and love!"
Still, it's not clear how sturdy that movement is. Sanders's campaign so far hasn't driven the turnout he's promised, among working-class and young voters especially. In at least one state where turnout increased dramatically last night, Sanders did not actually win. Although many progressive ideas have significant support in the United States—in no small part because of Sanders's own advocacy since the 2016 election—down-ballot candidates in the mold of the democratic socialist did not sweep their elections in the 2018 midterms. And Biden's staggering victories last night suggests that a great many Americans think a more moderate nominee is the way to go.
Late in the evening, just after Sanders took the stage in Essex Junction, Vermont, to announce his "absolute confidence" that he will win the nomination, a DSA member began leading the group in an enthusiastic round of "Solidarity Forever," a trade-union song to the tune of "The Battle Hymn of the Republic."
"The campaign doesn't end in November!" he shouted, waving his arms. "This is pregames, man! This is August NFL!"