The Sanders and Biden Families Have Been Cashing In for Years
Joe Biden likes to say he was the poorest man in the Senate. Bernie Sanders rails against the establishment. But family members have long benefited from the Democratic front-runners' political careers.
Donald Trump has set a new bar for presidential self-dealing. But two of the Democratic front-runners have their own, lower-level history of mixing family and politics.
Since the 1970s, Senator Bernie Sanders, who has spent his entire career railing against the political establishment, and Joe Biden, who likes to point out that he was for years the poorest member of the Senate, have repeatedly directed campaign dollars to close relatives. As mayor of Burlington, Vermont, Sanders even directed taxpayer money to his wife. Some of these practices were touched on in reporting at the time, but the full picture has acquired new importance in the context of the campaign against Trump, whose golf outings alone have sent millions of taxpayer dollars to his family-owned firm.
Just about every person who's ever run for office has had a brother knocking on doors, an aunt licking envelopes, or a spouse and kids featured in a campaign commercial. But that's usually volunteer work. Sanders put his wife on the Burlington city payroll and made a company of hers, Progressive Media Strategies, a top recipient of campaign cash. His congressional reelection campaigns paid one of his stepdaughters more than $50,000 over four years; a nonprofit his wife started, the Sanders Institute, paid her son, David Driscoll, a $100,000 salary. Biden has a sister and son whose companies received large contracts from his last presidential campaign; about one-fifth of the $11.1 million raised by that campaign went to companies that employed close relatives.
It is perfectly legal to pay family members with campaign funds or put them on the payroll as long as they provide a bona fide service and their salary is fair. Dozens of members of Congress, from both sides of the aisle, have employed family members on their campaigns. Political families, and the money they distribute to their members, have existed as long as politics has. Approximately 40 of President Ulysses S. Grant's family members and family connections benefited from his presidency. Both Franklin D. Roosevelt and Dwight Eisenhower had sons working in their White House. John F. Kennedy appointed his brother Robert as attorney general, which led Congress to pass anti-nepotism laws banning close relatives of the president from working in the executive branch. Then there's Trump.
Yet the ethics of the practice are clear: "It is unsavory for politicians to be making payments to their family members when there are other alternatives out there," Robert Maguire, the research director for Citizens for Responsibility and Ethics in Washington, a nonpartisan good-government group, told me.
Neither Michelle Obama nor Hillary Clinton were paid by their husbands' campaigns or the federal government. Maya Harris advised her sister, Kamala, during her presidential campaign, but was unpaid. Other candidates in the 2020 race regularly leaned on family members to appear with them or on their behalf on the campaign trail. Pete Buttigieg and Elizabeth Warren never had family members on their payroll. Amy Klobuchar's campaign has reimbursed her husband for $1,058.22 in expenses. One of Mike Bloomberg's daughters worked for him early in his time as mayor, but she was unpaid. Tom Steyer had never run for office before this year.
Neither the Bidens nor the Sanderses have gone as far as Trump. The president's trade negotiations with China run parallel to Ivanka Trump's company trademarks being approved in Beijing; he pursues diplomacy with Indian, Russian, and Turkish leaders even as his sons pursue government approval for Trump Organization projects in those countries. The amount of taxpayer money that the president has spent on visits to his golf resorts alone—$115 million as of last Thanksgiving—is exponentially greater than even the broadest estimate of what the past 50 years of government service have generated for the Sanders and Biden families combined.
That hasn't stopped Trump from looking for openings, trying to pretend that everyone else acts as he does. Trump tried to get Ukraine to investigate the Burisma gas company (and got impeached for it), because he wanted to give the false impression that Biden had improperly intervened in Ukraine to benefit his son Hunter's business interests. If anything, the affair demonstrated how oddly oblivious Biden has been to money being made off his name by his family.
The Biden and Sanders practices, even when "juxtaposed with the outright profiteering of the Trump administration," are also potential examples of nepotism, Maguire said. "It's not a direct comparison, but it does make it more difficult for people to levy criticisms of him."
---
The main instance of Sanders paying family members is the close professional ties he has had with his wife, Jane Sanders, for decades. He didn't have much money before he was elected mayor of Burlington, in a surprise 1981 victory—it was the first full-time job he'd held in years. His first act in office was creating a youth-services department, and he immediately put in charge the woman he'd begun dating at his victory party, giving her a corner office on the third floor of city hall. At first, she worked as a volunteer youth coordinator, but later she began raising money that would then be used to pay her a salary.
Campaigning for her husband in Indianola, Iowa, ahead of the caucus at the end of January, Jane cited this as an advantage, recalling that Sanders was "frugal, very frugal with taxpayer dollars, but [he] created some new departments—including a youth department, which I headed up."
Early in her tenure, Jane spoke of how she enjoyed the "added clout" of her post in city hall, explaining that she'd turned down a job organizing youth at a neighborhood center. But her work regularly went beyond running youth services; in her first year on the job, she sent a letter to all department heads asking that they detail their job descriptions. This went on, including serving aldermen with a lawsuit from the mayor and admonishing the full board of aldermen for not being more receptive to a visiting official from Northern Ireland speaking about human-rights conditions. (She told the Burlington Free Press that she'd almost not said anything, because of her "personal relationship" with the mayor, but decided to anyway.) The youth-services department she ran put out a newsletter that promoted the mayor's record to voters.
Jane and Sanders were living together while he was approving her paychecks. After paying her $4,900 in 1982 (about $13,000 today), the mayor put her on what became a $21,000 annual salary (about $54,000 today) as part of a formal seven-person expansion of the city's staff. Her position "was not advertised and no applicants were considered aside from [her], according to Sanders," the Burlington Free Press reported in 1985.
"For a man who once proclaimed himself an enemy of patronage, Mayor Bernard Sanders has done a remarkable turnaround on the issue in a relatively short time," the Free Press complained in a 1983 editorial. That same year, Sanders responded. "I'm tired of hearing innuendo, especially regarding Jane," he said. "If she is not competent to do the job, I want to hear someone say it. Cronyism is hiring people for specific jobs because they are friends and not because they are qualified. If someone can explain to me that Jane is not qualified for the job, I'll listen to them."
But that's the way the arrangement looked to at least one city alderman at the time, despite Jane's salary eventually being approved by the board. "Now she is a girlfriend," Paul Lafayette told the Free Press. "But how much closer can you get? I'm not saying she's not qualified. But the mayor's no different than any other guy. He's putting people around him that he's comfortable with. If that's not cronyism, what is?"
With the distance of some years, Lafayette has relaxed about the situation. He liked the work Jane did. "Bernie creates a lot of action," he told me Wednesday, "and Jane was one of those people who created stuff on her own."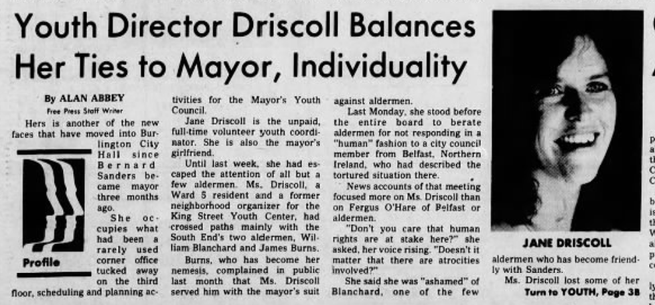 After Sanders and Jane married, in 1988, he sought a legal opinion about whether employing her had qualified as nepotism. The city attorney told the couple that she was "not barred from continuing to serve in her position," according to a copy of the letter, which is part of Sanders's mayoral archives. Jane's $21,000 salary was high enough that a constituent wrote to him—in another letter that's in Sanders's mayoral file—to say she was "surprised to see that she was paid as well as she was," and that "it's terrific to see numbers like that in print pertaining to a woman in city hall holding down an important and responsible job."
Maguire, the CREW research director, was skeptical.
"There is what is legally sound, and there is the question of whether you're giving the appearance of nepotism," he said. "It's one thing to say, 'Look, we got this cleared.' And maybe they really did scrutinize it and it was fine. But just the mere fact of making the decision that results in funds and payments to someone in your household is problematic. A person who wants to make sure they're on the right side of the ethical line should say, 'I should recuse from this decision; someone else should make this decision.'" He added, "It seems like waiting eight years to realize this is problematic is itself problematic."
After Sanders won Vermont's sole House seat, in 1990, Jane began working as an unpaid chief of staff for his congressional office. She left that office in 1996 to become the provost at Goddard College. But she stayed involved in her husband's political life, and took home at least $30,000 in fees as a media buyer for his campaigns, paid for out of money he'd raised, though she had no prior experience in media buying. Two companies she'd registered, Progressive Media Strategies and Leadership Strategies, received more than $91,000 from Sanders's 2002 and 2004 congressional campaigns. Neither company ever worked for any other federal candidate, but the Sanders campaign says she was working for other candidates in Vermont. "Dr. Sanders worked for four other campaigns during this time period and felt that it wasn't right to charge the other candidates a fee and not charge then-Congressman Sanders," Mike Casca, a campaign spokesman, says.
[Read: What killed Burlington College?]
In 2004, Burlington College hired Jane as its president. While she was in that role, the college entered into a $500,000 contract for student activities with Vermont Woodworking School, which was run by Jane's daughter Carina Driscoll. The contract ended shortly after Jane left the college, in 2011. The college shut down the next year, drowned in financial troubles resulting from a multimillion-dollar loan that Jane had obtained to purchase land for its new campus. The FBI later investigated the deal for alleged fraud, but no charges were ever brought. Jane received a $200,000 severance package that Sanders's Senate financial disclosure describes as having been for a "sabbatical." Jeff Weaver, a top adviser to Sanders, has previously told the press that Jane did nothing wrong. Jane, through the campaign, declined to comment.
By 2000, Carina, then serving one term as a Vermont state representative, was also working for Sanders. During the time she was in office, from 2000 to 2004, Sanders's congressional reelection campaigns paid her $51,032 in salary and expenses, though the payments were irregular—she would sometimes get multiple payments on a single day, and then not get paid for a month or more. (In 2018, Carina ran unsuccessfully for mayor of Burlington with the backing of Our Revolution, the progressive group that Sanders started after the 2016 election, although he is not formally associated with it.) Carina, through Sanders's presidential campaign, declined to comment.
Starting in the late '90s, Jane was an alternative commissioner on the Texas Low Level Radioactive Waste Disposal Compact Commission—a gubernatorial-appointed position on a commision that had been created after Sanders led efforts to dump nuclear waste in a small border town named Sierra Blanca. Jane, who didn't have experience with nuclear-waste or land issues, was paid roughly $5,000 annually. Not listed on Sanders's financial disclosures, the payments first came to light when he released several years of their joint federal tax returns in 2016. Sanders's state tax returns might have more information—but so far, he hasn't released them, even though he relented last spring and released federal returns that he'd been withholding.
Sanders has also benefited from his campaign account over the years, spending $8,000 in the late '90s, and then $445,000 in 2015, on purchases of his own book. In his 2016 Senate personal financial disclosure, Sanders said he received only $6,700 in royalties from the 2015 purchase. Other politicians do this—but when, for example, the Republican National Committee bought Donald Trump Jr.'s book in bulk last year, the author didn't also profit off money raised in his name, with his own authority to spend it.
The personal and professional converged once again after Sanders's first presidential campaign ended. In 2017, Jane started the Sanders Institute, envisioned as part think tank, part advocacy group. She tapped her son David Driscoll, who had worked as an executive at two private companies, as executive director, and he was approved by the board. He hadn't worked for a nonprofit before, but was paid a salary of $100,000. The institute raised about $1.2 million, according to tax returns and public statements it released. But neither its full donor list nor the number of donations it received is public. Bernie and Jane Sanders said that they made a $25,000 initial donation, and Our Revolution gave a $105,000 loan. The organization shut down after Sanders began his second race for president; most of its paperwork remains undisclosed. The most significant thing the institute did was host a December 2018 gathering for top supporters and press in Vermont that was essentially an informal kickoff to his anticipated campaign.
Beyond saying that Jane took her fee from the Sanders campaign to be fair to her other clients, Sanders's campaign declined comment on any of these arrangements and declined to make Jane available for an interview.
---
To the frustration of some of his aides, Biden has long been eager to keep his family close as advisers and supporters, seemingly unable to realize the appearance of impropriety that can arise. His family members started working for him during his first campaign, a 1970 run for New Castle County council. His sister, Valerie Biden Owens, managed that council race and his first Senate run two years later. His brother Jimmy handled fundraising for that Senate run. His other brother, Frank, was the volunteer coordinator. The Biden campaign says they worked for free, but there's no way to check: the Federal Election Commission, which handles federal campaign-finance records, wasn't established until 1975.
[Read: Hunter Biden's perfectly legal, socially acceptable corruption]
Speaking about that first Senate campaign in Des Moines the day before the Iowa caucus, Valerie self-deprecatingly joked about how party leaders had been urging the upstart candidate to put better-known operatives around him. They "thought Joe needed someone who was really experienced, someone who really had a 'strategic mind.' And so he turned to me and said, 'Will you do it?'"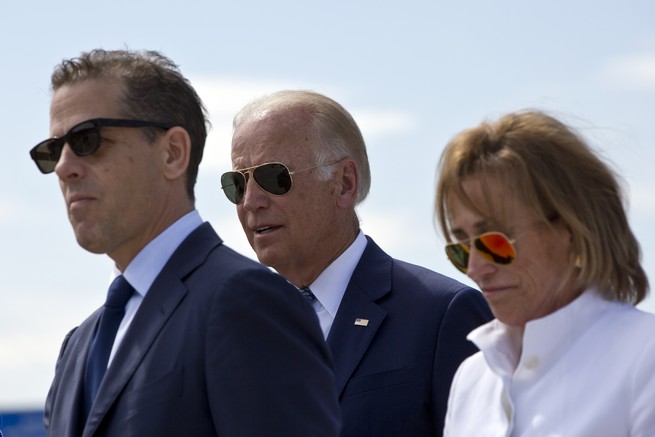 As has been assiduously documented by Politico, Jimmy went on to a business career in which he often leveraged his last name—including for a number of real-estate and investment deals that involved Hunter Biden, Joe's son, in which they'd reportedly talk up access to their famous relative. But Valerie stayed close, managing Biden's subsequent Senate runs and then his 2008 presidential campaign. She also worked in the private sector along the way. In 2007, the media firm where she is an executive vice president, Joe Slade White and Company, received $1.9 million from the presidential campaign for advertising placement, fundraising help, and media strategy (much of which went into buying ads). Although White himself worked for George McGovern in 1972, most of the firm's clients have been low-profile House races. According to Federal Election Commission records, it had only worked for one presidential campaign before Biden's 2008 run—former General Wesley Clark's in 2004—and hasn't worked for one since. But White, in a statement, said that Valerie only ever received her normal salary no matter the client: "Val's experience and skill made her an incredible asset to us. And she literally never took a commission on any campaign."
The 2008 campaign featured other family connections. A law firm run by a onetime top aide briefly employed Hunter as a named partner, and it charged the campaign nearly $200,000 for what was described in campaign-finance reports as "legal services" and "travel expense reimbursement." The only other campaigns that reported using the firm, which no longer exists, were a few Senate races over the years, for a few thousand dollars each. "Hunter Biden did work at that firm, but he did not work on nor receive money from this account," a current Biden campaign official told me.
Referring to his family, Biden was quoted in a 2007 news story as saying, "We like to campaign, and I think people know we like being with them." What this preference meant in practice was that about a fifth of the $11.1 million raised by Biden's last presidential campaign went to his family members or companies that employed them. Unlike Sanders, however, Biden did not receive any of that money himself, and the money came exclusively from campaign contributions rather than taxpayer dollars.
Valerie's daughter, Missy Owens, was also paid by Biden's 2008 presidential campaign, and ran Biden's Senate campaign after he dropped out of the presidential race. Once he became vice president, Missy went to work in the Obama administration—first for the Energy Department, and later for the Commerce Department. She wasn't the first Biden to work at Commerce: so had Hunter, during the Clinton administration, when his father was already a powerful senator. In 2006, his tenure at Commerce, along with his father's famous history of commuting to Washington, D.C., by train, was cited in his nomination by George W. Bush to Amtrak's board. According to an Amtrak report prepared the following year, board members received approximately $100,000 annually in compensation and expenses. During the years that his father was vice president, Hunter pursued a variety of lobbying and business opportunities—including, as is now well known, a position at a Ukrainian gas company that would ultimately catch Trump's attention.
Beyond clarifying that Hunter wasn't paid for the work his firm did for the Biden campaign in 2007, his campaign declined comment on any of these arrangements.
---
Today, Jane Sanders remains her husband's closest adviser, and he jokes about how she's starting to draw big crowds on her own campaign stops, but neither she nor Progressive Media Strategies is being paid by the campaign. This is the first Biden campaign that Valerie Biden Owens isn't managing; and although her company didn't secure any contracts for this race, she remains an essential adviser on and off the road. None of Sanders's or Biden's children are being paid, though the candidates' children and grandchildren often join the candidates on the campaign trail.
Trump likes to bring his children along to rallies too. But then they go back to their day jobs: Ivanka Trump as an (unpaid) senior adviser in the West Wing, and Donald Trump Jr. and Eric Trump as heads of the family company that owns the hotels, golf courses, and resorts that rake in taxpayer dollars every time the president visits.