How Andrew Yang Quieted the Asian American Right
Opposition to affirmative action was pulling Asians toward the GOP. Then Yang's campaign began to gather momentum.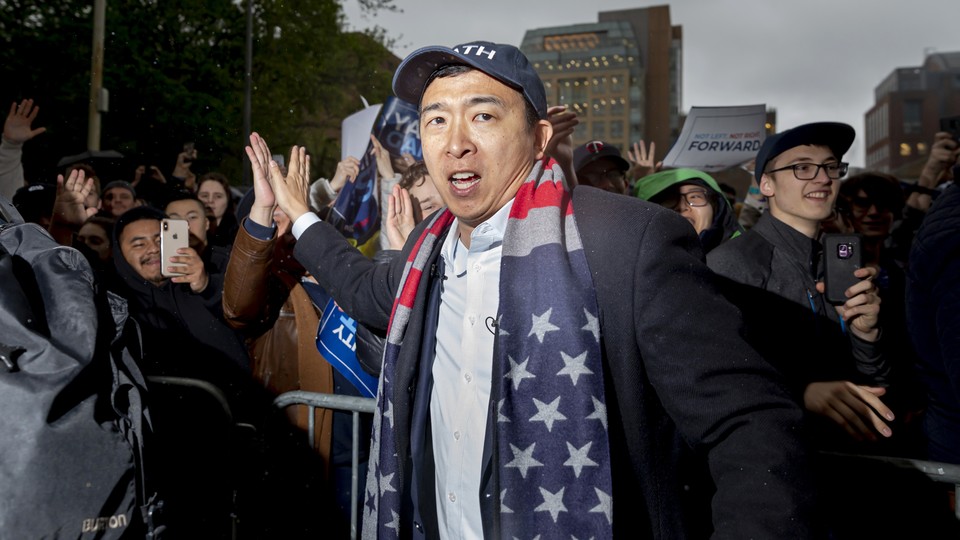 Yukong Zhao wasn't always a Republican. The Chinese American businessman and longtime independent started to drift to the right in 2014, when he led Asian activists in a campaign against affirmative action that culminated in a high-profile lawsuit against Harvard University. When the Trump administration came out in support of the cause in 2018, he started to give the GOP a closer look. In December, Zhao announced his bid for a Florida congressional seat on the Republican ticket.
The movement against affirmative action, spearheaded by Chinese Americans like Zhao, generated unprecedented levels of conservative activism among Asian Americans, fueling speculation that the community could be on the verge of abandoning its long-standing allegiance to the Democratic Party. But in recent months, a groundswell of Democratic activism has drowned out much of that conservative excitement.
The Chinese social-media platform WeChat, once a hub for anti-affirmative-action organizers, is now reverberating with blue-hat emojis and cries for universal basic income. The flip can largely be linked to excitement surrounding one particular presidential candidate: Andrew Yang, the 45-year-old entrepreneur and political newbie who is also among the most successful Asian Americans to ever run for president. With the high level of support that Yang is getting from Asian voters, he has quieted the vocal conservative Asian American contingent that had been pulling the community to the right.
Yang has drawn this backing even as he openly supports affirmative action. "He seems to have been able to temper the most virulent opponents of affirmative action in spaces like WeChat," Janelle Wong, a professor of American studies at the University of Maryland, told me. "I think it is harder for opponents of affirmative action to gain traction when a prominent figure like Yang has taken a strong stance in favor of affirmative action and for other kinds of egalitarian policies."
Zhao and his allies—many of them fellow well-educated, foreign-born Chinese Americans—believe that affirmative action harms Asian applicants by disproportionately benefiting black and Latino students. Though these conservatives are in the minority—polling consistently shows that most Asian Americans support race-based admissions and Democrats more broadly—they dominated the conversation, staging dramatic protests and flooding WeChat with anti-affirmative-action commentary. The result was one of the most vigorous grassroots movements to come out of the Asian American community in recent memory.
The Asian-driven campaign against race-conscious admissions began in 2014, when Chinese American groups successfully mobilized against SCA-5, a California bill that would have reinstated affirmative action in the state's public colleges. That same year, Zhao's organization, the Asian American Coalition for Education, partnered with more than 60 Asian American organizations to file a complaint with the Department of Justice, alleging that Harvard discriminated against Asian applicants. (This case was dismissed because another lawsuit against Harvard, led by the conservative activist Ed Blum, was making similar allegations.) Sensing an opportunity to woo Asian Americans, the Trump administration opened its own investigation into the Ivy League admissions process and at least one Republican congressional candidate railed against affirmative action at a Vietnamese American mall.
Just 18 percent of Asian Americans voted for President Donald Trump in 2016, according to one exit poll, but until recently, many members of the left-leaning silent majority haven't been very politically engaged: Asian Americans turn out to vote at extremely low levels, a problem exacerbated by the fact that both political parties tend to ignore them on the campaign trail. This lack of political engagement may have given Chinese American anti-affirmative-action activists the opportunity to speak on behalf of Asian Americans more broadly.
But since entering the race as a virtual unknown, Yang has sucked up the grassroots Asian American energy. Though just over 4 percent of Americans support Yang, according to the RealClearPolitics polling average, a Morning Consult poll from December found that he was getting support from 19 percent of Asian Americans, behind only former Vice President Joe Biden and Senator Bernie Sanders of Vermont.
The Asian-American Yang supporters I talked with were initially drawn to him because they were thrilled to see one of their own mount a presidential run. "It took me 15 years to get to this point," says Ling Luo, the founder of the Asian American Democratic Club, a national political organization. "I've been working in Chinese American politics for 15 years, and we finally have someone from our community venturing out to represent us and to serve the country." David Tian, an English teacher, told me that he began supporting Yang because he was "happy to see an Asian American man running for president."
Yang has especially galvanized younger Asian voters, as well as a significant portion of Chinese Americans without firm party affiliations. Almost all of the Yang supporters I talked with told me that they had never before volunteered for a campaign. "This is the first time I really hooked onto a campaign and helped out as much as I could," says Andy Wong, a software engineer involved with the group Massachusetts Yang Gang.
"What's fascinating with the Andrew Yang phenomenon is that you've seen a younger generation [of Asian Americans], more native born, showing a heightened level of interest on the Democratic side," says Karthick Ramakrishnan, a political-science professor at UC Riverside, who studies the Asian American electorate. "You're seeing as much, if not more, of that activism on the left as you once saw on the right."
Yang's success at blunting conservative Asian energy is even starker among donors: From July to September 2019, according to an analysis by the research group AAPI Data, Yang had received $1.4 million in Asian American contributions, more than any other Democratic candidate. Most of this money came from Chinese Americans, a striking fact considering that from January to March last year, Trump received 56 percent of all Chinese American political contributions. Six months later, the president had garnered just 18 percent, while Yang's share of donations had skyrocketed from 9 to 44 percent.
Yang isn't the only force that dampened the conservative drift of Asian Americans. The momentum was already beginning to slow by the time his campaign took off, largely because of the community's unfavorable views toward Trump. The president has made some Asian voters uncomfortable by "aligning the Republican Party so clearly and consistently as a white-nationalist party that is unwelcoming of certain immigrants, of certain religions, and of certain races," Taeku Lee, a professor of law and political science at Berkeley, told me in an email. Jeff Xie, a Chinese-American Republican, told me that he started supporting Yang when Trump's harsh stance toward immigrants made him "too divisive."
Anti-affirmative-action activists were dealt another major setback in October 2019, when a federal judge rejected the Harvard lawsuit. As conservatives within the community regrouped, Yang backers pushed him on the social network that once drove the grassroots campaign against affirmative action. Chi Zhang, a researcher who studies WeChat, told me that political blogs on the platform have played a large role in increasing Yang's profile among Chinese Americans. "Because he's an Asian American candidate ... there is a massive ecosystem working to push [his] visibility," she said.
Although Yang has won over some Asian Americans, he doesn't have a lock on them. Some progressives have criticized him for the way he talks about his Asian identity, alleging that he plays into the model-minority stereotype of Asians as nerdy and high-achieving. At a Democratic debate in September, Yang quipped that, as an Asian, he knows "a lot of doctors," and on the campaign trail, he often jokes that "the opposite of Donald Trump is an Asian man who likes math."
Yang has also faced criticism for how his flagship policy proposal, a form of universal basic income called the "freedom dividend," will affect Asian Americans. The policy wouldn't apply to noncitizens, which include 42 percent of Asian immigrants. "A significant proportion of the Asian American community may not realize that they won't be able to draw a UBI check," says Jenn Fang, the founder of the Asian American feminist blog Reappropriate. "I don't think that Yang has made that fully transparent."
On the opposite end of the spectrum, Asian American conservatives have attacked Yang for supporting affirmative action and other progressive policies. Zhao told me that while he thinks Yang is "courageous" to run for president as an Asian man, he strongly disagrees with his platform. "If you support universal basic income, vote for Andrew Yang," Zhao said. "That's your right. But if you support law and order, lower crime, good Chinese American traditions—you would probably choose a different option."
Yang has outlasted a series of senators and governors, but he's still polling far behind the front-runners in the 2020 race, and he's unlikely to be the Democrats' nominee. If his campaign peters out, right-wing Asian Americans could have a chance to reclaim their lost momentum. The group suing Harvard plans to appeal the case until it appears before the Supreme Court, a process that could shift the community's energy to the right with renewed vigor.
But what Yang ignited isn't going away, many of his supporters told me. "He's brought so many Asian people into the fold, so many fresh faces," Andy Wong said. "I think this will last."