The Atlantic Politics Daily: There Is No Unity Candidate
Or: What Bernie Sanders has in common with Michael Bloomberg. Plus: What if transparency is the problem?
It's Monday, February 10. In today's newsletter: What Bernie Sanders has in common with Michael Bloomberg. Plus: What if transparency is the problem?
*
« TODAY IN POLITICS »
(M. SCOTT BRAUER / REDUX)
The "unity candidate" may be a myth.
Bernie Sanders has been running for president as an anti-establishment insurgent for some five years now. But for the first time, he finds himself in a new position: early frontrunner.
Heading into tomorrow's New Hampshire primary, Sanders is widely expected to notch a victory—one that would put him on the path to winning the Democratic nomination. Still, he faces familiar challenges: Can the independent grow his coalition beyond his base, inspiring them to turn out in November?
A few thoughts from our reporters:
2. On Sanders vs. Warren: My colleague Elaine Godfrey has spent lots of time with Sanders supporters who are far less interested in Elizabeth Warren, the other progressive firebrand in the race. Why, exactly? Here's what one Bernie supporter told her last summer: "It's not that her policies are bad—it's just that her stuff would work [better] in a system that wasn't a failed state."
—Saahil Desai
*
« SNAPSHOT »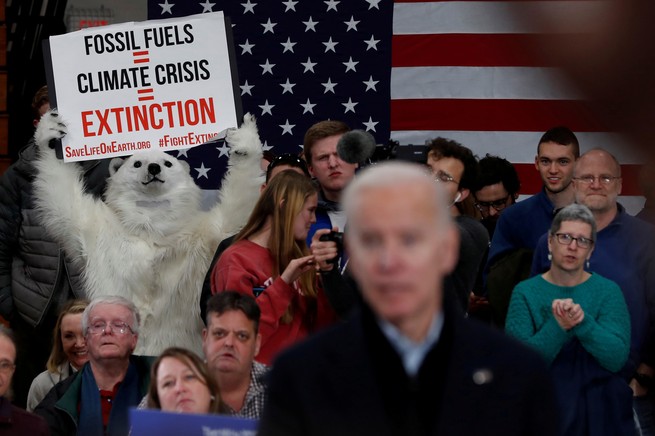 (CARLOS BARRIA / REUTERS)
A polar-bear / demonstrator at a Joe Biden campaign event on Sunday in Hudson, New Hampshire.
*
« IDEAS AND ARGUMENTS »
(TURTIX / SHUTTERSTOCK / PAUL SPELLA / THE ATLANTIC)
1.  "But surviving the slog, without stepping away from it and bowing to the idea that nothing matters, is the only way to live through the short term."
Impeachment is over, and the Americans who'd hoped for a Senate that keeps the president in check now must make it through the Trump presidency without giving in to cynicism. Quinta Jurecic argues for a way forward.
2. "They sought the truth. And they told the truth when called upon to do so."
The president waited until last Friday, two days after being acquitted in the GOP-controlled Senate, to fire Alexander Vindman, a key impeachment witness who served in the National Security Council. Vindman is just one of several new members of a super special club of public servants who've ventured to tell the truth about Trump, Benjamin Wittes writes. Benefits of membership range from Twitter mockery from the president himself to security threats.
3. "They are so focused on that performance that their actual jobs can seem like a distraction."
What exactly do America's politicians do at their jobs if gridlock is the word of the day on Capitol Hill? They're really just performing for their various audiences, using Congress as a platform for clout and culture-war grift, Yuval Levin argues. So how about a little less transparency?
*
« EVENING READ »
(ED REINKE / AP)
This is How Reaganism—and Thatcherism—Ends
There was a time when concern for human rights, an integrated Western political bloc, and the spirit of democracy were universally praised by Washington, London, and Rome.
But times have changed. The new kind conservatism that's sweeping through the West rejects the schools of Reagan and Thatcher, Anne Appelbaum argues.
Read her analysis and dispatch from a recent political conference in Rome.
---
*
Today's newsletter was written by Saahil Desai, an editor on the Politics desk, and Christian Paz, a Politics fellow. It's edited by Shan Wang, who oversees newsletters.

You can reply directly to this newsletter with questions or comments, or send a note to politicsdaily@theatlantic.com.

Your support makes our journalism possible. Subscribe here.