Donald Trump, Bernie Bro
The president's team seems to see the senator from Vermont's candidacy as a no-lose proposition.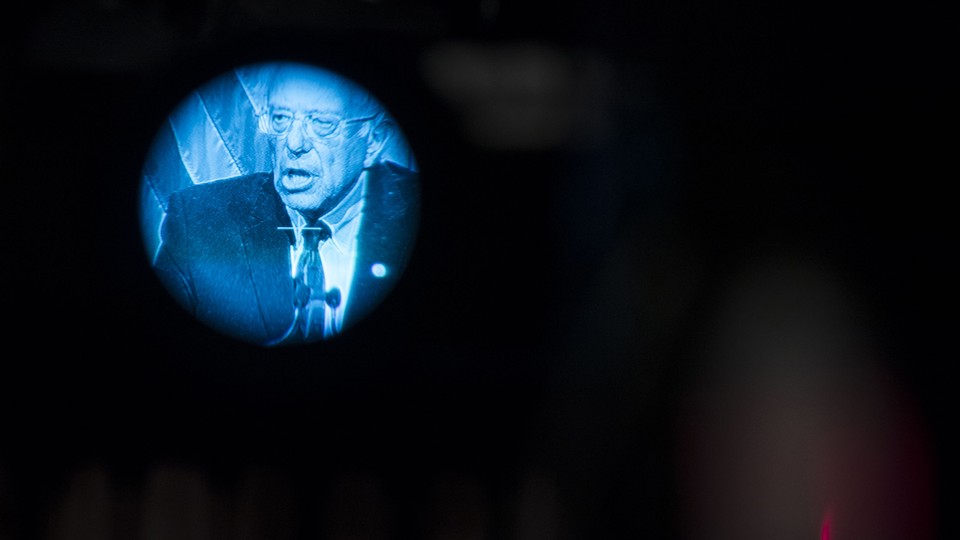 Not so long ago, Donald Trump seemed obsessed with just one of the Democrats vying to replace him: Joe Biden. Over the past year, as the former vice president became the front-runner, Trump's campaign spent about $270,000 on Facebook ads targeting Biden—more than it spent against other top candidates. Then Biden began to collapse and Bernie Sanders started to rise. Trump's social-media ads demonizing "Sleepy Joe" tailed off. Yet thus far, there's been no appreciable pickup in anti-Sanders ads. It's as if Trumpworld might want to go easy on Sanders.
It does. Team Trump views Sanders as the weakest candidate left on the Democratic side, and isn't eager to do anything to impede his rise, several of the president's past and present political advisers told me. They seem to see Sanders as a no-lose proposition: The president wins whether the senator from Vermont captures the nomination or not.
Should Sanders prevail, Trump's strategy will be to spotlight his democratic-socialist identity in an attempt to make voters fear he'll take away their freedom. (Trump will try to brand any Democratic nominee a socialist—Team Trump just thinks it'll be easier with the guy whose self-description includes the word.) If Sanders falters, Trump will argue that he was unfairly robbed of a nomination he earned. Trump has long stoked suspicions of an anti-Sanders conspiracy within the Democratic Party, for what seems to be two purposes: leaving Sanders's following so disillusioned that they stay home on Election Day, or perhaps persuading them to switch sides and vote Republican. Sanders may not need Trump, but for the time being, Trump needs Sanders.
"Sanders would be every holiday present rolled into one," Sean Spicer, the former White House press secretary and an ex–senior adviser to a pro-Trump super PAC, told me. "With Bernie, there's a general agreement that he's a gift."
Mistreating Sanders and alienating his supporters could cost Trump the election, depending on how the Democratic nomination fight ends. An analysis from the political scientist Brian Schaffner shows that in 2016, tens of thousands of Sanders supporters voted for Trump in Wisconsin, Michigan, and Pennsylvania—three battleground states that Trump narrowly flipped from blue to red. Had these voters aligned with the Democrats instead, Hillary Clinton would have won all three states and, ultimately, the election.
"To the extent that a Democratic primary becomes close and maybe Sanders doesn't get the nomination, there's a good chance that a reasonable share of his supporters is likely to buy into the thinking that the party had it in for Sanders," Schaffner, a Tufts University civics professor, told me. "And if that's the case, some of those people might find it easy to sit out a general election or cast a protest vote."
Sanders could also prove a tougher opponent than Trump reckons: He has grassroots backing, plenty of money, and a version of the same populist message that propelled Trump's 2016 upset victory. Democratic operatives see a deep cynicism, not solicitude, in Trump's approach. "Trump feels that he can attract the support Bernie has—that's all," Tad Devine, a top adviser to Sanders's 2016 campaign, told me. "I don't think he likes Bernie."
Every corpuscle of Trumpworld appears dedicated to propping up Sanders. One obvious tip-off that Trump is trying to promote Sanders's candidacy: He's relatively sparing in his insults. Master of the raw and indiscriminate putdown, Trump will demean just about anyone: teenage climate activists, Gold Star families, and deceased lawmakers alike. But when it comes to Sanders—who, let us not forget, has called Trump a "pathological liar" and a danger to the republic—the president often sounds like a fanboy, if not a Bernie Bro. Even his nickname for Sanders, "Crazy Bernie," is mild by Trumpian standards.
The counterpuncher isn't counterpunching much at all—not yet, anyway. "People like his message. He's got energy," Trump said about Sanders to reporters in the Oval Office earlier this month.
Since the summer, Trump's campaign has spent only about $25,000 on Facebook ads that mention Sanders, often lumping him in with other Democrats, according to an analysis by Bully Pulpit Interactive, a Democratic communications firm that also examined the Trump campaign's Facebook ads targeting Biden. (The Trump campaign declined to comment on its advertising strategy.)
If anything, Trump and his allies have been amplifying a message that Sanders has been sending for years: that the Democratic establishment wants him to lose.
Random events have been portrayed by Team Trump as part of a plot to doom Sanders's candidacy. The campaign has referenced the Iowa-caucus debacle, which one official said deprived Sanders of a "victory lap"; Clinton's fresh criticism of Sanders; and even the decision by The Des Moines Register not to release a poll on the eve of the Iowa caucus.
During the Nevada-caucus race, which ended Saturday, the state Republican Party sent a truck to Sanders's rallies displaying a message that the system is "rigged" against him.
And in at least one state, Republicans are trying to swing the election to Sanders. Ahead of the South Carolina primary this weekend, some state Republicans have urged party voters to cross over and back Sanders, with the explicit goal of vanquishing Biden, the candidate favored to win. (South Carolina's open primary system allows registered voters to take part in either party's contest.) "We will have a clear contrast between capitalism and freedom-loving Americans against Bernie Sanders and his Democratic socialists, so we would welcome that if it turns out that way," said Stephen Brown, the former chairman of the Greenville County Republican Party.
Trump isn't sentimental when it comes to blood sports like politics. People are useful to him or they're not. His advisers told me that he may feel some affinity for Sanders because both face antagonism from party-establishment figures. But the Sanders campaign is under no illusion that the president holds any real affection for him. "We understand that he's insincere," Jeff Weaver, a senior adviser to the Sanders campaign, told me. "Trump's crocodile tears don't impress us." During the 2016 race, Trump privately called Sanders a "lunatic," Sam Nunberg, a former Trump aide, told me. Appearing on Jimmy Kimmel's late-night talk show that same year, when both Trump and Sanders were vying for their respective party's nomination, Trump said, "I actually think Bernie would be easier to beat" than Clinton.
Polling suggests that he may be right. A Wall Street Journal/NBC News survey earlier this month showed Sanders beating Trump by four percentage points in a general-election race, a poorer showing than Biden and former New York City Mayor Michael Bloomberg. More worrisome for Sanders is how voters tend to look at a candidate espousing socialist ideas. In the same poll, about 67 percent said they would have at least some reservations about a socialist candidate, compared with just 28 percent who said they'd be comfortable with one. "I like the idea of Bernie having to explain democratic socialism versus communism, and explain it in South Florida to people who fled oppression in their countries," Marty Obst, a senior political adviser to Vice President Mike Pence, told me.
Every presidential candidate wants a sure path to victory. In the 2016 race, Clinton's campaign believed that the weakest candidate was Trump, seeing him as so flawed, Clinton would not only beat him but pick up a few red states, such as Arizona and Georgia, along the way, in a show of force against Trumpism. She lost both states, along with the ultimate prize.
In Trump's orbit, some are warning against a similar overconfidence. "I know there are Republicans who want Sanders to be the nominee. That's living dangerously," says John McLaughlin, a Trump pollster. "If he wins the 2020 election, that's a bad loss. It's more important that we focus on strengthening ourselves."
As someone whose own campaign prospects were sorely underestimated, Trump should be cautious in dismissing Sanders. Making political predictions in this volatile climate is risky. In time, Trump may not see Sanders as the gift he once relished.