What a Sanders Win in Nevada Would Really Mean
In short: It would up the chances of a contested convention.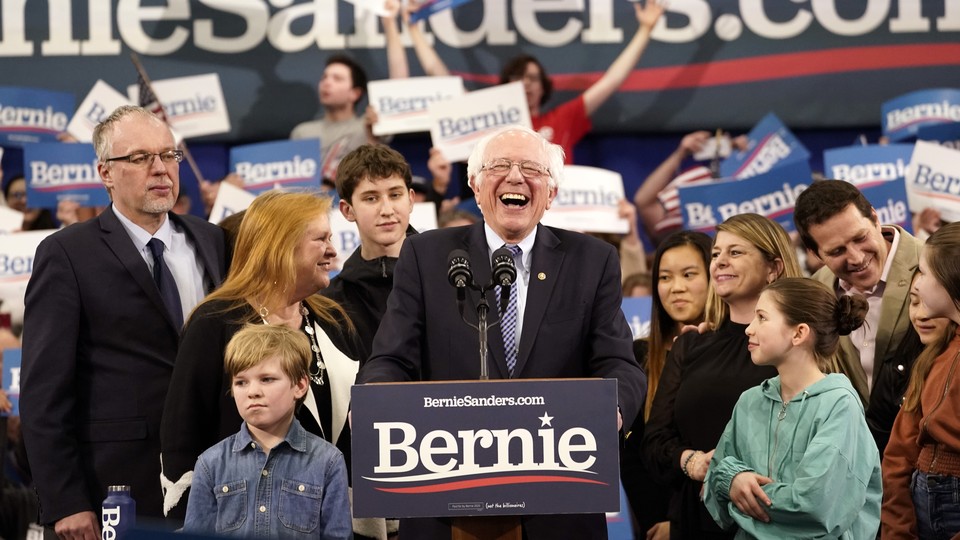 LAS VEGAS—Democrats everywhere may start asking the same volatile question after Nevada holds its presidential caucus on Saturday: Can the party deny Bernie Sanders the nomination if he arrives at the Democratic National Convention this summer with a plurality, but not a majority, of the delegates?
That question is becoming more urgent because Nevada, where the candidates will meet tonight for their ninth debate, looks poised to nudge that once-fanciful scenario closer to reality.
Each of the presidential camps believes that Sanders, who placed a close second here in 2016, is positioned to win, a victory that would solidify his standing as the clear leader of the party's liberal wing and the race's overall front-runner. But the results are unlikely to eliminate doubts that he can expand his support much beyond the one-fourth to one-third of the party that constitutes his hard-core base. Simultaneously, the Nevada outcome could intensify the muddle in the middle that has prevented any centrist candidate from emerging as the principal alternative to Sanders.
The result: While the past four contested Democratic primaries effectively became a one-on-one contest after the early states, the party this year faces the prospect that as many as six candidates might win at least some delegates on Super Tuesday. That splintered outcome could leave Sanders in a strong position to accumulate the most pledged delegates, but also facing a difficult climb to reach the 1,991 required for a first-ballot nomination victory at the July convention.
"I know a lot of people are saying it's more likely than not that we will figure this out before the convention," says Amanda Renteria, the national political director for Hillary Clinton's 2016 presidential campaign. "But I am at more than 50–50 that we end up with a … brokered convention, or at least we go into the convention with someone who did not get the 1,991 delegates."
Adds Tad Devine, a longtime Democratic operative who served as a senior strategist for Sanders in 2016: "There's never been anything like this in modern Democratic Party history."
A contested convention—which could involve dealmaking among several candidates, back-room negotiations among party leaders, and a bottomless well of media speculation—would be contentious under any circumstances. But Sanders at the center of that maelstrom would make it even more incendiary, given how many of his supporters are predisposed to assume that party leaders are plotting against him.
Already, Sanders and his top aides are unambiguously arguing that the party must nominate whoever arrives in Milwaukee with the most delegates, whether they have amassed a majority or not. "If you go in there with a strong plurality, that person should be the nominee," Jeff Weaver, a Sanders senior adviser, says flatly. Privately, some Sanders advisers argue that if he finishes the primaries with the most delegates, nominating another candidate would not only doom the Democrats against President Donald Trump in November, but also fracture the party for years.
The race, many Democrats believe, is still most likely to unfold in a manner that avoids a contested convention. Sanders or anyone else could establish a strong-enough position by mid-March to dominate the race's final stages and accumulate enough delegates to secure the nomination on the first ballot. Even in 1988 and 1992—the past two races that began with a similarly splintered result—a late break toward Michael Dukakis and Bill Clinton, respectively, allowed each to amass the necessary delegates for a first-ballot majority. And because delegates are not legally bound to vote for their candidate—even on a first ballot—a contender who does not win a majority during the primaries could still cobble together sufficient support for a first-ballot victory by attracting delegates from competitors who drop out of the race along the way.
Still, the circumstances this year are genuinely unique: Long-in-the-making changes to the primary's structure are intersecting with the near-term limitations displayed by each of this year's contenders. That's creating the greatest chance in decades that no one concludes the primaries with enough delegates to lock down the nomination on the first ballot. Not since 1952 have Democrats faced a "brokered" convention that required a second ballot.
The structural changes begin with reforms to party rules over the years that have required states to divide their available delegates among all the candidates who reach a 15 percent voting threshold. Those reforms have eliminated any systems that once provided bonus delegates, and in the process have made it harder for front-runners to pull away from the field.
Two other structural components are encouraging more candidates to stay in the race longer, thus dispersing delegates across more contenders. Traditionally, candidates who struggle in the early states are driven from the race by a shortage of money and media attention. But the advance of online fundraising, as well as the proliferation of campaign coverage across a wide array of media platforms, mean that both are now much more available even for candidates who perform poorly. Additionally, the campaigns of former New York City Mayor Michael Bloomberg and (to a lesser extent) the investor Tom Steyer are demonstrating how wealthy candidates who spend huge sums of their own money, especially on TV advertising, can buy a beachhead in the race that further splits the vote.
Then there are the factors specific to this campaign, particularly the constraints all the candidates have so far displayed: None of them delivered performances in Iowa and New Hampshire powerful enough to trigger much winnowing. And none has so far demonstrated an appeal broad enough to span the party's differences.
The caucus on Saturday seems likely to confirm Sanders's status as the field's most formidable contender without answering whether he can expand much beyond his base or elevating one of the other candidates as his principal rival. On the latter front, it seems more likely to cloud than clarify the picture.
Caucuses, which are much more difficult to participate in than primaries, play to Sanders's greatest strength: his ability to inspire a depth of passionate support that far exceeds that of any of his opponents. That intensity was evident at the University of Nevada at Las Vegas campus yesterday afternoon, when Sanders finished his rally by leading a procession of chanting supporters to a nearby student-union building where they could vote early. Amare Amable, a casino worker who attended the rally, said he did not even seriously consider any of the other contenders before deciding to back Sanders for a second time. "No chance," he said. "Bernie's money comes from us and everybody else's money is coming from rich people."
But as in Iowa and New Hampshire, Sanders still faces significant doubts among supporters of the other candidates. While polls show that most Democrats admire Sanders and praise his policy goals, I've rarely met anyone at an event for one of his rivals—apart from some at events for Elizabeth Warren—who believes that he can win in November or feels comfortable ideologically with his agenda. "For me, he's way too far left," Russ Faulkner, a realtor from Summerlin, Nevada, told me as he waited in line for a Pete Buttigieg event in North Las Vegas yesterday. Angie Clark, a retired financial executive at the same event, was equally dismissive: "I don't think he's a Democrat, No. 1. He's an independent socialist." If Sanders is the nominee, she said, "I think Trump will be our next president."
In Iowa and New Hampshire, Sanders captured only about a quarter of the vote, and he pushed just past 30 percent in national polls released this week, as well as a Public Policy Institute of California survey in the nation's largest state. In almost all of these polls, Sanders shows a powerful but limited appeal: He leads big among liberals and young people, and holds more modest advantages among Latinos and white voters without a college degree. But he continues to post much weaker results among moderates and older voters, and he receives only tepid support from college-educated white voters.
Yet to the frustration of party moderates dubious of Sanders, no one candidate is consolidating the constituencies most skeptical of the Vermont senator, which still represent a majority of the party. If anything, Nevada may exacerbate that anxiety. Iowa and New Hampshire raised the prospect that Buttigieg or Amy Klobuchar could emerge as a relatively new favorite for the party's moderate wing. But the Nevada results could expose weaknesses for both of them—particularly their limited appeal to Latinos and African Americans—and instead provide a step toward recovery for Joe Biden. That could leave moderates even more divided heading into South Carolina and the huge rush of primaries that follow in March. And on Super Tuesday, Bloomberg will enter the field as yet another option for voters uneasy about Sanders.
The inability of the center to coalesce around a single alternative raises the odds that Sanders can win more of the upcoming states even if he doesn't expand his vote beyond the 25 to 33 percent he's now attracting. But if Sanders doesn't increase his delegate haul beyond that level, his moderate rivals could still arrive at the convention with more combined delegates than he does, and perhaps an overall majority among them. That could allow Sanders's opponents to try to reach a deal that anoints someone else as the nominee, even leaving aside the potential effect the 771 "superdelegates" will have when they can begin voting on a second ballot. "He's still got to get to the threshold in total delegates to receive the nomination," said a senior official on another campaign, who spoke on the condition of anonymity to discuss internal strategy. "If you've got, combined, more delegates than Sanders does, you can always get to the second [ballot] at the convention and consolidate, just like in a caucus."
The Democratic primary's dynamics are reminiscent of those during the Republican primary in 2016: a candidate with a strong ideological base marching forward because no single candidate can consolidate the majority of the party initially skeptical of him. The difference is that the Democratic rules make it more difficult for such a candidate to amass a delegate majority.
Democratic voters could still provide a more decisive signal of their intentions than they have so far: Devine notes that stand-alone primaries in Georgia, in late March, and Wisconsin, in early April, could become decisive showdowns if the race finally reduces to two candidates after the rush of states that vote through mid-March. But there are no guarantees that the party interest groups or rank-and-file voters most dubious of Sanders will coalesce enough to create such a clear choice. That could leave Democrats facing excruciating decisions at the convention that could determine whether Donald Trump wins four more years.