The Russian Trolls' Next Favorite Candidate
Americans don't need Russia's polarizing influence operations. They are plenty good enough at dividing themselves.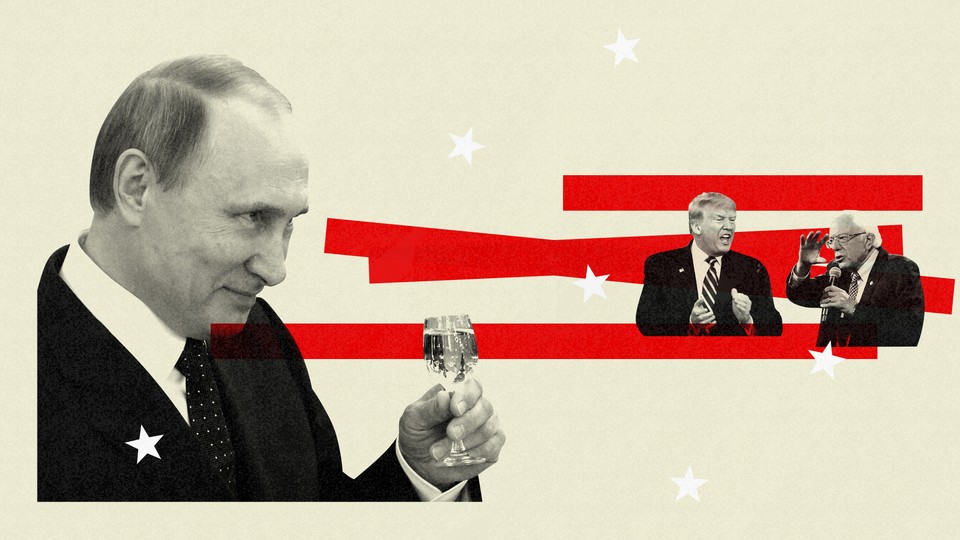 Updated at 6:06 p.m. ET on Friday, February 21.
"Please move." The white woman doesn't raise her voice; she's got her shirt on inside out and she's aiming a cellphone at the taco-truck vendors parked on her street. She wants them gone, and they're telling her to go back inside. "Okay, baby girl," she says. "Vamonos. I'll call ICE." "Stupida bitcha," comes a reply.
A video of the confrontation, filmed outside a house in Dallas last spring, soon went viral, with the title "racist woman talking about shes gonna call ICE ON US FOR SELLING FOOD IN DALLAS WHEN WE HAVE PERMIT." Within weeks, it had more than 170,000 views.
This is the new face of Russian propaganda. In 2016, the Kremlin invested heavily in creating memes and Facebook ads designed to stoke Americans' distrust of the electoral system and one another. Now, after nearly four years under a president whose divisive rhetoric and policies have inflamed voter anger on issues such as race, inequality, and his own conduct, the Russian government is still interfering, but it doesn't need to do much creative work anymore. The taco-truck video wasn't fabricated in some St. Petersburg workshop. It was a real video of a real incident, made in America—and all Russia had to do was help it spread with its Twitter trolls.
Luckily for the Russians, then, the two current front-runners for the presidency, Donald Trump and Bernie Sanders, are both polarizing figures—and they're both candidates Russian trolls sought to promote in 2016, as Special Counsel Robert Mueller found. This time, the Democratic field is crowded and squabbling, but it includes no hawkish, long-established Hillary Clinton to tear down. If the election does end up being a Trump-Sanders face-off, one of the Kremlin's favored candidates from 2016 is guaranteed a win. They are far apart ideologically but nearly equally suited to the Kremlin's interests, both in being divisive at home and in encouraging U.S. restraint abroad. Both Sanders and Trump profess to want to refocus the U.S. inward—a message that clearly appeals to many Americans. But that doesn't mean the Russian propaganda machine is slowing down; it's just aimed at a new target.
Darren Linvill, a Clemson University professor who has studied Russian information operations, told me, "Systems like this don't tend to stop simply because their reason for being no longer exists. They find new reasons for being." In this case, building on their 2016 successes and worsening divisions in the United States.
Linvill offered me a list of reasons the Kremlin still wants to interfere in U.S. politics, despite the fact that we're already doing such a great job of dividing ourselves. Russia's goals include depressing voter turnout and making it more difficult for the eventual winner to govern by sowing doubts about the electoral process.
The Kremlin might also still have a preference for Trump, if only because Russian leaders now know what to expect from him, Alina Polyakova, the president and CEO of the Center for European Policy Analysis, told me. The New York Times reported after we spoke that intelligence officials told lawmakers, in a briefing last week, that Russia is indeed interfering to help Trump again. The report did not specify exactly how. Then came reports that U.S. officials had briefed Sanders that Russia was interfering on behalf of his campaign—Sanders said that Putin should "stay out of American elections," in keeping with his position since 2016.
No matter what, Polyakova said, "a U.S. that's mired in its own domestic problems and not engaged in the world benefits Moscow." That's where the videos come in.
Americans are now the chief suppliers of the material that suspected Russia-linked accounts use to stoke anger ahead of U.S. elections, leaving Russia free to focus on pushing it as far as possible. Linvill has seen Russian trolls shift tactics to become "curators more than creators," with the same goal of driving Americans apart. "The Russians love those videos," he said, "because they function to make us more disgusted with one another." He and a colleague have traced viral tweets about the Dallas incident to Russia-linked accounts that Twitter has since suspended.
America's largely self-inflicted political condition has provided a stunning return on investment for the Russian government, which began orchestrating—as far back as 2014—what Mueller later called a conspiracy of "fraud and deceit for the purpose of interfering with the U.S. political and electoral processes," including the 2016 presidential election. Mueller laid bare the extent of the conspiracy led by a St. Petersburg–based organization called the Internet Research Agency. The IRA was the nerve center of the interference operation; it had hundreds of employees and a budget of millions of dollars dedicated to what it internally referred to as "information warfare" against America, with Facebook ads, fake Twitter personas, and even efforts to organize real-world protests.
Meanwhile, the irony is that the specter of Russian interference itself has become a tool to discredit political enemies online. "The biggest effect that I think foreign disinformation has had on our conversations is the perception that if someone disagrees with you, they're a Russian troll," Linvill said. "When, in fact, they probably just are somebody that disagrees with you." Twitter, for instance, at one point suspended an account supportive of the Black Lives Matter movement as a suspected Russian troll. Wired later identified the user: an American living in Florida.
The IRA was already setting up fake social-media accounts and sending operatives to the United States two years before the 2016 election. It operated English-language Twitter accounts that circulated made-up news stories—about a salmonella outbreak in New York, for instance, and a chemical explosion in Louisiana, neither of which had happened, Linvill said. These days, Russian internet operatives barely deal in outright fabricated news stories, he said, and those early efforts failed because they were easily debunked. When the campaign started, the IRA wasn't focused on supporting any particular candidate so much as targeting Clinton. This meant boosting not only Trump (by establishing Facebook accounts such as "Clinton FRAUDation" and "Trumpsters United") but also, incongruously, Sanders. (A BuzzFeed investigation found one Russian Tumblr account, 4mysquad, that posed as a black activist and celebrated Sanders as "not some old White man who just decided that #BlackLivesMatter yesterday. He's BEEN fighting.") Mueller later found that the clear preference for Trump developed over time.
Mueller's investigation led to indictments of some IRA operatives—which meant little, since they were in Russia, beyond the reach of American law, and turning their attention to the 2018 midterm elections. The organization was still creating memes, and it got an even bigger budget, according to Graham Brookie, the director of the Digital Forensic Research Lab at the Atlantic Council think tank. But it also began using more of what Americans themselves were putting on the internet, seizing on divisive debates about immigration, gun control, and police shootings of unarmed black men, using real news stories to highlight genuine anger and dysfunction in American politics.
Now, in 2020, the president and his political rivals have spent years locked in battle over things such as the Mueller investigation, impeachment, and America's very institutions and role in the world. Russian trolls can largely just watch Americans fight among themselves, and use fictitious Twitter personas to offer vigorous encouragement, as they did with the taco-truck video. They will keep prodding the same bruises in American society, or encouraging cries of electoral fraud if there's a contested Democratic primary or a tight general election.
The U.S. doesn't need Russians to erode faith in its elections—one buggy app at the Iowa caucus did that just fine, prompting the president's campaign manager to wonder on Twitter whether the caucus had been "rigged." Trump is both a cause and an effect of existing American lack of faith in institutions, which he encourages with frequent reference to the "deep state." And Sanders gets authentic support for his criticism of political and economic elites, which the Russia-linked accounts also promote.
Even as the U.S. by virtue of its political divisions has made Russia's job easier in some ways, it has made Russian operations more difficult in others. The Mueller investigation and congressional scrutiny have made people more aware of Russia's activities since 2016, Brookie said. Social-media companies such as Twitter and Facebook have grown more active at suspending suspicious accounts—even to the point of accidentally suspending real people spreading polarizing messages.
Still, although Brookie didn't want to understate the threat of Russian interference, he maintained that American domestic disinformation is worse than anything the IRA could do. Of the Russians at this point, he said: "They could spike the football and say, 'Mission accomplished.'"