The Atlantic Politics Daily: Behind Mitt Romney's Decision
The Republican-led Senate voted to acquit; the Utah Senator Mitt Romney voted to convict (on abuse of power, the lone GOP member to do so). Plus: weaponized boredom.
It's Wednesday, February 5. In today's newsletter: The lone Republican to break with his party in the impeachment trial of President Donald Trump explains his thinking. Plus: what happens when boredom is weaponized.
*
« TODAY IN POLITICS »
Caucus-goers in​ Des Moines, Iowa (JORDAN GALE / THE NEW YORK T​IMES)
48-52; 47-53
First things first: The Republican-controlled Senate voted to acquit President Donald Trump on both impeachment charges (abuse of power; obstruction of Congress).
Of the GOP senators who had previously voted to allow witnesses and new evidence in the trial last week, Susan Collins of Maine already declared before the official vote that she'd be voting to acquit.
That left Senator Mitt Romney of Utah. His decision was unknown until very recently—24 hours before the final vote, he spoke to my colleague McKay Coppins about the decision he'd made.
Here's where McKay found Romney on the eve of the vote—contemplative, resolute, a little bewildered about how things got to where they did.
I half-expected to find a cowed and calculating politician ready with a list of excuses for caving. (His staff granted the interview on the condition that it would be embargoed until he took to the Senate floor.)

Instead, I found Romney filled with what seemed like righteous indignation about the president's misconduct—quoting hymns and scripture, expressing dismay at his party, and bracing for the political backlash.
And backlash there was. Within the hour of Romney saying he'd vote to convict the president on the first article of impeachment, Donald Trump Jr. called for Romney's expulsion from the party, and Romney's own niece and GOP Chair Ronna McDaniel sided with the president. (As my colleague Peter Nicholas reported in November, that's not unexpected.)
Romney's decision to break with his party is exceptionally courageous, our contributing writer Peter Wehner argues.
He's putting his country above his party. He's voting his conscience when doing so comes at a cost. He's not rationalizing weakness and timidity by prettying them up as virtues.
For those suggesting ulterior motives (Romney 2024?!), McKay points out:
The truth is that Romney's decisive break with Trump could end up hurting him even in Utah, a red state where the president is uncommonly unpopular. What that means for his reelection prospects, the senator couldn't say.
What's to stop Trump now? My colleague Peter Nicholas, who covers the White House, has asked. Surely not contrition. Surely not a lone senator bucking the party that's otherwise firmly behind him. Are we ready for Trump 2.0?
—Christian Paz
*
« SNAPSHOT »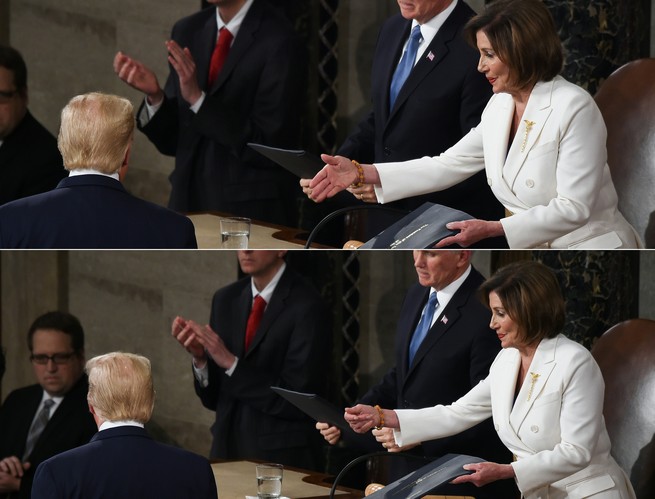 (Olivier Douliery / AFP / Getty)
The president appears to ignore House Speaker Nancy Pelosi's handshake as he took the stage for the State of the Union address on Monday night.
*
« IDEAS AND ARGUMENTS »
(NOAM GALAI / WIREIMAGE / GETTY)
1. "Contrary to Trump's crowing at the State of the Union, the country's growth performance is not unusual or extraordinary."
During his SOTU address, the president declared that "the years of economic decay are over," and the economy "is the best it has ever been."
But positive signs such as lowered unemployment, some wage growth, and good corporate earnings—this isn't an economy Trump and the GOP members of Congress can be credited with building, Annie Lowrey writes. Here's her full argument.
2. "When I was a Republican, I used to count on the Democrats being … 'holistically bad at politics.'"
After the blue wave of the November 2018 midterms, Tom Nichols writes, his previous belief had been proven wrong. After the Iowa mess, Tom writes, he's back to being worried about the Democratic party's capability.
3. "Are people to be judged for their overall record or for their worst moments?"
Conor Friedersdorf tackles the question of political endorsements—sought out or otherwise. The controversy over Joe Rogan's endorsement of Bernie Sanders "revealed stark disagreements about who counts as a bigot, how this standard is set, and why."
---
*
« EVENING READ »
(HERITAGE IMAGES / GETTY)
Are you not entertained?
A numbness is settling over American politics: the impeachment vote (preordained, a "rehash," no new witnesses), the House Intelligence proceedings ("Do you think Americans care about Ukraine?"), all feeding into a partisan ennui.
What happens when "boredom is weaponized?" Megan Garber explores:
Boredom, thus weaponized, sends messages about who, and what, is worth one's attention—and about who, and what, is not. Those messages extend far beyond partisan politics. On Monday, during the New York criminal trial of Harvey Weinstein, Jessica Mann, one of the more than 80 women who have accused the mogul of sexual misconduct, offered searing and graphic testimony about Weinstein's alleged abuse of her. (Weinstein has denied all allegations of nonconsensual sex acts.) Mann told the court about Weinstein's "unpredictable anger." She told the court that Weinstein had raped her, and that, when she saw him again, he had ripped her pants off while screaming, "You owe me one more time!" Mann wept on the stand as she told her story.

Weinstein, meanwhile? He dozed off.
---
*
Today's newsletter was written by Christian Paz, a Politics fellow, and edited by Shan Wang, who oversees newsletters.

You can reply directly to this newsletter with questions or comments, or send a note to politicsdaily@theatlantic.com.

Your support makes our journalism possible. Subscribe here.