The Atlantic Politics Daily: Medicare for All—Maybe
Why it isn't Medicare for All or bust for some Bernie Sanders supporters. Plus: The Association of American Physicians and Surgeons isn't what it might sound like.
It's Tuesday, February 25. In today's newsletter: Some Medicare for All talk for all who want to talk about it.
Plus: Biden at the brink? Bloomberg to the breach? Where candidates stand heading into the last Democratic debate before Super Tuesday.
*
« TODAY IN POLITICS »
(ROBYN BECK / AFP VIA GETTY)
Medicare for All—Maybe
Listen to Democratic front-runner Bernie Sanders talk about Medicare for All, and you'll hear pretty clear disdain for more incremental measures to reform the American health-care system.
Sanders has blasted a so-called public option, the trendy moderate alternative to Medicare for All, as a "failed idea." He's leaned on Medicare for All as one of his clearest policy differentiators.
But how do Sanders organizers talk about Medicare for All? When my colleague Elaine Godfrey sought them out, what they told her ended up sounding less like what the candidate himself espouses on the campaign trail:
They said they are clear-eyed about how difficult achieving such gargantuan reform will be. And they would be pleased, if not completely satisfied, with passing a public option as a compromise.

"The goal is Medicare for All, but we recognize, Senator Sanders recognizes, that that's going to be a process," Kristin Pack, a 50-year-old stay-at-home mom and one of the leaders of Our Revolution Central Kentucky, told me. "If we could get a super-solid public option that could not be easily upturned by another party coming into power, that would be wildly successful."

Elaine's story tries to get at the heart of why it isn't Medicare for All—or bust—for  Sanders supporters.
—Saahil Desai
*
« DEBATE REFRESHER »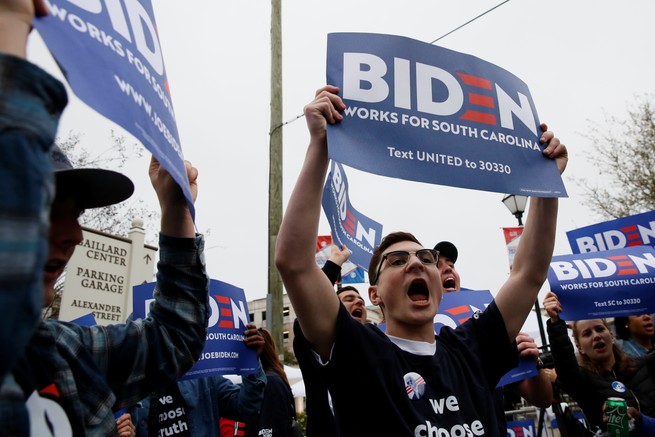 (Elizabeth Frantz / Reuters)
Not even a week's passed since we last recapped the state of the Democratic primary before a debate (not even 150 hours, you can count 'em). Tonight's affair (the tenth, count 'em) comes days before key primaries in South Carolina and then 14 Super Tuesday states, plus American Samoa.
Here's where we left the contenders:
‣ Joe Biden: He needs a win, and he's still counting on his South Carolina firewall. But ...
‣ Michael Bloomberg: He took a beating last week. Maybe he'll try to pivot to gun control tonight.
‣ Pete Buttigieg: After Iowa, he very boldly started acting like a front-runner. For a very limited time, he was. Will he and Amy Klobuchar continue their two-way hostilities?
‣ Amy Klobuchar: She's still here. After struggling with Latinos in Nevada, she now may be facing a similar challenge with black voters in South Carolina.
‣ Bernie Sanders: Will he be a bigger target than he was last week? Or will he emerge from tonight relatively unscathed?
‣ Tom Steyer: Now for billionaire number two! He's returning to the debate stage in a state where he's spent a lot of money (and where one of our reporters caught up with in October to understand … what he's thinking).
‣ Elizabeth Warren: She continues to struggle in the early states, ending up fourth in Nevada. Warren and Sanders are often lumped together, but the two have pretty fundamental differences in vision, Frank Foer argues.
*
« EVENING READ »
(BETTMANN / GETTY / KATIE MARTIN / THE ATLANTIC)
The Opposite of Socialized Medicine
A small, litigious group has spent decades trying to stop the government from telling doctors what to do. What happens if it succeeds?
The Association of American Physicians and Surgeons might sound like another boring doctors' group politely debating telehealth legislation. But AAPS is a small yet vociferous interest group. Like Zelig with a stethoscope, it has popped up in nearly every major health-care debate for decades, including the Affordable Care Act and opioids, and it wields a surprising amount of influence.

Senator Rand Paul of Kentucky was outed as a member in 2010. (A Paul spokesperson told me that while the senator is no longer a member, he is supportive of AAPS's fight against Obamacare.)

When Representative Tom Price of Georgia was nominated to lead President Donald Trump's Department of Health and Human Services, several newspapers pointed out that he, too, was a member. (At the time, an HHS spokesperson said that not all doctors in a group believe the same thing.)
---
*
Today's newsletter was written by Saahil Desai, an editor on the Politics desk, and Christian Paz, a Politics fellow. It was edited by Shan Wang, who oversees newsletters.

You can reply directly to this newsletter with questions or comments, or send a note to politicsdaily@theatlantic.com.

Your support makes our journalism possible. Subscribe here.