The One Way That Iowa Looks Like the Democratic Party
Urban areas in the state are shifting to the left, a trend that could tilt the final outcome on caucus night.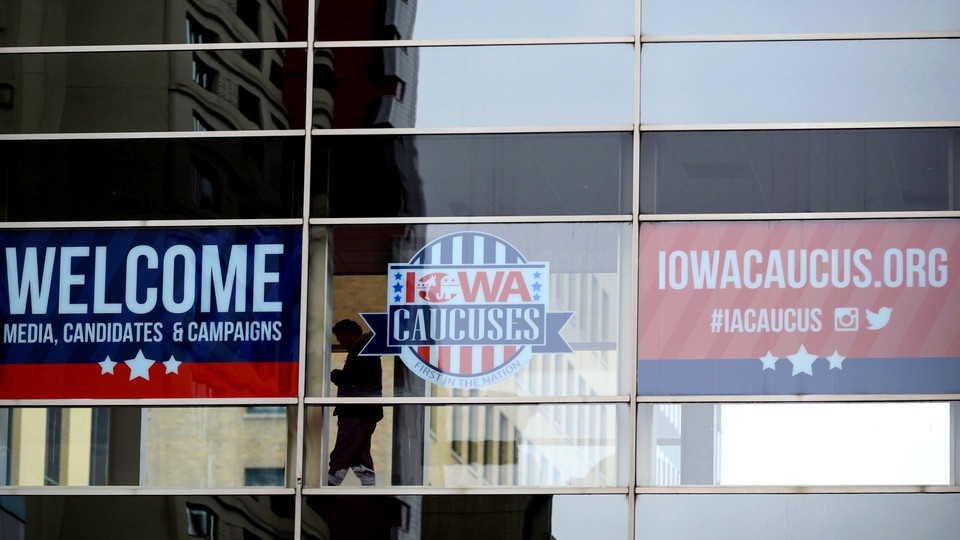 DES MOINES—It's no secret that Iowa has been only lightly touched by the increasing racial diversity that has reconfigured the Democratic Party nationwide. But while the demographic change evident in the Democratic coalition has largely bypassed Iowa, the state has been swept up in the party's most important geographic change.
Democrats in Iowa are improving their performance in the urban centers that are driving most of the state's population growth, while the party is simultaneously losing ground in the small towns and rural areas that are either stagnant or losing population. With the Iowa caucus just days away, the cumulative force of this population shift could tilt the final outcome in what looks to be a tight race.
In Monday's contest, the Democratic candidates will be more reliant on metro areas—particularly those with large numbers of young adults and white-collar suburbanites—than even four years ago: Among the state's 99 counties, just seven will award 53 percent of the delegates at stake.
These changes create the most obvious challenge for former Vice President Joe Biden and Senator Amy Klobuchar of Minnesota, who are relying heavily on older and more establishment voters based in rural communities and smaller cities. Bigger turnout in college towns like Iowa City, the home of the University of Iowa, will benefit Senator Bernie Sanders of Vermont—though critics complain that the rules of the caucus are designed to undercut the clout of college towns. Bigger turnout in the white-collar suburbs around Des Moines, Iowa City, and Cedar Rapids could primarily benefit Senator Elizabeth Warren of Massachusetts and former South Bend, Indiana, Mayor Pete Buttigieg—though both Biden and Klobuchar are hoping to remain competitive in those areas too.
None of the cities in Iowa is that large by national standards: The Des Moines metro area has about 650,000 residents. Still, the trends in the state are familiar in two ways: First, the largest urban areas are fueling its population growth. The seven Iowa counties that will award the most delegates at the caucus are Polk (Des Moines), Linn (Cedar Rapids), Johnson (Iowa City), Scott (Davenport), Black Hawk (Waterloo), Story (Ames), and Dubuque. But the big three—Polk, Linn, and Johnson counties—are the ones most propelling the state's growth: Since 1990, they have accounted for fully two-thirds of Iowa's modest total population increase of 375,000.
The second trend is a growing urban-rural divide: Like elsewhere, Iowa Democrats are losing ground in rural areas, even as they pick up voters in metro areas. When Democrat Tom Vilsack won his first term as the state's governor, in 1998, the seven largest counties provided only 42 percent of his total votes. In 2018, those same counties accounted for 53 percent of all votes won by Fred Hubbell, the Democratic candidate who lost a close race to Republican Governor Kim Reynolds.
That affects the caucus because Iowa Democrats allocate delegates to counties, and they do so based on the share of the total Democratic vote those counties provided in the 2018 gubernatorial and 2016 presidential races. Under those rules, the big counties are growing in influence: The 53 percent of delegates they will award is up from just under half in 2016. "There are many individual precincts in Polk County that are worth as much [in delegates] as a whole rural county," says Pat Rynard, the founder and managing editor of the political website Iowa Starting Line. "There are a number in Des Moines and [the suburbs of] Ankeny and Johnston and Clive counties, where if you are strong in just literally two precincts, that is as good as several other counties."
Still, critics contend that the system unfairly dilutes the influence of large counties and favors rural places, because a county doesn't receive more delegates if more people show up on caucus night. That means if turnout surges in the big counties, those new voters won't generate more delegates for the candidates they support.
John Deeth, the caucus organizer for Democrats in Johnson County, told me that he thinks caucus turnout there next week could reach as high as 25,000, up from 19,000 in 2016. Some individual precincts, he forecasts, could see 1,000 or more people turn out, a milestone that he believes Democrats have never before reached in the state.
But if that surge happens, it won't increase the 162 delegates the state party has allocated to Johnson County. "We don't get fully rewarded for our high caucus turnout," Deeth lamented. "In 2016, we were 11.5 percent of the total state turnout, but we were only 6.5 percent of the delegates."
Deeth has calculated that candidates can win a delegate with support from far fewer caucus-goers in rural counties than in urban areas or college towns. In 2016, according to his analysis, it took support from 122 people to win one delegate in the average county. But in several rural counties, candidates could win a delegate with support from fewer than half as many people. Meanwhile, in four large counties with college towns, it required more than 200 caucus votes to win a single delegate.
State party officials and many Iowa Democratic operatives defend the rules, saying they compel candidates to compete in all parts of the state—which they insist is good training for the general election. "I guarantee you the candidates coming out of here will be able to talk to folks in the upper Midwest," said Troy Price, the state Democratic Party chairman. "They are going to have rural plans already in place. They are going to have the experience of not only speaking to voters in Des Moines; they are going to have the experience of speaking to voters … in Des Moines County," a rural part of the state that's roughly 150 miles from the city itself.
Jeff Link, a longtime Democratic strategist in the state, said that given the movement toward Democrats in metro areas across Iowa in 2018, he expects "the suburbs will grow more than everywhere else" in their turnout next week. But because the delegate allocation is already decided, that will mean "wasted votes" for the candidates strongest in those places—a dynamic that could especially hurt Sanders, given his strength on campuses. (Iowa Democrats will report not only how many delegates each candidate acquires—the traditional metric the party and press have used to gauge the winner—but also how many actual votes each candidate attracts in the caucuses. The initial count would still indicate that strength for Sanders.)
Even so, many veteran Iowa observers see evidence that the candidates this year are tilting their efforts more toward the population centers. Among the leading candidates, only Klobuchar has campaigned in all 99 counties—a marathon known locally as a "Full Grassley" after Senator Charles Grassley, the state's Republican senator who popularized the tour. Biden and Buttigieg have also campaigned regularly in rural areas (if not as doggedly as Klobuchar), though they may still both depend on urban centers: Biden in Dubuque and other industrial cities, and Buttigieg in the booming white-collar areas around Des Moines. Warren and Sanders, meanwhile, have focused their efforts most directly on the state's population centers.
With the latest Iowa polls indicating a close contest, the result on caucus night may come down to whether turnout is close to the roughly 170,000 who voted in 2016 or whether it matches or even exceeds the record 240,000 who voted in 2008. Among Iowa observers, the general consensus is that Biden, who is dependent on more moderate, older Democrats who regularly attend the caucuses, has his best chance to prevail if turnout falls on the lower end of that range. But if the total vote surges, Biden "could just get swamped," Rynard told me.
A big turnout on Monday will almost certainly underscore how thoroughly the Democratic center of gravity in Iowa has shifted toward the state's largest population centers. But how such an elevated turnout divides between young people and college-educated suburbanites could ultimately decide which candidate leaves the state with the most powerful tailwind.