The Atlantic Politics Daily: There's an App for That
Though not a working one for tallying Iowa caucus results: As of tonight, the winner of Monday's voting remains unclear. Plus: how to save a republic.
It's Tuesday, February 4. President Trump delivers the State of the Union tonight at 9 p.m. EST, on the eve of a Senate vote to remove or acquit him.
In the rest of today's newsletter: What went wrong in Iowa? More than just an app. Plus: a republic, if America can keep it.
*
« TODAY IN POLITICS »
Caucus-goers in​ Des Moines, Iowa (JORDAN GALE / THE NEW YORK T​IMES)
There was an app for that. Did there need to be?
The official winner of the Iowa caucus is ______________ (sorry, we don't know yet either). A day after the highly anticipated affair officially kicked off the 2020 primary, the Democratic results are still being a tallied and an official winner hasn't been announced. At least for now, Pete Buttigieg seems to hold a narrow lead.
Last night's results-reporting failure was colossal flub, and one that, considering the state's outsize role in the primary, could make a lasting imprint on the rest of the race.
An app the state's Democratic Party developed to tally the results crashed. The name of the company behind it is—we kid you not—Shadow. The party was so worried about outside (Russian) hacking that it didn't properly test the app, which it gave Shadow only two months to build. As Zeynep Tufecki writes, the current debacle is the worst of the possible outcomes.
As news about the tallying problems unfolded, a procession of conspiracy theories took hold online, amplified by everyone from the president's campaign manager to at least one Democratic member of Congress to an opinion writer at The New York Times.
My colleague David A. Graham has this to say about why Americans seem so primed to fall for this kind of misinformation.
We'll leave you with this final note, since we don't have a final winners list for you: Sometimes, you just don't really need an app for that. For the political world, the Iowa caucus chaos a reminder that new tech isn't the panacea it's sometimes touted to be. At five months old, Shadow was tasked with one of the biggest jobs in politics. Alexis Madrigal on our technology desk explores how such an unproven company ended up building such an important app.
As my colleague Andy Ferguson, writing for our Ideas section, puts it: "How's this for quirky?"
—Saahil Desai
*
« SNAPSHOT »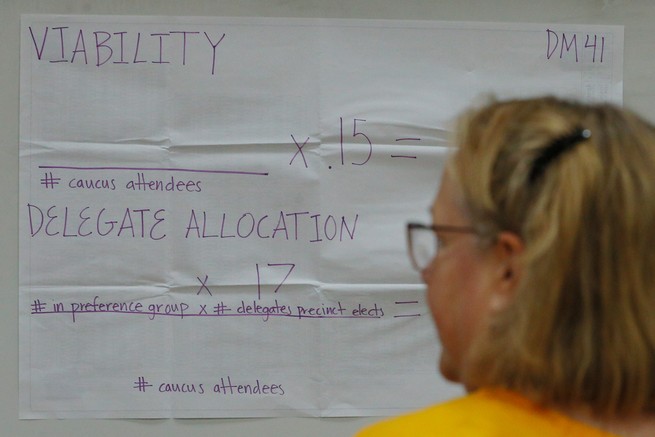 (Bryan Snyder / Reuters)
A caucus goer in Iowa looks at a hand-written formula for viability at her caucus site in Des Moines on Monday's caucus night.
*
« IDEAS AND ARGUMENTS »
(MATT ROURKE / AP)
1. "Hopefully he won't do that again."
That's what Republican Senator Lamar Alexander told NPR's Steve Inskeep while explaining his decision to oppose Trump's removal. But Trump is likely to read acquittal as "complete and total exoneration," just as he did the Special Counsel's investigation, Inskeep argues. So what's the point of a mild, congressional censure?
2. "What does it take to 'keep a republic'?"
There's a difference between civility and civic virtue—one asks for mere politeness while the other calls for self-restraint, truthfulness, and "disinterested concern" for the American experiment, Adam J. White argues: Holding up the republic relies on virtuous public leaders, not well-written laws.
---
*
« EVENING READ »
(THE LIFE PICTURE COLLECTION / GETTY / THE ATLANTIC)
How McKinsey Destroyed the Middle Class
The law professor Daniel Markovits has this deep dive on the socioeconomic impact of the company central to some of fiercest scrutiny the 2020 Democratic contender Pete Buttigieg has faced in his recent campaign.
Running a company on a concentrated model requires a cadre of managers who possess the capacity and taste to work with the intensity demanded of top executives today. At the same time, corporate reorganizations have deprived companies of an internal supply of managerial workers. When restructurings eradicated workplace training and purged the middle rungs of the corporate ladder, they also forced companies to look beyond their walls for managerial talent—to elite colleges, business schools, and (of course) to management-consulting firms. That is to say: The administrative techniques that management consultants invented created a huge demand for precisely the services that the consultants supply.

This is where the recent history of American management intersects with Pete Buttigieg's life story.
---
*
Today's newsletter was written by Saahil Desai, an associate editor on the Politics desk and Christian Paz, a Politics fellow. It was edited by Shan Wang, who oversees newsletters.

You can reply directly to this newsletter with questions or comments, or send a note to politicsdaily@theatlantic.com.

Your support makes our journalism possible. Subscribe here.