Elizabeth Warren's Last Stand
Can the New England senator win the Democratic nomination if she doesn't win New Hampshire?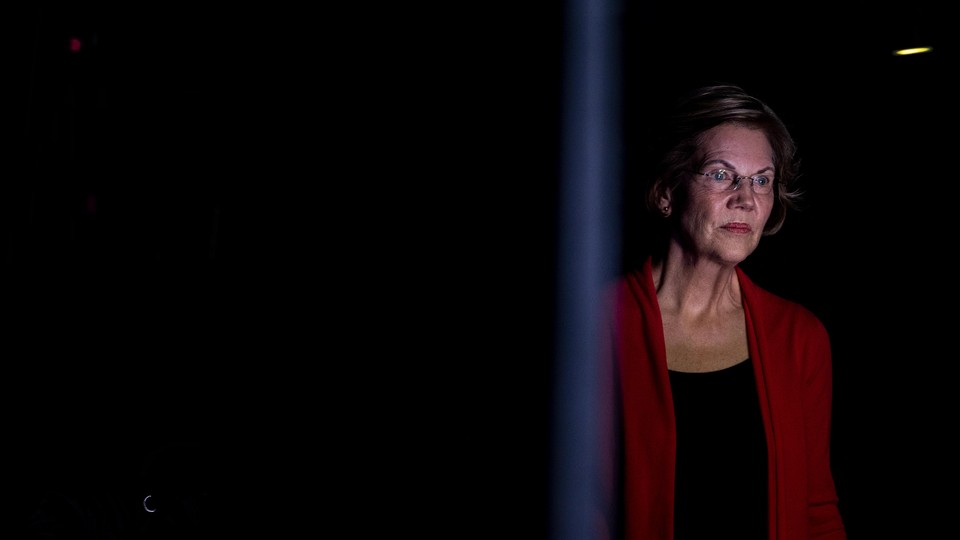 MANCHESTER, N.H.—Inside a local brewery here, dozens of Elizabeth Warren supporters refused to believe this all might be over soon. Sipping craft beer (or seltzer water), these Warren diehards gathered, in some cases, to simply be near one another. Ten miles away, in Goffstown, seven Democratic candidates would soon debate at St. Anselm College. The low hum of conversation broke for remarks by Representative Jim McGovern of Massachusetts, one of Warren's regional surrogates. "We have a couple days left," he told the room. "We can win this."
At a table near the back of the bar, I met Christine Reyes, an assistant professor at Colby-Sawyer College, in nearby New London. She'd been knocking on doors for Warren since August, and conceded that she was just happy to have a night out. (Her husband was home watching their 1-year-old.) "A lot of my co-workers don't like to really talk about who they're supporting," Reyes told me. She said that she only recently began to notice Warren signs in her neighborhood—or any campaign signs, for that matter. "But, I feel good. We're top four," she said. "We'll figure it out."
That night, Friday, coming off a third-place finish in the muddled Iowa caucus, Warren was hardly the star of the debate. Former South Bend, Indiana, Mayor Pete Buttigieg received the front-runner treatment (in the form of attacks) and Senator Amy Klobuchar of Minnesota boasted the most post-debate momentum after a strong performance, raising $2.5 million in 24 hours. But Warren—who seems most likely to appeal to white college-educated voters, which New Hampshire has more than its fair share of—needs a strong finish in this first primary if she hopes to win the nomination. If her strategy is going to work anywhere, it's going to work here. But what if it doesn't?
Warren built her campaign on a fast-paced rollout of detailed plans—plans to break up Big Tech, provide debt relief to Puerto Rico, cancel student loans, tax the wealth of the uber-rich, and institute Medicare for All. But as the Democratic field winnowed in the fall, she pivoted to the argument she believed might matter most to voters: that she is the candidate who can unite the Democratic Party and defeat Donald Trump.
In order to be the unity candidate, though, Warren has to start amassing more delegates; where she finishes in New Hampshire will have a significant impact on how long she can stay in the race. When Reyes began door-knocking on her behalf in August, Warren was polling at 15 percent in the state, within the margin of error of Senator Bernie Sanders of Vermont, and eight points behind former Vice President Joe Biden, according to FiveThirtyEight. By the middle of October, her support had ballooned to nearly 27 percent—positioning her as a front-runner both in New Hampshire and nationwide.
But then came Warren's precipitous slide, the steadying of the Sanders campaign, and a resurgent Buttigieg candidacy. The Warren campaign sounded the alarm late in December that it might miss its quarterly fundraising target, before recovering to finish with $21.2 million in the fourth quarter—$3 million shy of her previous mark, and $13 million less than the Sanders campaign. That news, however, was blunted by the endorsement of her onetime primary opponent Julián Castro.
Onstage at the debate, moderator Linsey Davis pressed Buttigieg on the racial disparity in marijuana arrests in South Bend when he was mayor. He dodged the question, reverting to an answer focused on a larger discussion of systematic racism. Davis turned to Warren and asked whether Buttigieg's answer was sufficient.
"No," Warren replied.
"Oh!" one person at the Manchester watch party exclaimed. "Looks like that was her moment," Jerold Paulson, a 60-year-old IT professional and Warren supporter who had traveled up from Washington, D.C., to canvass for her, leaned over and told me.
It was about 10 p.m., and people had started to trickle out with an hour still left in the debate. I asked Reyes if what she had seen up to that point was enough to sway voters. "No," she said. "The people who tune in are the ones who already care."
Candidates ping-ponged around the state on Saturday as snow flurried off and on, before finally arriving at the week's capstone event: the New Hampshire Democratic Party's annual McIntyre-Shaheen 100-Club Dinner. Outside of the Southern New Hampshire University arena, freezing supporters shouted warring chants. "BOOT-EDGE-EDGE!" and "BERNIE! BERNIE!" and Warren's signature "DREAM BIG, FIGHT HARD!" Some Bernie supporters handed out hot chocolate.
Inside the arena, luminaries of the state's Democratic Party and other liberal notables—former New Hampshire Governor John Lynch, the filmmaker Michael Moore—were seated around a stage, wearing formal attire and eating dinner. Meanwhile, in the stands, supporters of each candidate had joined together in different sections with signs, lights, and noisemakers in a test of organizing might. Warren appeared to have the largest group of fans.
I met Matt Gatzke as he was walking into Buttigieg's area. The 61-year-old trade-association manager had just recently decided to support the former mayor; though he told me he was still interested in Warren and Klobuchar. He said his neighbors are merely looking for "strong leadership." But he worries about enthusiasm generally in the state. "I still run into too many people who say, 'Oh, I'm just not going to vote, because it doesn't make any difference.'" He brushes off that mentality. "You need to get involved in the process and see how much influence you can have," he told me.
Each candidate had about 10 minutes to address the crowd. Buttigieg was assailed with chants of "Wall Street Pete" from the Sanders section as he spoke, and was the only candidate to receive boos. Biden, who has presented himself as the most electable candidate, had a dimly lit sliver of supporters sandwiched between two Warren contingents. In an arena where applause was currency, his account was low on funds.
When she took the stage, Warren got the crowd to its feet. "It was three years ago yesterday that Mitch McConnell pitched me off the floor of the United States Senate for reading a letter from Coretta Scott King," she began. The statement McConnell made about Warren became a rallying cry—one that "women had tattooed on their bodies," she said: "Nevertheless, she persisted." Her campaign started with a fight; it will be one until the end.
Warren did something few of the other candidates did Saturday night: She got supporters in every candidate's section to clap for her. "There are a lot of people who talk about what races aren't winnable or what kind of people can't win," she told the room. "The way I see it, they're gonna keep saying that right up until we get in the fight, we persist, and we win."