The Dissonance Between Sanders and His Supporters on Medicare for All
Some of his own organizers are willing to make a deal. Is their position a preview of his general-election message?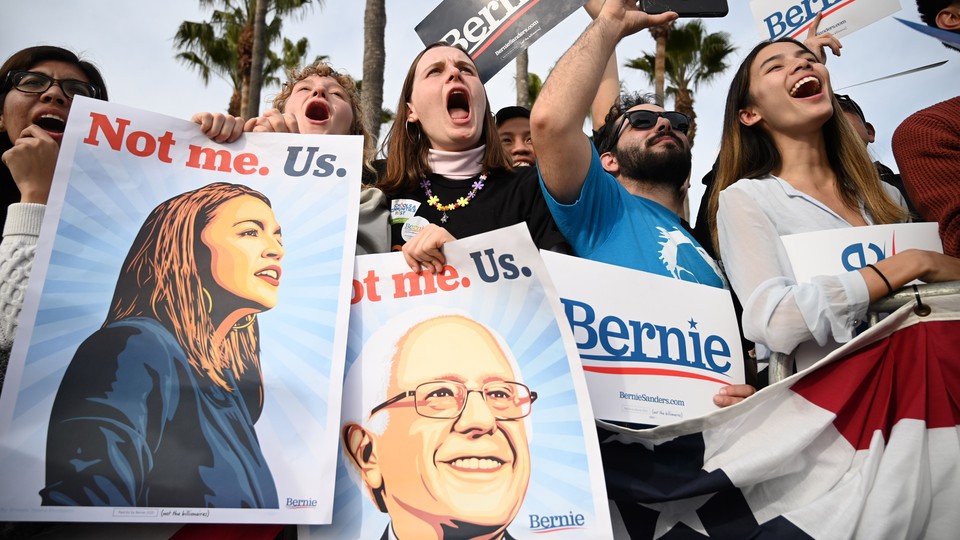 Updated at 1:42 p.m. ET on February 25, 2020

Ask a Bernie Sanders backer why they support the Vermont senator, and their response will likely include an emphatic uttering of the phrase Medicare for All—the health-care proposal is the crux of Sanders's support.
But some of Sanders's most loyal organizers seem willing to make a deal. While they really do want the plan to pass, these supporters—grassroots leaders across the country whom I talked with over the past week—speak with more skepticism about its chances, often more so than the candidate himself. They said they are clear-eyed about how difficult achieving such gargantuan reform will be. And they would be pleased, if not completely satisfied, with passing a public option as a compromise.
"The goal is Medicare for All, but we recognize, Senator Sanders recognizes, that that's going to be a process," Kristin Pack, a 50-year-old stay-at-home mom and one of the leaders of Our Revolution Central Kentucky, told me. "If we could get a super-solid public option that could not be easily upturned by another party coming into power, that would be wildly successful."
"I'm gonna take any movement as a victory because legislation moves so very slowly at the federal level," said Jennifer Mitchell, a public-school teacher in North Carolina who runs a series of Facebook pages supporting Sanders.
This is not how the senator and many of his top surrogates have talked about Medicare for All. Sanders has spent the past several years pushing for the elimination of private insurance in favor of a comprehensive, publicly funded health-care program. He and his allies have savaged his Democratic primary opponents for being insufficiently devoted to this central policy proposal. For example, they've repeatedly lambasted former South Bend, Indiana, Mayor Pete Buttigieg for his Medicare for All Who Want It plan, which would allow people to choose between private insurance and buying into a public option. "It's a failed idea," Sanders said in December. And when Senator Elizabeth Warren of Massachusetts announced that she would support a public option as the first step toward a government-backed health-care system, Sanders fans accused her of being unserious about Medicare for All.
But a noticeable shift in rhetoric appeared earlier this month, when the prominent Sanders surrogate Alexandria Ocasio-Cortez said that a President Sanders might have to settle for something short of Medicare for All. "A president can't wave a magic wand and pass any legislation they want," Ocasio-Cortez told HuffPost. "The worst-case scenario? We compromise deeply and we end up getting a public option. Is that a nightmare? I don't think so." Sanders disagreed with her in an interview on CNN, saying that his proposal is, "in a sense, already a compromise" because the plan has a four-year transition period. (The Sanders campaign could not be reached for comment for this story.)
But the Sanders organizers I spoke with sound a lot more like the congresswoman from New York when they talk about health-care reform. Political realities will likely stymie attempts to pass Medicare for All, they predicted. "I would like to say yes," Mitchell said when I asked her whether she thought a President Sanders could enact the policy. "But that is going to all depend on what kind of Congress we elect with our president."
To accomplish the comprehensive reform, Democrats would need at least 218 votes in the House and 60 votes in the Senate (unless, as Sanders has claimed, he can push Medicare for All through using the budget-reconciliation process, which requires only a 51-vote majority). But even if the party can win back the upper chamber from Republicans in November—already a difficult hurdle—Sanders allies will still have to persuade moderate Democrats such as Senator Kyrsten Sinema of Arizona and Senator Joe Manchin of West Virginia to come around. "Between all the negotiations that would occur, it's hard to say what a final Medicare for All bill would look like," Shane Assadzandi, one of the leaders of the grassroots coalition West Virginia for Bernie, told me.
A compromise bill might end up looking a lot like Buttigieg's or Warren's public-option proposals. And even though that idea repulses some on the left, most of the Sanders devotees I spoke with said they would see a public option as a major victory. "I understand if Bernie is the nominee and he puts forward a breathtakingly ambitious agenda to Congress, Congress is not going to swallow that hook, line, and sinker," said Mike McCabe, the executive director of Our Wisconsin Revolution. "If not enough people are willing to embrace [Medicare for All] but we're still able to make a significant step forward … that still would be an amazing outcome for millions of families in this country."
Comments like these elicit grumbles of "hypocrisy" from supporters of other Democratic candidates who have been saying for months that Medicare for All is much less politically feasible than a public option. But when I questioned Sanders backers on this point, each of them replied that, by campaigning on something as far-reaching as Medicare for All, Sanders is the only candidate starting in the strongest possible bargaining position. "So often the Democrats compromise with themselves," McCabe said, citing Buttigieg and his public-option plan. "They rein in their own aspirations; they limit their own demands. All that I know is that if you ask for a lot, you can get a little, and if you ask for a little, you get nothing."
Many of them are still optimistic about passing Medicare for All; they believe that the same wave of energy and enthusiasm that will sweep Sanders into office in November will also motivate lawmakers to support his more radical proposals. Even if more conservative members of Congress are hesitant to support the health-care plan, some Sanders supporters think that a public-pressure campaign in their states—which the senator has vowed to wage—will help persuade them. "The optics of what we're dealing with completely flip on [their] head once he's in the White House," said Skylar Hurwitz, a 27-year-old member of Our Revolution Pennsylvania who is running for the U.S. House.*
But for the most part, the organizers I interviewed showed how his biggest defenders aren't oblivious to the opposition his plans would face in Congress (not to mention from the interest groups that Sanders rails against). And as a Sanders nomination grows more likely by the day, it's possible that we're getting an early glimpse of the argument he will make to reel in hesitant Democrats during a general election: that a Sanders presidency won't necessarily mean immediate, revolutionary change. It's plausible, too, that Sanders supporters are tempering progressive expectations.
"I understand how the political process works," McCabe said. "I understand that you don't get everything that you want."
---
* A previous version of this story misstated the office Skylar Hurwitz is running for.