2020 Democrats Are Bringing Butter Knives to a Gunfight
The stakes of tonight's Iowa caucus are much higher than the candidates seem to think.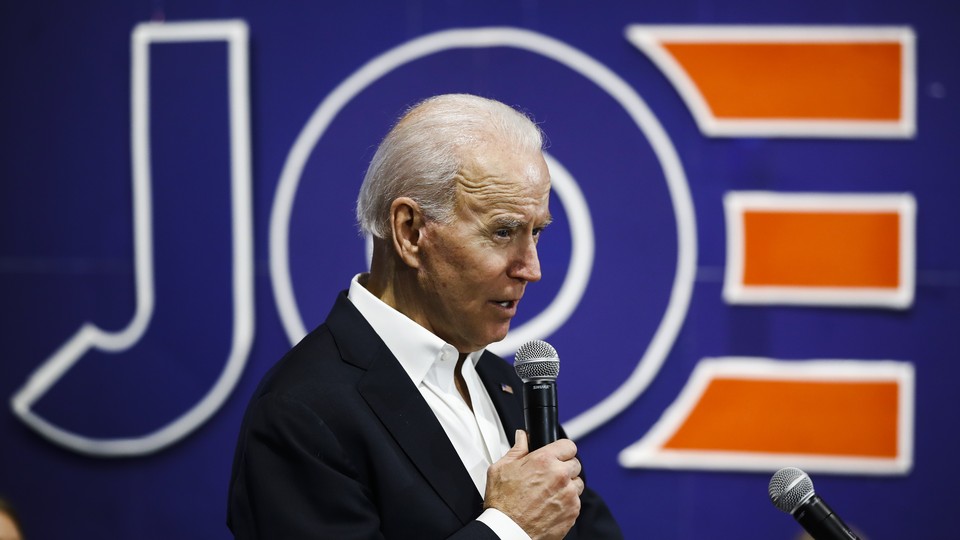 CEDAR RAPIDS, Iowa—Heading into tonight's Iowa caucus, the clock may be ticking faster on the Democratic presidential candidates than they believe.
All of the leading contenders have campaigned energetically and extensively across the state during the past few days, but none have moved to sharply contrast themselves with their rivals.
None of the candidates has offered a sustained challenge to Senator Bernie Sanders of Vermont, who has surged to the lead in most Iowa polls and delivered an impressive show of strength on Saturday night with a raucous rally here that attracted some 3,000 people. Nor has former South Bend, Indiana, Mayor Pete Buttigieg or Senator Amy Klobuchar of Minnesota delivered much of an argument against former Vice President Joe Biden, though he leads them in the competition for moderate voters. "I think this is a pillow fight compared to previous caucuses," says Jeff Link, a longtime Democratic strategist in Iowa.
This restraint partly reflects a widespread belief in Democratic circles that in a multi-candidate field, a conflict between any two candidates hurts both of them and opens a pathway for another contender to win. That's famously what happened in the 2004 Iowa caucus, when the scorched-earth hostilities between former Representative Richard Gephardt of Missouri and former Vermont Governor Howard Dean allowed John Kerry to make a late surge, winning the state and, ultimately, the nomination.
But the relative tameness of this year's race also stems from the candidates' overlapping set of assumptions about how the primary will play out after Iowa. Biden's camp is convinced that if the former vice president can't win Iowa—and they are not sure he can if turnout is high—a Sanders win would be the best outcome for him. The reason, according to interviews with top Biden advisers, is that they believe Sanders has a ceiling on his support that will impede his ability to clinch the nomination. They believe that a victory for Warren, Buttigieg, or Klobuchar would pose a greater threat—a win for the latter two would also represent a meteor strike on the moderate voters Biden is relying on.
The trio of Warren, Buttigieg, and Klobuchar are lagging behind Sanders and Biden, but they are betting that Iowa and the New Hampshire primary after that will not winnow the field as quickly as in the past. Instead, all three campaigns generally believe that the heightened media attention to the race, and the rise of online fundraising, will allow them to survive regardless of whether they win, or even finish in the top tier, in the first two states. "The idea that this is going to fit into the same mold as every other campaign you have covered in the past … is inaccurate," Michael Halle, a senior adviser to Buttigieg, told reporters this weekend.
But Iowa's stakes may be higher than the candidates' cautious strategy would seem to indicate. Link is one of several Democratic strategists who thinks that all of the campaigns are underestimating how powerfully the Iowa results may reshape the rest of the race. He believes the risks for the others are especially great if Sanders wins, because a victory here would likely further turbocharge the senator's fundraising operation, which is already swamping those of his rivals. "There's a kind of lack of urgency between Warren and Biden and Buttigieg and Klobuchar," Link said. "Anyone who thinks it's okay to let Sanders win anything is miscalculating."
Biden may be best positioned to withstand a disappointing Iowa showing, because his strength with black voters guarantees him a solid shot at winning South Carolina regardless of how he does tonight, but some believe a weak finish could still precipitate a powerful downward spiral by triggering the party establishment to unify behind another moderate candidate.
At most of the campaign appearances across Iowa I've been to during the past several days, the candidates have rarely, if ever, mentioned their rivals. By the standards of earlier Democratic races, this is something like bringing a butter knife to a gunfight.
To the extent that the candidates are drawing clear distinctions, Buttigieg has probably been the most explicit. In his final rallies in Iowa, he has made an appeal for generational change and explicitly contrasted himself with each of the two septuagenarians leading in the national polls.
"I've seen Vice President Biden making the case that we cannot afford to take a risk on a new person," Buttigieg told an enthusiastic crowd on Thursday night in the Des Moines suburb of Ankeny. "I would argue that at a time like this, what we can't afford to take a risk of is falling back on the familiar, because history has shown us we've got to look to the future in order to win."
He added: "Senator Sanders speaks to hopes for America that I think we all share. But [he] is nevertheless offering an approach that tells folks that are not sure about going all the way to one side that they don't fit."
None of the top-tier contenders has pushed any harder in their campaign appearances. Sanders has criticized Biden for his past receptiveness to cutting Social Security benefits. Biden jabbed back by citing Sanders's past opposition to gun control, and by noting that his rival identifies as a democratic socialist, not a Democrat. Apart from accusing Sanders last month of saying that a woman couldn't win the presidency, Warren hasn't gone after her opponents—an attempt to position herself as the unity candidate who can bridge the party's ideological divide. Klobuchar has sparred with Buttigieg about his experience, but she hasn't consistently presented a case against any of the candidates ahead of her in the polls.
Inherent in this relatively genteel tone is the belief that the candidates have time to sharpen the distinctions among them. But recent Democratic primaries indicate that they might not. In the past four contested Democratic primaries—2000, 2004, 2008, and 2016—the winner in Iowa has gone on to capture the nomination each time. The winnowing process has been swift and merciless: As I've calculated, in these four races combined, Democratic candidates who did not first win either Iowa or New Hampshire have won a total of just five states—and of those, three were the home or neighboring states of the candidates who won them. Not since 1992 have Democrats had a primary race in which more than two candidates won multiple states well into the process.
Senator Kamala Harris of California, during her failed 2020 presidential run, was one candidate who concluded Iowa was indispensable for her campaign. After initially devoting significant attention to South Carolina, the fourth state to vote in the primary, Harris shifted almost all of her effort to Iowa after concluding that voters in the later states would not consider her viable if she didn't finish strong there.
Lily Adams, who was the communication director for Harris's campaign, told me she understands why other campaigns seem to be reaching a different conclusion—but also warns that they may have less time to break through than they think. "If ever there was a cycle that was going to break a lot of those historic norms, it's probably this cycle," she said. "But I think the one thing I would come back to is candidates typically do not drop out of a race because of lack of delegates; they drop out of because of a lack of money … How you perform in the first couple of contests will probably dictate whether you have the financial resources to continue." (Harris dropped out of the race in December when her funds had dried up.)
The campaigns aren't totally wrong to believe that Iowa and New Hampshire may not shape the race as much this year as in the past. The gap is widening between the electorate of Iowa and New Hampshire, two overwhelmingly white states, and the party's diversifying electorate overall.
The growing potency of online fundraising, too, provides candidates with a steadier lifeline of financing that could allow them to soldier on even if they do poorly in Iowa or New Hampshire. And all of the candidates seem to so far have real limits on their potential appeal, which could prevent any of them from amassing an unstoppable coalition, regardless of what happens tonight. (The looming presence of former New York City Mayor Michael Bloomberg, who is spending unprecedented sums of money to advertise in key states that vote later in the process, only adds to the uncertainty.)
"It may be that nobody gets momentum," says Stanley Greenberg, a longtime Democratic pollster. "You can easily see a situation where you have lead candidates, Biden and Sanders, in their respective [moderate and progressive] lanes, but not moving. And then there's a second look" for all of the other candidates.
That scenario doesn't seem so far-fetched after a few days of observing the candidates in Iowa. Each of them appears to be operating mostly in very specific niches. The Biden rallies are older (and much smaller) than those of his main rival. The audience at Buttigieg's and Warren's events are disproportionately white-collar professionals who say they consider Sanders too extreme and Biden too old. Sanders draws the youngest (and biggest) crowds, and gets support from voters of all ages who appear alienated from both parties.
Unless any of the contenders wins big tonight, the most significant message from Iowa may be that none of them can pull away from the others without appealing to a broader audience than they are currently attracting. And especially for Biden, a cautious strategy may not be helping in that effort.
If Biden ultimately wins the nomination, the choice not to confront Sanders more directly could prove to have been a crucial move. But if Sanders emerges from Iowa with a cannon burst of momentum, it could also prove a case of "beware what you wish for."