The 2020 Democrats All Have the Same Problem
They're niche candidates.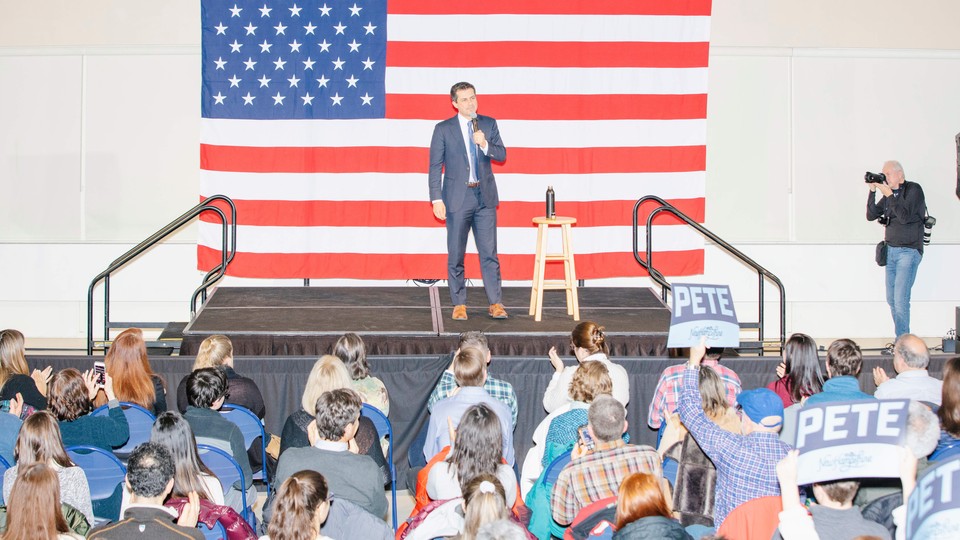 ROCHESTER, N.H.—Like last week's muddled Iowa caucus, tomorrow's New Hampshire primary may reveal as much about the limits of the leading Democratic candidates as it does their strengths.
The results from Iowa, polls in New Hampshire, and surveys of Democrats beyond those states all point toward the same conclusion: So far, none of the candidates has built a coalition that reaches broadly across the party. Instead, each is confined to a distinct niche of support that is too narrow to establish a commanding advantage in the race. That could guarantee a lengthy war of attrition for the nomination—and possibly even a brokered convention—as the leading contenders divide the Democratic voter base along lines of race, class, generation, and ideology.
"None of them have shown an ability to break out from their narrow lane," says the Democratic pollster Cornell Belcher, a consultant for Barack Obama's 2008 campaign who is unaffiliated this year. "None of those candidates right now appear to be big enough to break from the pack. We've got a long primary season ahead of us."
For most of the past week, voters in New Hampshire looked poised to simply reconfirm the top two tiers of candidates that emerged from the Iowa results. A flurry of major media surveys uniformly show Senator Bernie Sanders of Vermont and former South Bend, Indiana, Mayor Pete Buttigieg in the top two positions, trailed by Senator Elizabeth Warren of Massachusetts, former Vice President Joe Biden, and Senator Amy Klobuchar of Minnesota—who finished in that sequence in Iowa. But the final media tracking polls released over the weekend show Klobuchar potentially moving past Warren and Biden, an apparent strong reaction to her performance in Friday night's debate.
Even beyond Klobuchar's rise, the biggest movement in New Hampshire in the past week has been Biden's decline. He seems on track for a weak finish that would normally doom a candidate who was the national front-runner. But Biden will likely get a final chance to revive his campaign in South Carolina, because it's unclear that any of his competitors can significantly dislodge his support among African American voters there.
"I don't think white voters out of New Hampshire are going to change the hearts and minds of southern African American voters," says Antjuan Seawright, a Democratic consultant in South Carolina who is unaffiliated in the race and is African American himself. The voters in each state are like "vodka and Crown Royal—there's a difference."
For all the pressures confronting the second-tier candidates, even the new leaders are operating with significant limits to their own support that could ultimately scramble the race. Whether Buttigieg bests Sanders in the final allocation of Iowa delegates or vice versa, as challenges to the results continue, the victor will capture a smaller share of the delegates than any winner since the caucus began in 1972. Likewise, polls suggest it's possible that whichever candidate takes New Hampshire may not win more than about 30 percent of the vote. (Jimmy Carter is the only Democratic winner of a New Hampshire primary since 1960 to attract less than 30 percent of the vote there.)
This fractionation marks a departure from the sharp winnowing that's occurred after the first two states in recent decades. Since 2000, candidates who did not first win Iowa or New Hampshire have captured only five states. And not since 1992 have Democrats seen a race with more than two candidates winning states well into the process. Adding to the atmosphere of uncertainty is the presence of former New York City Mayor Michael Bloomberg, who is spending unprecedented sums of money in the large states holding their primary in March. Though he has shown some movement in polls, Bloomberg could face his own hard ceiling, given how many Democrats say they're skeptical of the former Republican.
Many theories exist for why Democrats aren't consolidating more quickly around a few candidates. The most common explanation voters give for their indecision is that they prioritize beating Donald Trump above all else, and they are struggling to determine which candidate truly offers the best chance of doing so. Another factor is that the ability to raise money from small donors online makes it less likely that candidates will run out of money, which traditionally has been the principal factor forcing contenders to quit. The increase in media coverage compared with earlier races has had the same effect.
But the most significant factor is that each of the candidates is speaking primarily to just a few segments of the Democratic Party's coalition—and confronting a wall of resistance from others. "There is not a disruption candidate or a transformational candidate in this race," Seawright says.
Biden's limits have been exposed more starkly than others' so far in the race. In polling through 2019, Biden showed the potential to reassemble the "beer track" coalition—blue-collar and older whites, along with African Americans—that powered the victories of most Democratic nominees in the late 20th century.
But in Iowa, and in polling from other early states, Biden's coalition resembles an island facing rising water on all sides; he's being forced to retreat toward an ever-narrowing slice of land. His key problem is how he's cratering with young voters, even those who are part of the demographic groups with whom he is supposed to be strongest. The Iowa entrance poll, conducted last week by Edison Research for a consortium of news organizations, found Biden drawing just 3 percent of caucus-goers ages 17 to 29 and only 5 percent of those ages 30 to 44.
Even more striking: Non-college-educated white voters are presumed to be a foundational constituency for "middle-class Joe," yet the entrance poll found him winning just 1 percent of those younger than 45, according to results calculated by CNN's polling unit. Sanders won an absolute 51 percent majority of those younger working-class white voters. Biden's problems with younger voters are not confined to Iowa. In New Hampshire, recent surveys have shown him drawing less than 10 percent of voters under age 50.
Perhaps even more ominous for Biden are the results of a poll released last week from South Carolina, Biden's supposed firewall in the race. While the survey, by East Carolina University, showed him drawing more than three-fifths of African Americans older than 55, it found him winning less than half as many younger African Americans.
In interviews at campaign events in both Iowa and New Hampshire, the conviction that Biden is too old was nearly universal among supporters of the other candidates. "I am concerned about [Biden's] slightly vacant demeanor," said Mary Scamlon, a graphic designer who had traveled from Seattle to see Sanders in Rochester. "He frankly doesn't have a lot of energy left."
Even with the older set, Biden's base in Iowa receded: The entrance poll showed him carrying most voters ages 65 and older, but falling well behind Buttigieg among adults ages 45 to 64. A recent CNN poll in New Hampshire produced similar results. Biden can't survive without reclaiming more of those older working-age adults, particularly from Buttigieg. His top advisers consider it more likely that he can claw some of them back than improve significantly on his dismal performance among young people.
Warren and Klobuchar, meanwhile, face variations on a common problem: Neither is cutting deeply enough into any constituency to achieve critical mass in the race.
After working for months to establish her bona fides as a cutting-edge progressive, Warren has shifted to presenting herself as a unity candidate. But she's finding others ahead of her among all the groups that might compose her most natural base of support. In Iowa, for instance, she not only finished fourth among men but also trailed Buttigieg and Sanders among women. Likewise, the CNN New Hampshire poll found her drawing less than one-third as many liberals as Sanders and trailing all four of the other leading contenders among moderates.
After exhaustive campaigning in Iowa, Klobuchar was competitive there among moderates, voters older than 45, and those with college degrees. The big crowds she drew over the weekend in New Hampshire—and the positive results from the final tracking poll, released last night—showed that she could force herself back into the conversation among centrist primary voters in the states ahead. But that might do more to further splinter that block than to consolidate it.
Even the candidates who have emerged on top in the first states could soon hit a wall. In Iowa, Buttigieg without question amassed the broadest coalition in terms of age, gender, education, and ideology. His showing in New Hampshire surveys looks similarly balanced (though the tracking polls suggest that the tough blows he absorbed at the debate have slowed his momentum here).
But Buttigieg is demonstrating this "diverse" appeal in states defined by their lack of racial diversity. The ex-mayor has posted extraordinarily small numbers among both African American and Latino voters in a wide array of national and state surveys. In the East Carolina University survey released last week, Buttigieg drew support from just one of the 271 likely African American voters surveyed. That's less than one-half of 1 percent.
Questions about his relations with black residents in South Bend have dogged Buttigieg throughout the campaign, and Seawright is dubious that he can overcome them to create any meaningful beachhead with African Americans in South Carolina or beyond. He's also skeptical that any of the others can cut too deeply into Biden's lead with black voters. "The one thing about black people in general is, we are very loyal people," Seawright says. "I think Biden is going to benefit … from the loyalty of African American voters, especially older African American voters."
Belcher, who is also African American, isn't as convinced that black voters will stay with Biden far past this week. While none of the other candidates is particularly well positioned as an alternative, he says, "if Biden is coming in third or fourth in New Hampshire, the African American community is going to look at Biden just like any other voter … and say, 'I'm not sure that's a good investment.'"
If Sanders wins New Hampshire, many analysts will likely proclaim him the Democratic front-runner, helped by his prodigious online-fundraising machine, which brought in a breathtaking $25 million in January alone. Yet the evidence is that he's facing stubborn constraints on his potential support as well.
Though Sanders argues at his events that he's uniquely positioned to generate a historic voter mobilization, total turnout in the Iowa caucus only matched the 2016 level and fell well below the record heights of the 2008 race between Obama and Hillary Clinton. Only about one-third of voters in the entrance poll had not previously attended a caucus, far less than in 2008. These numbers call into question Sanders's claim that he can fundamentally transform the electorate's composition.
Equally concerning for Sanders, he won just 7 percent of voters who supported Clinton in 2016, the entrance poll found. His 2020 support was primarily among voters who'd already backed him once. In many respects, his Iowa coalition was formidable: Sanders led among caucus-goers who were young, lacked a college degree, or identified as very liberal. But that coalition wasn't big enough to win in 2016, and the Iowa results, at least, did not produce evidence that Sanders is expanding beyond it.
Polling in New Hampshire likewise shows Sanders relying on lopsided support among younger and more liberal voters, and lagging with older and more moderate ones. Even facing a much larger field, the 30 percent of the vote he might win here would be only half the 60 percent he attracted in 2016. "He is neither bringing people who are already in the electorate to him nor changing the electorate," said a senior strategist for one of Sanders's rivals, who requested anonymity to speak candidly. "So he is hemmed in on both sides."
Yet the other leading contenders are at least as confined. The big question is whether any of them can reach beyond the constituencies they are now attracting and pull away from the other candidates in the race. Unless someone emerges from the five-car pileup of the early states, Democrats are looking at a nomination contest that will remain undecided through early summer—and possibly into the party's first multi-ballot contested convention since 1952.