Democrats Went After the Wrong Guy
Bernie Sanders is the front-runner. But his opponents still aren't treating him like one.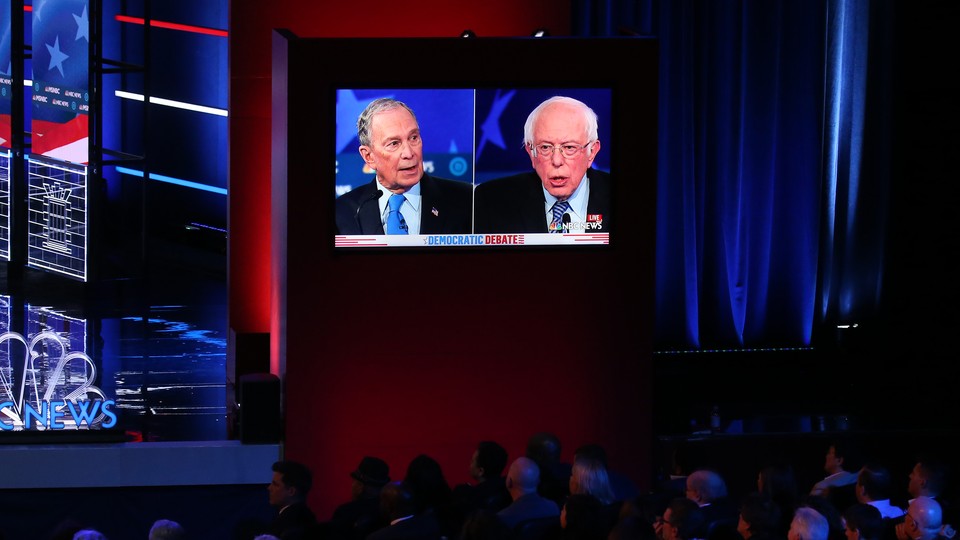 LAS VEGAS—Faced with signs that Bernie Sanders is consolidating his position as the clear front-runner in the Democratic race, the presidential candidates last night chose to focus most of their fire instead at the new guy onstage: Michael Bloomberg.
The withering criticism, especially that from Elizabeth Warren, left Bloomberg visibly staggered at times and reflected an undeniable imperative for his opponents' campaigns: His unprecedented TV-advertising blitz across the states voting in March threatens to catapult him past all of them as the principal alternative to the Vermont senator, who has taken a solid lead in the latest national polls. But the consistent focus on Bloomberg, especially during the debate's highly contentious first hour, meant that Sanders was let relatively off the hook.
Indeed, it's difficult to imagine anything that unfolded on the debate stage will impede Sanders's march toward an expected victory in Saturday's caucus here—where Bloomberg won't even be on the ballot. Appearing on MSNBC after the debate, Joe Biden declared that "Bernie's going to get vetted in a way he never has been before." That moment may be coming, but it certainly didn't arrive last night.
Compared with earlier debates, Sanders did face more questions about his agenda and record from both his rivals and the moderators. Between them, they introduced arguments against Sanders's candidacy that may resonate more loudly down the road, in particular when they questioned whether his calls for a "political revolution" can build a winning coalition against President Donald Trump.
Former South Bend, Indiana, Mayor Pete Buttigieg made that case most persistently, saying at one point that Democrats risk defeat if they offer voters "a socialist who thinks that capitalism is the root of all evil." Even Warren, who has been remarkably reluctant to draw contrasts with Sanders even as he has eclipsed her as the favorite of the party's most liberal voters, asserted that Democrats "are worried about gambling on a revolution that won't bring along a majority of this country."
But compared with the hazing Bloomberg received, Sanders escaped with many fewer bruises and bumps. He was confident and unyielding, if sometimes hectoring, in defending his agenda and ideology, and the focus never stayed on him for long. One of the night's most telling moments came when the moderators asked Biden if Americans would elect a candidate who identifies as a socialist, as Sanders does, and the former vice president somehow managed to answer the question without ever mentioning (much less challenging) his opponent. "The other five tore each other apart while Bernie skated," one Democratic pollster, who is not affiliated with any campaign, texted me after the debate.
Bloomberg's exchanges with Sanders—with Bloomberg insisting that Sanders can't win and needling him over his ownership of three houses, and Sanders, in turn, denouncing Bloomberg as the embodiment of corruption in the political system—seemed to pulse with the most mutual hostility. But all the candidates pummeled the billionaire, over everything from his treatment of women to his record as mayor and from his prior history of supporting Republicans to his delay in releasing his income-tax returns. At points, Bloomberg was effective in touting his policy plans (especially on climate), but he buckled in defending his record.
As my colleague Russell Berman described, Warren was Bloomberg's most potent and relentless interrogator. In a lengthy back-and-forth about the nondisclosure agreements signed by women who worked for him, Warren delivered so many blows so fast that a boxing referee might have stopped the fight. He was, at one point, left to sputter in defense that he signed the agreements "probably because some women didn't like some jokes I told." It's a safe bet that Warren and his other opponents won't let him forget those words.
If Bloomberg's unsteady performance reverses the gains he's generated with his spending onslaught—as of Friday, he'd spent $100 million on TV ads in California, Texas, and Florida alone—the turnabout could help any of the other candidates regain ground in the race. But it still leaves them the challenge of slowing Sanders, who has been buoyed by a wave of positive polls since his narrow victory last week in New Hampshire.
Sanders has established himself as the front-runner by posting significant leads among young people and the most liberal voters, a more modest advantage among white voters without a college degree, and a potentially expanding lead with Latinos. (In several polls, Sanders has also reduced, or even eliminated, Biden's lead with African Americans.) These increases translate to support from, at most, a little more than 30 percent of the Democratic Party so far.
Meanwhile, the constituencies more resistant to Sanders—particularly moderates, older voters, and college-educated white voters—have splintered among the remaining candidates. In a national NPR/PBS NewsHour/Marist poll this week, for example, Sanders attracted a higher share of progressives than any other candidate won among moderates; his share among non-college-educated white voters exceeded anyone else's share of white voters with degrees; and he attracted far more younger people (under age 45) than anyone else drew among older voters. As last night suggested, Sanders's competitors still seem to be focused more on emerging as the alternative to him than on challenging him directly.
That pressure encouraged a kind of all-against-all quality in the debate. Anyone trying to map the direction of attacks among the candidates would have quickly produced something like a spiral graph. At one point, Warren delivered a rapid-fire denunciation of the health-care plans from Buttigieg, Amy Klobuchar, and Sanders. Later, in a tour de force of cutting concision, she encapsulated her differences with Sanders (too revolutionary), Biden and Klobuchar (too clubby with Senate Republicans), and Buttigieg (too cozy with billionaires) in just three sentences.
Buttigieg and Klobuchar, meanwhile, lacerated each other in bitterly personal terms. ("I wish everyone was as perfect as you, Pete," she insisted at one point.) There's an electoral logic to the two targeting each other: In the New Hampshire exit poll, Klobuchar finished first and Buttigieg a close second among both college-educated and older voters. But their animosity seems to extend to a personal distaste that transcends any political logic.
It took the moderators to remind the candidates of the big picture as Sanders establishes some separation from the field. Chuck Todd asked a question that I believe will become a frequent topic of conversation among Democrats in the weeks ahead: Do you believe the party should nominate the candidate who arrives at the July convention with the most delegates, even if no one has the 1,991 delegates required for a first-ballot victory? All the contenders effectively said no, except for Sanders—who insisted that "the will of the people should prevail."
With those answers, the candidates chasing Sanders pointedly left themselves room to resist his nomination at the convention if he arrives with a plurality, but not a majority, of the delegates. But by and large, they did surprisingly little to reduce the odds that Sanders will, in fact, arrive in Milwaukee with more delegates than anyone else.