The Debate That Progressives Have Been Waiting For
Michael Bloomberg will likely be an easy target in Las Vegas tonight.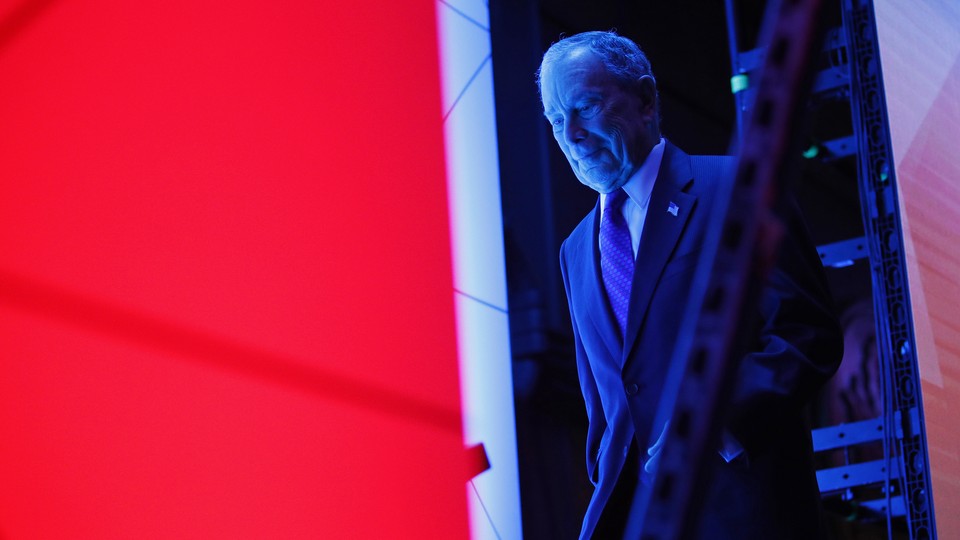 Last month, when a late-stage change to the Democratic National Committee's debate rules provided an opening for former New York Mayor Mike Bloomberg, his competitors claimed to be irate. "Billionaires shouldn't be allowed to play by different rules," Senator Elizabeth Warren tweeted. An adviser to Senator Bernie Sanders called it "the definition of a rigged system."
But the Democratic-primary candidates and their allies also recognize that there is potential value in sharing a stage with the self-funding billionaire tonight. For the progressives in the race, Bloomberg's appearance at the Las Vegas debate means they'll get to directly confront the person who, in their view, exemplifies the racism, sexism, and elite-billionaire class they've been railing against since the race began. And tonight's debate will double as a kind of debut for Bloomberg, whose glossy commercials have saturated the airwaves for months even though millions of Americans have likely never heard him speak before a live audience.
"He's been able to float above the whole situation with his million-dollar media ads," Representative Jamie Raskin of Maryland, who has endorsed Warren, told me today. "The candidates who've been duking it out for many months in the fields of Iowa and the wilds of New Hampshire are certainly eager to bring [him] back down to Earth."
Team Bloomberg has been preparing for weeks for tonight's debate, and the campaign has already previewed a rebuttal to criticisms like the kind that Sanders and Warren might offer: "Promising to spend trillions of dollars of taxpayer money just to get yourself elected is buying an election," Bradley Tusk, a Bloomberg campaign adviser, told my colleague Edward-Isaac Dovere this week. "Using money you earned to run a campaign that does not need or take money from any outside interest is laudable." (The Bloomberg campaign did not respond to request for comment for this story.)
Tonight's debate puts Bloomberg in a situation that he hasn't been in for years, says Rebecca Katz, the founder of New Deal Strategies, a progressive political-consulting group. "That's why we're excited."
Since announcing his candidacy in November of last year, the former New York mayor has shelled out about $183 million of his own money in TV advertising, more than all of the other candidates combined, plus nearly $50 million on digital platforms such as Facebook and Instagram. He has also skipped campaigning in the early-primary states in favor of spending time in Super Tuesday states, and he has invested deeply in the South, where the other presidential campaigns have less of a presence. Those efforts, at least for now, are paying off: The former mayor has skyrocketed to the near-top of national polls, where he is currently vying for second place with former Vice President Joe Biden, according to FiveThirtyEight.
"It's the first time that the vast majority of Democrats who live outside of New York are going to have any real exposure to Bloomberg's politics and character and personality," Raskin said, and candidates will use tonight to expose his vulnerabilities. Senator Amy Klobuchar, in an interview on CNN last weekend, challenged Bloomberg to come onstage, saying she doesn't think he "should be able to hide behind airwaves and huge ad buys." And Warren tweeted yesterday that, while "it's a shame Mike Bloomberg can buy his way into the debate," at least tonight's viewers will "get a live demonstration of how we each take on an egomaniac billionaire."
Raskin said he expects Warren to place special emphasis on Bloomberg's defense of the NYPD's controversial stop-and-frisk program, which has been criticized for unfairly targeting black Americans and Latinos, and to bring up Bloomberg's past sexist comments and the dozens of sexual-harassment complaints and lawsuits brought against the candidate and his namesake company. Warren can also be counted on to confront Bloomberg about his 2008 remark blaming the financial collapse on the end of redlining, or racial discrimination in mortgage lending, says Adam Green, the co-founder of the Progressive Change Campaign Committee, a political-action committee that has endorsed Warren. "She is uniquely capable of connecting the dots between Bloomberg being an apologist for Wall Street, and that being synonymous with discrimination against black and brown communities," Green says.
Sanders, who has spent two national election cycles thundering about billionaires and inequality, has already accused Bloomberg of attempting to buy the 2020 presidential election, and tonight he will almost certainly charge the former mayor with being an urgent threat to democracy. "Senator Sanders looks forward to drawing a clear contrast in their worldviews," Representative Ro Khanna of California, a Sanders campaign co-chair, told me. The senator will frame the choice between Bloomberg and himself as rich versus poor; elite versus working class; plutocrat versus small-D democrat. "Senator Sanders has stood up for a people-powered campaign, with working-class people giving him the resources to campaign," Khanna said. "That's a direct contrast to someone who believes that they should pool their own resources."
Bloomberg, in other words, could serve as the rich-white-guy foil that both Warren and Sanders need to help them further energize their respective lefty bases tonight. He's sure to be a frequent target, and has surely been working on his counterpunches. The former mayor will likely focus on making the case that, with his years of experience in elected office and his boundless financial resources, he has the best chance to defeat Donald Trump in November—that the Democratic Party's main job is to get rid of the Republican president, not support a social movement. "Bloomberg is extraordinarily smart," says Hank Sheinkopf, a New York–based Democratic consultant. "He is very disciplined and very difficult to throw off track."
But 78-year-old Bloomberg has not participated in a debate since 2009, while the rest of the Democrats onstage tonight will have had multiple debates and other public forums in which to present themselves to the American people.
"This will be his first time on a level playing field," says Katz, the progressive consultant. The question is, to what extent will a one-night performance ultimately matter to a candidate who will never run out of money?