A Drawn-Out Nomination Fight Is More Likely Than Ever
The New Hampshire results confirmed how hard it'll be for any Democratic candidate to assemble a broad coalition.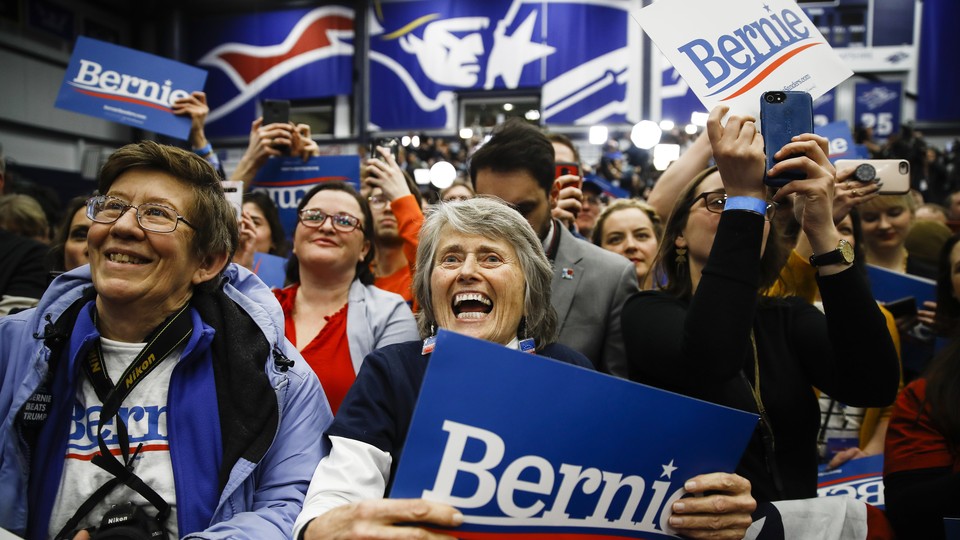 Senator Bernie Sanders's unexpectedly narrow victory in New Hampshire underscored the splintering of the Democratic presidential field that was evident in last week's murky Iowa caucus—and left two of his opponents facing grim questions about their future viability.
Just as in Iowa, the results illuminated the inability of any of the contenders to build a coalition broad enough to span the party or establish much separation from rival candidates. The roughly 26 percent share of the total vote that Sanders captured represents much less than half of his winning 60 percent just four years ago. And similar to former South Bend, Indiana, Mayor Pete Buttigieg's performance in Iowa, Sanders won the smallest share of voters ever garnered by a Democratic winner of the New Hampshire primary. (The previous low was nearly 29 percent, for Jimmy Carter in 1976.)
The New Hampshire results confirmed Sanders and Buttigieg as the field's top-tier contenders and elevated Senator Amy Klobuchar of Minnesota, who surged from a fifth-place finish in Iowa to a strong third here after a widely praised debate performance on Friday night. But the outcome may end up diminishing two of the field's previous leaders more than it boosts the candidates who came out on top.
Former Vice President Joe Biden and Senator Elizabeth Warren of Massachusetts, who were widely considered the race's principal contenders for most of last year, were staggered by showings even weaker than anticipated. "I think everyone thought two weeks ago that Biden probably had the best chance of building the coalition that could pull everybody together," Simon Rosenberg, the founder of the Democratic advocacy group NDN, told me. "And right now, assuming that Biden is weakened, it's not clear that anyone is going to be strong enough" to amass a coalition that can produce a delegate majority for the convention this summer.
Biden's campaign says it is ready to fight on in Nevada and especially South Carolina, with its large population of African American voters. But the extent of Biden's collapse in New Hampshire, where he won less than 9 percent of the vote, has many Democratic strategists questioning whether he can forge a path back to relevance in the race. "I don't see how he carries forward," the veteran Democratic pollster Stanley B. Greenberg told me. "I think it's too much of a repudiation."
Biden's precipitous decline will immediately shift more focus to former New York City Mayor Michael Bloomberg among party centrists skeptical of Sanders. Yet the release yesterday of an audio tape capturing Bloomberg defending in stark language the controversial stop-and-frisk policing tactic he employed in New York City underscores the ideological and racial obstacles he may face as the media and other candidates zero in on his record.
All of this stands in stark contrast to the past four Democratic nominating contests, when the race effectively resolved to a two-person battle after Iowa and New Hampshire. This year, the party faces the prospect of sustained uncertainty not only after the first two states, but even after the Nevada and South Carolina competitions still to come in February—and maybe even after Super Tuesday on March 3, when 14 states will vote.
"We'll head into Super Tuesday without a lot of clarity and with Bloomberg representing an entirely new dynamic in all of this," the Democratic pollster Geoff Garin told me. "This race is very, very different, where these first four states are setting the table for Super Tuesday but they are not the main event."
If anything, the New Hampshire results spotlighted the obstacles confronting each of the candidates.
As he did in Iowa, another preponderantly white state, Buttigieg amassed by far the most balanced coalition—whether measured by age, ideology, or education—and finished a very solid second, only about 4,000 votes behind Sanders. But Buttigieg failed to consolidate a deep enough advantage with any one group to move his vote share beyond the 20 to 25 percent that he captured last week. Now he faces the stern test of competing in more racially diverse states after polls consistently have shown him attracting negligible support from African American and Latino voters.
Klobuchar gave her campaign a breath of life after her disappointing finish in Iowa. The exit polls from New Hampshire showed her pushing aside Biden, capturing the largest share of seniors, and nudging past Buttigieg to win white voters with a college degree. With Warren's decline potentially allowing Klobuchar to emerge as the most viable female candidate, "she's the biggest wild card in the race right now," Rosenberg said. Yet she, too, faces uncertain prospects in more diverse states—and the reality that a third-place New Hampshire finish has not provided a lasting burst of momentum for previous candidates in that position.
Both Warren and Biden faced a catastrophic collapse of their support, even among the groups that are supposed to provide the foundation of their candidacies. Sanders bested Warren about three to one among voters who identified as very liberal; among those who called themselves somewhat liberal, Warren tied with Biden for a distant fourth, behind Sanders, Buttigieg, and Klobuchar. Among women, Warren likewise only roughly tied Biden for fourth.
Biden's implosion was every bit as thorough. He captured only about 10 percent each of whites without a college degree, white seniors, and white moderates—three groups he's relying on. Biden ran even more poorly than in Iowa among college-educated white voters, capturing only about one in 20, the exit polls found. And, as in Iowa, younger voters almost completely rejected him: He won fewer than one in 10 of those younger than 45.
Even Sanders faced as many questions as answers in the results. The win established him as the nominal front-runner in the unsettled Democratic race, in part because he has demonstrated so much more capacity to raise money than any of the candidates who are not self-funding. "You'd rather be playing Sanders's cards than anybody else's at this stage," Garin said. "He has the prospect of continuing to win, albeit not with large majorities. But in this process, if you pile wins on top of each other, that gives you an awful lot of strength going into the home stretch."
Yet others note that the results in the first two states show Sanders struggling to build the surging movement that he's promised to inspire. "The question of how low Bernie's ceiling is is a big question in this race right now," Rosenberg said. "Bernie's got good-news bad news. He's doing well, but he's not doing well enough to win."
In 2016, New Hampshire was Sanders's best state, aside from his neighboring home of Vermont. He crushed Hillary Clinton with a commanding 60 percent of the total vote and built his broadest coalition in any state beyond Vermont. This time, Sanders's coalition was both more narrow and more shallow. He dominated among younger voters, the biggest liberals, whites without a college degree, and men. But Sanders lost moderates (to Klobuchar and Buttigieg), adults ages 45 to 64 (to Buttigieg), and seniors (to Klobuchar). After comfortably winning somewhat liberal voters here four years ago, he split them about evenly with Buttigieg this time. Rather than expanding his coalition, Sanders depended on his most ardent constituencies.
The passion Sanders inspires in those supporters was evident in the huge crowds he mobilized across the state over the past week, especially the massive audience that flocked to a University of New Hampshire rally on Monday night. But as in last week's Iowa caucus, Sanders failed to translate that passion into the systemic turnout increases that he has promised to generate. Overall turnout in Iowa remained essentially unchanged from the 2016 level, well below the record peak established in the 2008 contest between Barack Obama and Clinton. In New Hampshire, turnout came in around the 2008 figure, but young people comprised a significantly smaller share of the total than they did back then, according to exit polls.
The exit polls also suggested that Sanders made only modest progress in reaching beyond the voters who supported him in 2016. In New Hampshire, he took about one in seven voters who backed Clinton last time. That's somewhat better than the meager one in 14 that he attracted among 2016 Clinton voters in Iowa. But the results still mean that about two-thirds of his votes last night came from people who already supported him once (even as nearly 40 percent of his 2016 supporters drifted off to other candidates).
These results raise pointed questions about whether Sanders can truly build a coalition broad enough to pull away from his rivals. Given the modest size of Sanders's New Hampshire victory, Greenberg said, "I don't see it producing a surge in the states following it."
Of course, no one else in the race has given any indication of being able to assemble a broader coalition of voters than Sanders has done. The limits constraining all of the top-tier contenders—and the prospect of Bloomberg further splintering the electorate with his unprecedented spending—is why more Democrats are beginning to contemplate what seemed unimaginable not long ago: that for the first time since 1952, they will arrive at their party convention in Milwaukee this July without anyone laying claim to a majority of delegates. "I actually have been assuming that for some time," Greenberg said. He may have more company after New Hampshire deepened the muddle left by last week's initial results in Iowa—and as both Bloomberg and the first diverse states on the calendar still wait to weigh in.