Bernie Sanders's Biggest Test Yet With Latino Voters
The senator notched decisive victories with Latinos in Iowa and New Hampshire. Can he do it again in Nevada?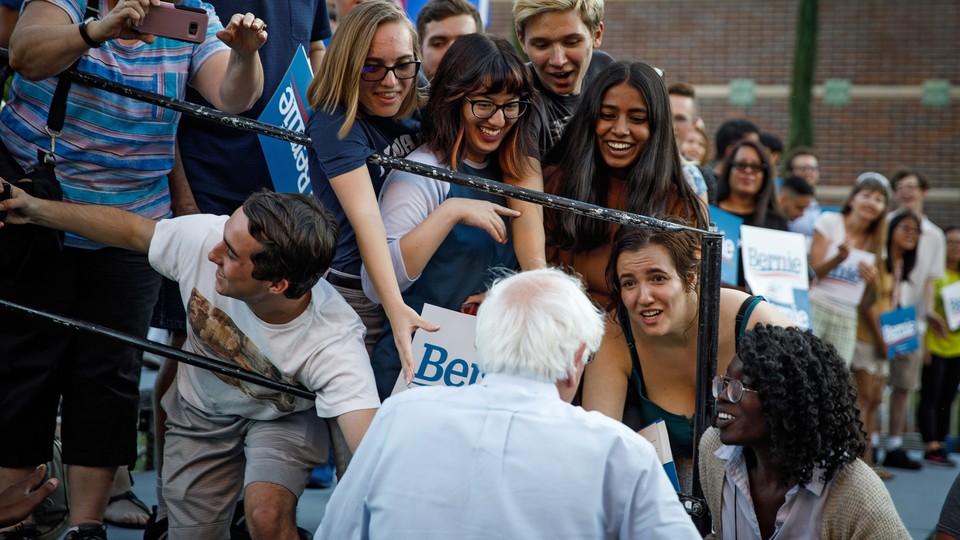 Bernie Sanders wasn't physically at a Las Vegas town hall on Thursday hosted by a Latino civil-rights group, but the enthusiasm for his campaign was still apparent. While three of his rivals—former South Bend, Indiana, Mayor Pete Buttigieg; Senator Amy Klobuchar of Minnesota; and the businessman Tom Steyer—were there in person and got warm receptions, the largely Latino crowd broke out in chants of "Bernie, Bernie" when the senator from Vermont appeared on a live-stream.
Even though the Democratic primary kicked off with contests in two of the whitest states in the country, Bernie Sanders is already winning big with Latino voters. In both Iowa and New Hampshire, Sanders claimed an overwhelming victory with Latinos—a validation of his playbook of mobilizing Latino voters that will now face its biggest test yet in Nevada, which is nearly 30 percent Latino and holds its caucus on Saturday. Though other candidates could still chip away at his advantage, Sanders's success so far sends a clear sign to the rest of his field: His focus on Latino voters is paying off, and they have a daunting amount of work to do to catch up.
While overall turnout in the Iowa caucus was similar to that of 2016, Matt Barreto, the co-founder of the UCLA Latino Policy and Politics Initiative, told me he estimates that Latino turnout at least doubled from four years ago, and that these voters broke sharply for Sanders. He won 51 percent of votes in the state's 30 precincts with the most Latino voters, and in the 12 Latino-majority precincts, he won 66 percent of caucus-goers, according to an analysis by LPPI.
In New Hampshire, Sanders similarly blew away his opponents with Latino voters. An exit poll by NBC shows that Sanders won 39 percent of those voters in the state's primary on Tuesday—about 20 percentage points more than any other candidate.
Neither of the two early states have particularly large Latino populations, but in Iowa, which is around 6 percent Latino, the Sanders campaign spent months circulating flyers to Latino voters, partnering with local Latino groups, and recruiting Latino canvassers and staff—a strategy that he has also deployed in Nevada, where a recent poll shows him as the clear front-runner. Sanders's track record in Iowa and New Hampshire bodes well for his chances with Latino voters in the state—but this time around, he faces more competition.
One potential point of weakness for Sanders emerged this week, when the state's powerful Culinary Union, whose members are overwhelmingly Latino, criticized the senator for his Medicare for All plan. Several candidates—such as Buttigieg and Senator Elizabeth Warren of Massachusetts, pounced to try to win the group's support. (On Thursday, the union declined to endorse a candidate.)
As the Democratic contenders descend on Nevada ahead of the caucus, all of them are frantically seeking to woo Latino voters. But Nevada presents challenges for Sanders's rivals—among Latinos, the senator's campaign is already light-years ahead of them, says Domingo Garcia, the president of the League of United Latin American Citizens, the country's largest Latino civil-rights group.
Warren doesn't have high name recognition with Latino voters, Garcia and others told me, and the departures of black and Latina staffers in Nevada have elevated concerns that her campaign is not connecting with Latinos there. Meanwhile, Buttigieg and Klobuchar—who have relatively little nonwhite support nationally—have sought to mobilize support from Latino voters ahead of the caucus, but they still have small outfits in the state. Both candidates recently sat down with the Spanish-language news network Telemundo in Nevada; Buttigieg spoke in Spanish.
Sanders's campaign insists that the senator will prevail with Nevada's Latino voters because his operation dwarfs that of his rivals. Chuck Rocha, a senior adviser to Sanders, told me that more than 200 staffers, including 76 Latino staffers, are deployed across the state at 11 field offices.
"There's one thing you cannot get back in campaigns, and that is time," Rocha said. "But like most campaigns have done historically with Latino outreach, with just days left before the caucus, Amy Klobuchar and Pete Buttigieg go up [with ads] on Spanish TV." (The Sanders campaign started advertising on Spanish-language television last month.)
Any last-minute outreach to Latinos in Nevada could be too little, too late, Clarissa Martínez de Castro, the deputy director of policy and advocacy at the nonpartisan civil-rights group Unidos US, told me.
"You've got to build that relationship, right?" Martínez de Castro said. "No waiting for the last minute—I don't think that's the strategy that candidates use with voters that they really are trying to win, so they should not use it with Latino voters either."
Sanders's advantage with Latino voters means he could be poised for a big caucus night, but how he ultimately performs could have implications beyond Nevada, too: The state's demographics make it a bellwether for Latino-heavy states like California and Texas, which vote on Super Tuesday, in early March.
Now that the race has moved beyond Iowa and New Hampshire, every candidate is rushing to court Latino voters. But in Nevada, Sanders's operation will be tough to beat.