Andrew Yang Is Dropping Out. Here's Why.
And here's what he accomplished.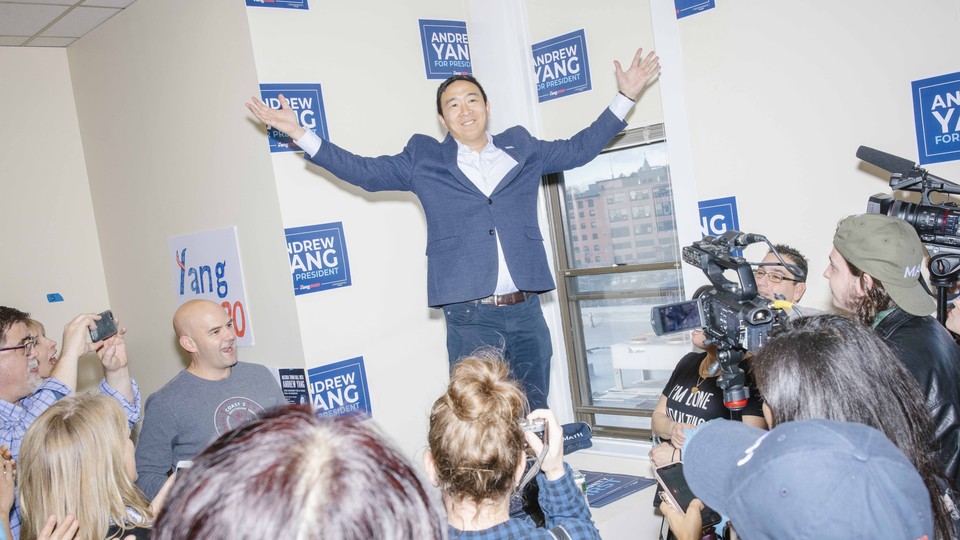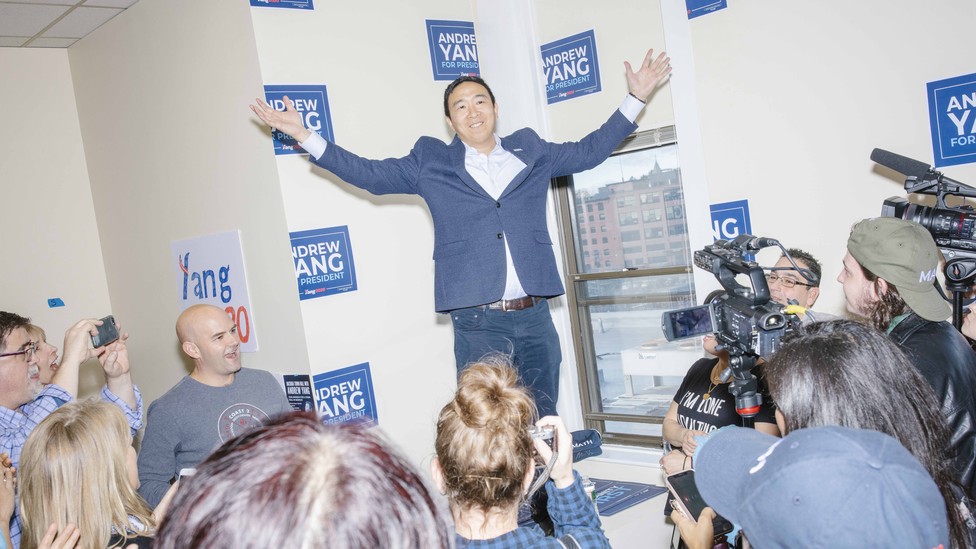 KEENE, N.H.— Even after Donald Trump broke all the rules of politics, there shouldn't have been room in this presidential race for Andrew Yang. Yet here he was yesterday, just before midnight on the last event of a six-event day, signing MATH hats with a silver marker, long after most of the other candidates were asleep. The event, at Keene State College, didn't start until after 10:30 p.m. The Yang Gang had waited up for their guy.
They didn't know it was the last time they'd be hearing from him in his capacity as a 2020 candidate.
Before the Iowa caucus last week, Yang and his aides had held out hope that his poll numbers would translate into more votes than they actually did. When they didn't, and when the votes didn't seem to be there in New Hampshire either, they decided it was time to leave the race, as he planned to do in a speech tonight.
Yang generated more support, raised more money ($30 million!), and qualified for more debates than many of the senators and governors who dropped out before him—more, even, than some candidates who are still in the race. But that alone doesn't capture what he achieved. Will his $1,000-a-month universal basic income become law? Probably not, but at this point, it's about as real as Donald Trump's border wall or Bernie Sanders's Medicare for All. At the very least, he changed politics, as Sanders and Trump did. And he sharpened Americans' sense that something has gone badly wrong with the economy, that American life is getting worse, but no one is doing anything about it except make empty promises that the jobs would come back. The $180 textbooks that college students have to buy are "exhibit No. 178 in how we're leaving you a mess," he told the crowd at Keene State.
Yang's centered his campaign on what he called "humanity"—the idea that politics should recognize the "intrinsic value" of people, and not just their economic value. In an interview last night, he framed his decision to quit the race in these same terms.
"I don't want to take people's money and time and support if I genuinely don't think that we can contend and win," Yang told me as he dug into his campaign-trail snack of choice—belVita breakfast biscuits. "That also makes this decision seem more natural and correct. I certainly feel like I'm disappointing a lot of people. It's very, very hard, because a lot of people have invested their hopes and dreams [in] the future of this campaign, and it feels very difficult to put down the sword and shield. But on a personal level, no, it feels like the right thing to do for both the message and the movement."
Yang's remaining rivals bought in to his pitch months ago. Elizabeth Warren spoke about automation at the October debate; Joe Biden discussed the fourth industrial revolution on The Late Show With Stephen Colbert. As for Yang's $1,000-a-month idea? His campaign's pollsters put together a memo showing that support for the plan in Iowa grew from 17 percent of expected caucus-goers in September to 60 percent in January.
And he managed to do it without winning a single delegate.
The end of Yang 2020 does not mean the end of Yang. At all. He's already mapping out a future in which he continues to activate his devoted Yang Gang, envisioning big events in cities where his supporters are concentrated. He's looking at another run for office. He's not ruling out running for mayor of New York City next year, though that doesn't seem to be where his heart is. He'd like to run for president again, but he's definitely interested in something executive. He's also ready to throw himself into the 2020 campaign through the fall, if the Democratic nominee asks, because he is a committed Democrat.
"If my efforts and exertions can help ensure that Donald Trump doesn't win, then I'll be there every freaking moment of every freaking day," Yang said. "I'll go fight for it. What are we doing here otherwise? What am I going to do, just watch Trump get reelected? That would be terrible." And he'd be eager to take the right kind of job in a future administration, "a secretary of technology or even … one of the existing departments," he said. "You know, I'm not a dick. Like, obviously someone like offers me something serious and impactful but we can help do some good work, I'm not going to be like, 'Fuck that.'"
Campaigns sensing weakness had already started reaching out, gently wondering about endorsements. More will be in touch now.
"He very effectively articulated the problem that people are facing in the current economy, and the challenges that they're going to be facing," Bernie Sanders's closest aide, Jeff Weaver, told me this afternoon when I asked him about Yang, before he knew of Yang's exit from the race. "We're not exactly on the same page on the solution, but at least he had the courage to not just rely on the same old neoliberal talking points."
The Sanders campaign more than any other has been griping about Yang for a while, feeling as though he was taking some of their votes. That's certainly true for some, but so many of the people I met at Yang events around the country told me that they were there for him. That includes Kim Meade, a 52-year-old realtor from the Hudson Valley who'd come up to knock on doors for Yang in the final days and was in Keene on Monday night. She's a former Republican who voted for Hillary Clinton, but wasn't committed to any of the Democrats this year before she watched Yang's interview with the New York Times editorial board a few weeks ago.
"He is so real and in reality. He holds good ideas, but he's also a realist," Meade told me. She'll vote for whomever the candidate against Trump is, she said, but she was clearly unhappy about the thought of it not being Yang. "I want him to at least get through New Hampshire so more people can hear from him," she said.
I started out skeptical of Yang, too. I first heard of him in 2018, when one of his aides emailed me a New York Times article about him. He was a novelty. A few months later, I received a series of coordinated emails from Yang "supporters," all of whom used almost exactly the same language, urging me to have him on a podcast. That was annoying. Then, when I didn't mention Yang in some of my early campaign coverage of events he'd attended, he emailed me himself. That was grasping. Even when he made the first debate back in June, he was still a novelty—Marianne Williamson had her not-quite-earthly accent and self-help mush; Yang had his weird UBI proposal and a bunch of guys who looked as if they were constantly hopped-up on Mountain Dew, and who'd scream his name as loudly as they could.
But there was no way to go to his events, see his unique blend of fatalism and optimism, and not realize that he had something to offer.
Yang is going to hold out on endorsing for a while. He wants to see his kids, get back in shape, and reflect. He feels in his gut that he could have won the race if things had gone a little differently, but he's accepted that they haven't. He hopes the other candidates find success by talking about the economy in the way he did, and by not playing politics as usual. "If I tried to act like a … 'conventional' presidential candidate, I think we would've been stuck in the mud a long time ago," he told me. "I also would have probably jumped out a window at some point too."
He knows that some of his supporters will likely sit out the election now. Introducing him at the event last night, former Portsmouth Mayor Steve Marchand urged the crowd to support Yang by saying that with this candidate, they didn't need to settle as they would with others. But he does not want that to keep them from voting.
"One of the things that we have to be … is a student of how to not let the perfect be the enemy of the good," Yang said. "And so if you think you can make a choice that will move us in the right direction, even if it's not what you would have chosen in an ideal world … you have to work with that. There are going to be many disappointed people, but we have to try and choose someone who's going to actually help move us in the right direction and start solving some of these problems. I do not think that person is Donald Trump. And so if we have a better alternative, we should really try and make sure that person wins."
His DMs are open.