Has the Women's March Accomplished Anything?
Carmen Perez, one of the march's original co-chairs, describes the organization's efforts to find its identity after three years of battling controversy.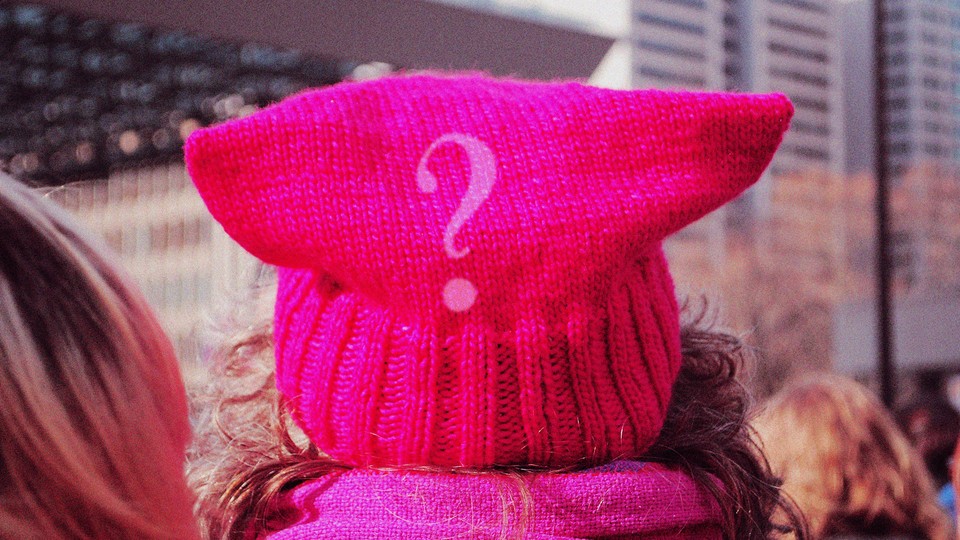 This Saturday, protesters in distinctive pink "pussy" hats will once again gather in Washington, D.C., for the Women's March. And yet the march, which once symbolized the massive, female-led backlash against President Donald Trump, has struggled to establish a clear identity and purpose for 2020. After three years spent battling controversy, it's not clear what, if anything, the Women's March organization has directly achieved.
The Women's March has faced a number of challenges since its debut on January 21, 2017, which brought millions of women together in D.C. and in local gatherings around the country for what is thought to be among the largest single-day protests in U.S. history. It was a massive demonstration of female rage, one day after Trump's inauguration: Women spoke of their grief over the outcome of the 2016 election, and their resolve to do something in response. And yet even that first year saw the beginning of controversies to come. In the days leading up to the demonstration, a pro-life group was removed from the march's list of co-sponsors, sending the message that women who are uncomfortable with abortion were not welcome. Several of the march's co-chairs were later accused by their co-organizers of making anti-Semitic comments, and even after they were called out, they continued to publicly support the Nation of Islam leader Louis Farrakhan, who has consistently expressed virulently anti-Semitic and anti-LGBTQ views. Dissatisfied with how the Women's March organization was handling its approach to red states, a number of local organizers split off and formed their own national umbrella organization, March On. All of this culminated in a legal fight over the use of the term women's march, which the Women's March organization has since dropped.
The Women's March organization has worked hard to move past these controversies. Last fall, it appointed a new, diverse board that included three Jewish women. Three of the original four co-chairs—Tamika Mallory, Bob Bland, and Linda Sarsour—have left the organization, although according to the group's bylaws, they can return in the future to serve in a rotating board position. Carmen Perez, the only remaining original co-chair on the board, has written a number of op-eds apologizing for the organization's blind spots on anti-Semitism. When I recently spoke with Perez by phone about the evolution of the march, her public-relations manager, who was also on the line, encouraged her to detail her "growth journey" to learn about anti-Semitism. (She still refused to condemn Farrakhan outright.) Perez also described the Women's March as a big tent: When I asked her whether women who identify as Zionists or oppose expanded abortion access would be welcome at the march, she maintained that it is "a space for all women," even though many of the signs and comments at the original march were focused on protecting abortion rights, and Sarsour, a Palestinian activist, has said that feminism and Zionism are incompatible. Perez's posture of openness marks a departure from the group's previous infighting over who exactly has a place in the progressive movement.
Still, Perez—who also serves as the president and chief executive officer of the Gathering for Justice, which works against racism in the criminal-justice system—could not give a lucid description of the goals of the Women's March organization. This week, it has hosted "actions"—in effect, guided conversations and rallies—focused on the march's three main issue areas: immigration, climate, and reproductive justice. But the planned events also veered into other territory, including a protest against war with Iran. It was not clear from our conversation whether and how the Women's March organization plans to take concrete action on its long list of chosen issues. When pressed, Perez said the organization's first goal is to "bring awareness."
I spoke with Perez about the past and future of the Women's March: what it's for, why it has struggled, and how she hopes to see it evolve. Our conversation has been condensed and edited for clarity.
---
Emma Green: What do you think the Women's March has achieved since the first march in 2017?
Carmen Perez: Oh my God—there are so many achievements. We were able to bring together 5 million women and people from across the world to stand up in solidarity against racism, bigotry, xenophobia, homophobia, and transphobia, and also to show that women have the ability to lead. We were able to inspire a new generation of activists to rise up.
There was a major cultural shift that has continued to evolve since 2017. 2020's march is focused on three issue areas: immigration reform, climate justice, and reproductive justice. We are a decentralized movement with strong support for state chapters across the country.
Green: Can you point to tangible policy or legislative successes that are a direct result of the efforts of the Women's March organization?
Perez: We put together a feminist agenda in 2019—a framework for elected officials as well as local organizers. We're still trying to close the pay-equity gap. In regards to legislative changes, we still have some way to go. That's why we're focusing on these three issue areas. We're still trying to identify how we can build political power in that way.
Green: Have you been able to channel the energy of the Women's March into securing specific policy changes or electing leaders?
Perez: That's what the feminist agenda was designed to accomplish. How do we look at criminal justice through a gender lens? How do we look at immigration reform through a gender lens? We've always talked about reproductive justice or reproductive rights, but what does reproductive justice look like for a woman who is currently incarcerated and being shackled while she's giving birth? What we have been able to achieve is having these collective conversations about how our issues intersect. And that's what the goal of 2017 was when we were organizing the first Women's March.
Green: In 2020, will the Women's March organization facilitate donations to specific electoral candidates, sponsor advertising in close races, draft any legislation, or take other concrete steps to implement your stated agenda?
Perez: We're focusing on supporting our state chapters and giving them the resources that they need in order to organize locally. We have a national feminist agenda. But what we're hearing from our base is that they wanted to dig deeper into these three issue areas. We are focused on achieving legislative wins and having more targeted, concentrated conversations around how we could create entry points for people to get involved, and how people can become more aware of what's happening around those three different issue areas.
Green: So, just to be clear, from the national level, the Women's March will not be releasing slates of candidate or endorsing specific legislation or policies that it's going to push during the 2020 election cycle?
Perez: As of right now, I don't have that information. One of the things that we need to do first is to really bring awareness, right? We polled our base, we heard from them that they wanted to focus on three issue areas, [so] we're bringing it to them in D.C. For us, it's directing people into these actions to be able to understand these issues deeply. In any type of campaign, awareness and education are key. And then from there, you're able to develop a strategy. And so right now, we're not at the strategy level, digging deeper, but I do know that the organizations on the ground have legislative policy that they have been pushing for quite some time. And I'm sure that during the actions, people will be privy to that information. And I do believe that at some point, the Women's March will be making sure that it provides more concentrated policy.
Green: In 2019, Democratic elected officials largely avoided the Women's March because of controversies surrounding the march and the organization. This included accusations that you and one of your co-chairs, Tamika Mallory, made anti-Semitic remarks to some of the march's co-organizers, and also criticisms that you all would not disavow Louis Farrakhan, who has consistently said openly anti-Semitic things throughout his time in public life. I know you've written about this issue a number of times. Just to be clear, do you condemn Louis Farrakhan, and do you believe the Women's March has space for all women, including Jewish women?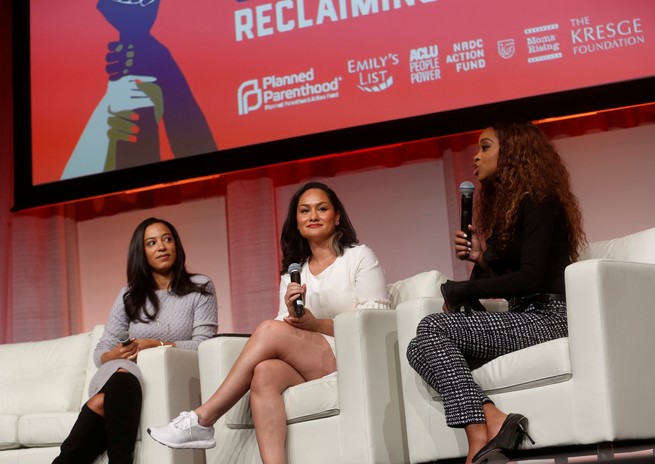 Perez: My position is very clear. First of all, we as an organization could have done something sooner. We've been very intentional about repairing the harm done, not only on an organizational level, but also on a personal level. Part of my journey was to lean into the controversy and to reach out to rabbis and begin to have courageous conversations, as well as participate in anti-Semitism training. We have Jewish people who are part of our family within the organization. Jewish women did help craft the unity principles in 2017. And when we put together the feminist agenda, Jewish organizations were part of that as well. Now we have three Jewish women who are part of our board of directors: Ginna Green, Rabbi Tamara Cohen, and Ginny Goldman. We do feel there's a space for Jewish women in the community of the Women's March.
Green: As you're probably aware, part of the discomfort of some within the Jewish community was your hesitation to condemn people who are proximate to your organizing efforts, specifically Farrakhan. Have you gotten to a place where you feel comfortable saying, "I do not stand with him, and he doesn't represent what I believe"?
Perez: I want to make clear that I organize under the ideology of Dr. Martin Luther King Jr. That's the reason why our messaging in the 2017 Women's March was not anti-Trump—it was for something, for our unity principles. I do not support racism or bigotry. I do not support anti-Semitism. As a Latina woman, we don't denounce people, but that does not mean that we cannot stand up and fight for our Jewish siblings and the Jewish community. The work that I feel is important is to make sure that we're building transformational relationships and also opportunities for reconciliation. That is my life's work. And so I listened to the Jewish community and their concerns, and they've also listened to me, and it's about us building stronger relationships.
Green: Is there space in the Women's March for Jewish women who identify as Zionists or supporters of the state of Israel?
Perez: I believe that everyone who is aligned with our unity principles is welcome into the Women's March. And so that means that if you believe that women deserve the right to immigration reform, then they're welcome into the Women's March.
Green: So, just to be clear, for women who would describe themselves as Zionists or supporters of Israel—do think that there's room for them in the organization and in all of the actions you all have organized?
Perez: Of course. People who are connected to our unity principles, who are connected to our feminist platform, who believe in it, are certainly welcome.
Green: Does the Women's March have space for women who disagree with certain portions of the unity principles—for example, who would disagree with expanding access to abortion?
Perez: I believe that the Women's March is a space for all women. When women feel a desire to participate in the Women's March, they may not agree with every piece of the ideology, they may not agree with the whole feminist platform, but I'm sure there's something that they do agree with. I believe that the Women's March is for you. The Women's March is a place for people who identify as women, whether you're trans or you're a person who has always been a woman. The unity principles were an entry point for people to get involved.
Green: The Women's March organization has been through a lot over the past couple of years: disagreements among the organizers, the establishment of a competing national organization called March On, local marches ending their affiliation with the national Women's March. Has this diminished its effectiveness?
Perez: I believe that having as many people organized locally or in their state is an addition to the movement. It creates environments where people can get involved. It's exciting to see how much energy there is, and how many people have now become active. When I think about these different organizations and mobilizing efforts, I see them in the spirit of my mentor and my boss, Harry Belafonte. He's always talking about how those who are working towards the liberation of our people are subject to friendship and support, and those who are being divisive are playing the enemy's game.
This is about a movement. This isn't about individuals. A movement is meant to inspire people, to create entry points, to find ways to engage and activate individuals. The more people who stand up against racism, xenophobia, anti-Semitism—we need that energy.
Green: It sounds like, to you, having lots of different spin-off organizations is not a matter of competition, but about building different channels that people can use to direct their energy. Is that right?
Perez: Yes. I truly believe that. There's a lane for everybody.