The Atlantic Politics Daily: Actually, Women Win Quite a Lot
Which candidates are hurt most by the obsession with "electability?" Elizabeth Warren flips the script on that question. Plus: The Space Force awakens.
It's Wednesday, January 15. The 2010s were the hottest decade ever recorded in the modern era, and 2019 was the second-hottest year.
Did Virginia just amend the U.S. Constitution with this afternoon's Equal Rights Amendment vote?
In today's newsletter: The "are women electable" question bursts to the fore. Plus: The Space Force returns.
*
« TODAY IN POLITICS »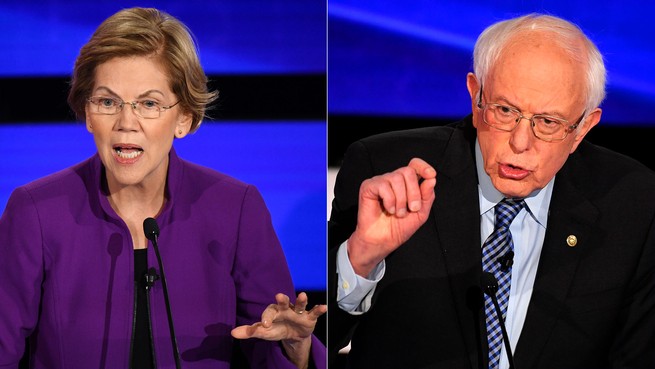 (Robyn Beck / AFP / GETTY)
Some Democrats still shell-shocked by 2016 are turning the political logic of electability on its side: Instead of supporting the candidate they like best, they're supporting the candidate they think their neighbors would vote for.
Which candidate does this obsession with electability seem to hurt most?
As my colleague Russell Berman writes—citing research—voters are bearish on Elizabeth Warren's electability not necessarily because of her unabashed liberal politics, but because of her gender.
The "are women electable?" question burst to the fore this week. News reports surfaced about a 2018 private meeting between Warren and Bernie Sanders, during which Sanders said he didn't feel a woman could win the presidency. When asked about the hubbub at Tuesday's Democratic debate, Warren sidestepped, and then had a rejoinder: Actually, women are more electable.
The argument has some wings:
‣ Suburban white women—historically fairly reliably Republicans—have left the party in droves since 2016. The president's own standing with this group seems only to have soured since then: One poll found that after the confirmation hearings for Brett Kavanaugh, Trump's net support among Republican women dropped by 19 points.
—Saahil Desai
*
« SNAPSHOT »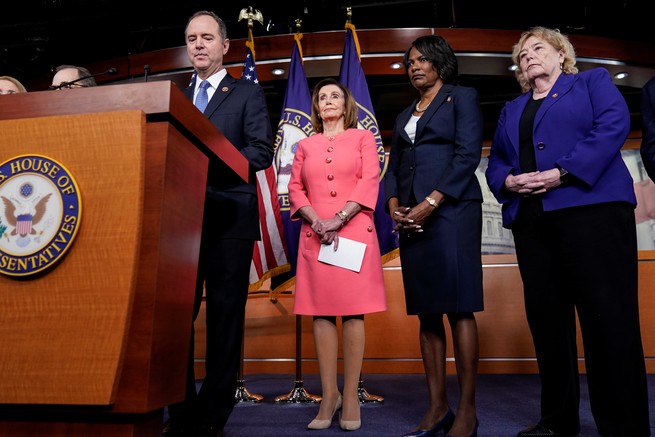 (Joshua Roberts / Reuters)
Meet some of your impeachment managers: Adam Schiff of California, Val Demings of Florida, and Zoe Lofgren of California.
Speaker Nancy Pelosi announced her seven picks to be House of Representatives managers—they'll serve as the prosecutors arguing the case to remove the president in the Senate trial that begins next week. Stay tuned.
*
« IDEAS AND ARGUMENTS »
(SHANNON STAPLETON / REUTERS)
1. "No one really seized the opportunity, giving Biden a sort of win by default."
After the debate hall had cleared and the candidates had left the stage, the sense of Joe Biden's inevitably seemed to cling in the air, David Graham argues: He's running as an incumbent, and his opponents are treating him like one.
2.  "The candidates agree that Donald Trump has gutted traditional American foreign policy. Where they diverge is in how to respond to that destruction."
An exchange between Biden and Warren last night over the number of troops they would leave in the Middle East is representative of a larger split between the progressives in the race and everyone else, Uri Friedman writes: What is the future role of America in a world it has thrown into chaos?
3. "Even if so, Americans should remember that whether a president intends to prolong old, stupid wars or to trigger costly new ones is less important than whether his actions have those effects."
After last week's conflict with Iran, the political right has had to reevaluate where they stand on Trump's foreign policy. While the president says he wants to stop endless wars, his actions speak louder, Conor Friedersdorf argues.
---
*
« EVENING READ »
(AL DRAGO / BLOOMBERG VIA GETTY)
Episode VII: The Space Force Awakens
The Space Force is not a joke. It exists now. Our space reporter Marina Koren writes:.
Between the holiday season and more pressing military news, the creation of the Space Force did not initially make a big impression. But the president seems pleased with his newest armed service. "Everybody's excited about that," Trump said at a campaign rally in Ohio last week. The crowd responded with boisterous chants of "U-S-A." Vice President Mike Pence celebrated "America's heritage as the world's greatest spacefaring nation" yesterday, as he swore in General Jay Raymond as chief of space operations.
It even enjoyed its inaugural controversy.
---
*
Today's newsletter was written by Saahil Desai, an associate editor on our Politics team and Christian Paz, a Politics fellow. It was edited by Shan Wang, who oversees newsletters.

You can reply directly to this newsletter with questions or comments, or send a note to politicsdaily@theatlantic.com.

Your support makes our journalism possible. Subscribe here.