The Atlantic Politics Daily: What John Bolton Says He Knows
For all the drama-free predictability of impeachment, one wildcard still hangs over the proceedings. Plus: C-SPAN is so hot right now—and that's not a good thing.
It's Monday, January 27. The Trump administration is working on an expanded travel ban, now eyeing African immigrants. And today, the Supreme Court issued an order allowing the administration to impose restrictions on immigrants it considers more likely to rely on federal aid.
An outpouring followed Kobe Bryant's death: Here's our staff writer Jemele Hill's reflection, and our deputy editor Ross Andersen's.
In the rest of today's newsletter: "JOHN BOLTON SEEKS REGIME CHANGE." Plus: C-SPAN is super popular right now—and that's not a good thing.
*
« TODAY IN POLITICS »
(PHILIP MONTGOMERY)
John Bolton wrote that he was in the room where it happened.
For all the drama-free predictability of impeachment, one wildcard still hangs over the proceedings.
Democrats have so far been unable to convince Republican colleagues to call the former national security adviser as a witness in the Senate trial, but that calculus could be changing now for some members.
On Sunday, news reports surfaced—based on leaked text of Bolton's forthcoming book, The Room Where It Happened—that Trump allegedly told Bolton outright he wanted Ukraine to investigate the Bidens in exchange for releasing military aid.
Why has Bolton stayed mum so far? My colleague Graeme Wood, who has a very strong handle on Bolton's ambitions and motivations, has a theory:
Silence up to now has bought Bolton the Litigator something very valuable. He has now listened as others present "in the room"—including his deputies, such as Fiona Hill—have recorded their versions of events. He has heard Republicans, including Trump, lay out an impeachment defense—not only a version of events, but also a theory of innocence. By speaking last, he can present testimony precisely calculated to hurt those he most wants to embarrass.
Graeme also profiled Bolton, back when the mustachioed firebrand was still serving in Trump's cabinet.
Bolton is Trump's third national security adviser. His appointment was delayed for two reasons, both anatomical. First was the issue of his mustache, a droopy soup-strainer that made Trump initially pass Bolton over because he did not think, according to Steve Bannon in Michael Wolff's Fire and Fury, that "he looks the part." (Trump instead chose Michael Flynn, who lasted only weeks, then H. R. McMaster, a clean-shaven three-star general, who served from February 2017 until Bolton took over last April.)

The second impediment was more substantial, and had stalled Bolton's ascent in previous administrations as well. "He is incredibly smart and capable," a Bolton acquaintance told me. "He could have risen faster if he had just been less of a dick."
Now vulnerable GOP senators are under more pressure than ever to subpoena Bolton. (Mitt Romney said on Monday that it was "increasingly likely" the Senate would do so.) David Frum made the case last September for why Bolton should speak up:
Bolton has been a loyal soldier for his president through all these difficulties. His reward was open disrespect and then public humiliation.
Read the full argument, as relevant as ever today.
—Saahil Desai
*
« SNAPSHOT »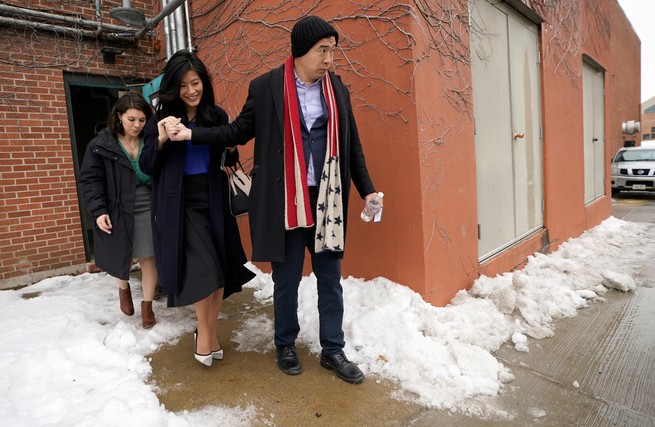 (Rick Wilking / Reuters)
The 2020 Democratic candidate Andrew Yang and his wife Evelyn outside a town hall meeting in Sioux City, Iowa today, just a week out from the first votes of this presidential primary.
*
« IDEAS AND ARGUMENTS »
(CQ-ROLL CALL / GETTY / THE ATLANTIC)
1. "Sending our military to fight should be the hardest decision we make as a country."
The hostilities between the U.S. and Iran earlier this month are the latest evidence that foreign policy should be shaped by statecraft, not whim, the 2020 Democratic candidate and U.S. Senator Elizabeth Warren writes in this statement of her foreign-policy vision.
2. "It's a hell of a gamble, and for what? To elect to the presidency a person with a proven record of accomplishing little for the causes he espouses, despite almost 32 years in the House and Senate?"
As Bernie Sanders surges in Iowa ahead of next week's caucuses, David Frum questions what he sees as the senator's strategy of rallying the kinds of voters "least committed to the political process" while alienating "the Americans most committed to it."
3. "C-SPAN is so hot right now. And that's a symptom of something gone deeply wrong."
Among the odder developments of the Trump era, C-SPAN's rise to primetime viewing is another sign of the worsening state of American political discourse, Kathy Gilsinan writes: Citizens with a functioning government wouldn't have to tear themselves away from watching hours of congressional testimony every other week.
4. "The world's greatest deliberative body? Really?"
During the first week of the impeachment trial, Chief Justice John Roberts—who's presiding—tried to put a stop to squabbling between Jerry Nadler and Pat Cipollone with an earnest reprimand calling attention to the gravity of the institution of the Senate.
Benjamin Wittes and Quinta Jurecic found that moment laughable. They write:
Whom exactly do these people think they're kidding? By what possible metric can the U.S. Senate flatter itself that it remains the world's greatest deliberative body? Certainly not by the quality of the deliberation that takes place there. Any grade-school class that meets as a group during circle time to decide what the students want for a snack does more genuine deliberation than does the Senate.
Read the rest of their fiery argument.
---
*
« EVENING READ »
(YAD VASHEM ARCHIVES / REUTERS)
Holocaust Remembrance Day
On the 75th anniversary of the liberation of Auschwitz, at a time when anti-Semitic incidents are on the rise globally, the historian Walter Reich, the former director of the United States Holocaust Memorial Museum, writes:
The recent eruptions of anti-Semitism in America have awakened us to a prejudice that has long resided, in quiet ways and in many forms, in this country. And the part of it that now disguises itself as anti-Zionism—hatred of the Jewish state that was established in the wake of the Holocaust as a refuge for Jews—has even seemed, to some, virtuous, a sentiment they believe puts them in humanity's moral vanguard.

And anti-Semitism has returned, in part, because the general public's knowledge about the Holocaust—of what exactly it was, who exactly was murdered in it, how many were killed, and how anti-Semitism spawned it—has diminished.
---
*
Today's newsletter was written by Saahil Desai, an associate editor on the Politics desk and Christian Paz, a Politics fellow.

You can reply directly to this newsletter with questions or comments, or send a note to politicsdaily@theatlantic.com.

Your support makes our journalism possible. Subscribe here.