The Atlantic Politics Daily: Getting Out the (Latino) Vote
Four million young Latinos became eligible to vote after 2016. Latino organizers have a warning for 2020 candidates. Plus: An idea for surmounting—carefully—the Electoral College.
It's Tuesday, January 14. In today's newsletter: The final Democratic debate before Iowa will be an all-white, six-person affair (one billionaire included). Plus: Are Democrats overlooking what may be the largest minority voting bloc of 2020?
*
« TODAY IN POLITICS »
Jose De Jesus Esparza Morales ​and Ivan Vargas canvass for the Latino activist network Mi​jente in Georgia during the 2018 midterm elections. (AUDRA MELTON / THE NEW YORK TIME​S / REDUX)
The influence of the Latino vote seems to be hyped up every election cycle—leaving pundits and politicians disappointed by the final turnout, as was the case in 2016.
The U.S. is home to 4 million young Latinos who became eligible to vote after 2016. 2020 may see record-breaking turnout among Latino voters, once again making them a key bloc for candidates vying for the Democratic nomination, and also for the eventual nominee's ability to win states such as Florida and Arizona.
Before I began reporting this story, I wondered whether Latinos were checking out of the presidential race because they didn't see themselves represented in mainstream Democratic politics.
I had it backwards: Latinos are giving the candidates a chance, but most of the candidates don't seem to be biting (many did call out one candidate in particular for doing better in this arena). Latino organizers I spoke with shared a plethora of examples where Democratic candidates looking to defeat the president were lacking, such as:
Repeated attempts to schedule candidate meetings with large Latino groups;

unanswered policy questionnaires on issues such as education and affordable housing;

weak grassroots work to register voters.
As you tune in for tonight's debate, watch for how the six white candidates talk about race and minority voters: Will they merely be paying lip service to the Latino community, or will they offer truly inclusive policy proposals?
—Christian Paz
*
« DEBATE REFRESHER »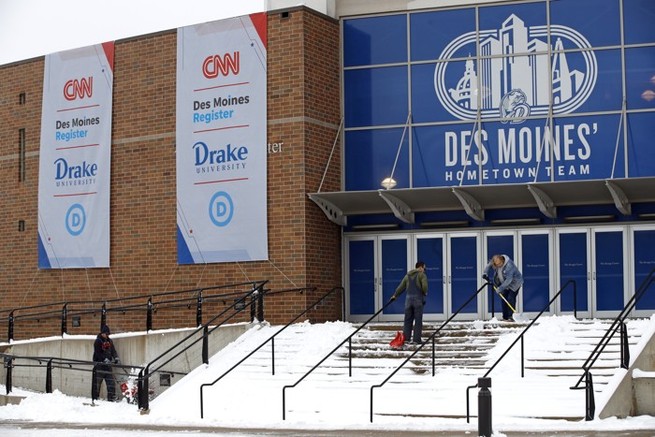 Tonight's Democratic debate features six candidates. Here's where we last left them:
‣ Joe Biden: "The kumbaya candidate."
‣ Pete Buttigieg: The young left is decidedly not a fan.
‣ Amy Klobuchar: "Can she escape the shadow of her nemesis, who has seized her sensible-midwesterner mantle?"
‣ Bernie Sanders: "Iran gives Sanders something new to talk about."
‣ Tom Steyer: Strolling through Nixon Library with our campaign reporter Edward-Isaac Dovere, Steyer had some opinions on impeachment.
‣ Elizabeth Warren: "The progressive senator doesn't talk about her Republican past." Could talking about it help her?
*
« IDEAS AND ARGUMENTS »
(REUTERS)
1."There is a plan that can get the country closer to having a national popular election for president within the current constitutional framework."
And it won't require a constitutional amendment, the law professor Vikram David Amar argues. Twice now in the past two decades, the person who ultimately became president received fewer voters nationwide than his opponent. Here is a careful idea on surmounting the Electoral College.
2. "To channel Leon Trotsky, you may not be interested in escalation, but sometimes escalation is interested in you."
The story of the downed Ukrainian passenger jet began with confusion, then odd denials, and then admission. It's a dangerous example of a conflict spiraling out of control, even as both the U.S. and Iran each tried to recoil from war this week. The plane crash itself is the big story, Uri Friedman writes.
---
*
« EVENING READ »
(GETTY)
Women + Promotion = Divorce?
Derek Thompson looks at a couple of recent studies on gender parity that suggest Western society still has less-than-progressive views of women with careers.
In Sweden, women who were elected mayor or parliamentarian were more likely to get divorced than men who won the same elections. The same was true in the corporate world, where women promoted to chief executive were twice as likely to divorce within five years of their promotion as men. (Several U.S. studies have shown that American women downplay their career ambitions on dates and that marriages where the wife's earnings exceed her husband's are more likely to end in divorce.)
"The modern world still isn't ready for successful women," he writes.
---
*
Today's newsletter was written by Christian Paz, our Politics desk fellow. It was edited by Shan Wang, who oversees newsletters.

You can reply directly to this newsletter with questions or comments, or send a note to politicsdaily@theatlantic.com.

Your support makes our journalism possible. Subscribe here.