Donald Down the Shore
The president refuses to believe that even New Jersey, a solidly blue Northeast state, is beyond his electoral grasp in 2020.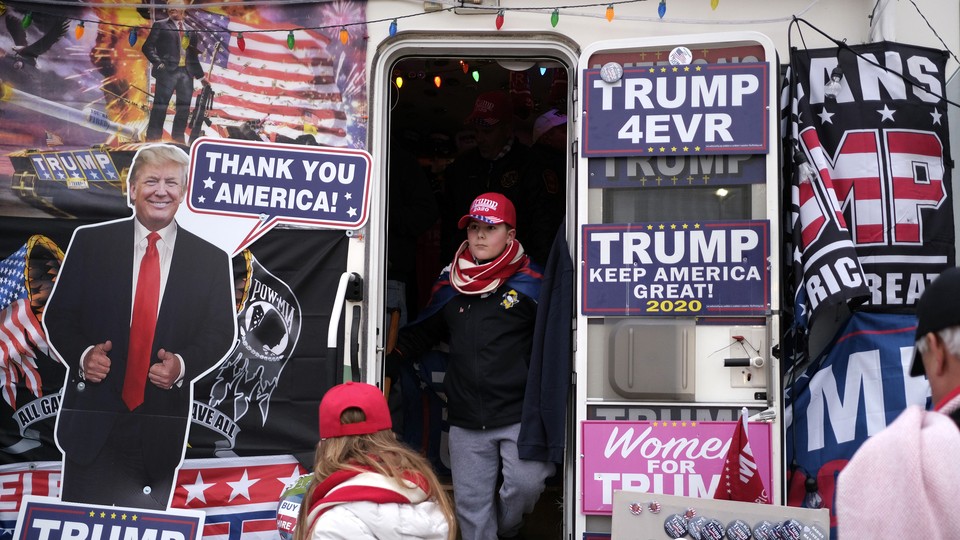 WILDWOOD, N.J.—President Donald Trump casually referred to his reelection campaign as "probably the greatest movement in history" last night. He told the several thousand rally-goers inside the Wildwoods Convention Center—and the scores more partying outside and watching a simulcast—that this country "has tremendous potential if we don't blow it." At one point, Trump warned that Democrats want to "close your factories" and "get rid of your cows." He conceded that there aren't many cows in this particular beach town.
Why did the president descend on the Jersey Shore in the dead of winter?
The waterslides of Morey's Piers loomed over the boardwalk, bone-dry. It was too early in the season for 18 holes of mini-golf. No enticing aromas wafted out of the Fudge Factory (though someone did hand out free samples outside the Fudge Kitchen). Why Jersey at all? Democrats have won the state in the past seven consecutive presidential contests. But Trump, the former Atlantic City casino boss, owed a guy a favor.
New Jersey's Second Congressional District went for Trump in 2016 after twice voting for Barack Obama. Its congressman, Jeff Van Drew, flipped it blue in 2018, then recently flipped himself for Trump: A week before Christmas, Van Drew voted against both articles of impeachment before formally joining the GOP and declaring his "undying support" for the president. Just over a month later, Trump gave him a slap on the back in the form of this off-season Wildwood boardwalk rally, up to and including bringing Van Drew onstage as part of a broader effort to paint the GOP as a "big-tent party." (Van Drew spoke for but a few minutes before handing the mic back to the president.)
Cold and gray, with MAGA beanies and cracked-open beers barely concealed in koozies, the scene around town looked more like a football Sunday than a January Tuesday. Subpoena Colada, MAGArita, Moscow Mueller, and the Sanders ("You buy the drink and we give it to someone who doesn't have one!") were a few of the "Trump Rally Drink Specials" on offer at the Blue Water Grille. Trump 2020 and Keep America Great banners peppered the restaurant, while Fox News' coverage of the president's impeachment trial occupied the mounted TVs. Cortland Heyniger Sr. and his son, Cortland Jr., posted up at the bar in matching camo Trump hats and flannel shirts. "The other side lies and tries to divide us," said Heyniger Jr., an Asbury Park firefighter. "You can see it, you know?"
Janis Sweeney, a hair stylist from Winslow Township, celebrated her 60th birthday by coming to the rally. It was her first time seeing Trump in the flesh, her first political event at all. "I like his attitude," said Sweeney, wearing a leopard-print coat and a pink Women for Trump button. "He's a good guy; he's sensitive." She and her husband, Chuck, arrived a full day before the event, tagging each other in and out of the line outside the venue as the wind whipped off the icy Atlantic. Eighty-four-year-old Dorothy Cobb and her daughter pulled into Wildwood on Sunday. Cobb sat on the risers inside with a green knit blanket spread across her lap as she clutched a Keep America Great! sign. "A lot of people think he's a bully. Well, we need a bully," Cobb said. Like others I spoke with, she waved off former National Security Adviser John Bolton's corroboration of a Trump quid pro quo with Ukraine and scoffed at the idea of impeachment as a whole. "There's a lot of lying going on," Cobb said.
Onstage, the president acknowledged that crashing a Northeast beach town in January didn't make much immediate sense, then bragged that the event had broken attendance records for the venue. He gave a brief shout-out to former New Jersey Governor Chris Christie, which was met with a mix of boos and applause. (Christie was on-site to hear it all.) He brought up South Jersey–bred Kellyanne Conway to talk about her love of both the president and her home state. Later, when running out of steam and with some attendees filtering out, Trump reminded the audience that New Jersey gave the world "American greats" such as Thomas Edison and Frank Sinatra. At one point, he spoke fondly of the "beautiful escalator" he rode down five years ago inside his namesake tower on the day he announced his candidacy for president, the same day he referred to Mexicans as rapists and criminals.
I asked Fernando Fernandez, the president of the Atlantic City Republican Club, about that particular xenophobic comment when we sat down at a table at the Blue Water Grille yesterday afternoon. Fernandez is a naturalized citizen who was born in Peru and whose parents are Democrats. "I have good friends that are Mexicans that are not rapists," he said. "So the comment doesn't really portray what [Trump's] saying." Later, Fernandez told me that he is a gay man and that his political affiliation is "a big turnoff" to many potential partners. "The Republican Party has welcomed me with open arms, 100 percent," said Fernandez, wearing a red Trump 2020 visor with a mop of fake blond hair sewn into the top. "They knew who I was from the beginning. They might've raised an eyebrow like everybody else who doesn't know me quite well, but after a couple months they're like, 'You're welcome. You are a part of the Republicans.'"
Will Trump's big-tent pitch work? A large-scale fracturing of the Democratic Party was a recurring theme at the rally, with Trump zeroing in on Bernie Sanders and Elizabeth Warren, characterizing the senators as locked in a progressive arms race. With TV cameras rolling, Trump tried to woo potential voters like Van Drew—Democrats who have had enough! He employed triplicate phrasings that would have been a natural fit in speeches from Obama's first campaign, deeming the Republican Party "the party of the American worker, the American family, and the American dream."
He's still obsessed with perfecting his brand. Inside the venue, red MAGA hats sold for $25, while the newer Keep America Great caps were $30. (Both purchases count as campaign contributions.) Over the past four years, Trump's various three-word, one-syllable phrases—"Build the wall," "Drain the swamp"—naturally evolved into refrains, then rally chants, then, finally, T-shirts—the kind you stop to read when sauntering down the Wildwood boardwalk on nights much warmer than this. A handful of shops were open last night, with most sellers slinging special I-was-there merch for this "historic" rally alongside polemics such as "I Support LGBTQ: Liberty Guns Bible Trump BBQ" and simpler visuals such as Baby Yoda in a MAGA hat. One store positioned "Trump 2020: Fuck Your Feelings" adjacent to two shirts honoring Kobe Bryant barely 48 hours after the former NBA star's death. One hoodie, emblazoned with a stars-and-stripes, all-caps TRUMP, featured a taunting coda that will surely keep cropping up this year: Make the Liberals Cry Again.
Seeing it reminded me of a conversation I'd had earlier in the day with James Mack, a white 47-year-old insurance agent who had driven down from Sewell, New Jersey, with his brother Jonny. "I've determined that the president of the United States has little-to-no impact at all on my life, but if I have to watch them on TV, I prefer they were entertaining," said Mack, who's tall and has a salt-and-pepper goatee. He wore a red Trump 2020 hat that read Finish the Wall and a dark blazer over a screen-printed tee in the style of Shepard Fairey's "Hope" poster, but featuring Trump.
I asked Mack: Would the president have a greater impact on his life if he himself were a different nationality or ethnicity?
He looked at me, deadpan.
"Well, I self-identify as a black lesbian, so I think I'm fairly protected," he said. "You wouldn't believe the perks."
Trump would likely tell Mack there's plenty of room in the tent.