The Atlantic Politics Daily: Will Trump Take the High Road?
The two countries look to be in the same place they were before the killing of Qassem Soleimani: "Caught in a precarious standoff." Plus: Inside a Warren rally.
It's Wednesday, January 8. In today's newsletter: De-escalation to the status quo. Plus: An Elizabeth Warren rally, as Warren loses ground.
*
« TODAY IN POLITICS »
Anti-war activists protest in front of the White House. (ANDREW CABALLERO-REYNOLDS / AFP / GETTY)
Qassem Soleimani's killing changed everything. Qassem Soleimani's killing changed nothing at all.
Days after President Donald Trump launched the strike against the top Iranian general, the U.S. and Iran seem to be careening toward all-out war. A war seemed even closer after Iran retaliated with strikes of their own.
But the limited scope of Iran's latest attack on U.S. bases in Iraq—no American or Iraqi deaths were reported—could also pave the way for de-escalation. As my colleague Mike Giglio put it, "it could have been much worse."
Iran's retaliatory response—statement-making but narrow, terror-inducing but predictable—is in line with the country's usual playbook: Picking its battles with the U.S. very, very strategically. (Uri Friedman spoke to several experts for this prescient piece on the Iranian way of war.)
Even if the U.S. backs away, the two countries look to be in the same place they were before the killing of Soleimani, Mike writes: "Caught in a precarious standoff in which they may be one American death away from the new war Trump says he doesn't want."
And while Trump declared victory in his public remarks today, the administration's goal to ensure that Iran doesn't acquire nuclear weapons seems no more realistic now than it did a week ago. Soleimani's death may not have addressed the central problem.
—Saahil Desai
---
*
« SNAPSHOT »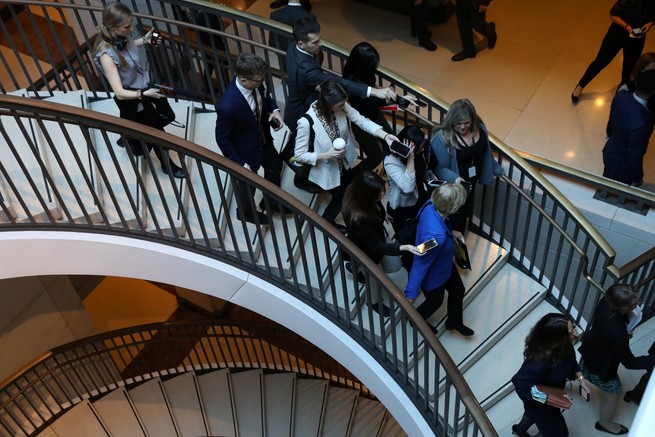 (Tom Brenner / Reuters)
Journalists pursue Senator Elizabeth Warren as she walks to a classified national security briefing today for the Senate on developments in the U.S.-Iran conflict.
*
« IDEAS AND ARGUMENTS »
(JONATHAN ERNST / REUTERS)
1. "He is the least trusted president in the history of polling. Two-thirds of Americans regard him as dishonest. Sixty-one percent say he does not respect democracy."
There has been no "rally around the flag" effect after the targeted killing of Qassem Soleimani and the subsequent Iranian response in Iraq. But a president who's spent years alienating half the country, can't expect support and confidence now, David Frum argues.
2. "Would you ban the mail, just because some political operatives got good at using it to win elections?"
That's the distillation of an argument from a Facebook executive, in an internal post titled "Thoughts for 2020."
Facebook is credited with—blamed for—helping tip the 2016 election to Trump. It looks poised to play a similarly influential role in politics in 2020, but the leaked memo seems to suggest the company isn't really acknowledging the power it has to amplify divisions and capitalize on people's impulses, Alexis C. Madrigal writes.
---
*
« EVENING READ »
(BEBETO MATTHEWS / AP)
The Selfie Lines Are Still Long Though
When did the one-time Democratic frontrunner fall into the periphery of frontrunner-dom?
Warren's dropped to a distant fourth in both Iowa and New Hampshire, as she tries to reignite her campaign with a major rally in Brooklyn. Russell Berman reported from the scene:
Sitting inside the cavernous Brooklyn auditorium where Senator Elizabeth Warren rallied before 3,000 cheering fans last night, you'd never have known that an Iranian retaliatory strike had brought the United States one step closer to another war in the Middle East. Nor would you have guessed that the candidate that these people had waited, in some cases, more than four hours to see, had recently lost her lead in the Democratic primary polls and had found herself suddenly on the outer edge of the top tier less than a month before the primary season kicks off in Iowa.
Warren is now at a real crossroads, Russell writes.
---
*
Today's newsletter was written by Saahil Desai, an associate editor on our Politics team and Christian Paz, a Politics fellow. It was edited by Shan Wang, who oversees newsletters.

You can reply directly to this newsletter with questions or comments, or send a note to politicsdaily@theatlantic.com.

Your support makes our journalism possible. Subscribe here.