The Senate Republicans Who Could Still Turn Against Trump
A quick guide to the lawmakers who control the president's impeachment fate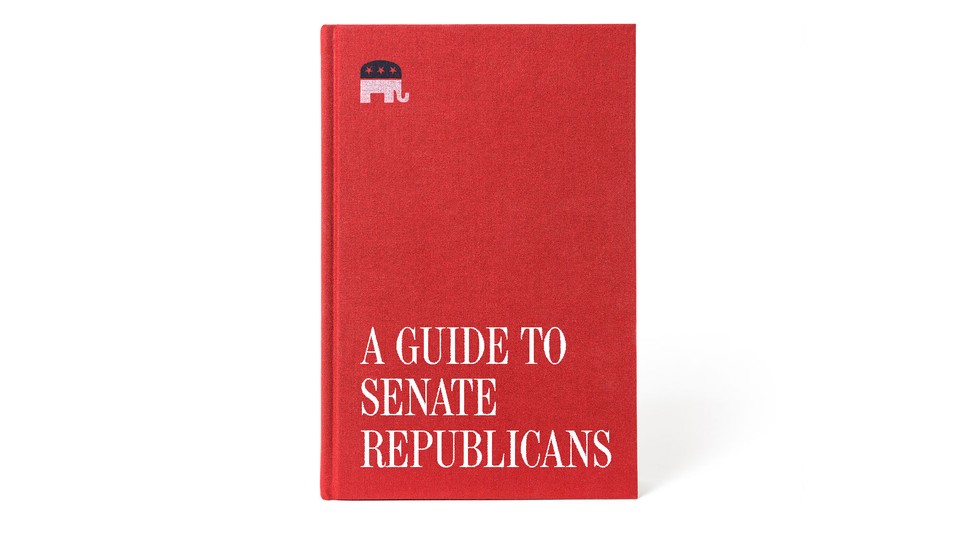 The great Senate anticlimax will soon be upon us, if you haven't heard—an impeachment trial that will acquit President Donald Trump just as predictably as the Democratic-led House voted to charge him last month.
It's an outcome so widely assumed that, given Speaker Nancy Pelosi's delay in formally sending articles of impeachment over to the Senate, the public may be wondering whether there's going to be a trial at all.
Yet while it is indeed nearly impossible to foresee 67 senators voting to remove Trump from office 10 months before a presidential election, there remains a lot more intrigue and uncertainty in the Senate than there was in the House, where not a single Republican broke with the president to back impeachment.
Trump's fate will rest largely with the 53 Senate Republicans. At least 20 GOP senators would have to vote to convict the president, and there's virtually no way that many will turn against a man who has tightened his viselike grip on their party. But a bipartisan rebuke is still possible. The range of votes for removal could go as high as the low 50s, if a handful of Republicans break with Trump, or it could fall much lower if the president secures total support from the GOP and picks off red-state Democrats like Joe Manchin of West Virginia, Doug Jones of Alabama, and Kyrsten Sinema of Arizona. And the trial itself could be a relatively dry rehash of the House hearings, or it could feature dramatic new testimony from high-ranking administration officials who refused to cooperate with the House inquiry. That includes John Bolton, the former national security adviser, who yesterday announced that he would comply if the Senate votes to subpoena him.
The defection of just four Republicans—in combination with a unanimous Democratic vote—would mean that a majority of the Senate and a majority of the entire Congress had found that the president committed high crimes and misdemeanors in his dealings with Ukraine and his obstruction of the House's impeachment investigation. A majority vote would also distinguish the Trump impeachment from that of former President Bill Clinton, whom most senators voted to acquit in 1999.
While Senate Majority Leader Mitch McConnell has made no secret of his support for Trump, a sizable portion of his conference has kept much quieter about their views. Although many Senate Republicans have criticized House Democrats for rushing the impeachment process, several have also declined to take a position on the charges against Trump in deference to their role as likely "jurors" in the trial.
Their silence leaves open the possibility—albeit a slim one—that testimony from Bolton and others could alter the dynamic within the Senate GOP. The resulting vote might not be sufficient to remove Trump, but a bipartisan condemnation of the president months before his reelection bid might be the most his opponents can now realistically hope to achieve.
Here is a guide to some of the key groups of Senate Republicans to watch as the trial gets under way, from those firmly in Trump's corner to those who might end up deserting him.
---
The Loyalists
Lindsey Graham, South Carolina
Rand Paul, Kentucky
Ted Cruz, Texas
Mike Lee, Utah
Josh Hawley, Missouri
The list of Trump's most fervent defenders in the Senate is certainly longer than these five, but they are the ones you're most likely to see on TV before and after the trial's sessions, deploying the same over-the-top rhetoric—"a sham!" "fake impeachment"—that the president has used to denigrate the process. Graham, Paul, and Cruz have all gone from denouncing Trump during their rivalry in the 2016 GOP primary to standing between him and the Democratic efforts to kick him out of the White House. Graham has used his position as chairman of the Senate Judiciary Committee to launch an investigation into former Vice President Joe Biden and his son Hunter—exactly what Trump asked Ukrainian President Volodymyr Zelensky to do in their July phone call. Cruz has said he'd support a bid by the president's lawyers to subpoena the Bidens to testify in a Senate trial.
Lee, another onetime Trump critic on the right, has emerged as one of his staunchest allies behind the scenes, and, in contrast to some of his colleagues, he has said that the president "has done nothing wrong" in his dealings with Zelensky. Hawley is new to the Senate, but he's tried to make a name for himself by attacking Democrats for their handling of impeachment. The Missouri freshman has introduced a motion that would allow the Senate to dismiss the charges against Trump without even holding a trial if Pelosi continues to delay formally sending the articles of impeachment across the Capitol. Ten Republican senators have signed on to the measure, including Cruz.
---
The Vulnerables
Joni Ernst, Iowa
Martha McSally, Arizona
Thom Tillis, North Carolina
Cory Gardner, Colorado
Dan Sullivan, Alaska
Democrats may have hoped that the handful of first-term Republicans facing competitive reelection bids this year might find it in their political interest to break with the president.
It hasn't worked out that way.
Apparently feeling they need the support of Trump's conservative base, Ernst, McSally, and Tillis have rallied behind the president and largely refrained from criticizing his actions on Ukraine at all. They've criticized House Democrats for their handling of the impeachment inquiry and appear locks to vote for acquittal. McSally may be taking the biggest risk: She was appointed to her seat only after losing a Senate race to Sinema in 2018 and is facing a serious challenge in November from Democrat Mark Kelly, the astronaut and husband of former Representative Gabrielle Giffords.
Gardner and Sullivan have stayed more neutral. Gardner, who is considered the more vulnerable of the two, has mostly dodged questions about impeachment, although he did refer to the inquiry as a "political circus" and criticized Pelosi for her handling of it in October. Sullivan defeated Democratic Senator Mark Begich in 2014 and has kept a low profile during his first term. He told the Alaska Daily News last month that he might have avoided mentioning Biden specifically to the Ukrainian president if he were Trump, but he questioned whether the president's actions rose to the level of an impeachable offense. "That's the real question, and I think that's a pretty high bar," he said.
---
The Retirees
Lamar Alexander, Tennessee
Pat Roberts, Kansas
Mike Enzi, Wyoming
These are the true Senate wild cards—three aging institutionalists with no built-in ties to Trump whose decision not to seek reelection this fall conceivably frees them from a ballot-box confrontation with the president's voters if they go against him. None of the three has given definitive indications of how they might vote, relying on the "I'll be a juror" defense to avoid weighing in substantively on the charges. Still, what little they have said should give some comfort to Trump. Alexander, while calling the president's call with Zelensky "inappropriate," said in October that impeachment would be "a mistake" and later signed on to a resolution criticizing the House process before public hearings began. Roberts, meanwhile, has referred to impeachment as "political theater" and suggested that it's a distraction from more important work Congress should be doing.
---
The Quiet Ones
Jim Risch, Idaho
Richard Burr, North Carolina
Risch and Burr, the chairmen of the Senate Foreign Relations and Intelligence Committees, respectively, have said so little about the substance of the impeachment inquiry that there is at least a tiny bit of doubt about where they'll come down. "I'm going to keep an open mind," Risch told a local television station around Christmas. Burr, who worked closely with Democratic Senator Mark Warner on the Intelligence Committee's bipartisan inquiry into Russian interference in the 2016 election, is also not likely to face voters again, having said he'll retire when his second Senate term ends in early 2023.
---
The Critics
Mitt Romney, Utah
Ben Sasse, Nebraska
Lisa Murkowski, Alaska
Susan Collins, Maine
If there are any Republican votes to convict Trump, they are most likely to come from this group. And in the unlikelier event that a Senate majority votes against the president, this is the gang that would make it happen. Romney and Sasse were the sharpest GOP critics of Trump after the White House released a summary of the president's call with Zelensky last fall. Romney said it was "troubling in the extreme," while Sasse warned Republicans not to "circle the wagons" around Trump and said there were "some really troubling things here." Yet both have been quieter about the impeachment charges in the months since.
Murkowski and Collins have long been the GOP senators likeliest to buck Trump; both joined with the late Senator John McCain of Arizona to kill the party's attempt to repeal the Affordable Care Act in 2017, and Murkowski was the lone Republican to oppose Justice Brett Kavanaugh's nomination to the Supreme Court. Collins is facing the added pressure of a formidable Democratic challenge to her reelection in 2020. Though she has withheld judgment on the articles of impeachment, Collins strongly criticized Trump for publicly asking China to investigate the Bidens in October, after he'd made the same request of Ukraine. She and Murkowski have also distanced themselves from McConnell's acknowledgment last month that he was coordinating with the White House on how to structure the Senate trial. "When I heard that, I was disturbed," Murkowski told an Alaska television station. "We have to take that step back from being hand in glove with the defense."
So far, these four Republicans have all backed McConnell's push to defer key decisions about issuing subpoenas until after a trial begins. But long before a final vote, Democrats will look to these senators—and perhaps others mentioned above—for support in calling witnesses, like Bolton, who they hope can bolster the case for impeachment. Whether Republicans go along with that request will likely be the biggest sign of just how persuadable they really are.
Christian Paz contributed reporting.