Does Chuck Schumer Have an AOC Problem?
Amid talk of a primary challenge, the Senate Democratic leader cast a surprising vote against the USMCA trade deal, bucking most of his party.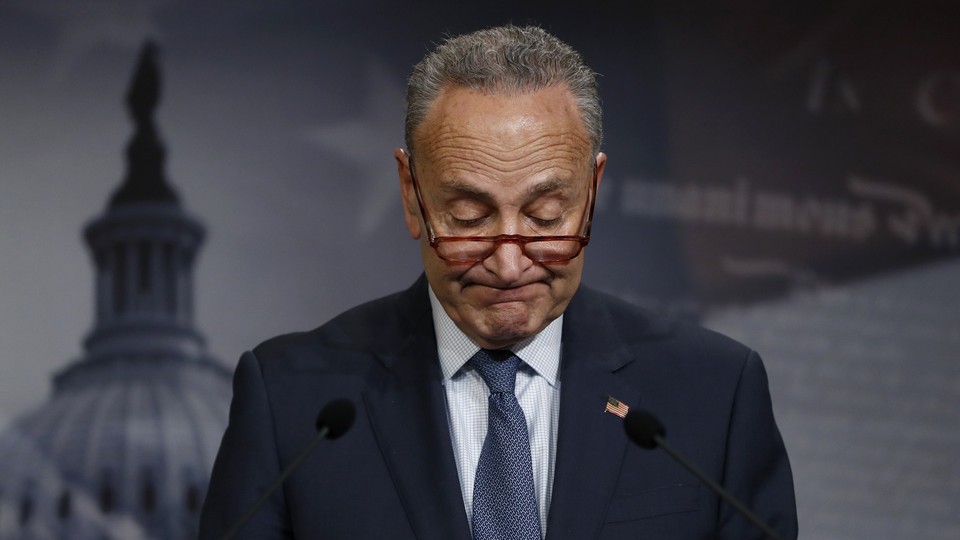 The revised U.S.-Mexico-Canada Agreement, the trade deal which the Senate passed Thursday, drew the support of more than 80 percent of Democrats in Congress, handing President Donald Trump a signal bipartisan accomplishment.
Yet perhaps the most surprising vote came in opposition: Senate Minority Leader Chuck Schumer, who spurned a deal negotiated by his governing partner, House Speaker Nancy Pelosi.
Schumer had kept his position a secret until the roll call was taken, stunning people who had been closely following the trade debate and who immediately began wondering about the political motivations that might have prompted the senator from New York to vote no. The fast-emerging consensus: Schumer is trying to ward off a 2022 primary challenge from Representative Alexandria Ocasio-Cortez, the freshman Bronx Democrat who could find herself without a district if New York loses congressional seats in the next round of reapportionment.
"That's all I thought it was about," a veteran trade lobbyist told me, speaking on the condition of anonymity to avoid angering the powerful minority leader. "He sees AOC over his shoulder at all times, apparently."
Schumer has long been a trade skeptic; he voted against the original North American Free Trade Agreement as a member of the House in 1993 and opposed former President Barack Obama's Trans-Pacific Partnership in 2015. Yet the 200-word statement he released Thursday explaining his vote against USMCA cited just one area of complaint: the climate.
"Despite the fact that it includes very good labor provisions, I am voting against USMCA because it does not address climate change, the greatest threat facing the planet," Schumer said. "When it comes to climate change, the agreement still contains many of the same flaws of the original NAFTA, which I voted against."
Justice Democrats, the group that helped power Ocasio-Cortez to her upset victory over Representative Joe Crowley in 2018 and is now pushing other primary challenges to Democratic incumbents across the country, was quick to declare victory.
"Our primary challengers and sit-ins targeting moderate Democrats have been criticized as divisive and unnecessary by many in the party establishment," Alexandra Rojas, the executive director of the group, said in a statement. "But Senator Schumer's decision to oppose the USMCA on climate change grounds would not have happened without our movement putting pressure on Democrats to make this crisis an urgent priority in the party like never before."
Climate change also happens to be a core issue for Ocasio-Cortez, who has fought to get other Democrats to back her Green New Deal. On her first day as a member of Congress, she joined climate-change activists from the Sunrise Movement and Justice Democrats in a sit-in outside Pelosi's office.
A spokesperson for Ocasio-Cortez, who also voted against USMCA, declined to comment.
Schumer has faced pressure back home, including occasional protests outside his Brooklyn apartment by activists urging him to take a stronger stand against Trump across a range of issues. Of late, one of those groups, Indivisible Nation Brooklyn, has prioritized climate issues and pushed Schumer to endorse the Green New Deal and oppose USMCA. Schumer's vote on the measure is "progress," says Liat Olenick, a co-president of the group. "It's positive, and we always want to acknowledge positive things."
Schumer declined to comment beyond his statement. But his office noted that the longtime senator has been placing a higher priority on addressing climate change in recent years. The Democrats' 2018 campaign platform pledged that any new trade agreement would address climate change, and last year Schumer established a Democratic special committee to address the crisis after Republicans refused to create an official Senate panel.
If primary considerations were a factor in Schumer's vote, he's likely not alone. The Democratic defections on USMCA underscore the growing threat incumbent lawmakers feel from progressive primary challengers, who are building on the model popularized by the Tea Party to push the party leftward. Just 38 House Democrats voted against the trade deal, but several of them are already facing aggressive primary challengers. The opponents include two representatives, Eliot Engel of New York and William Lacy Clay of Missouri, whose challengers have been endorsed by Justice Democrats.
In the Senate, Schumer was one of nine Democrats to oppose USMCA, which split the party's current and former presidential contenders. Elizabeth Warren, Amy Klobuchar, and Michael Bennet of Colorado voted for it, while Bernie Sanders opposed it. The departed White House hopefuls Kamala Harris, Cory Booker, and Kirsten Gillibrand all voted no—perhaps with a spot on the Democratic ticket in the fall, or their current job security, in mind.
Evan Weber, the political director for the Sunrise Movement, told me Schumer's office gave him a heads-up the day before the vote that he'd be opposing the trade deal. "We're very thrilled," he said, praising Schumer for recognizing the growing climate crisis and its importance to millions of young voters. When I asked him if he thought a potential primary challenge from Ocasio-Cortez factored into Schumer's thinking, he replied cautiously: "He's a sharp politician, and I think he sees the political winds changing."
He added: "Maybe wanting to secure his position as majority leader in the Senate has something to do with that."