America's Self-Sabotage in the Middle East
The consequences of these decisions will extend far beyond the region itself.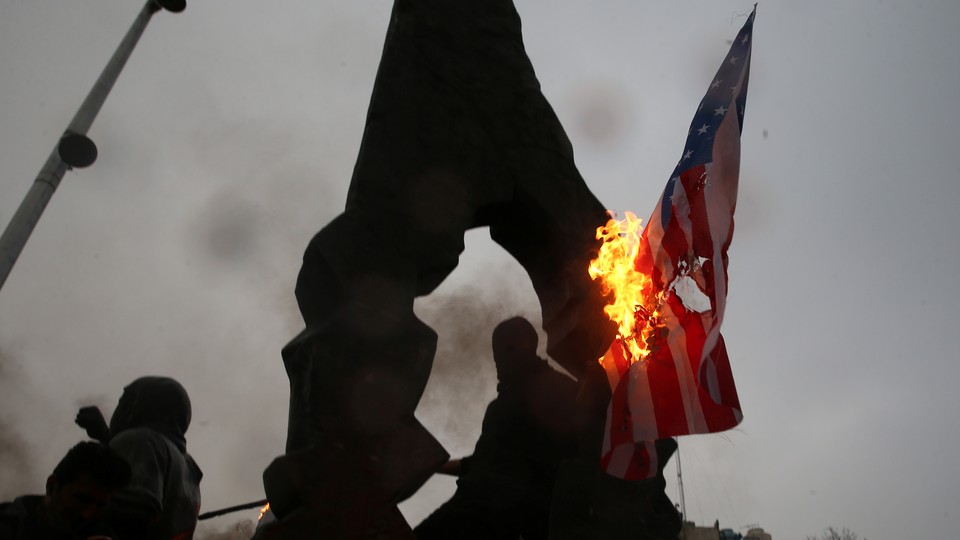 The Trump administration is still celebrating the death of Qassem Soleimani, the Iranian military commander the president called "the number-one terrorist anywhere in the world." But in a single hectic weekend after the killing, virtually all of America's other goals in the Middle East took a significant hit.
The U.S. wants to stop Iran from going nuclear; Iran said it would ditch the last restrictions on its nuclear program. The U.S. wants to check Iran's influence throughout the region; one of America's closest allies, Iraq, incensed that the U.S. struck Soleimani on its own soil when he was there as a guest of the government, gave Iran a victory in a nonbinding parliamentary vote asking U.S. forces to leave the country—which a commander in the counter-ISIS mission in Iraq said in a letter he would honor, sparking confusion and forcing Secretary of Defense Mark Esper to deny any plans to leave Iraq. The U.S. wants to keep the Islamic State down through its Iraqi partner forces; the relationship is now damaged, and the U.S. coalition has paused its counter-ISIS operations in the country to focus on guarding against Iranian attacks.
Depending on what happens next, all of this could add up to big opportunities for two U.S. enemies—if ISIS can reconstitute and Iran can expand its influence.
The chaos extends beyond Iraq and Iran, and had been gathering for months before this weekend. It has hit worried allies in the Gulf, who in recent months have seen their shipping lanes and oil infrastructure targeted and have quietly tried to tamp down tensions with Iran. It has emboldened dictators like Turkey's Recep Tayyip Erodğan, who is flexing his strength in Libya after intervening, counter to American wishes, against American allies in Syria. And it has damaged friendships with European allies, who keep scrambling to deal with Donald Trump's impulsive decisions—and have just barely recovered from his surprise attempt to withdraw from Syria last fall.
Regardless, this could lead to victory for Trump anyway, because he's made clear his one overriding goal: to leave the Middle East.
Except that up until Monday he was mostly getting further in. The U.S. has sent thousands of additional troops to the region, as well as a contingent of marines to guard the U.S. embassy in Iraq after protesters tried to storm it last week. Thousands of additional troops have headed to the Middle East since last week; another 14,000 have deployed since May. Trump just this weekend vowed not to leave Iraq. But even if he does get out of one Middle Eastern country, he has also threatened to strike into another, threatening to hit targets within Iran if it "strikes any Americans, or American assets."
Pentagon officials have consistently characterized their repeated deployments to the region as defensive measures. Even after the U.S. struck five sites in Iraq and Syria that the military says were linked to Iraq's Kataib Hezbollah group, which the U.S. blames for the death of an American contractor in a rocket attack right after Christmas, Esper said: "The United States military responded [and] took defensive actions ... striking a combination of the command and control or weapons caches with considerable effect." Ditto the unprecedented hit on Soleimani, which Trump said was to stop an "imminent and sinister" attack.
Absent more information on the specific plot the administration said it disrupted—Chairman of the Joint Chiefs of Staff Mark Milley told reporters that a failure to act would have been "culpably negligent"—it's hard to say whether the benefits were worth the costs. If the U.S. did in fact stop an attack that could have taken "hundreds" of American lives, as Secretary of State Mike Pompeo has claimed, it may have been worth it. The problem is that Trump lies routinely, and his officials just as routinely cover for him. The New York Times reported that even some Trump officials were skeptical of the intelligence, and said that one U.S. official described the intelligence as simply "another Monday in the Middle East." As my colleague Peter Nicholas wrote last week: "Trump faces the gravest foreign-policy crisis of his tenure at a time when his credibility has been shredded."
Another example occurred just this weekend. After Trump tweeted he had a 52-target list including sites "important to Iran & the Iranian culture," Pompeo responded to criticism that targeting cultural sites would be a war crime. "President Trump didn't say he'd go after a cultural site," Pompeo said on Fox News. "Read what he said very closely." Hours later, Trump, en route to Washington after a two-week vacation in Florida, told a journalist: "They're allowed to kill our people. They're allowed to torture and maim our people. They're allowed to use roadside bombs and blow up our people. And we're not allowed to touch their cultural [sites]? It doesn't work that way." At a press gaggle today, the president's counselor Kellyanne Conway confused matters further: "Secretary Pompeo said yesterday that we will be within the law, and I think that Iran has many … strategic military sites that you may cite are also cultural sites … He didn't say he's targeting cultural sites."
These are the same people insisting that the world is a safer place during the cascade of bad news that has followed Soleimani's death—even as the State Department told all U.S. citizens in Iraq to leave immediately.
Yet the general's killing only accelerated trends that were already under way. Iran had been blowing through its commitments under the Obama administration's 2015 nuclear deal for months by the time its leadership announced yesterday that it wouldn't observe any more of the agreement's limits on its nuclear program. The Trump administration left the nuclear deal in 2018 and vowed to get a better one—one that would check Iran's proxy violence and missile development in addition to its nuclear program. None of those things have happened.
As for Iran's growing influence in the region, Pompeo tends to trace it to the nuclear deal, which gave Iran sanctions relief he says has been used to fund terrorism. But Iran's recent expansion started much earlier, with the 2003 invasion of Iraq, which gave Iranian-backed militias a foothold in the country and a base from which to attack U.S. forces. The anti-ISIS fight only empowered them further as the Iraqi government relied in part on them to beat back the insurgents. Iraq has ever since been struggling to bring them under government control. And the U.S. has spent millions of dollars training Iraqi forces and trying to pull the country out of Iran's orbit. Meanwhile, the Syrian conflict, in which Iranian forces and their proxies have backed Bashar al-Assad, has helped the country consolidate what officials call a "Shia crescent" of influence extending from Iran, through Iraq, and into Syria and Lebanon. The Iranian military has also conducted joint exercises with China and Russia.
And once again, part of the ISIS fight is on hold. Not only have the Americans paused their cooperation with Iraqi units since Soleimani's killing; the rest of NATO has suspended its operations in Iraq too. This is the second time in three months that counter-ISIS operations have had to be stalled; the first was after Trump opted to move U.S. forces in northeastern Syria out of the way of a Turkish attack against America's Kurdish allies there.
In the short term, Trump officials keep saying their goal with Iran is to "restore deterrence," that each additional movement of troops to the region—or as of last week, each military strike—aims to stop the cycle of violence by making clear to Iran the consequences of its actions. The problem is that if the Iranians aren't deterred, they may take violent steps of their own for much the same reason the U.S. has: to prove that there are consequences.
One advantage to having mutually contradictory policy goals is that when one fails, another might succeed. Yes, what the military calls the "enduring defeat of ISIS" achieved "by, with and through" local partners like the Iraqis may now be coming to an end—it's hard to be "with" them if you're leaving. But that's just the goal of executive-branch institutions like the State Department and the Pentagon. As for the president himself—and even though he's declared that the U.S. is not leaving unless the Iraqis pay for the air base the U.S. constructed in their country—his real preference has been clear since the 2016 election campaign. "We should have never been there in the first place," he said in October 2017. "Let someone else fight over this long-bloodstained sand," he said two years later.
The contradictions are not just between Trump and the rest of his administration, but within Trump himself. He has twice now declared the defeat of ISIS and tried to leave Syria, only to get talked out of it. He professes to hate war, but he loves killing bad guys. What happens after they're dead is someone else's responsibility.