The Iowans Who Reject Their State's Special Privilege
A pocket of iconoclasts think it's too white to vote first.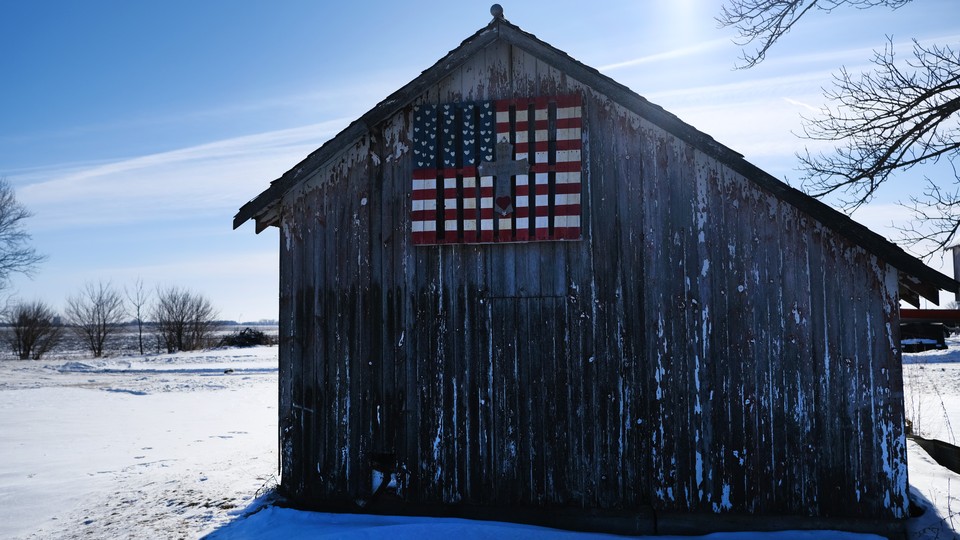 Lynette Cooper cares deeply about politics, and every four years, she embraces the opportunities that come with living in Iowa. In the past two weeks alone, the 38-year-old nurse practitioner has been able to ask questions of candidates at a forum on racial justice; attend a rally for Senator Elizabeth Warren of Massachusetts; and drop by a town hall for former South Bend, Indiana, Mayor Pete Buttigieg.
But despite her intense level of engagement, Cooper rejects the idea that she should have these privileges as an Iowan. "As a black person," she told me this week, "I don't think that Iowa being first—setting the tone and putting candidates on the stage and propelling them to the candidacy—I don't think that's fair."
Most Iowans are enormously proud of the caucuses, and they view themselves as well qualified for the task of winnowing the Democratic primary field. But a small pocket of Iowans, including many people of color, feel differently: They believe that the state's overwhelmingly white population makes it utterly unrepresentative of the nation as a whole. Their voices are joining an existing chorus of progressives across the country who have spoken out against the caucuses, and may ultimately encourage the Democratic Party to restructure the primary system—knocking Iowa from its perch at the top of the primary process once and for all.
Because of their first-in-the-nation position, the Iowa caucuses can change the course of the primary campaign: In each of the past four contested Democratic primaries, the winner has gone on to capture the party's nomination, and every presidential contender knows that a win in the state can help propel them to broader electoral success. But the voters who determine what happens in the state look nothing like the country as a whole: While about 60 percent of the total U.S. population is white, in Iowa white people make up 85 percent of the population, according to census figures.
"We don't want just one group's point of view," Holly Christine Brown, who is Filipina and the chair of the Iowa Democratic Party's Asian/Pacific Islander Caucus, told me. "That's what you're getting when you have a state like Iowa go first." Brown, a 39-year-old from Cedar Rapids, called for an end to the practice in a November letter published in her local paper. "Our country has become more diverse" since Iowa started voting first in presidential primaries, in 1972, Brown wrote in the letter, which was signed by six other activists and party leaders in the state. "If we want to say we have become accepting and welcoming of that diversity, then our presidential nominating contest should reflect that."
The 2020 primary field was, at one point, the most diverse in history. Senator Kamala Harris, Senator Cory Booker, and former Housing Secretary Julián Castro, three candidates of color, have all dropped out in the past two months, leaving the primary race overwhelmingly white. The entrepreneur Andrew Yang is the highest-polling nonwhite candidate left—though he is garnering just 4 percent support nationwide.
While Iowa has been blamed for culling candidates of color from the race, it might also be to blame for limiting who runs in the first place, one activist argued. "One of the criteria for signing on to be a Democratic candidate for president in this country is How well am I gonna do in Iowa?" Reyma McCoy McDeid, a black disability-rights activist from Des Moines, told me. "If we're talking about a state where, by and large, the political landscape is dictated by an aging, white … voting bloc, that obviously is going to be a hugely mitigating factor in determining who decides to run for president, and who's considered to be a viable candidate."
Many candidates' agendas aren't in line with what nonwhite voters living in Iowa deem the most important issues, other activists told me. Most of them "don't center minority voices" or priorities precisely because they have to spend so much energy in Iowa, said Nadia Ali, a Sudanese refugee living in Des Moines and a co-founder of the Iowa Women's March. "They feel like they have to go after the white working class, then they do outreach later to the minority groups."
The activists I spoke with also worry that Iowa has artificially inflated support for certain contenders this year, and they suspect that some candidates the state has elevated could crash and burn once the primary moves on to more diverse regions. Buttigieg, for example, is performing well in Iowa, but he has extremely low support among young people and nonwhite voters nationally. "People like Buttigieg and [Senator Amy] Klobuchar wouldn't be a factor if we started outside of Iowa and New Hampshire," Cooper said. "They're getting more shine than they should, considering that they won't do so well outside of these caucuses." (Former Vice President Joe Biden, another top contender in Iowa, has led nationally among nonwhite voters, but activists say that this doesn't negate their argument; black voters in particular like Biden, they argue, because of his affiliation with Barack Obama and because they see him as the most electable Democrat.)
Defenders of the Iowa-first tradition note that residents of the state have a proven track record of propelling worthy candidates to the White House, starting in 1976 with Jimmy Carter. The state's geographic size and small population, they say, enable candidates on any budget to conduct the kind of intimate, grassroots campaigning necessary for winning a general election. One often-cited fact is that 12 years ago, Iowans chose Obama, the young black senator, over two white presidential contenders. "We have proven that we are diverse in our politics, even if the [state's demographics] don't show it," said Sally Goode, the chair of the Iowa Democratic Party's Latinx Caucus, insisting that Democratic voters in the state are extremely cognizant of the issues that minority voters prioritize nationwide. "The white people have brown skin underneath," Goode said. (The Iowa Democratic Party did not respond to requests for comment on this story.)
It's not just Iowa's primacy that critics want to change for future elections. As I've written before, the caucus system itself, which offers no absentee option, is also inaccessible for people with disabilities, who are unable to attend the caucuses easily, and those with inflexible schedules, like shift workers. Even if the activists are unified around their desire to demote Iowa, they're not in agreement on what to replace it with. Some told me another state should go first. If the primary calendar were reordered according to which states best match the demographics of the Democratic Party, Illinois would go first, followed by New Jersey, New York, and Florida, according to FiveThirtyEight. (New Hampshire and Iowa would become the 34th and 42nd states to vote, respectively.) Others argued that Democrats should push for a national primary, in which every state holds its nominating contest on the same day—a change intended to mitigate any special privileges afforded to certain voters.
"If we want to be responsible citizens not only of Iowa but of the U.S.," McCoy McDeid said, "we need to let this go."