A Reckoning Over Iowa
The privileged status of the early-voting states could come under threat if they elevate a candidate next month who ultimately loses to Donald Trump.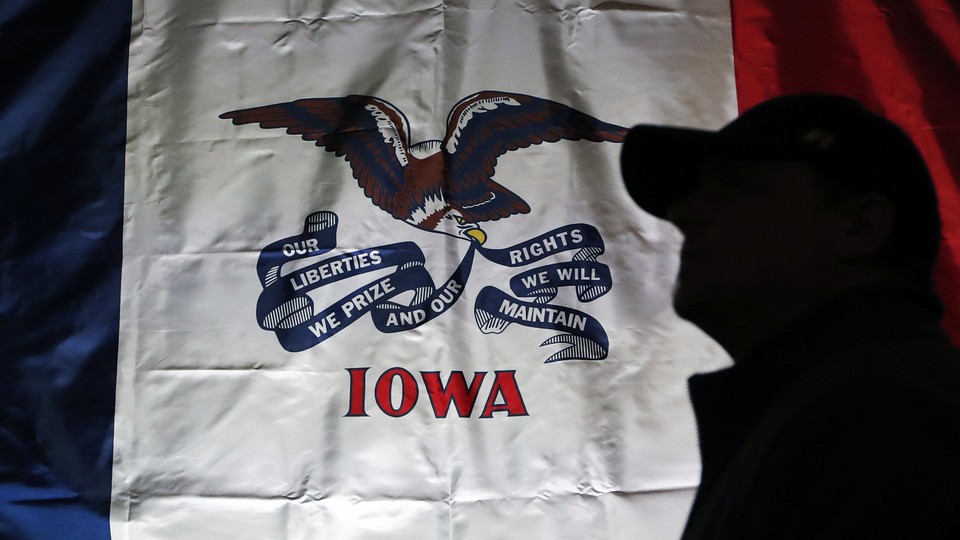 DES MOINES, Iowa—The contrast was unmistakable: Most people in the crowd at the venerable Brown & Black Forum on minority issues here were African American, Latino, or Asian American. But all of the Democratic candidates onstage, apart from Andrew Yang, were white.
"It is disappointing," said Bridgette Andrews, an African American executive assistant from the nearby suburb of Johnston, as she walked into the event, which took place on a frigid afternoon earlier this week. "It would have been nice to have another candidate from a minority group up there. It does make you go hmm that they are not there."
Many Democratic activists, especially but not exclusively those from minority communities, are perplexed and frustrated that the candidates of color who were considered most viable when the presidential contest began—Senators Cory Booker and Kamala Harris, former Cabinet Secretary Julían Castro—have been forced from the race before the first votes are cast. While Yang has built a spirited following, it remains limited. And all this when Democrats began the primary with the most diverse field they've ever had.
This jarring reality could prompt the most serious revolt in decades against the decisive role that Iowa and New Hampshire, two preponderantly white states, play in winnowing the field and shaping the race. Already Castro and former New York City Mayor Mike Bloomberg—another 2020 contender, who is white—have argued that the lack of diversity should disqualify both states from their favored roles. At the forum itself, Senator Michael Bennet of Colorado argued that their status "probably should evolve."
"It is painfully obvious and problematic that after the historic candidacy of the first black president, we have basically an all-white field, and that really needs to occasion some soul-searching on the Democratic side," says Steve Phillips, the founder of the advocacy group Democracy in Color, who is African American. "The most workable and straightforward approach would be to reconfigure the order of the states."
Dislodging either state from its privileged position won't be easy. Both Iowa and New Hampshire fervently guard their leadoff roles. And many Democratic Party leaders around the country reject the charge that the states' prominence contributed to the fall of so many minority contenders. Instead, most Democratic operatives I've spoken with point to many factors—from fundraising patterns to assumptions about so-called electability—that may have contributed to their failure. "If you didn't have Iowa [first] this year, I don't think any of this would have changed," said the longtime strategist Robert Shrum, who is white.
But after Barack Obama's success in 2008, many party activists "feel like we're going backwards" in terms of minority candidates' ability to win the presidential nomination, as Bakari Sellers, an African-American Democratic official in South Carolina put it. That disappointment could ignite a debate within the party over all aspects of the nominating process, including the reliance on Iowa and New Hampshire.
Iowa and New Hampshire are vulnerable in any such discussion because the gap between their demography and that of the party overall is widening. While voters of color will likely cast more than 40 percent of the ballots in the party's primaries and caucuses this year—a new record—whites still account for about 85 percent of the population in Iowa and exactly 90 percent in New Hampshire, according to census figures.
Though Iowa is slightly more diverse, its position could come under greater threat than New Hampshire's after 2020. One reason is that New Hampshire law commits the state to always holding its primary before any other; the other is that Democrats may be more reluctant to ruffle feathers in New Hampshire, a swing state that has inclined toward them in recent years, than in Iowa, which has been tilting more Republican.
The two states' assumed their one-two position in 1972. But by the late '70s, and intensifying through the mid-'80s, the Iowa–New Hampshire duopoly faced growing opposition in the party, says Elaine Kamarck, who is a Brookings Institution senior fellow and a longtime member of the Democratic National Committee's rules committee. The core grievance at the time, she told me, was that the states were elevating weak candidates (including George McGovern and Walter Mondale). But they also faced the "same complaints as they [do] now: small, unrepresentative … too white," Kamarck, who is white herself, told me.
The controversy began to recede in the 1990s. But it never entirely abated. The DNC's most dramatic response to the enduring concerns came after the 2004 election, when it authorized Nevada, which has a large Latino population, and South Carolina, which has a large African American population, to hold the next two contests after New Hampshire.
That shift has unquestionably provided those states more influence: South Carolina in particular proved crucial to the nomination of both Obama in 2008 and Hillary Clinton in 2016. Strategists working on campaigns this year likewise believe they'll again have a major effect on the race's outcome, especially South Carolina.
But the departures from the race of Booker, Harris, and Castro vividly capture the limits of Nevada's and South Carolina's power. Voters in those states will still be choosing only from the candidates who are viable after Iowa and New Hampshire cut down the field. The Iowa winner has ultimately captured the Democratic nomination in each of the past four contested races.
Activists I've spoken with almost all agree that Iowa and New Hampshire aren't solely to blame for minority candidates' fall. Both Phillips and Sellers, for instance, believe the principal cause was a pervasive belief among financial donors, the media, and voters that a white candidate represents the party's best hope of beating Trump. "What I know has happened since Donald Trump and this emergence of his white identity politics is that voters, particularly Democratic voters of color, are now of this weird belief that it takes a white man who can talk to 'Middle America'" to best Trump, said Sellers, who backed Harris before she exited the race late last year. "Our electorate has been groomed to believe something which I believe is a total falsehood."
And few Democrats seem to believe candidates of color can't receive a fair hearing in Iowa or New Hampshire. Obama won the former and only narrowly lost the latter in 2008. Exactly two decades earlier, Jesse Jackson won a double-digit share of the Iowa vote. Wayne Ford, an African American former Iowa state representative who co-founded the Brown & Black Forum, defended Iowa's role by citing Obama's first win there, as well as the strong support this year for former South Bend Mayor Pete Buttigieg, who is gay. "Why not Iowa?" Ford said. "Iowa gave you a black president," and "for a while" Buttigieg "was leading the polls in the state of Iowa."
Troy Price, the state Democratic Party chair, who is white, said that the caucus process requires the candidates to reach out to all communities, even small ones. "I can't change the demographic makeup of Iowa," Price told me, "but I can say our process elevates voices by making the candidates go into different communities and build organization in different communities."
But for the critics of Iowa and New Hampshire, the issue isn't overt or even implicit bias among Democratic voters there. The question is whether voters in such overwhelmingly white states place as much priority on issues affecting minority communities, or value picking a nominee of color as highly as many members of those minority communities do. Both Phillips and Sellers argue that the race might have unfolded very differently if one highly diverse state had been among the first two contests. "If we started with South Carolina, then a Cory and a Kamala would have had a much better chance to get some traction," Phillips said.
Others in the party dispute that, noting, for instance, that both of the African American senators in the race failed to earn significant polling support from black voters in South Carolina, just as Castro struggled with Latinos in Nevada. And as Sellers noted, even many minority voters have prioritized electability in this race—and defined it mostly as the ability to win back working-class whites.
Yet the issues most concerning minority communities simply aren't top of mind for many of the white voters who crowd the candidates' town halls in small Iowa and New Hampshire communities. For many in the audience at the Brown & Black Forum this week, it was striking to hear the candidates peppered with questions about how they would address racial disparities in maternal health, the elevated suicide rate among African American teenagers, the effect of climate change on minority communities, whether English should be the nation's official language, how to unwind mass incarceration, and the gap between whites and minorities in wealth and access to investment capital.
Hearing the candidates confront those issues was "very, very, very refreshing," Cynthia Hunafa, an African American retired teacher from West Des Moines, told me. She was especially pleased that the candidates faced tough questions about criminal-justice reform: "I'm glad to hear that brought up today because I haven't been hearing it much of late."
Concerns about diversity alone may not be enough to dislodge the dominance of Iowa and New Hampshire after 2020. But the states could face a more unpredictable future if they elevate a candidate next month who wins the nomination but then fails to defeat Donald Trump in the general election. If Democrats lose again, almost every accepted belief in the party about how to contest elections could be rattled—including about relying on a primary calendar that gives primacy to two mostly white states on behalf of a party that is becoming only more diverse.