The Other Reason Republicans Won't Cross Trump
GOP lawmakers fear the president's command over his base, but that's only half of it.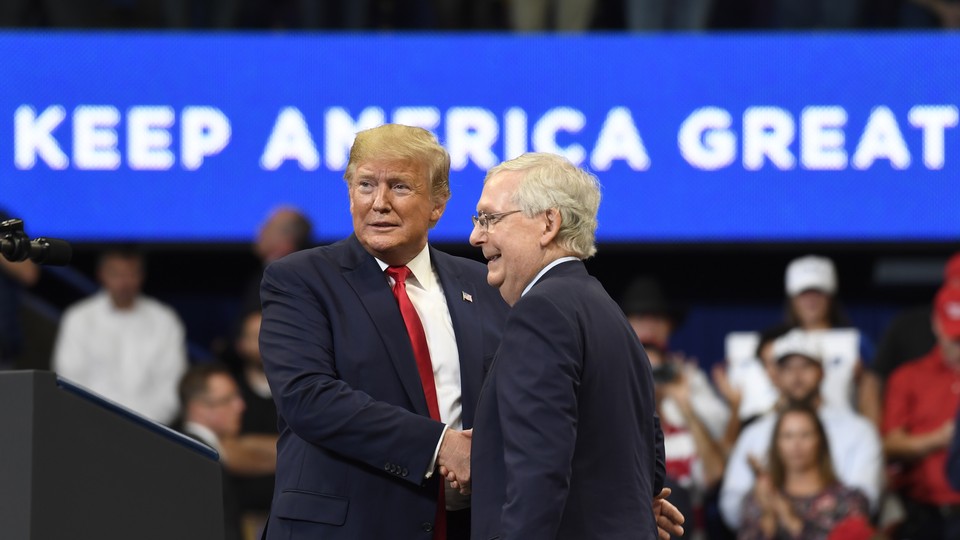 If President Donald Trump is booted from office, the catalyst looks certain to be the November election, not impeachment. The Senate has yet to convene an impeachment trial, and the recent killing of an Iranian general could further complicate lawmakers' timing. But with a GOP firewall in the chamber holding firm, Trump's acquittal seems preordained, even though plenty of Republicans appear uneasy about his behavior. When I've asked them whether there was anything wrong with Trump's phone call pressuring Ukrainian President Volodymyr Zelensky to dig up dirt on Joe Biden, the answers are often evasive. "Oh, the call was very—I think it was well received by President Zelensky," Representative Steve Scalise of Louisiana, a top House Republican, told me.
How has the president avoided a rebellion within his own party? No doubt congressional Republicans fear Trump because of his unshakable grip on the party's base. That's long been the case. But there's another reason they've shielded him from impeachment: He's wooed Republicans who can protect his interests, cultivating relationships with them in ways that are not always visible or understood. So much of Trump's presidency seems like a jagged break from history. Yet when it comes to reaching out to his own party, his method isn't all that different from that of his predecessors—and it's helping him survive the biggest domestic crisis of his presidency.
An impeachment wildcard is the military strike Trump ordered against the Iranian general, Qassem Soleimani. Americans tend to rally behind a president facing looming national-security crises, and lawmakers take cues from voters. That could help strengthen Trump's impeachment advantage within his party, and even Democrats from conservative states might be more sympathetic to the president in a Senate trial if Trump is overseeing an armed conflict with Iran.
An overture from Trump is something Republican lawmakers can't easily spurn. They need him. An Economist/YouGov survey from November showed more Republicans believe that Trump is a better president than was Abraham Lincoln. Abraham Lincoln, who won the Civil War and emancipated the enslaved. Lincoln, the first Republican president. Lincoln, who delivered the Gettysburg Address before Twitter came along and perfected the art of presidential communication.
"This should tell you everything you need to know," Michael Steele, the former chairman of the Republican National Committee and a prominent Trump critic, told me. "When national polling shows that these folks think that Donald Trump was a better president than Abraham Lincoln, you know this is fucked up."
Risky as it is for Republicans to buck Trump politically, Trump has built personal ties with key members of Congress that have cemented their loyalty. Read Trump's Twitter feed or listen to his rallies, and he comes off as an unhappy man, filled with grievances and self-obsessed. But that scabrous persona isn't what he necessarily shows Republican lawmakers, nor is it what they care to see. "Trump has been extremely good at taking care of the parochial interests of members of Congress, and they appreciate that," former Republican Representative David Jolly of Florida told me, adding that he's discussed the president with his former colleagues. "I talked to one member who said, I wish he wouldn't do these things, but privately, he's a really nice guy and he's really good to me."
Representative Peter King of New York is an illustrative case of a lawmaker Trump has reached out to. An independent-minded Republican who announced in November that he was retiring from Congress, King broke with his party 20 years ago and voted against impeaching President Bill Clinton. His district on Long Island isn't necessarily Trump country: It went for Barack Obama twice before flipping for Trump in 2016. King is the sort of lawmaker whose vote Trump can't take for granted.
And the president hasn't, wooing him from the start: King told me that in the summer of 2017, Trump invited him aboard Air Force One as the president traveled to Long Island to give a speech about the gang MS-13. That proved to be a fateful trip. On the flight back to Washington, Trump ousted Chief of Staff Reince Priebus and replaced him with then–Homeland Security Secretary John Kelly. Aboard the plane, the president confided in King about the move, asking for his thoughts on Kelly.
Last July, King took his 11-year-old granddaughter to the White House to watch Trump sign a health-care bill for the first responders to the September 11 terrorist attacks. After the ceremony, Trump scribbled his spiky signature on the speech he had just delivered; gave it to the girl; "put on this angry, stern look; and said, If I find this on eBay tonight, I'm coming after you," King recalled.
"He's down-to-earth, easygoing, friendly," King told me of his interactions with the president. "He can be pretty profane about this guy or that. I have to remind myself that I'm with the president of the United States, but I feel like I'm back on the street corner in Queens." When he's in Trump's company, he added, it's like being with "a stand-up comic and raconteur."
I asked King whether his affection for Trump played a role in his no vote on impeachment. "I voted against Bill Clinton's impeachment and it's not hard [for me] to vote against Trump's. To me, impeachment is the last possible weapon that should be used." Still, he said of Trump's overtures: "It does have an impact."
Courting Congress is a part of the job that some presidents relish—others, not so much. Clinton was a natural schmoozer. King recalled watching the Super Bowl in the White House one year at the former president's invitation. President George W. Bush tried a similar approach, with uneven success. In his few first weeks in office, Bush invited Democratic Senator Ted Kennedy of Massachusetts to the White House for a screening of the movie Thirteen Days, which depicts how former President John F. Kennedy, the senator's older brother, defused the Cuban missile crisis. At the time, Bush needed Kennedy's cooperation in passing his signature education initiative, No Child Left Behind. It's unclear whether the bonding session made a difference, but he got it: Kennedy helped engineer the bill's passage.
Obama had little appetite for glad-handing. As he seemed to see it, especially at the start of his presidency, mere reason—the facts and merits of an issue—was the path toward bipartisan compromise. In 2013, when Obama spoke at the annual White House Correspondents' Association dinner, he told the crowd that people often asked him why he didn't spend more time doting on Congress. Why don't you get a drink with Mitch McConnell, they'd ask. "Really?" Obama said, as the audience laughed. "Why don't you get a drink with Mitch McConnell?"
Fundamentally, Trump's relationships with Congress are transactional. He works at them continually: One Republican lawmaker, who requested anonymity to speak candidly, told me they turned down requests from Trump to join him at events simply because they had already spent so much time with him and had other things to do.
Since House Speaker Nancy Pelosi launched the impeachment proceedings in late September, Trump has dialed up the charm. Two potential jurors were part of his all-Republican entourage when he attended Game 5 of the World Series on October 27: Senators David Perdue of Georgia and Lindsey Graham of South Carolina. (Over repeated rounds of golf and meetings since taking office, Trump has defanged Graham, who once called him a "nut job." Now Graham is one of the president's closest allies. He got a private briefing on the Iran strike while golfing with Trump in Florida earlier this week—a courtesy that doesn't seem to have been extended to other congressional leaders.) When Trump showed up for an Ultimate Fighting Championship match at Madison Square Garden on November 2, he was accompanied by Representative Kevin McCarthy of California, the House minority leader, who along with Scalise was pivotal in locking down the unanimous GOP vote opposing impeachment. The next week, when Trump went to watch the football game between the University of Alabama and Louisiana State University, his guests in the luxury box included another potential juror in the impeachment trial, Republican Senator Richard Shelby of Alabama.
Perhaps Trump's most important relationship on Capitol Hill is with McConnell. There isn't much warmth between them—Trump scorned McConnell's judgment in 2017—but the collaboration has proved mutually valuable. He's focused on one of the senator's pet projects: stocking the federal courts with conservative judges. And Trump appointed McConnell's wife, Elaine Chao, as his transportation secretary, and in an administration marked by endless churn, she's held the job from the beginning.
McConnell is now helping shepherd Trump through impeachment. It's largely up to McConnell how Trump's Senate trial could unfold, and the two have talked often about impeachment. Though at times the president has suggested he wants full vindication in a trial, complete with witnesses and tough cross-examination of his accusers, McConnell favors a streamlined trial that dispenses with the impeachment articles quickly. Trump seems ready to go along.
One bit of advice he's given Trump, Senate aides told me, is to stave off defections by not antagonizing potential jurors. So far, Trump has listened. In October, he called Senator Mitt Romney of Utah—his most vocal GOP critic in the chamber—a "pompous ass," but he has kept quiet in recent weeks. He even invited Romney to the White House in late November for a lunch discussion that touched on impeachment. Another person in attendance was Senator Susan Collins of Maine, a moderate Republican who faces a difficult reelection battle and could potentially peel off and vote for impeachment.
Executing a strategy—any strategy—is something Trump's chaotic White House has had trouble pulling off. Maybe the difference here is that his presidency itself is at stake. In any case, it seems to have worked: he's hewed to a conventional playbook, corralling lawmakers and building the durable alliances necessary to beat back impeachment.
With Republicans bolted to Trump—out of fear, affection, or, with Iran, potential political necessity—the drama seems played out, absent any surprise defections. Inside the White House, some officials insist they've already moved on—and that was even before the strike. "A month from now," one Trump-administration official told me, impeachment "will be in the dustbin of history."