Pete Buttigieg Ran. Eric Garcetti Didn't.
He thought the time wasn't right for a mayor like him to run for president. Then the one from South Bend surged in the polls.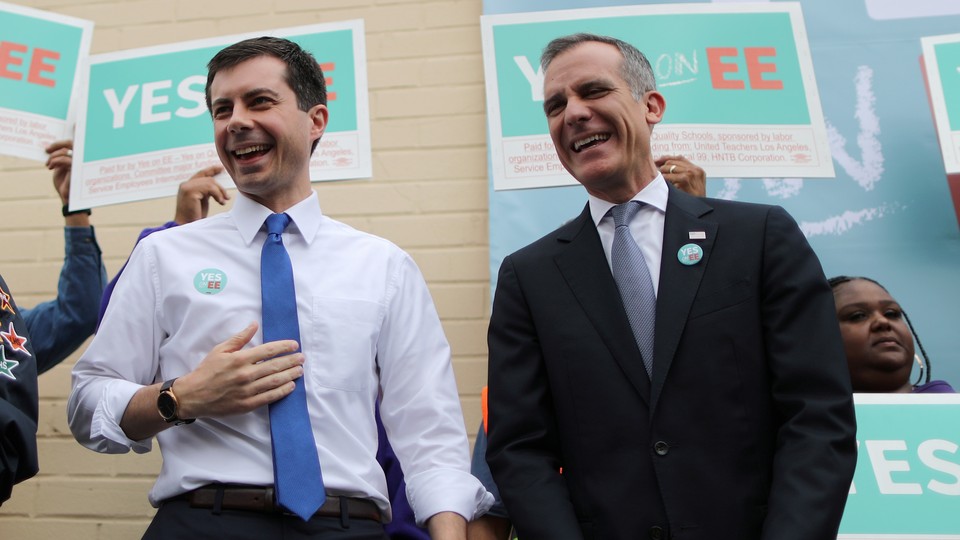 LOS ANGELES—Eric Garcetti would like to apologize for the cliché. We are in a juice bar in Brentwood, California, and the mayor of Los Angeles is singing along to the Coldplay song on the sound system. He loves this song, he tells me. He's having tea. It's all very Southern California.
A year ago, he was finalizing preparations for a presidential run, telling me that mayor was the perfect position from which to run for president, and that he didn't think managing his city from Iowa would be an issue. He had a team in place and he was all set to declare. And then … he announced at the end of January 2019 that he wasn't going to do it, citing his obligations to Los Angeles and the time he wanted to spend with his young daughter.
Last month, he was in Waterloo, Iowa, at a presidential forum he had helped organize, finishing his final candidate introduction of the night by pointing out that he, like the candidate, is also a Rhodes Scholar mayor who plays piano and served in the Office of Naval Intelligence. "I'm the older, straighter Pete Buttigieg," he joked.
Now Garcetti is telling me that Buttigieg's unexpectedly strong showing in the polls so far is vindication of his own almost-candidacy. "It's nice to have Pete be like my mayoral avatar, to show that the theory was correct and that there is, I think, a hunger for a new, outside-Washington mayoral leadership," he said.
Which is a sort of self-flattering thing to say. In the meantime, Buttigieg—who responded to the Los Angeles mayor in Iowa by saying, "I'm happy to be known as the younger, gayer version of Eric Garcetti anytime"—was preparing to walk out onstage at the December presidential debate, while Garcetti was failing to be recognized by patrons at the juice bar. "Garcetti must be kicking himself" is something I've heard a lot of Democratic observers say to one another, about what he must be thinking in response to seeing the considerably younger mayor of a considerably smaller town sitting comfortably in the top tier of presidential candidates. If Cory Booker has been having a hard time distinguishing himself in the presidential race as "the other Rhodes Scholar mayor," Garcetti—who first met Booker in 1993, when the future New Jersey senator welcomed him to their dorm at Oxford—has become the other other Rhodes Scholar mayor, the one who didn't run for president.
While Buttigieg struggles to convince people that he can cobble together a real coalition to make it past Iowa, and Booker struggles to qualify for the next debate, Garcetti is hoping for a consolation prize: the opportunity to be a key Democratic power broker in 2020. With Kamala Harris, his home-state junior senator, is out of the race, he was freed to endorse whomever he pleased, and yesterday announced he was endorsing Joe Biden. ("Democrats are blessed to have such an extraordinary field of candidates," Garcetti said in a statement, "but I will never forget what Joe Biden has done for my city and our nation.) Beyond that, he's been putting out feelers to Democratic National Committee Chair Tom Perez in hopes of positioning himself as a player in an expected platform fight at the Democratic convention in July. A committed group of California Democrats mock him and see this as the latest example of him being too convinced of his own cleverness and potential, but he's serious about seeing himself as having enough stature to be important.
"There's really only two scenarios for the convention: Nobody has a majority or it's a really close finish and you have a lot of people that need to be brought on board," Garcetti told me. "And not resolving either of those risks losing this whole thing. And that would be a very Democratic thing to do."
Garcetti is ambitious. Before Buttigieg came along, he might have been considered precocious. The son of a Los Angeles district attorney who became nationally known for prosecuting O. J. Simpson, Garcetti was a city councilor at age 30, mayor at 42, and a player in national Democratic politics by age 44. In 2015, he hosted a dinner at his house for Joe Biden when the vice president was contemplating a presidential run, and the following year he was on the long list of potential running mates for Hillary Clinton. By the time Donald Trump reached the White House, Garcetti had his eyes on his own presidential run. When I talked to him in New Hampshire in August 2017, he claimed that he was just taking a break from a vacation in the Berkshires—but most people wouldn't break off their vacation to campaign on behalf of the Democratic candidate running for mayor of Manchester, taking time to introduce themselves to the young Democrats there, unless they had their eyes on New Hampshire for other reasons.
While the 2020 race has set a record for the largest number of candidates, it has also featured a number of people who got varying degrees of close to running and then balked, such as Sherrod Brown and Mitch Landrieu. (It has also featured three candidates who got close to running, balked, then un-balked and got in late: Tom Steyer, Deval Patrick, and Michael Bloomberg). For the most part, the people who flirted publicly with running and then didn't, or those who ran and then dropped out, have had their reputations suffer for it, with Washington Governor Jay Inslee, whose brief campaign transformed him into a nationally recognized leader on climate change, being the exception. For his part, Garcetti, having declined to try to build a national profile via a presidential campaign, has managed to build one anyway, via becoming a leader among mayors, working on addressing climate change, and advocating on behalf of Latino issues.
Today, Garcetti says that he's happy he didn't run, that he's pleased with the way things have worked out. That he feels like he's making progress with his city's homelessness crisis, which would have almost certainly haunted his presidential campaign. That he's spending time promoting cities as the economic and innovative engines of the nation, using a nonprofit he started, Accelerator for America, to bring together city, union, and business leaders. (Buttigieg was an early member—in fact, Garcetti launched the nonprofit in November 2017 at the same decommissioned Studebaker factory in South Bend, Indiana, where Buttigieg formally launched his campaign last April.) That he's taken to sending new mayors an email of advice, which now runs five pages long. That maybe if he didn't have an 8-year-old daughter, the timing would have been better suited for a presidential run. That maybe if he were in the last year of his mayoral term (as Buttigieg was before his term ended on New Year's Day), he would have been more comfortable being an absentee executive.
Still, sometimes Garcetti can't hide his wistfulness. It was evident one night in December, at the Dolby Theatre, in Hollywood, where the DNC held a big fundraising dinner on the stage that was built for the Oscars. Having been there the night before for the Rise of Skywalker premiere, Garcetti launched his welcome speech at the dinner with some corny Star Wars jokes. "I just want to tell you a couple of the spoilers," he said. "Rey's father is baby Yoda." From there, he segued into a speech about how, while Hollywood tells the stories, real America plays out on the streets of Los Angeles. "We won't win simply because of our policies and our prescriptions," he said. "We will win because of our people. And when the American people feel like we hear them, listen to them, we will take back the White House." It's not America first, but Americans first. "Ladies and gentlemen, are you ready to rise up?"
"Sounds like the stump speech he thought he'd be giving," someone said to me as Garcetti wrapped up.
Yes, that was the stump speech, Garcetti told me at the juice bar. That's his vision for America— "the Trump White House versus the rest of us"—and he's not going to stop offering it just because he's getting calls and visits from Biden and Bloomberg and Andrew Yang, who were vying for his endorsement. Garcetti told me that four different campaigns had reached out to see if he was endorsing Bloomberg, after he said something nice about the former New York mayor at an event the morning before we spoke. (He wasn't.) When we spoke in late December, he told me that he still hadn't figured out which candidate he wanted, or which one he thought could win—but by Thursday of this week he had evidently gained enough clarity to announce that he was endorsing Biden.
What does all this mean for his own future? He still talks about a presidential run as a possibility sometime down the road. In the near term, he's not really qualified for one of the big Cabinet jobs—State, Defense, Treasury, attorney general. "To be HUD secretary or Transportation at some point might be interesting—but not at this point in my career, because it's kind of like the last job that you have," he said. He doesn't want to "get off the elected track." The Senate seat that Dianne Feinstein currently holds will become open in 2024—presumably she won't run for reelection at 91—but other ambitious Californians have their eyes on that too, including Attorney General Xavier Becerra and Secretary of State Alex Padilla, and possibly Representative Adam Schiff. In the meantime, Garcetti, who won his last election in 2017, got an extra year tucked into his second term, until 2023, because Los Angeles changed its election date to align with statewide elections.
But seriously, I asked him, aren't there times he regrets sitting out in 2020? Like when he sees junior peer Buttigieg follow him onstage at the Dolby Theatre to thunderous applause? Or when he watches the debates?
"All the time, I think of great lines that I would, like, insert for my friends—or that I'd say myself, if I were up there. But that's different than saying, 'I wish I were out there.'"